A few weeks ago I had a lunch date with my honey. We were trying to decide where we wanted to eat lunch. We eventually decided on Bon Temps Grill. About a month ago we found out that one of the owners of Bon Temps Grill is one of our neighbors. We remembered and decided to give it a try in support of our neighbor.
Bon Temps Grill is a Cajun Creole restaurant that serves a variety of food items. There were so many choices on the menu to choose from. For me one my favorite things was the presentation of each dish was definitely given some thought. As the saying goes, you eat with your eyes first. If it looks good, you are more likely to enjoy it more.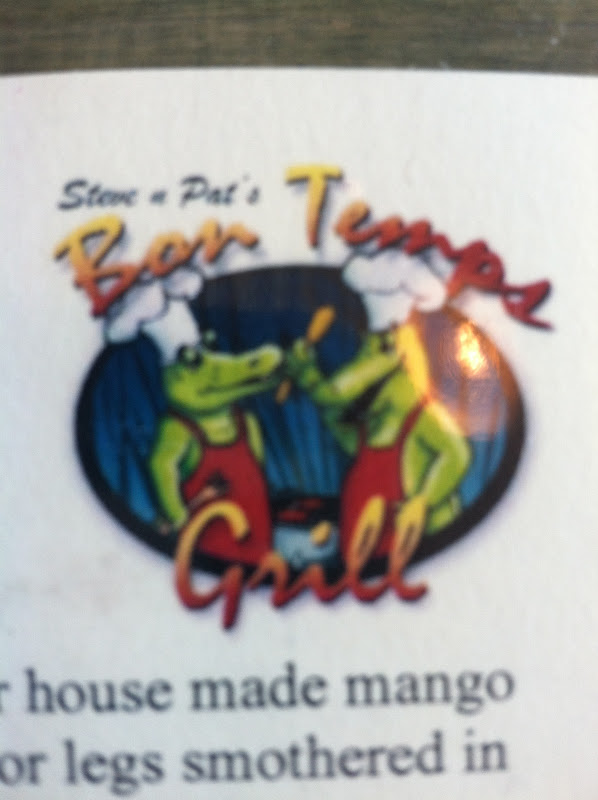 This blog post will be on two separate occassions that we dined with Bon Temps. Upon entrance into the restaurant we were very impressed with the transformation of the restaurant. Bon Temps is located where the old Crawfish time was on Verot School Road. The hostess was very warm upon entrance into the restaurant. We were seated almost immediately. The restaurant was almost full at lunch time, which was a good sign.
We looked over the menu and couldn't decide on what to try as an appetizer. There were many to choose from and they all sounded amazing. We were undecided on whether to try the Nola Shrimp with grits or the Grits & Grillade Cake. Well we ended up trying both dishes, each on different occasion.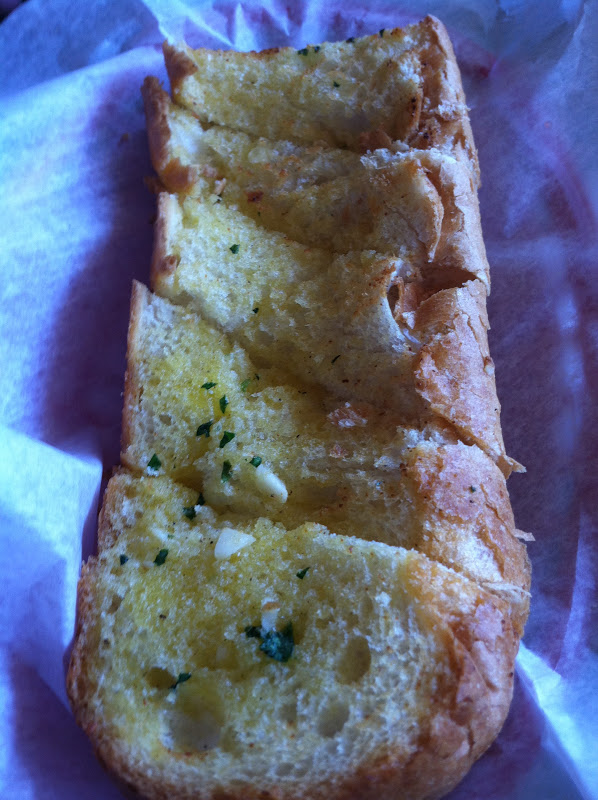 Complimentary garlic bread is served to each dinner. The garlic bread was good. Toasted and had a little crunch. It wasn't hard it was delicious. We didn't eat much bread because we wanted to enjoy our meal.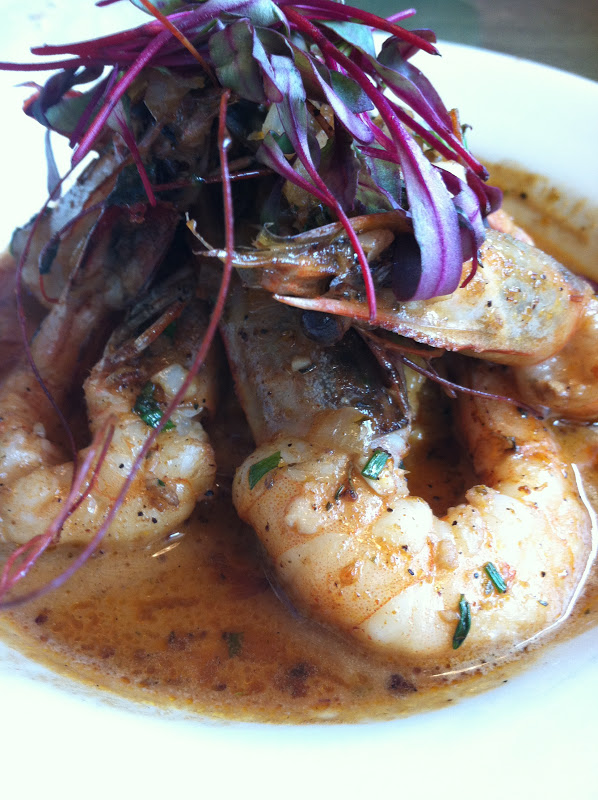 We tried the Nola Shrimp & Grits. The dish consist of jumbo shrimp with jalapeno grits. The jalapeno grits were creamy and not spicy. I was expecting more of a kick but it was pretty good. Brian is a connoisseur of grits and he was pleased with the grits.
The sauce that the shrimp and grits were served with was awesome. The shrimp were huge. The ingredients all together were superb! We used the garlic bread to sop the sauce up. Yum!!
The presentation was impeccable. The Shrimp & Grits were garnished with something called a Bulls blood herb. We tasted the herb, it really didn't have much a taste, but it was a nice garnish.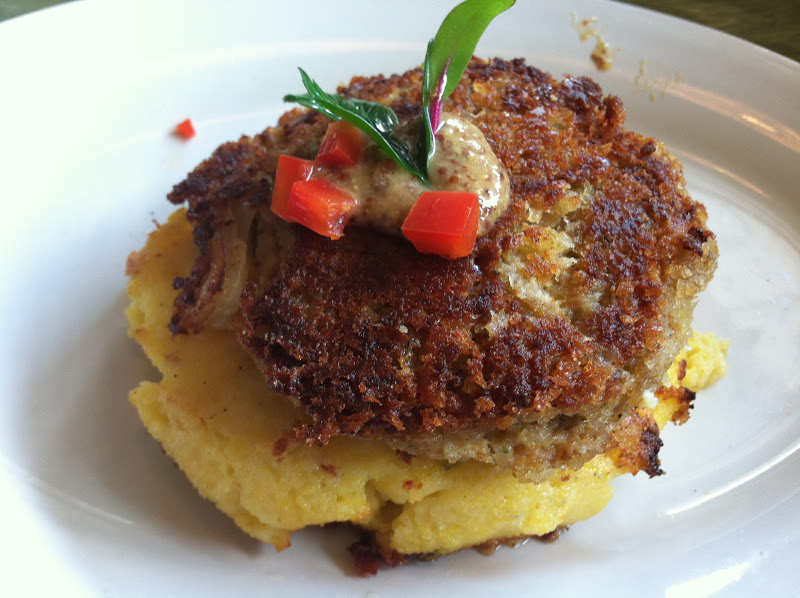 On a separate occasion we tried the Grits & Grillade (pictured above) is a roasted jalapeno cheese grit cake that is pan seared and topped with Bon Temps signature sausage and boudin bits and creole mustard. This appetizer was excellent. The crispy top with the grit cake and creole mustard complimented each other well.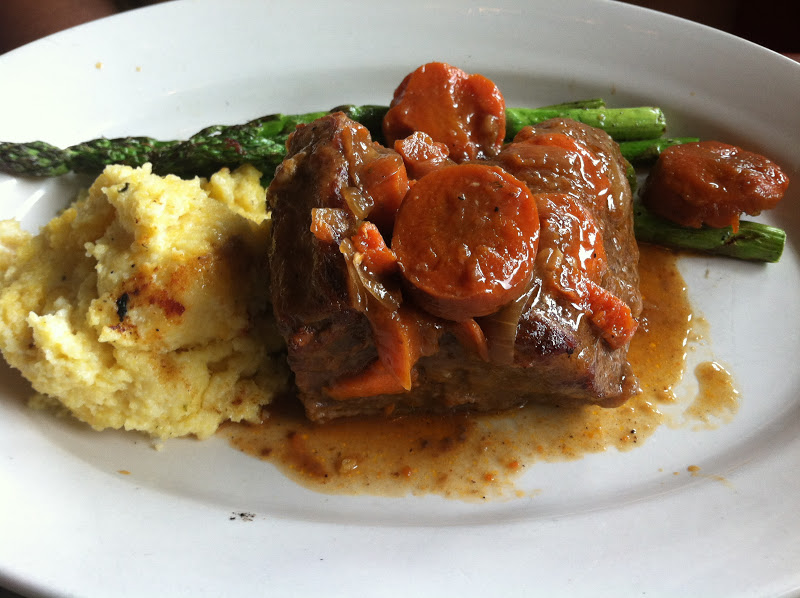 Brian ordered the Short ribs Fricassee. The Short ribs are braised with a red wine fricassee. For those who don't know a fricassee is cooking method, where the meat is cut up, sauteed and braised with a sauce usually a red wine sauce. The dish was served over jalapeno chili cheese grits and asparagus.
Brian said that the dish was good. It reminded him of a home cooked meal. Sort of like a comfort dish. I didn't taste much of it, but what I had it was good. The asparagus was well cooked.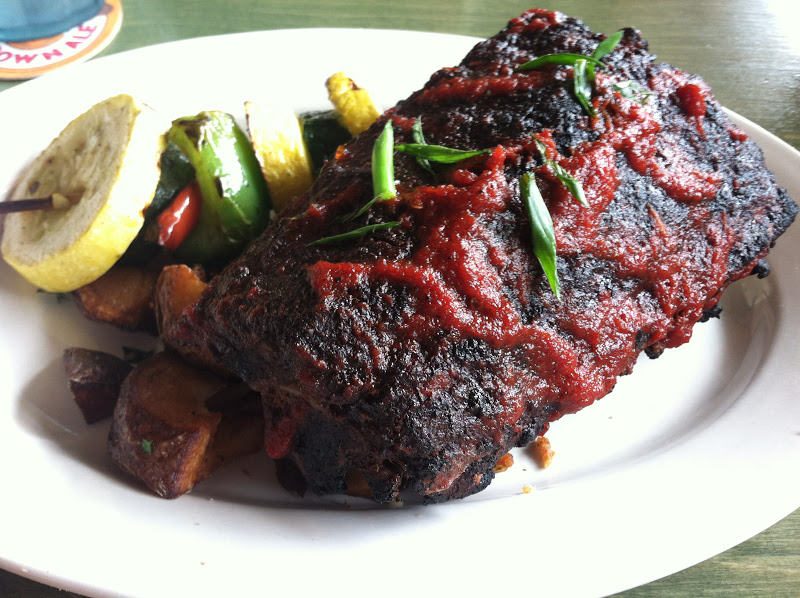 I ordered the Bon Temps Baby Back Ribs. In my opinion, the ribs looked great, but I didn't like the BBQ sauce. I believe that the BBQ sauce needs help. I am very particular about my BBQ sauce. The ribs itself was good. The ribs were served with vegetable skewers and Bon Temp Country Fryer. The dish could use some salt and pepper. Overall the dish was good but not great. Definitely needed some seasoning.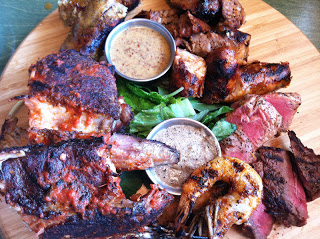 We returned on a separate occassion to try the Boucherie Board for two pictured above and below. The board consisted of a taste of the finest of Bon Temps Grill. Grilled homemade sausage, grilled boudin, grilled shrimp, grilled tuna, grilled sirloin & ribs. This Boucherie board was delicious. The board was served with a red onion aeoli & creole mustard dipping sauce.
The grilled homemade sausage was awesome. I tried it with the creole mustard and it was even better. Great! The boudin was superb as well. I think I was probably one of my favorite on the board. The grilled shrimp was lightly brushed with a sauce and it was delicious as well.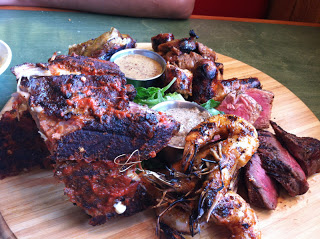 The grilled tuna was dynamic. Grilled and seasoned nicely. Other than that it was grilled to perfection. The grilled sirloin and the ribs were my least favorite. The ribs were a little overcooked to me. The sirloin was ok. I don't love sirloin so that's why I didn't like it. I think it there was a different sauce to go with the sirloin it may have been better.
Overall the Boucherie board was awesome. There was more than enough food for two! We took almost half of the board home. We would definitely order the board again, but maybe ask to supplement the meats we didn't like for the ones we did like. Great, great choice!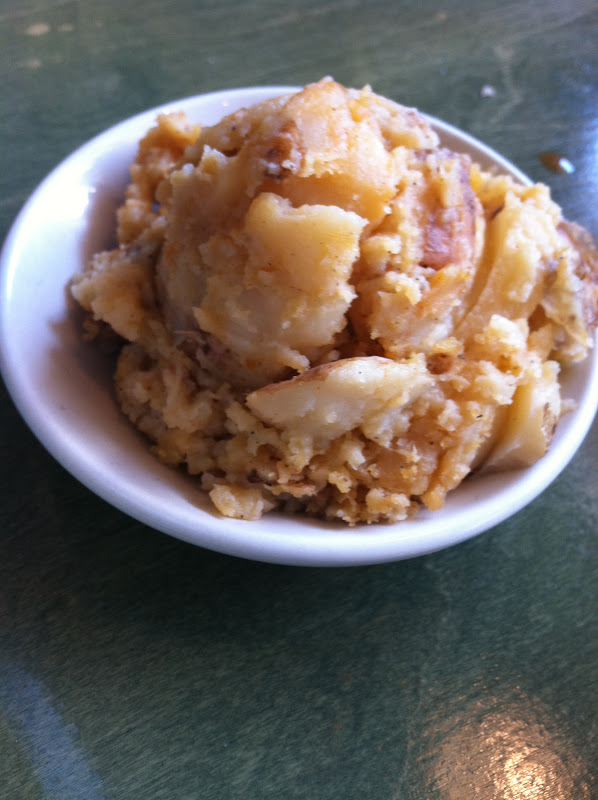 The red hot potatoes (pictured above) were really good. The potatoes were boiled in a spice mix and seasoned. The potatoes were very good and definitely had a nice kick. Which I didn't mind at all, because I love the spice!!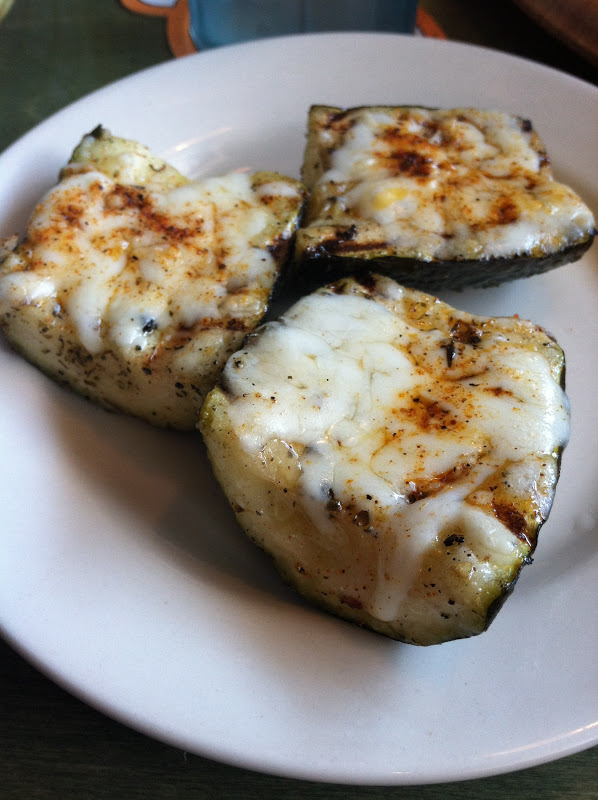 We also had the Bon Temps Zucchini. The Zucchini was topped with cheese and seasoned. The side was really good. I enjoyed the zucchini. Overall the side dishes here are pretty good. We have tried most of them and were pleasantly surprised by each one.
Overall our experiences at Bon Temps grill was awesome. The atmosphere is nice and the service was great! It is definitely a place I recommend that you dine. You won't be disappointed. I wish we had one closer to our home. If we did, I can guarantee we would be there once a week.
Some of the dish options are Crawfish pot pie, Pan-seared Tilapia, Cajun Jerk Chicken. A few of the appetizer options were Tuna and Avocado Tartar, Blackened Chicken lettuce wraps. In addition, there was a few vegetarian dishes to choose from. The menu also offers soup, sandwiches, salads & gumbo. There were so many more to choose from.
Bon Temps also serves dessert, but we have been so stuffed each time we have dined that we have never had a chance to try the dessert. I have heard that the desserts are just as excellent as the food!
Bon Temps Grill is located at 1312 Verot School Road, 337-706-8850. The hours of operation are Mon-Thurs 11:00 am – 9:30pm & Fri-Sat 11:00 am – 10:00 pm.
Check them out on Facebook or www.bontempsgrill.com.
Please follow and like us: