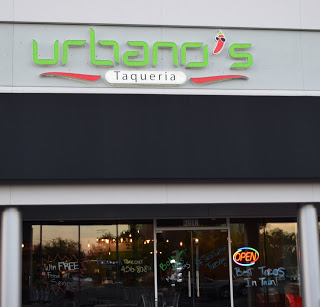 Urbano's Taqueria has only been opened for a short period of time. In this short time, Urbano's has seen wonderful success. In spite of the success happening so quickly, Ricardo has remained humble. He was a man with humble beginnings that was filled with many ups and downs. He never let those tough times hold him down. During my visit with Ricardo, I was blown away by the stories he shared with me about his life. Though his life had some ups and downs that should have knocked him down, it only made him stronger.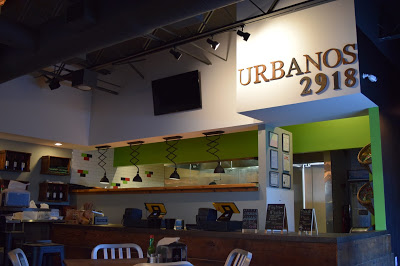 He is a man that is full of faith and believes that he was placed on this earth for a purpose. Ricardo strives everyday to make sure he does what he has to do. His belief is that never give up on your dreams. Push through whatever you are going through, it always gets better.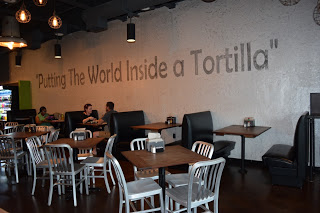 Urbano's is a fusion of Mexican Cuisine with Latin American Cuisine.The goal of Urbano's is to put the world inside a tortilla. Ricardo is originally from Honduras. He came to America and worked really hard to design and create a restaurant that would show his heritage and serve the food that he grew up with.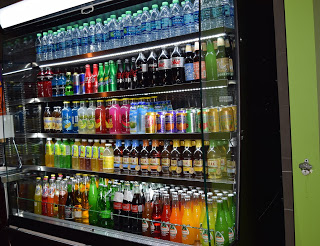 Urbano's had over 20 different non-alcoholic drinks to choose from. Above is the case with the different drink options. I loved that; those who know me, know that a fruity non-alcoholic drink is something that I look for in a restaurant.

We started with the Chips and Queso. The chips and queso was so good. Like no other queso I have had in the area. The queso consisted of a creamy cheese, guacamole, pico de gallo and a spicy sauce. Incredible! I am salivating just thinking about it. So good. The chips were crunchy. I loved the many dimensions of the queso.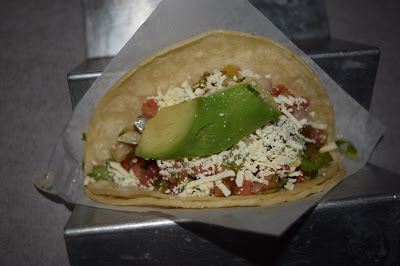 The waitress discussed many different tacos from the menu. As we listened to the waitress speak, I could feel her passion for the food the restaurant serves. As she spoke about the food, everything sounded so good. Cilantro Shrimp was on of the delicious tacos she recommended. The shrimp was grilled topped with cilantro, pico de gallo, queso fresco, a touch of lime and avocado slice. Very good. All the ingredients made for a delicious taco.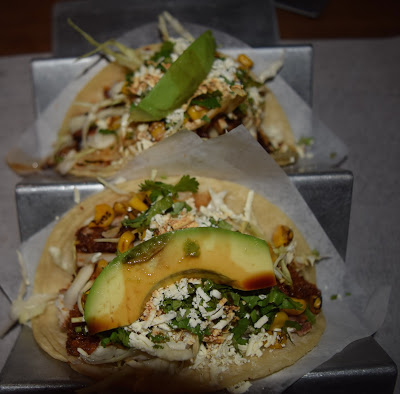 The Fish Fusion was a very interesting. The fish is breaded panko fried fish with cabbage, queso fresco, rotisserie corn, cilantro, sirachia, soy sauce and a avocado slice. The fish taco had many different dimensions to it. I like the toppings, but the soy sauce was a bit overpowering. I would suggest going easy on the soy. But it is a good taco for the fish lovers.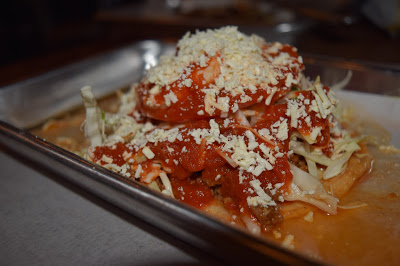 Honduran Tostada, the tostado is layered with ground meat, lettuce, tomato, shredded queso and a hard boiled egg. This toastado was very different. I thought it was average, I wasn't blown away by it. But the egg added a nice touch to it. I think the sweetness of the sauce is what I didn't really like.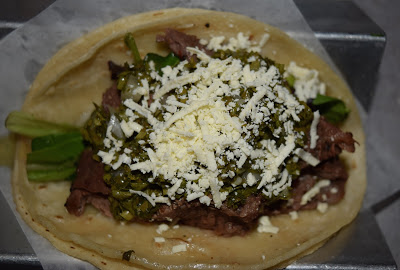 Argentina Taco is beef that was marinated for 48 hours. Topped with queso fresco, spring mix and house made chimichurri. My favorite taco of the night. Fresh ingredients. The meat was very tender. A delicious taco.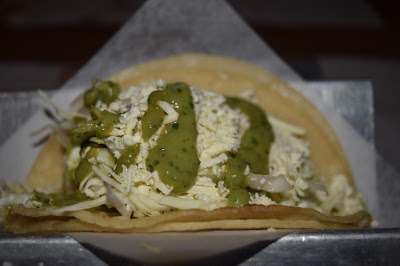 The Bacon Chile Taco which is a taco with a lightly roasted jalapeno wrapped; topped with cream cheese, queso fresco, cabbage and guacamole sauce. Incredible flavors, freshness and unique.
We also tried the rotisserie corn topped with queso fresco, cilantro rice, refried beans. All three were equally delicious. Much different than many of the Mexican restaurants in the area. The beans taste like beans we make at home. So good.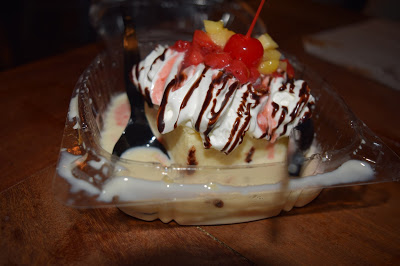 For Dessert we had the Tres Leches which is a bread that is soaked in 3 different vanilla milks. The Tres Leches was different than the one I had. But it was good. Similar to a ice cream sundae with the vanilla, cherry, strawberry and pineapple toppings. Desserts are made in house daily. My only complaint is that it was served in a plastic to go container instead of a bowl. I would suggest a small bowl instead of the plastic one.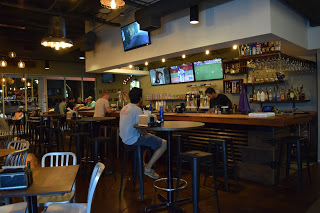 Urbano's has a nice atmosphere. The music was nice. Reminded me of being on a cruise. A wonderful dining experience. The waitress was from Honduras; very knowledgeable of the menu and what the restaurant offered.

Overall we enjoyed the delicious food at Urbano's Taqueria. The menu consist of a variety of tacos. A Taco that can satisfy every one's taste buds. The customer service was awesome. The restaurant design had that of an industrial vintage feel with a modern design. The environment was casual.
Before leaving we had the opportunity to speak with the owner, Ricardo. I left inspired and motivated after speaking with him. He spoke with me passionately about working hard to fulfill the reason you were placed on this earth. Each of us were placed on earth for a God given purpose. Once we know what that is, no one can stop us but ourselves. God gives us what we need to make it to each point in life. He spoke with passion and faith.
There are many more things to come for this company, I guarantee it. You can't walk by faith like he does and not see results. Urbano's is a family oriented business and he treats his employees with respect. One thing he said to me is if I succeed we all succeed. We are a team here. With that attitude, he is going to go really far in life. Wait and see, the best is yet to come for Urbano Taqueria.

Urbano's has two locations here in Louisiana, 2023 W. Pinhook Road and 2918 Johnston Street.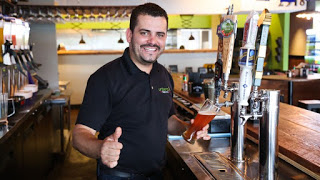 Please follow and like us: