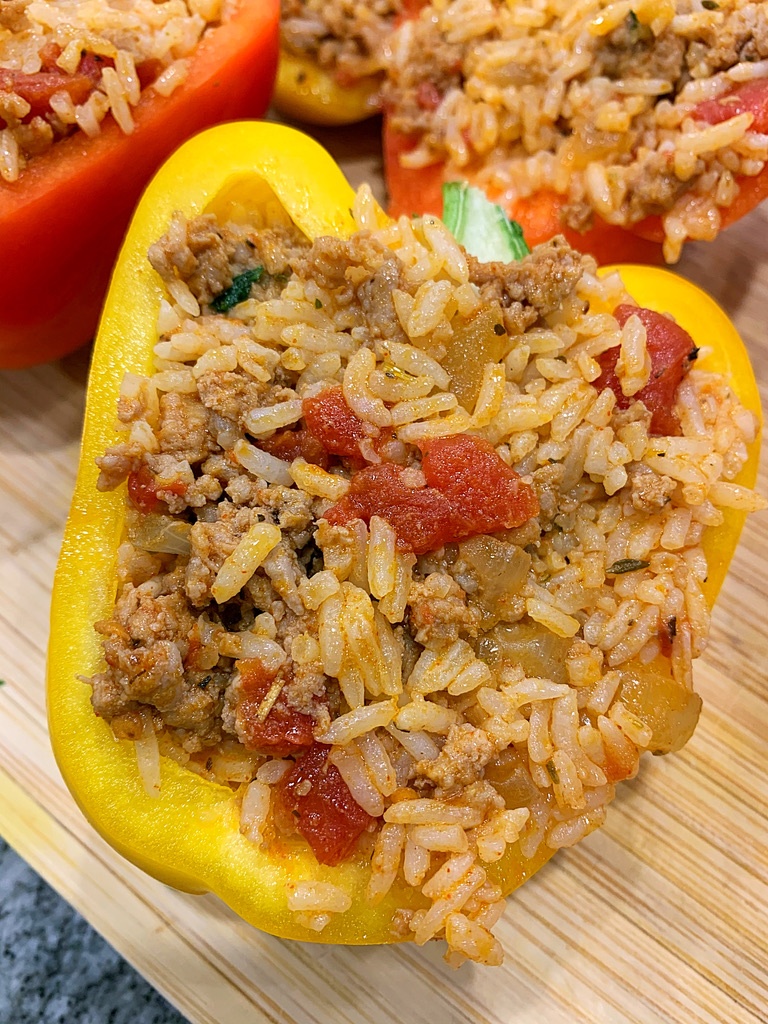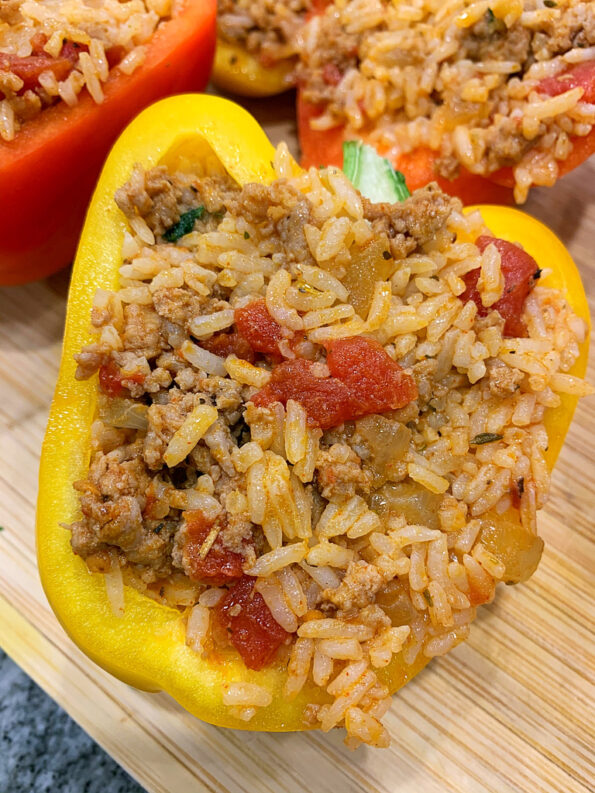 I typically use Beef for my Stuffed Bell Peppers, but I decided to switch it up with Ground Pork.

Print Recipe
Stuffed Bell Peppers
Yum
Stuffed Bell Peppers is an easy meal that can be eaten alone or with a side salad.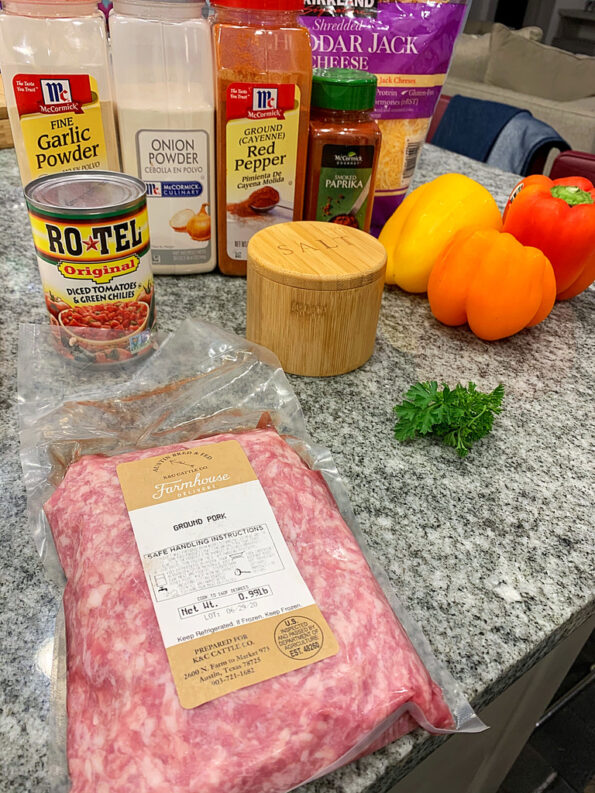 Ingredients:
Water
Ground Pork
White Onion
Celery
Rice
Rotel Diced Tomatoes and Green Chiles
Colorful Bell Peppers
Curly Parsley
Maldon Salt
Cayenne Pepper
Garlic Powder
Onion Powder
Smoked Paprika
Shredded Cheese Blend
Italian Seasoning
Rosemary
Olive Oil
Cooked Rice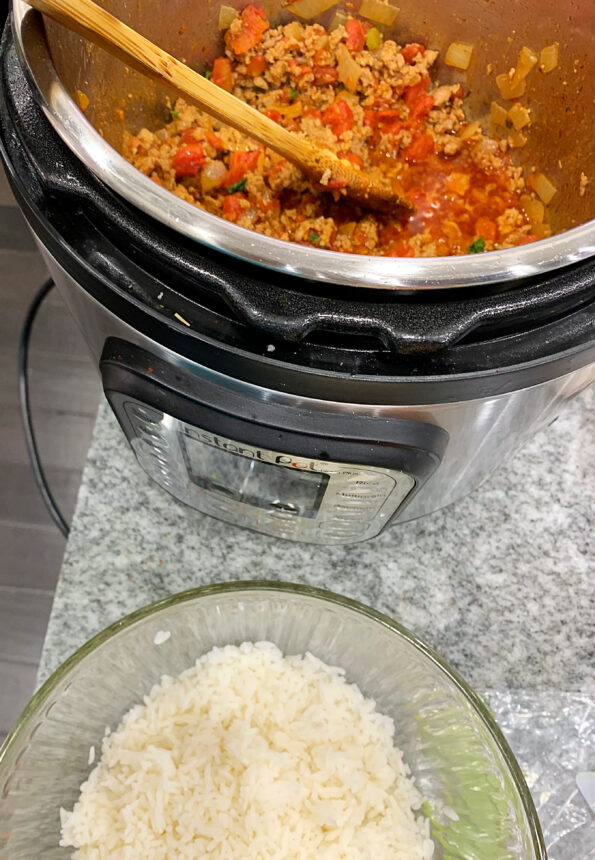 Directions:
Cut the bell peppers in half.
Deseed the bell peppers. Set aside.
Dice the onions. Set aside.
Rough chop the parsley. Set aside.
Add Olive oil in the InstaPot.
Set the Instant Pot on Saute. Once the oil is hot saute the onions. 3 minutes or so.
Add the ground pork. Brown the meat until cooked 5 minutes.
Add seasonings: garlic powder, onion powder, smoked paprika, salt, cayenne and smoked paprika. Stir. Season to taste.
Add parsley a generous amount. Stir.
Add can of tomatoes. Stir. Cook for 5 minutes or so.
Remove the ground pork and onions from the instapot to a bowl. Set aside.
Heat the rice in the microwave if it was already in the fridge. Heat until hot.
Mix in a little rice at a time. You want the mixture to be a little moist because it will be steamed in the Instant Pot.
Fill the bell peppers with the pork and rice mixture.
Top the mixture with the Cheese blend.
Add 2 cups of water to the Instant Pot. It's ok if there is still drippings left in the pot from browning the meat and onions.
Place the metal insert with the collapsible sides up. This will make it easier to remove from the Instant Pot.
Add 4 bell peppers on the metal insert to steam.
Then seal the pot with the lid. Make sure the valve is closed.
Press the steam button on the Instant Pot.
Once the Instant Pot beeps. Release the valve.
Remove the lid. Perfection. Cheesy goodness.
Carefully remove the metal insert with the bell peppers on it.
Add a little fresh parsley for garnish. Enjoy.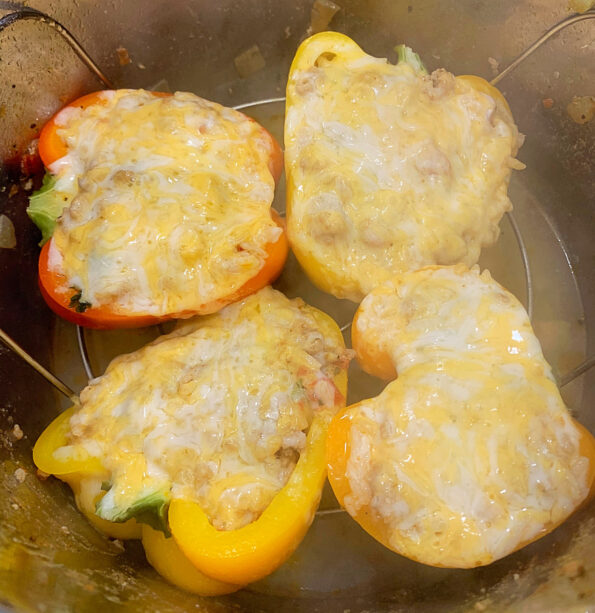 Please note that you may have to cook the bell peppers in batches because the Instant Pot can only hold 4 bell peppers on the metal insert.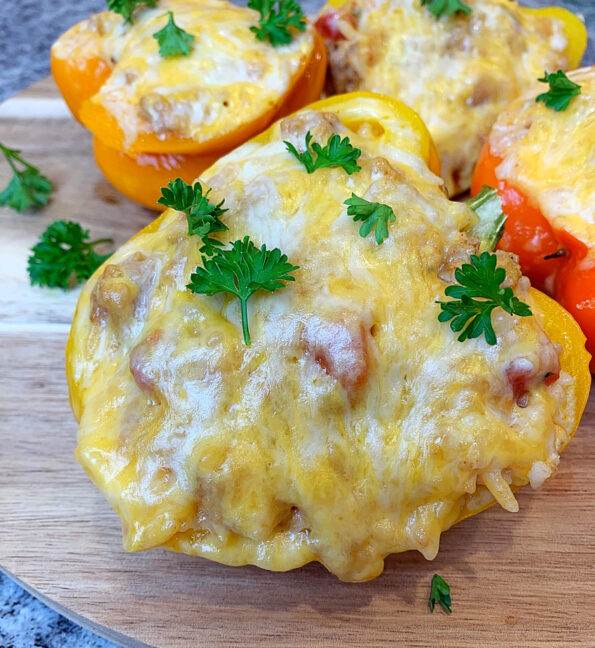 You can finish the others in the oven either in a pan with water at the bottom. Place the  metal insert like you use to cool cookies inside of the pan. Then add the bell peppers. Cover with aluminum foil and steam at 400 degrees cook until the cheese is melted and the bell pepper is soft.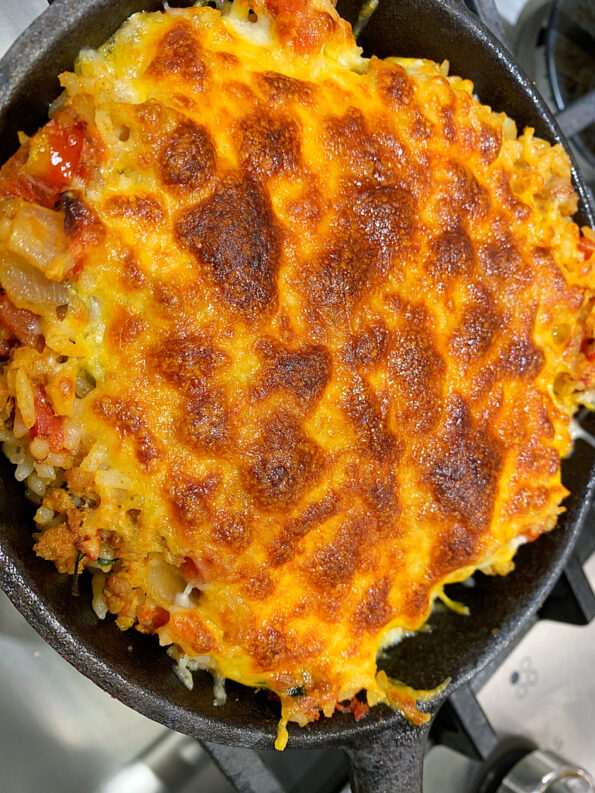 I had some of the leftover rice and pork mixture, so I added the rice mixture to a small cast iron skillet, top with cheese and broil in the oven for 8 - 10 minutes. You now have a yummy Cheesy Casserole.