Hey hey everybody! It's been a while since I posted a food blog. We have been ridiculously busy. Finally we are starting to settle in and slow down! I have so much to write about, so let's get started.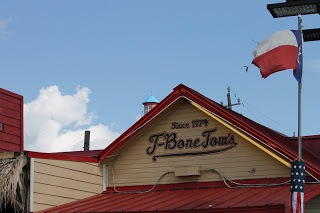 About a month ago or so we took a mini-vacation to Kemah, TX for a few days. Kemah is located about 20-30 minutes from Galveston. There are many great places to eat in Kemah, TX.
Those who know us, know we always seem to find the best places to eat. We first heard of T-Bone Tom's on Diners, Drive-ins & Dives with Guy Fieri. The food on the show looked amazing. We wanted to try this place.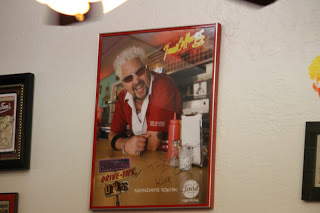 When we arrived in Kemah, TX we checked in our hotel and headed out to get a bite to eat. T-Bone's was about 5-8 minutes from our hotel. They are located near the Boardwalk. Depending on what time you go, you better be prepared for a wait. This particular day we arrived around 11am or so. There were quite a bit of customers in the restaurants upon our arrival.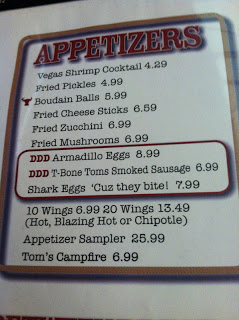 There were many appetizers to choose from Chicken wings, boudin balls, fried pickles, fried zucchini just to name a few. So many options to choose from. Yum, yum…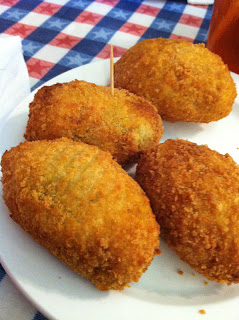 We started with an appetizer, which was the armadillo eggs. Guy Fieri tried these on his show. He absolutely loved this so knew we couldn't dine at T-Bone's and not try this appetizer. The armadillo egg is a jalapeno pepper stuffed with BBQ pork, battered and deep fried.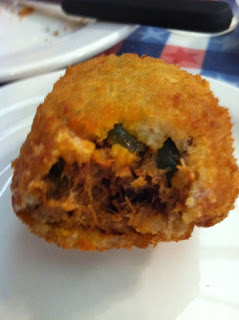 The armadillo eggs were huge!! Omg, to my surprise the dish was awesome!! The armadillo eggs were golden brown. A jalapeno that was stuffed with BBQ pork. The jalapeno and pork complimented each other very well. Though I wouldn't think that it would have been so good. My mouth was a little on fire initially, but I eventually got use to it. The armadillo eggs were served with ranch sauce. To me it tasted even better with the ranch dressing. Good stuff. I couldn't eat more than one because it was so big!!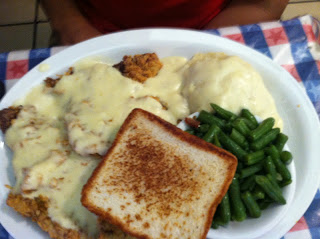 Brian ordered the Country Fried Steak with mashed potatoes, green beans & a texas toast. Brian loved his food. Country Fried Steak is his favorite dishes and he said that T-Bone's was one of the best he has ever tasted. I had a bite as well and the dish was amazing!! The mashed potatoes were homemade, nice and creamy and seasoned well. The Country Fried Steak was seasoned to perfection and tender. Omg, they make the best homemade white gravy. Superb! The green beans were fresh, but average to me. I would have added more butter and a little seasoning, but it wasn't bad.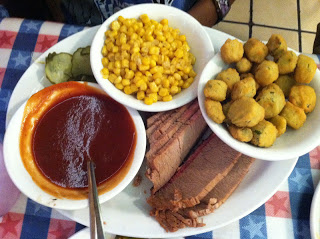 My stepdaughter had the brisket with corn and fried okra. She liked her food.The brisket was smoked and sliced. The brisket was average. I will say that it was tender, but needed a little more spice. But their homemade BBQ was pretty good. We added a little BBQ sauce to the brisket and it gave the meat a much better flavor. The corn was a little bland, but it was ok. The fried okra was very good. There was also sliced pickles on the plate as well.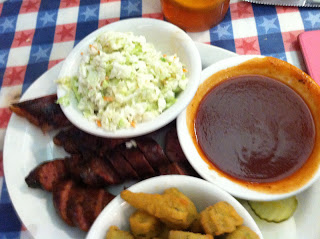 I ordered the smoked sausage with potato salad, fried okra, and coleslaw. The smoked sausage was an in-house sausage that T-Bone makes from scratch with spices and smoked to perfection. The sausage was seasoned well, fried okra was good as I stated earlier, the coleslaw was just ok, something was missing. The potato salad pictured below was delicious. The potato salad had mayo, a little mustard chives with salt and pepper. Very good.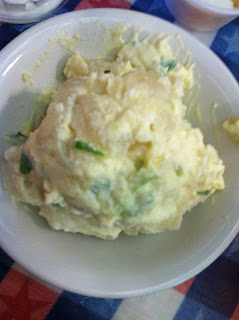 Lil mama had the chicken fried steak basket with curly fries, toast and corn. Not pictured but it was very good. Lil mama enjoyed her food. Though she is picky, T-Bone impressed her. Lol..
T-Bone's menu offers a variety of dishes. The menu offers items like Soups, Salads, BBQ, Sandwiches, Burgers, Wings, Steaks, Seafood. A great place for everyone in the family.
In addition, to so many dishes to choose from T-Bone also has a meat market with different choice meats to choose from. The meat looked fresh and weren't any more expensive than a regular meat market.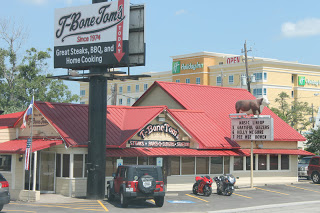 Overall our impression of T-Bone Tom's, we were thoroughly satisfied and impressed. The food was awesome, the service was good. The portion sizes were hefty and we had enough for supper that particular day. We wish would have time to go back before leaving the city, but there is always next time.
T-Bone Tom's has been serving homestyle food, steaks and BBQ since 1974. They are located in a great spot and the restaurant is easy to find. T-Bone offers daily lunch & dinner specials Monday-Friday. The lunch specials are from 11am-2pm. The dinner menu special is from 2pm-until 2am. The restaurant is opened 7 days a week until 2am. In addition, T-Bone's has a catering menu as well. So if you have a big outing or event let T-Bone's do the work!!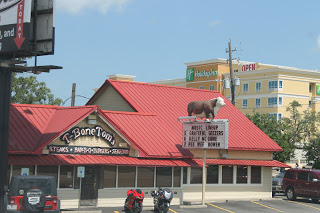 T-Bone Tom's has an area called the Backyard. This area has Tiki Huts for outdoor service. The area is very nice and a great area for parties or afternoon/night dining. On Wednesday-Sunday there is Live music in Tom's Backyard performances during dinner.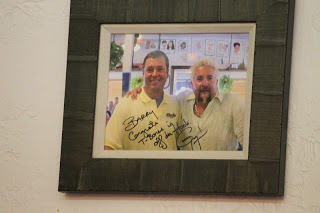 T-Bone's is located at 707 Hwy 146, Kemah, TX 281-334-2133. They also have a Facebook page and a website www.tbonetoms.com