Shake it Up!
We all love a good salad. But I know I sometimes get a little tired of the same old same old way of serving the salad. Well recently my family and I decided to Shake it Up a bit. We decided we would have our salad in a Mason jar.
The Mason jar has come along way. The jars were originally used for Canning and Preserving. Recently the Mason Jar has become much more than that. There are Mason Jar cups, Centerpieces, Desserts, etc.

Now for a little history on the Mason Jar. The Mason jar was patented and invented way back in 1858 by John Landis Mason. The Mason Jar was known by many other names like the Fruit Jar or Glass Canning Jar. Believe it or not, Mason Jars are well sought after by many. They are sold in many antique shops. The value is judged based on age, rarity and condition. Wow what interesting facts. Now back to our Salad Jar.
Here are the steps we used to build our Salad in a Jar. I grilled my chicken first in olive oil. Once the chicken was a golden brown, I chopped the chicken into chunks. The chicken was seasoned with slap yo momma, garlic powder, paprika, onion powder.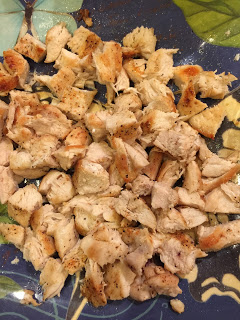 Prep all your other ingredients. Shredded cheese mozzarella and cheddar cheese.
Diced Tomatoes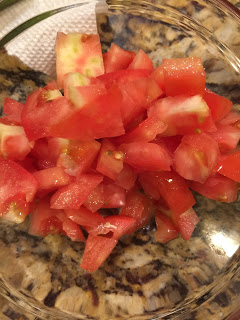 Fresh Cucumbers from our Garden.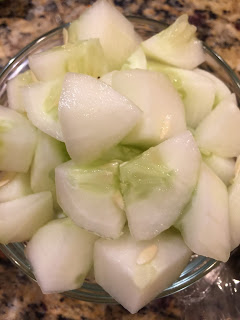 Crumbled Bacon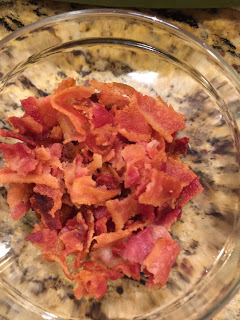 Garden Rotini Pasta boiled. Follow directions on the package.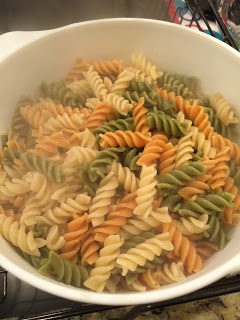 Basically I begin building the salad in the jar. Pasta at the bottom, grilled chicken next, diced tomatoes, cheese, lettuce, tortilla strips and bacon.
Below is a side view of the everything in the salad.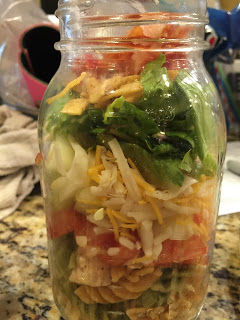 As you can see from the picture below a top view of the Salad in the Jar.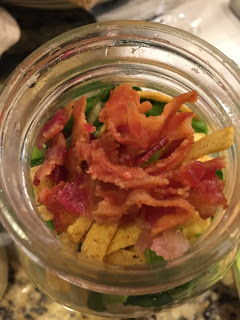 I added the salad dressing which was a spicy ranch dressing on top, placed the lid on top. I shook the jar. I removed the lid again and added a little more dressing and shook the jar once more. At that point the salad was well mixed.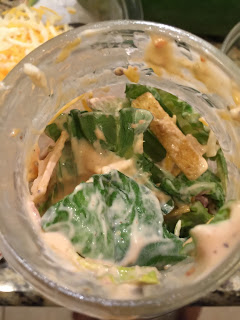 Pictured above is a top view of the salad after the mixing is done.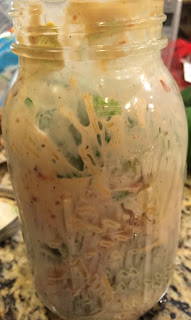 The family loved this idea. Even my baby daughter enjoyed building her salad in a jar. So I would say that it was a hit at our home. Here are a few suggestions when building a salad in a jar. Prepare all ingredients ahead of time. Toss the pasta in dressing prior to building the salad. The Vinaigrette's work better. The thicker dressings are a little harder to toss. So adding a little dressing in layers works as well.
Try your version of this Salad in a Jar, but remember Shake It Real Good!!