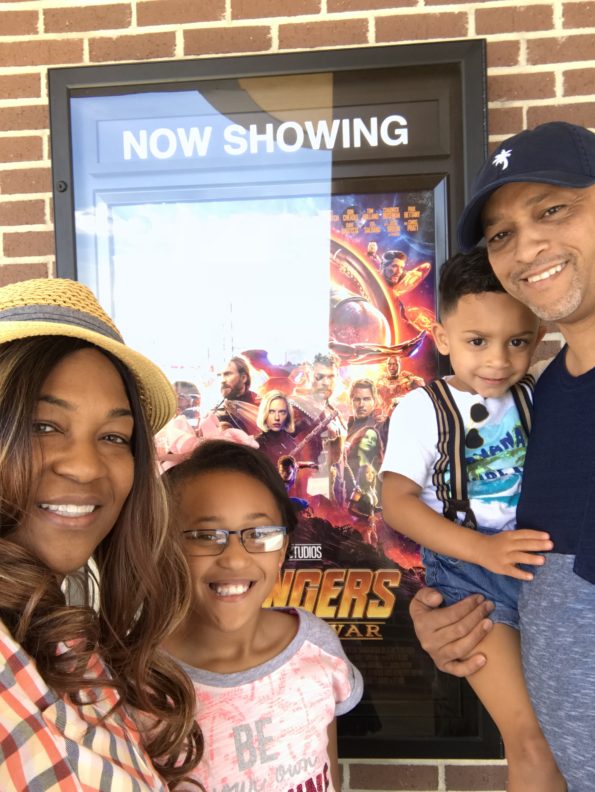 Watching Movies is something that my family and I love to do.  We see movies several times a year.
There was quite a buzz about the new Marvel Studios' Avengers Infinity Wars.  We decided to drive to the new Movie Tavern in Denham Springs.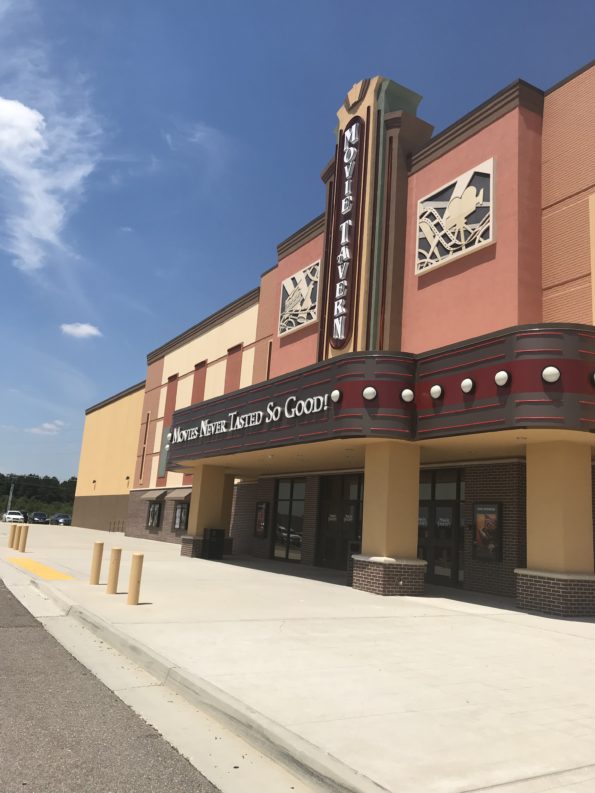 We arrived at the Movie Tavern in Denham Springs, Juban Crossings.  The area was really nice where the Movie Tavern was located.  We purchased our tickets via the Movie Tavern app so all we had to do was go the kiosk when we arrived and print our tickets.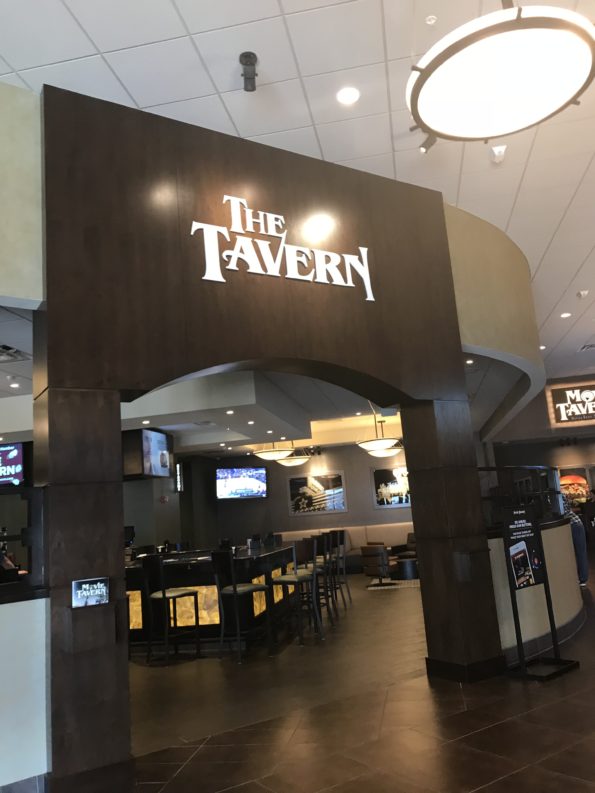 The Movie wouldn't be starting for another 30 minutes or so.  So we headed to the Lounge/Bar area. The look of the Lounge was nice.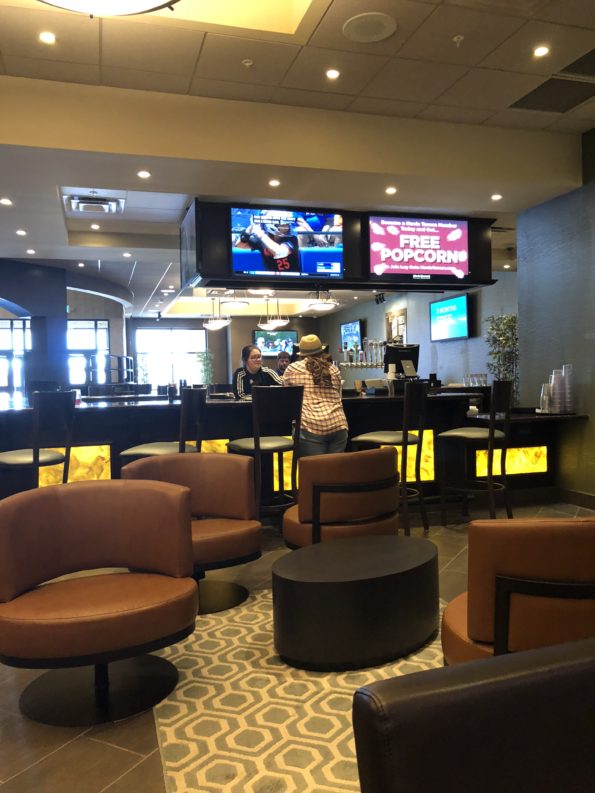 Family friendly area with Big Screen Televisions, Comfortable seating and a bar area.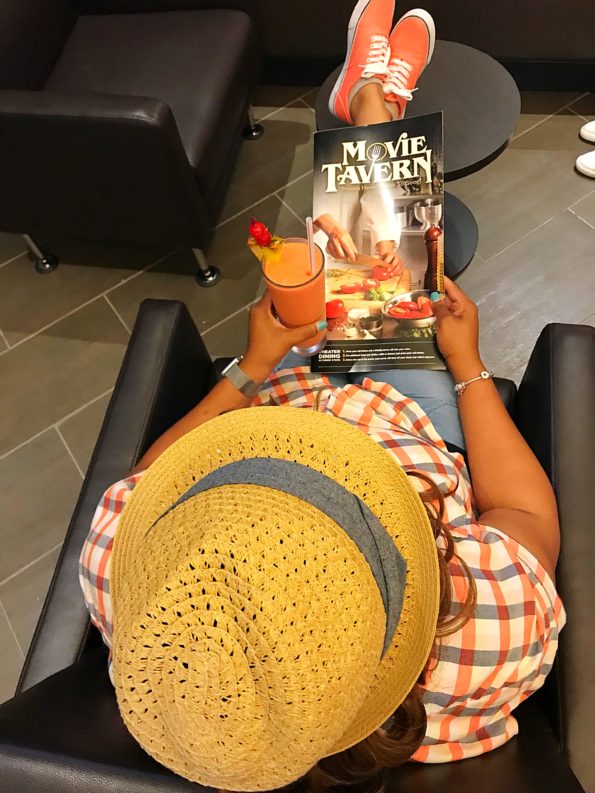 I decided to order a frozen fruity drink, a Strawberry Virgin Daiquiri.  The drink was yummy and delicious.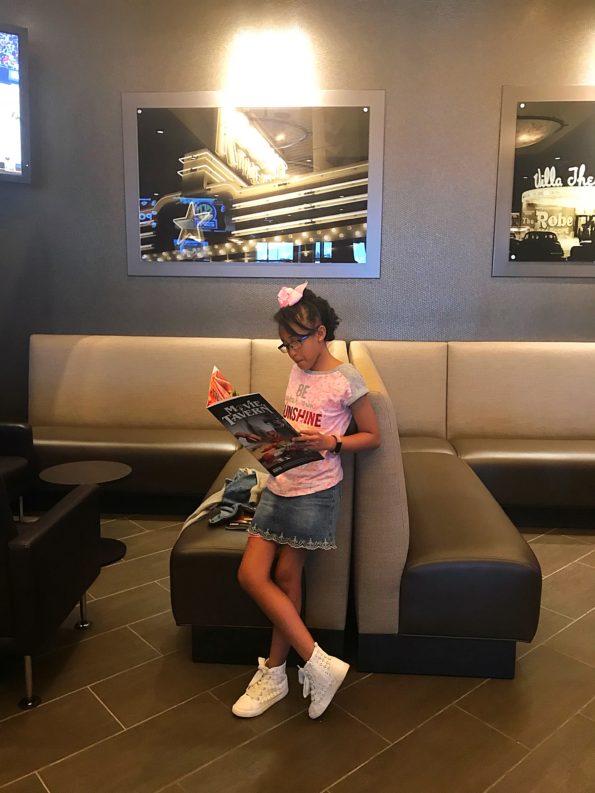 While we were waiting, my kids began looking over the menu and deciding what they wanted to eat.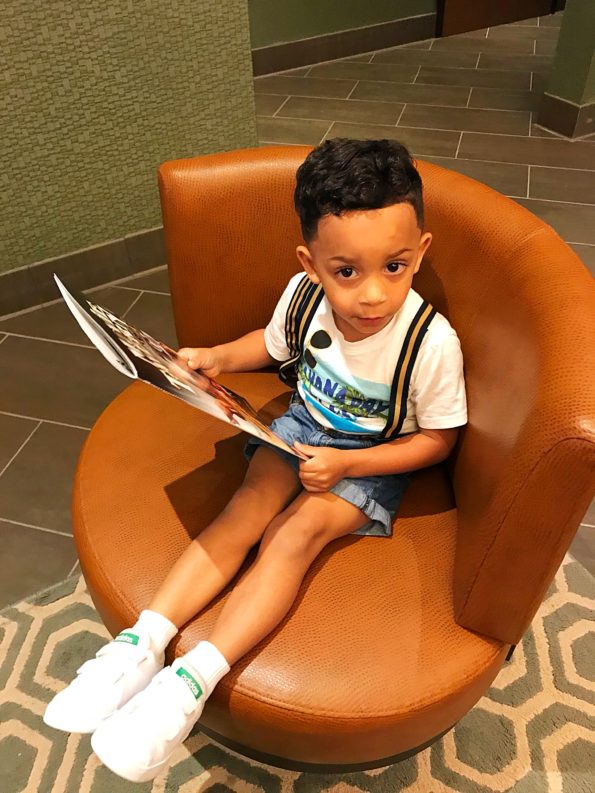 The Menu had many items to choose from.  Though at the time they were either changing the menu or omitting some items because several items were scratched off each menu.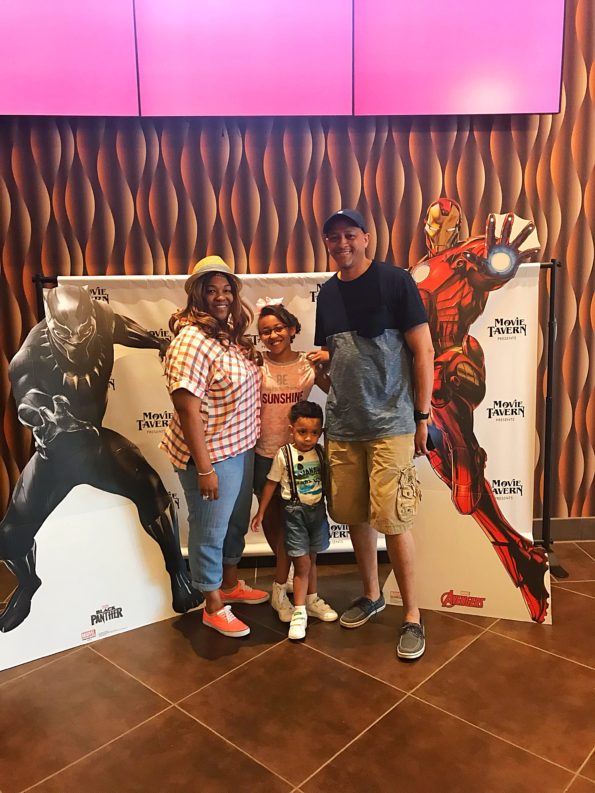 Before entering the theater there was a photo area setup for anyone interested with the Avengers: Infinity Wars background. Cute.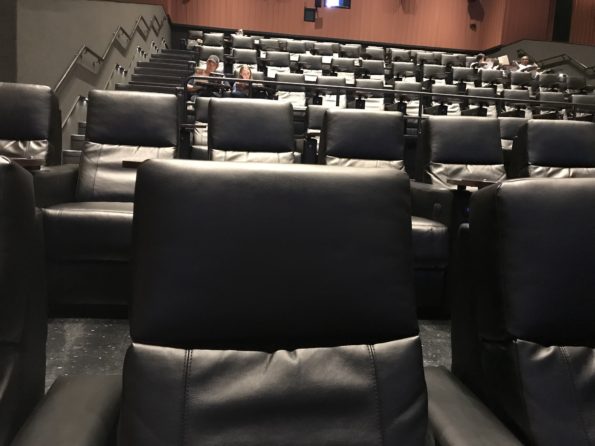 We entered the theater and found our assigned seating.  The theater was sold out.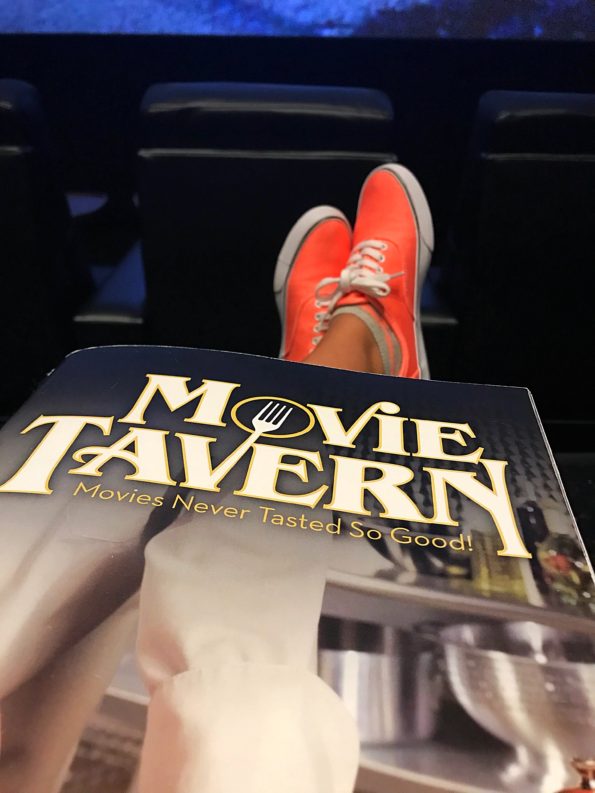 After finding our seats we placed our drink orders.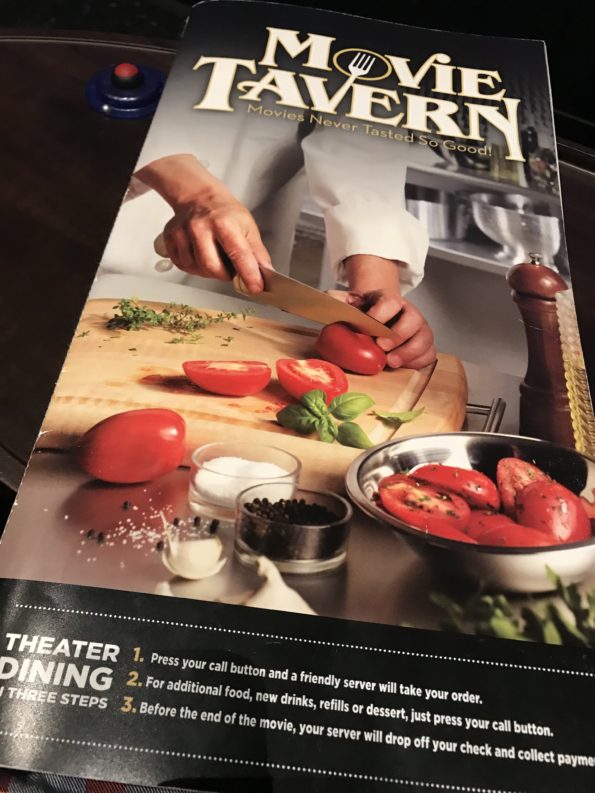 To place your orders you press the button on your tray.  We ordered our food and waited to receive our items.
I won't elaborate much about the food because this blog is more about the movie and less about the food.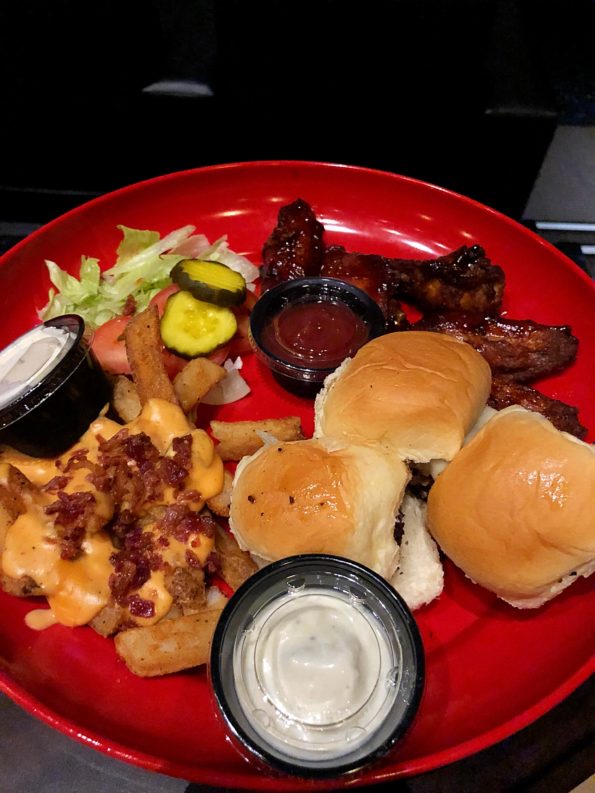 One of the items we had was the Game Day Platter.  The platter included three mini burgers topped with your choice of cheese, a half-pound of piping hot chicken wings with your choice of flavor, plus an order of fully-loaded Seasoned Fries that are covered in cheese and bacon.  Really good choice for my boo.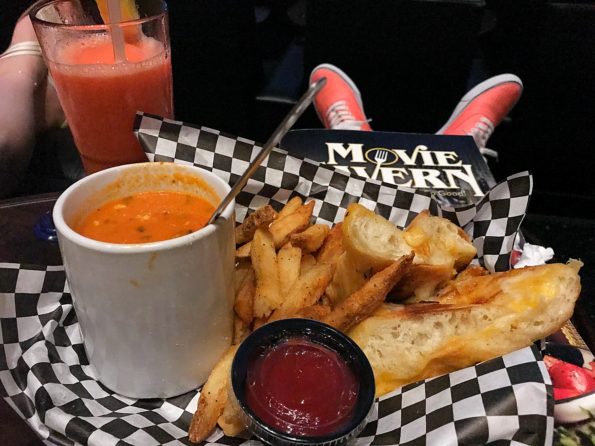 Want something a little lighter?  Try the Ultimate Grilled Cheese and Classic Tomato Sauce.  A combination of swiss, mozzarella, provolone, cheddar, and parmesan cheeses all melted onto a crispy baguette.  Nestled next to a cup of our warm tomato soup, garnished with Grana Padano.  Served with a side of seasoned fries.  Really good. Presentation could have been better, but it was delicious.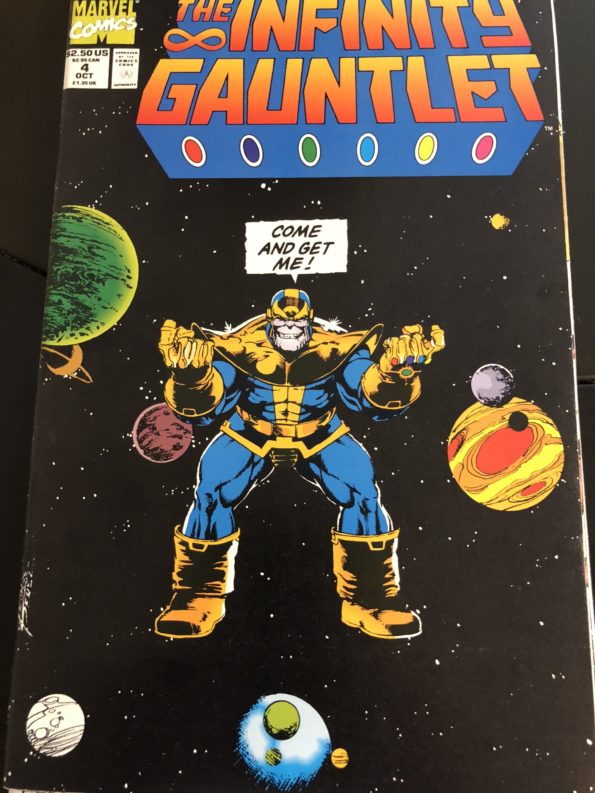 Enough about the food, now on to the movie review.  My husband is sharing his thoughts on the movie.
"I love comic books and a collector for many years.  In the recent months Marvel has been producing some of the best comic stories I have seen.  And the recent release of Marvel Studios' Avengers: Infinity Wars certainly did not disappoint. I have read the Infinity Gauntlet Comic Book in the past and this story line is different but it is just as good.
If you love comic book movies like I do this is one of those movies you must see.  If you have to go to restroom or get popcorn or anything to eat do it before watching this movie.  Because of the action and the many different things happening you don't want to miss anything.
This movie captivates you from start to finish.  You will go through all the emotions.  There is a lot of laughter thanks to Guardians of the Galaxy and Spiderman you will be sadden by the relationships that are destroyed and there some unexpected events that happen that will question the future of some characters.
Most of the recent superheroes are in this movie from the Avengers characters from different movies to the Black Panther characters from the recent blockbuster movie to Dr. Strange and his mind binding abilities and the crazy crew of Guardians of the Galaxy even some past Captain America characters.  All assembled to defend and protect the Infinity Stones (Reality Stone, Space Stone, Time Stone, Power Stone, Mind Stone and the Soul Stone) from getting into the hands of Thanos.
Thanos has a gauntlet that was forge to channel the powers of the Infinity Stones.  So Thanos and his crew of villain in there search for the stones do not take it easy on our well known superheroes.  I like it because the hero doesn't have to always have the upper hand.  It makes for a better movie where the audience members are intensely involved in the movie.
My daughter is still asking me questions about the movie because of things that have happened.  She is my movie buddy for all Sci-Fi movies.  And I love the time we get to spend together.  This time it was the whole family which was a great experience.
I don't like to spoil movies for those who have not seen it so with purpose I did not want to reveal too much in this post.  If you have not watched the movie yet go out and see it.  I like for others to form there own opinions and it would be nice to hear what you thought of the movie in the comments".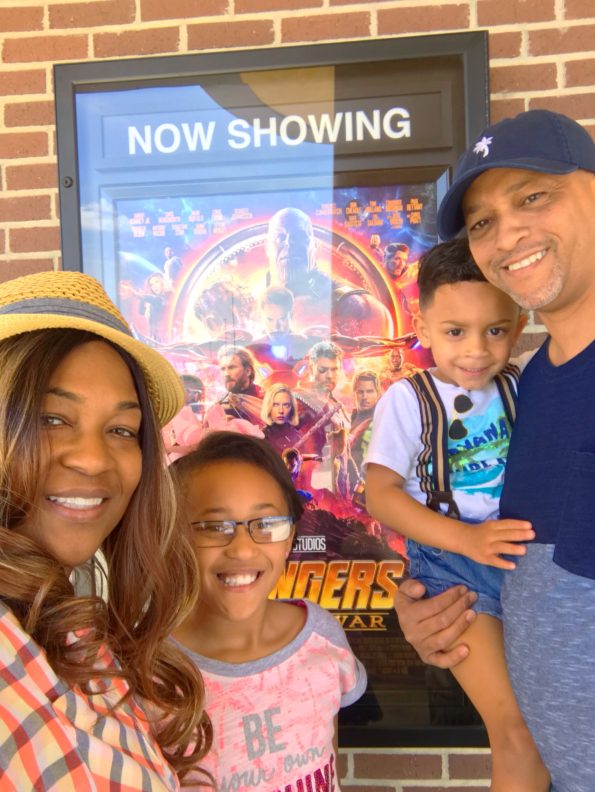 The Movie Tavern, Juban Crossing is located at 9998 Crossing Way, Suite 700 Denham Springs, LA 70726.