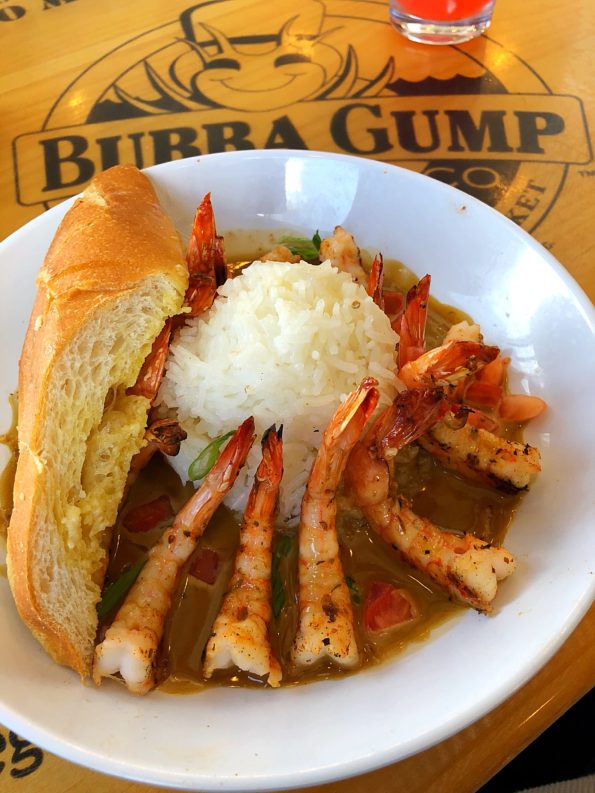 Forest Gump is a movie that never gets old.  It's filled with heart, humor and courage. Bubba Gump was Benjamin Buford Blue, Forest Gump's best friend during the Vietnam War.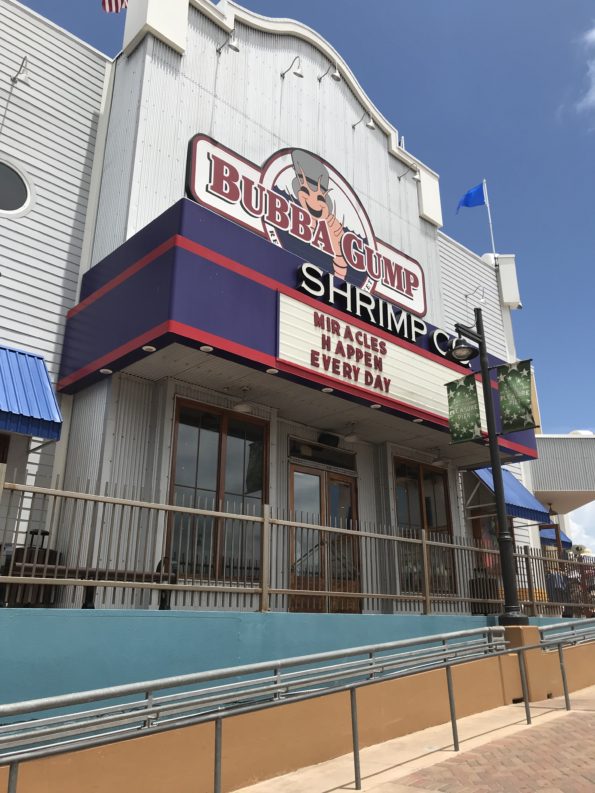 My family and I were visiting the Galveston area a few weeks ago and we had lunch at Bubba Gump Shrimp Co. This Restaurant is based on the movie Forest Gump.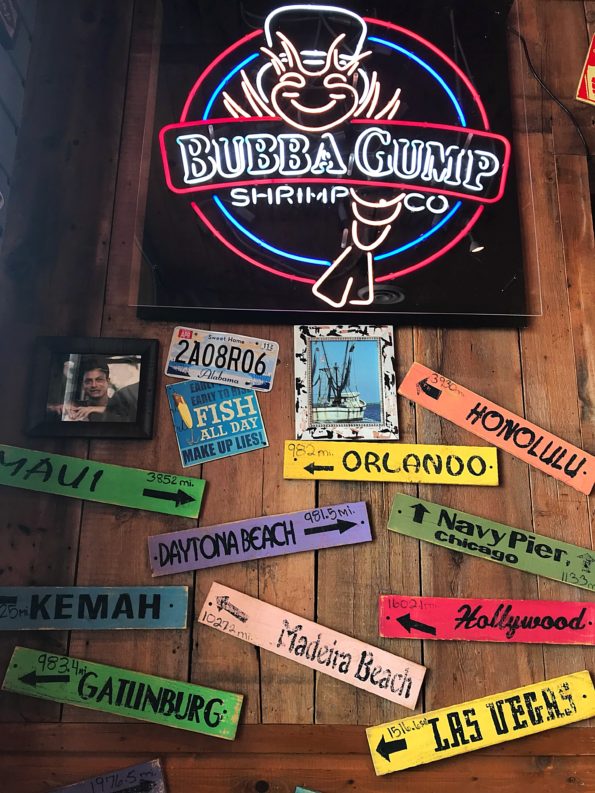 The inside is filled with sayings from the Movies, duplicate memorable items from the movie. The waitress even quizzes you on your knowledge of the Movie Forest Gump.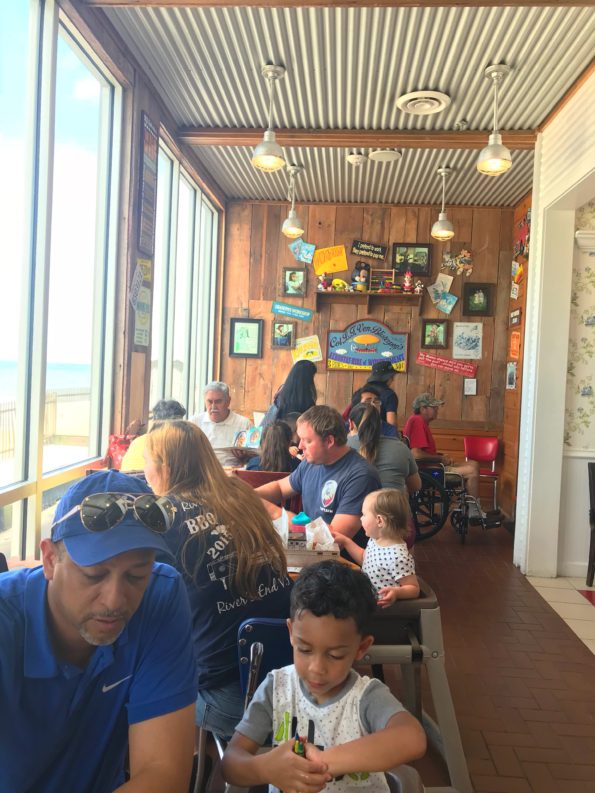 Such a cool place to eat.  Not to mention it's conveniently located on the Galveston Pleasure Pier with views of the beach.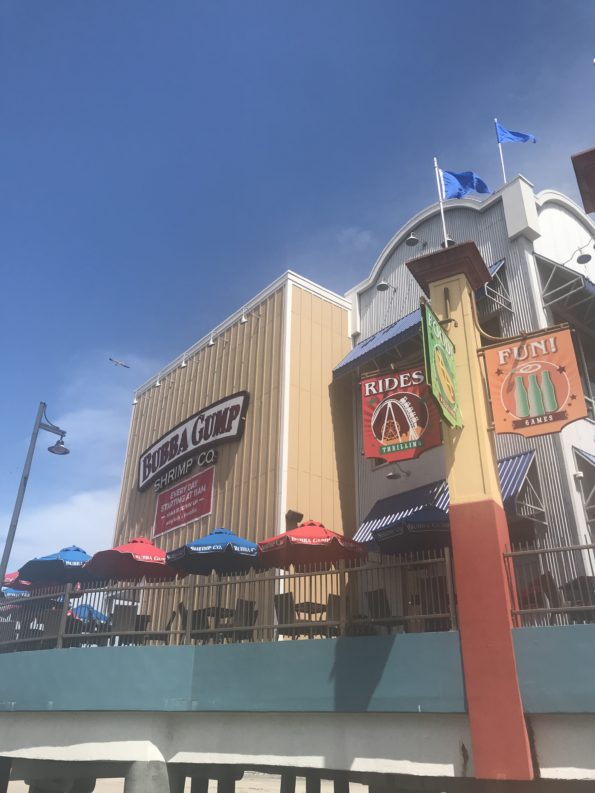 Want to sit outside? No worries, they have a huge outdoor seating area for dining and people watching. The perfect spot to catch all the action.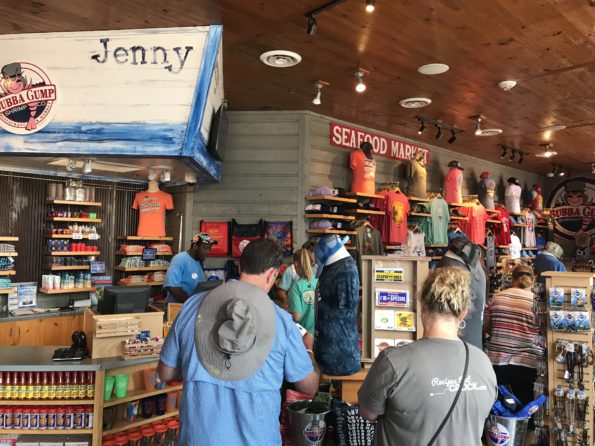 When you walk in there is an area for souvenirs and to do some shopping.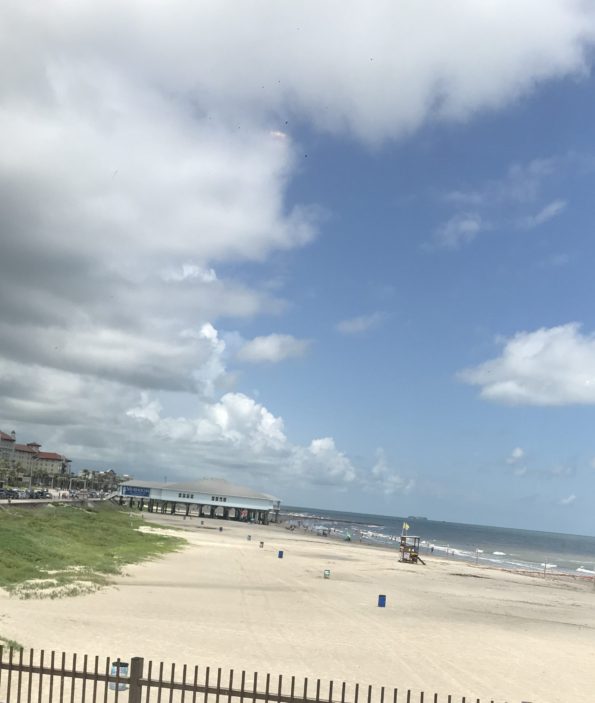 We asked the hostess for a window seat so we could enjoy the gorgeous weather and beach views. The waitress arrived at the table and began recommending a few drinks.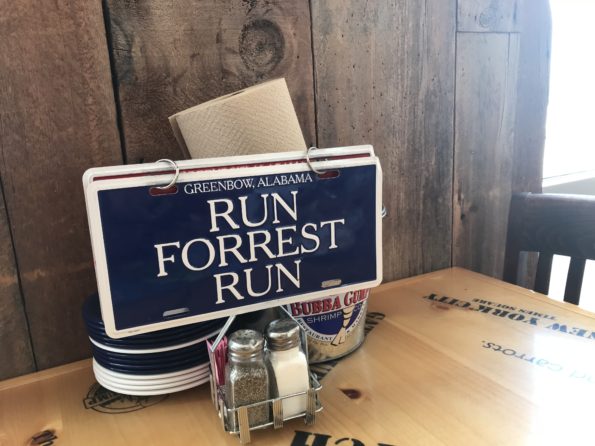 She also made us aware of the license plates that were on the table, one said RUN FOREST RUN,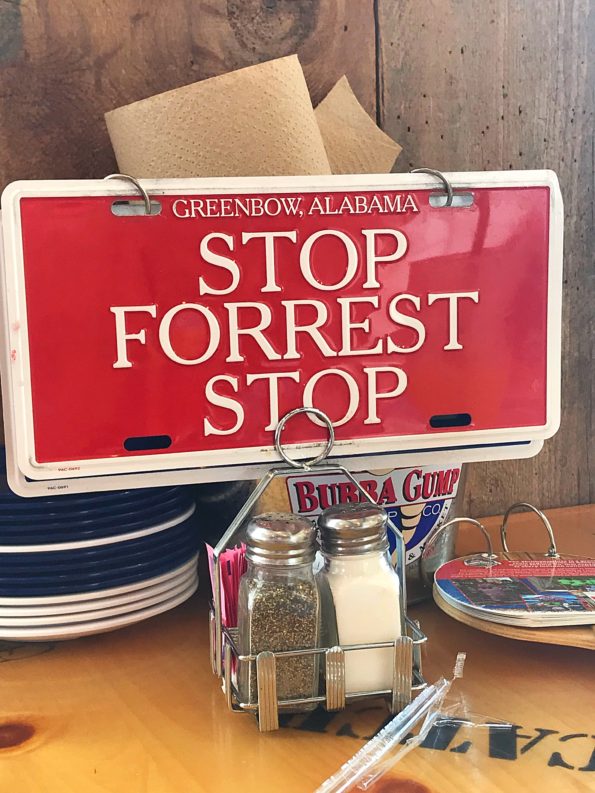 The other said STOP FOREST STOP.  If ever you needed anything you would flip to STOP FOREST STOP and one of the team members would stop and get whatever we needed.  I thought this was a really cool thing.  Plus it was a great service mechanism and the waiter and waitress really paid attention to the request.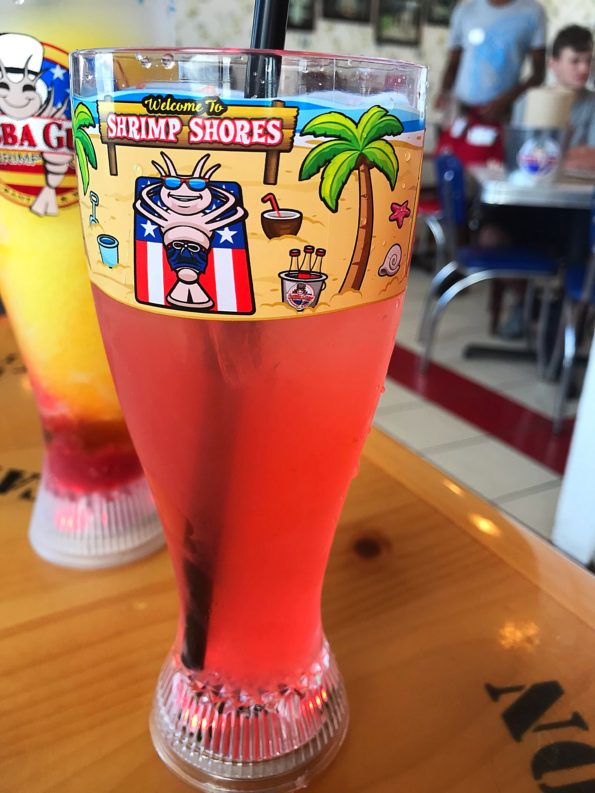 My husband and I ordered a few of the Virgin fruity drinks.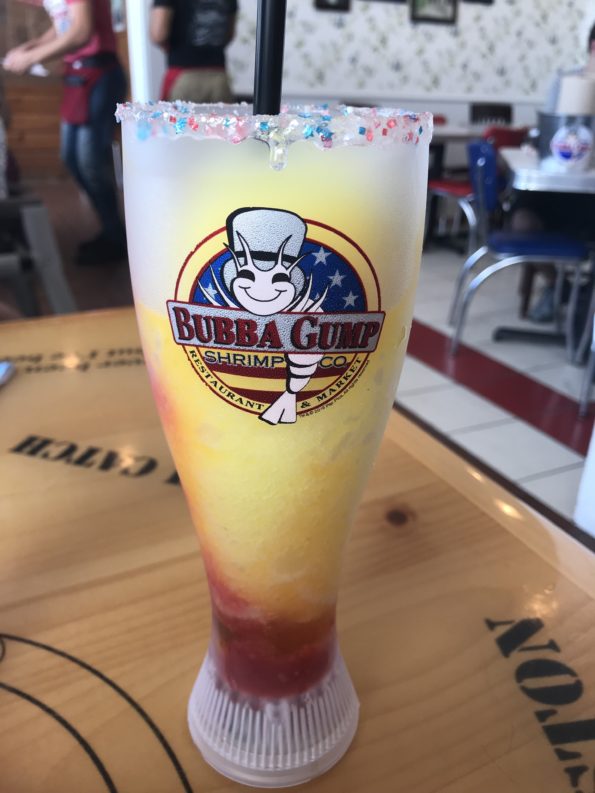 He had the Secret Mango Sparkler.  Which was a mango icy drink with orange juice and This one was delicious.  Served in a nice Bubba Gump Keepsake cup.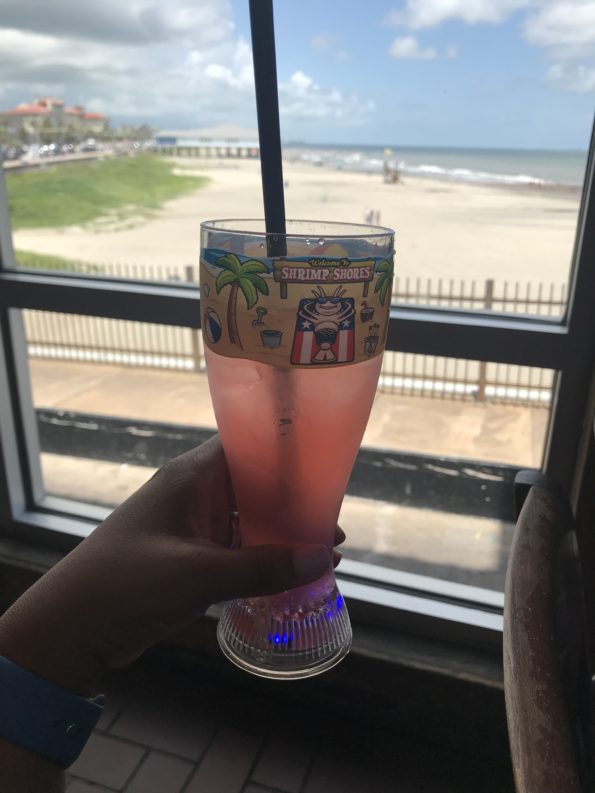 I ordered the Fizzy Fun.  A Cherry Lemonade.  My drink was just ok.  My second one was better than the first one.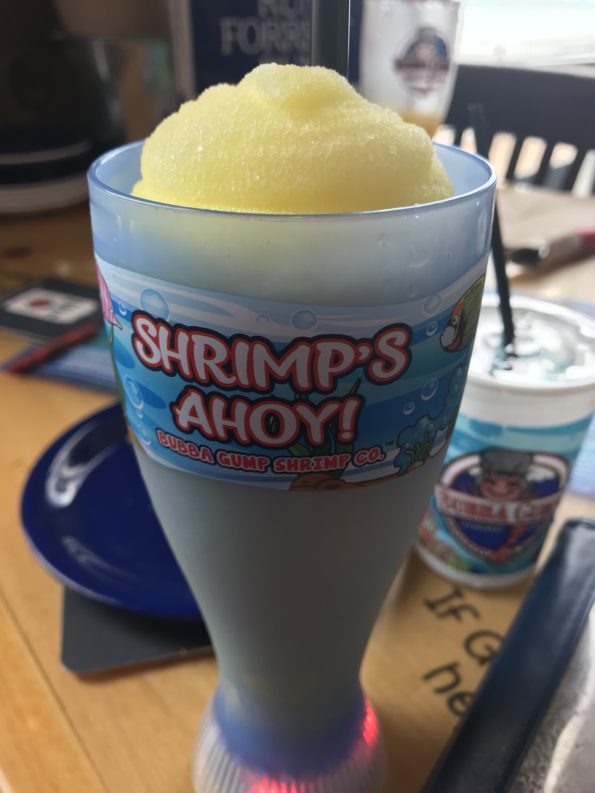 Our daughter loves anything that lights up, so she wanted to order the glow cup with a Frozen Lemon Up.  Simply put, it's icy goodness. The perfect drink to cool off in this summer heat.  Simple but yummy.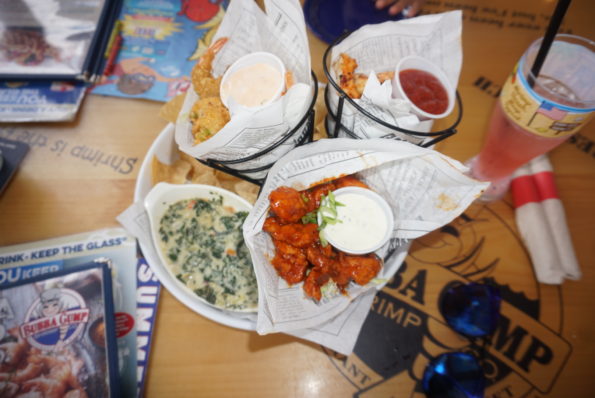 Run Across America's Sampler with Grilled Shrimp, Mama Blue's Fried Shrimp, Seafood Hush Pups, Spicy Chicken Strips and Bubba's Far Out Dip and homemade Tortilla Chips.
The Run Across America Sampler was delicious. Our favorite of all four was Seafood hushpuppies with the dipping suace. Superb!
The other appetizers were good but the hush puppies really stood out flavor wise.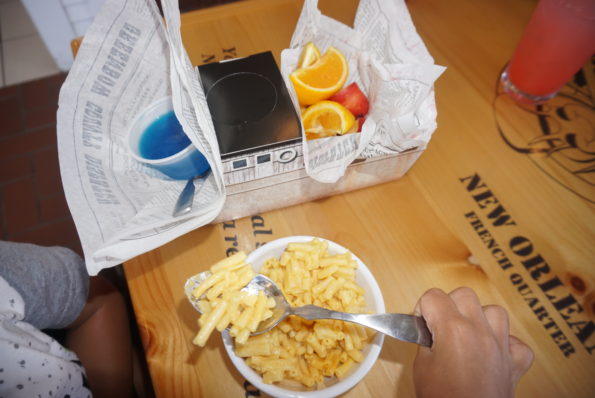 For baby boy we ordered the kid's mac-n-cheese with fresh fruit and jello. He loved this option, the food was served in a shrimp boat. Too adorable.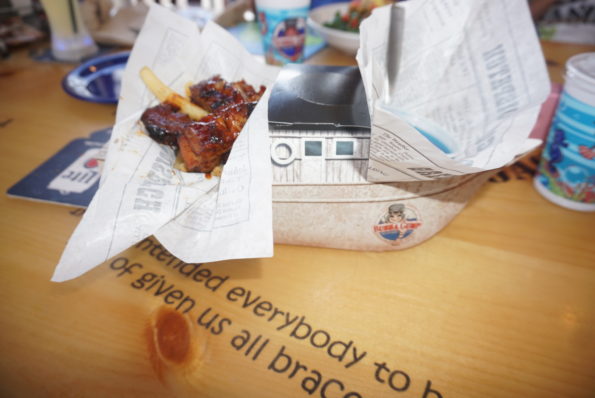 Baby girl ordered the BBQ Ribs with fries and jello. The ribs were really good.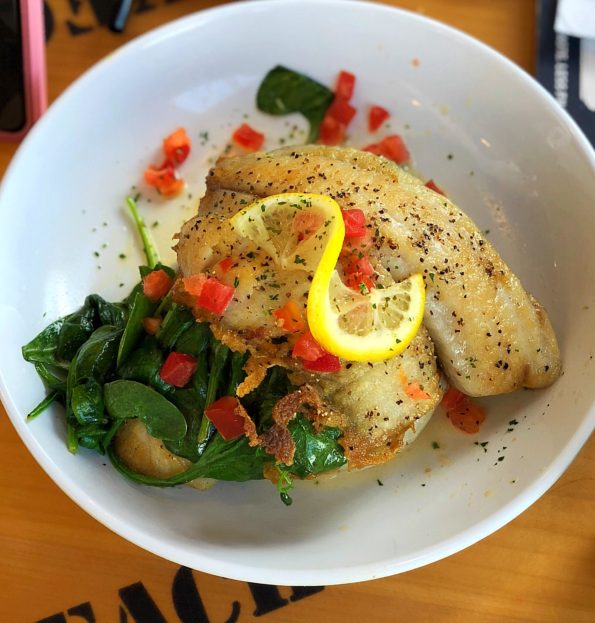 My husband ordered the Jenny's Catch with Lobster Butter Sauce. This dish consisted of a Pan Seared Tilapia laid over Mashed Potatoes with Sautéed Spinach and a creamy Lobster Butter Sauce made from scratch.
A nicely presented dish that was packed with flavor. The fish was seared perfectly and the creamy lobster sauce was delicious.  A dish with ingredients that worked well together.  So good.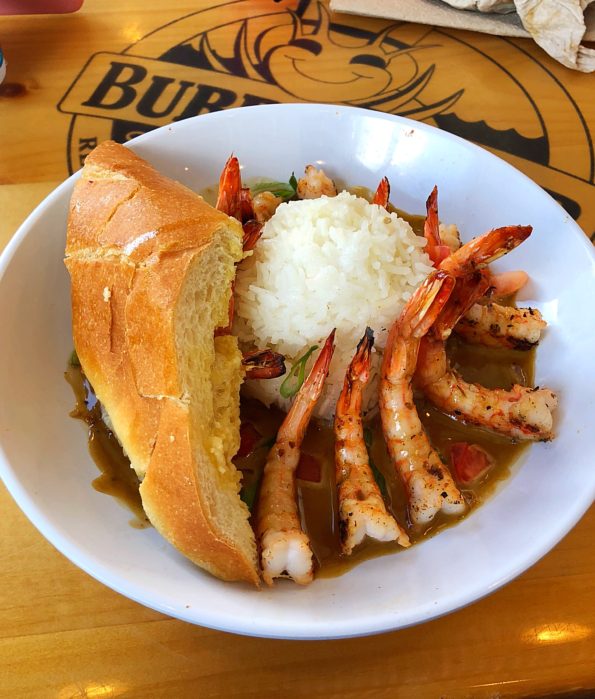 I ordered the Shrimp New Orleans.  An authentic spicy recipe from the Bubba Gump staff in the French Quarter! The dish was served with lots of tender Shrimp broiled with Butter, Garlic and Spices, and served with Jasmine Rice.
The shrimp was well seasoned, tender and served with a butter sauce.  The Jasmine rice was delicious, but the butter sauce and the rice didn't pair well together in my opinion.  A different option like grits with the shrimp would have paired better.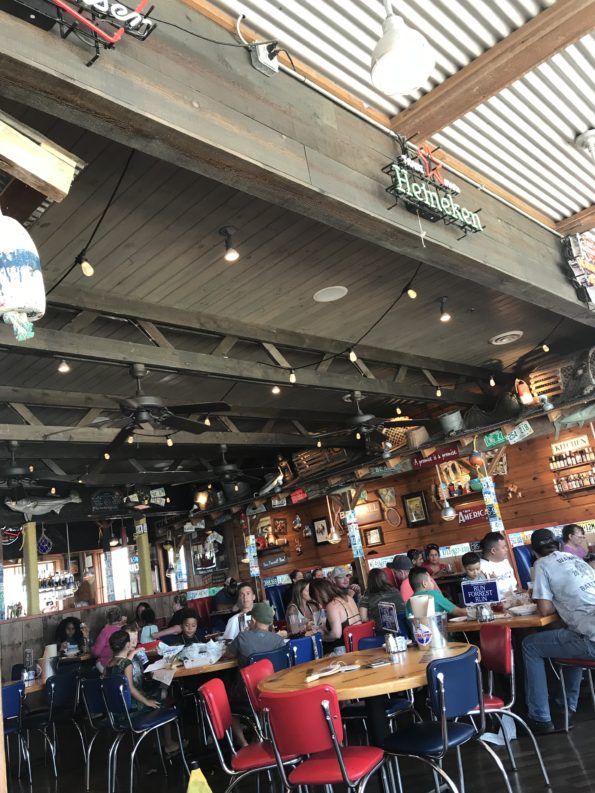 Overall we loved our dining experience at Bubba Gump Shrimp Co.  The food was delicious.  The service was good.  The restaurant is kid friendly and family oriented.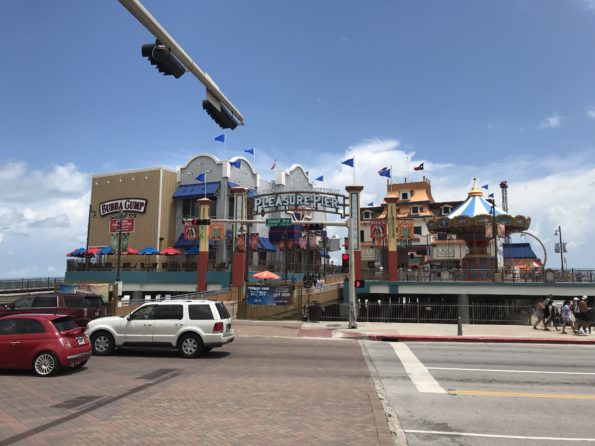 A great choice for you and your family to dine at before or after a fun day at the Beach or while visiting the Galveston Pleasure Pier.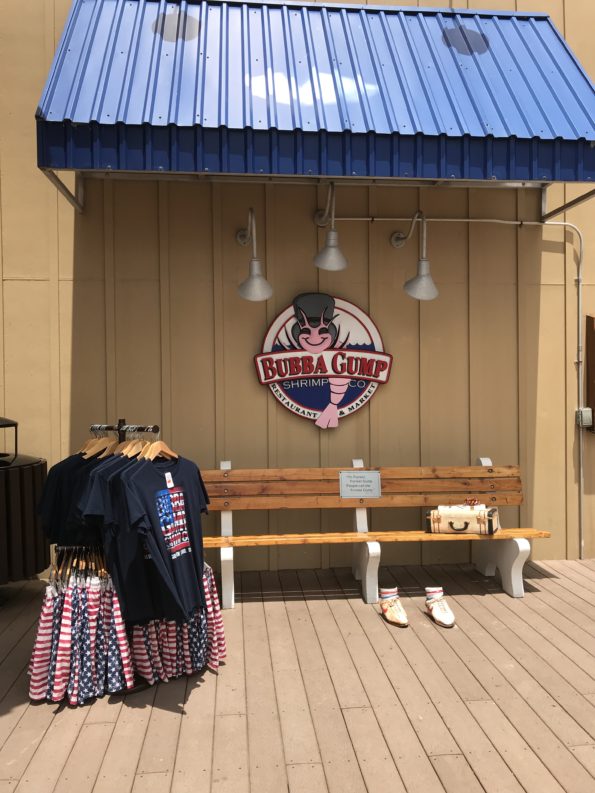 Bubba Gump Shrimp CO is located at 2501 Seawell Boulevard, Galveston, TX 77550. The Hours of Operation are Sunday – Thursday 11:00 a.m. – 9:00 p.m., Friday & Saturday 11:00 a.m. – 10:00 p.m.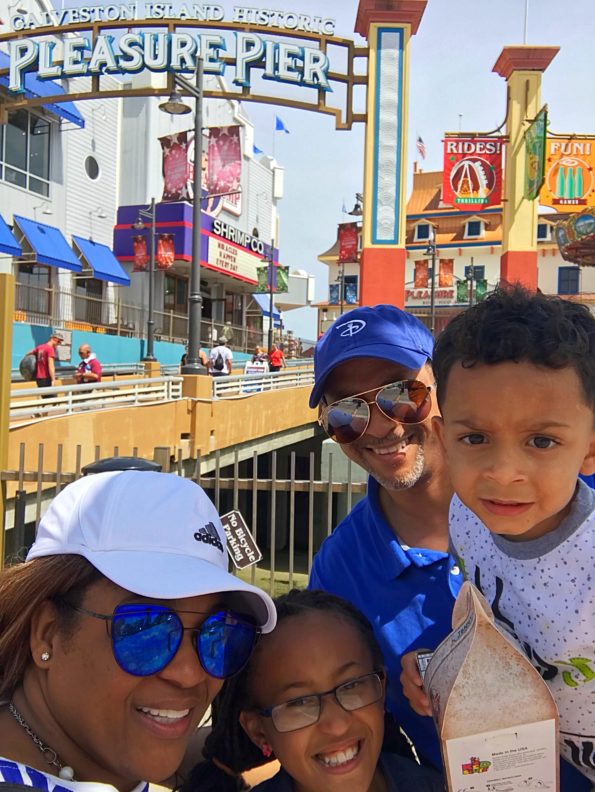 Go and check them out and be sure to tell them that Da' Stylish Foodie.