Blogging is something that I enjoy doing but it has been hard for me to get back into the routine of doing it since our big move. I have so much material but had lack of energy to get it done. After my husband & I had the privilege of spending some time at The Lab for part 3 of our date night this past Friday, I was so excited to get started again!
The Lab is a Handcrafted Coffee & Comforts shop that serves such a wide variety of items. Upon entrance into the coffee shop, we were very impressed with the neatness as well as the creativity of the designs of the Coffee shop.
By far, this is not your traditional coffee shop. I will say before actually going to the Lab, I was wondering why they called the shop, The Lab. But after spending about an hour at the Lab, I definitely could understand why. The Lab makes their own combinations, which is sheer genius.
We were greeted by a friendly young man, who served us with complete excellence. He informed us of some of the options that The Lab offered. We tried a few samples of the cold creams. Very yummy, I will say.
A cold cream is in between an ice cream and a gelato. A cold cream isn't as dense as a gelato or as airy as ice cream. Some of the cold cream options were Salted Caramel with Bourbon, Eggnogg,
The Ritual, Happiness, Skittles, 5 pumpkin spice, Abita Root beer float, just to name a few. The choices for the sweet cold creams change daily.
I tried the Eggnogg sweet cream, pictured below. The Eggnogg sweet cold cream was very good. We were schooled on how a few of the sweet cold creams were made. Mr. Thomas who is the owner, is a genius in his inventions of the cold creams. One of the most popular cold creams is the Happiness (Infused Oreos and cream). The oreo one was completely sold out when we arrived. He shared with us how the oreo cold cream is made & it was very impressive.
Listed below is the handcrafted coffee bar options. Variety is not an issue for this place. If you can't find something to accommodate your taste buds, something is definitely wrong.
There were so many options to choose from that it took me a few minutes to make a decision on what type of coffee I wanted. I decided on a Decaf Caramel Latte (pictured below). The Latte was very good. I didn't need any sugar or anything. Absolutely delicious & I loved the decoration on top of the latte. The latte at the Lab wasn't bitter like your normal latte that you would order from CC's or Starbucks. Awesome.
Brian ordered the Affogato (pictured below) which is 2 shots of espresso poured over your choice of cold sweet cream. In this case it was the Ginger Snap cold cream. At first bite it was a little strong, but once the cream began to melt and combine with the espresso. Absolutely delicious!! Too make it pretty, I would have recommended maybe some whole ginger snaps on the side or a little whip cream design, but other than that it was awesome!
Pictured below is what they call a Pour Over, which originated from Japan. Also known as a hand poured coffee which makes one cup at a time. The coffee begins with a cup that is layered with a coffee filter then coffee. Hot water is then poured over and the coffee comes out at the bottom. The coffee is usually a single origin bean instead of a blend. This coffee is brewed to order.
Though we only had a taste of the coffee, we didn't drink a whole cup. The coffee was fresh and not bitter. The flavors were more natural and probably don't have as many calories. Pictured above/below are 4 pictures which is the set up for the pour over station. Very cool!
Just an FYI: The Lab is looking for someone to Design their wall (pictured below). If you are an artist or know someone who is email hello@thelabexperience.com for rules, regulations & an order form. Below is the wall that you would be designing.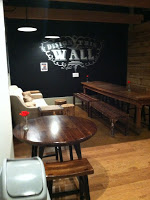 No matter what you choose from The Lab, you will always get a variety of choices. The sodas come in five different options, a few examples of the soda are Lavendar & Cucumber (pictured below) just to name a few.
The Lab also serves Tea. There are 35 different tea options. Pictured below are a few of the different teas. Passion & Envy, Strawberry Passion & Black and Blue, the Tea had an amazing aroma. I can't wait to be able to purchase the tea's in a few weeks or so.
The Lab also sells breakfast which consist of pastries, scones, croissants & breads. A few breakfast items are the Sausage croissant that is made with Richard's sausage. I heard it is delicious!! Also there is something called a scone bob with consist of maple syrup & bacon. A few others are the chocolate and hazelnut croissant, zucchini walnut bread & blue cheese, curry & orange zest croissant. This is only a few options. The menu options for breakfast change daily.
Pictured below is a cold coffee which was a concentrated coffee. One shot of this particular coffee is equivalent to six cups of coffee. There is no acidity of the bean. The coffee is brewed cold and it takes about 2-3 hours, a slow process. It was light, smooth coffee, no acidity and not bitter, but it had a kick. If you are looking for a kick to keep you up, this is your drink.
The owners are Thomas & Pam Peters. We had the privilege of meeting Mr. Thomas. He is such a kind man and very intelligent. From our entrance into the building until we left the building, we felt at home. They were busy & were able to handle each customer as if they were the only ones in the building. The workers there are not only sweet but informed as well.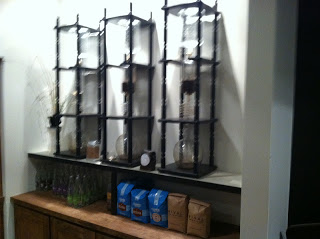 One thing I loved is they took time and explained whatever I asked concerning any item. I appreciated that & more importantly it was awesome because no one knew I was a food blogger until I handed my business card at the end of my visit.
The Lab is located in River Ranch at 1042 Camellia Blvd Suite 6, Lafayette, LA, 337-889-5782. The hours of operation are Monday-Thursday 7:00am-9:00pm, Friday 7:00am-10:00pm, Saturday 9:00am-10:00pm and closed on Sundays. Like The Lab on Facebook to receive what they are serving each day. Support this establishment!