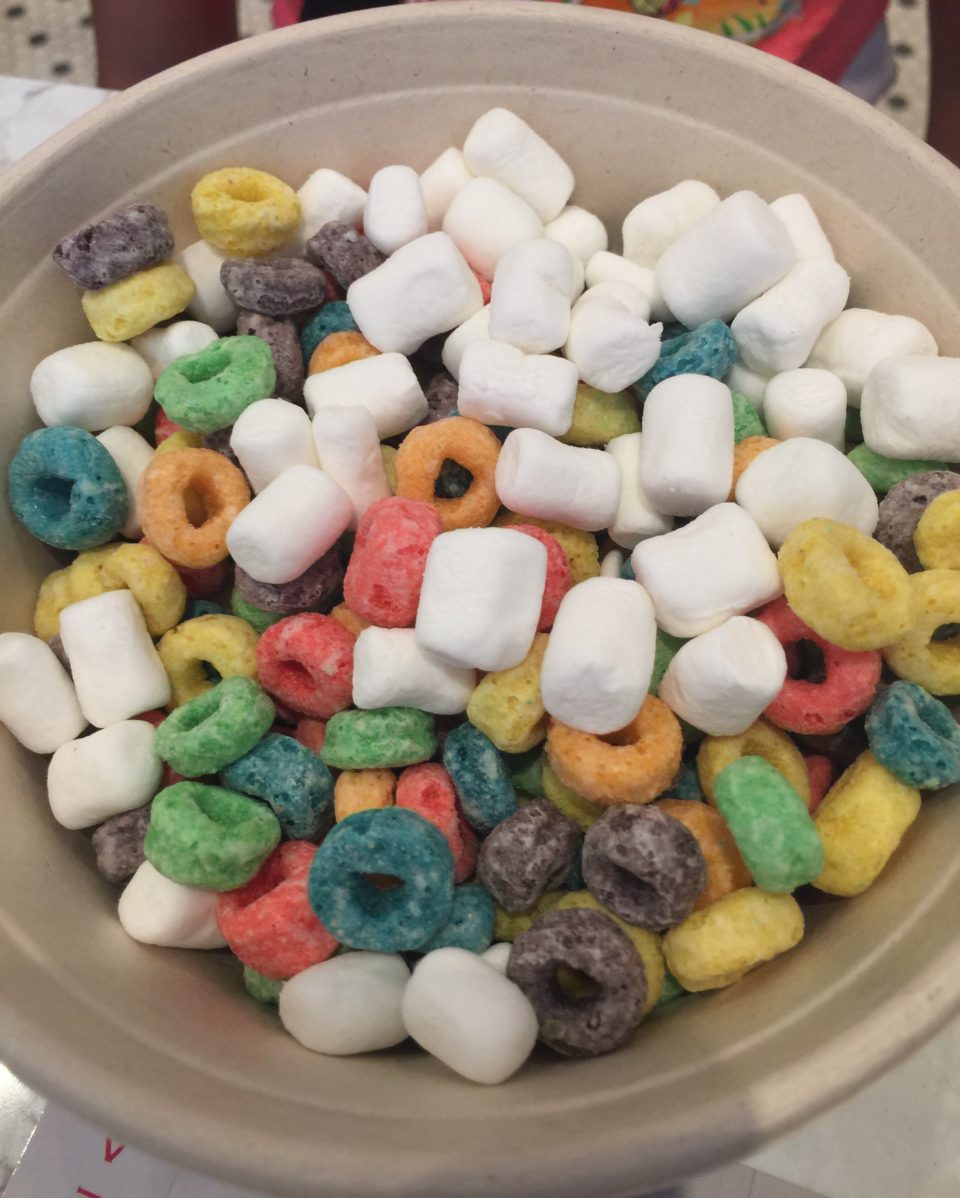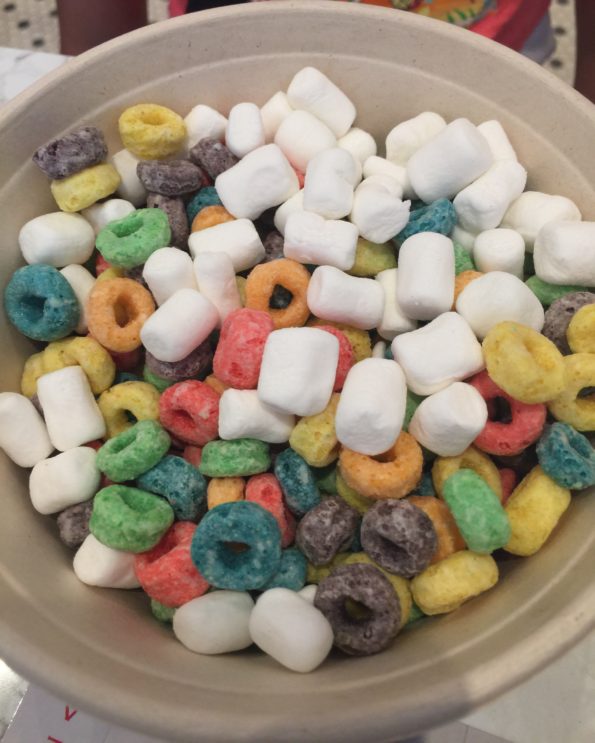 Saturday morning breakfast was always so much fun as a kid. We would wake up early to watch our favorite cartoons and grab our favorite cereal for breakfast.
During our visit to New York City, we visited Kelloggs NYC for breakfast the Saturday morning. We heard about Kelloggs NYC during a segment of Good Morning America. We added this stop to our itinerary during our vacation.
Kelloggs NYC was a 2 minute walk from our hotel in Times Square.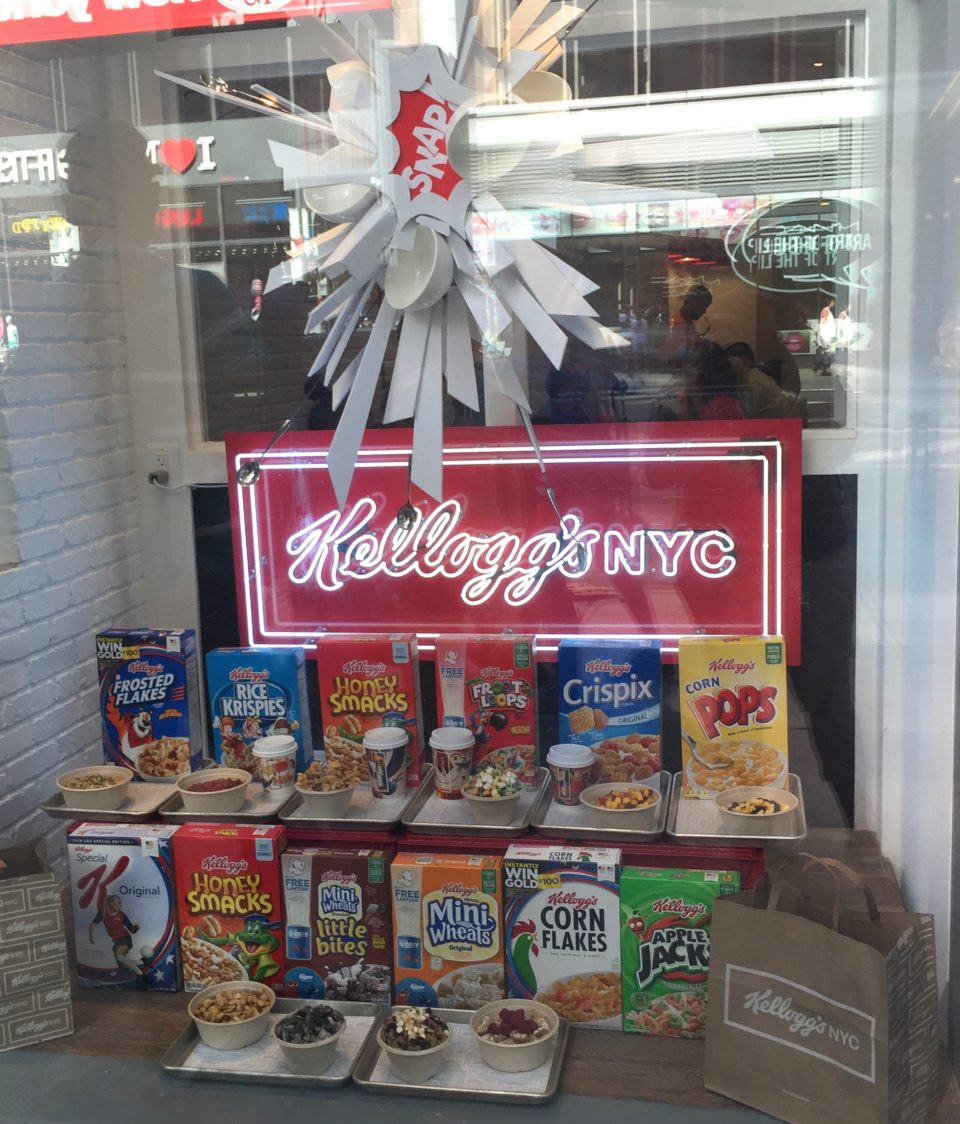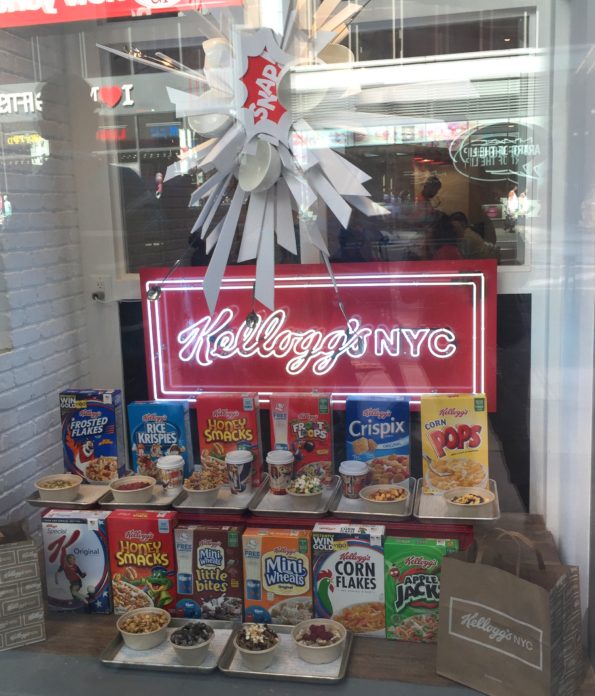 The window display pictured above was very eye catching from the street. The display included several of the options from the breakfast menu.  As you can see, many childhood favorite cereals are pictured, but with a twist. Kellogg's NYC had a few secret ingredients in each bowl that gives you the childhood memories but with a little something special.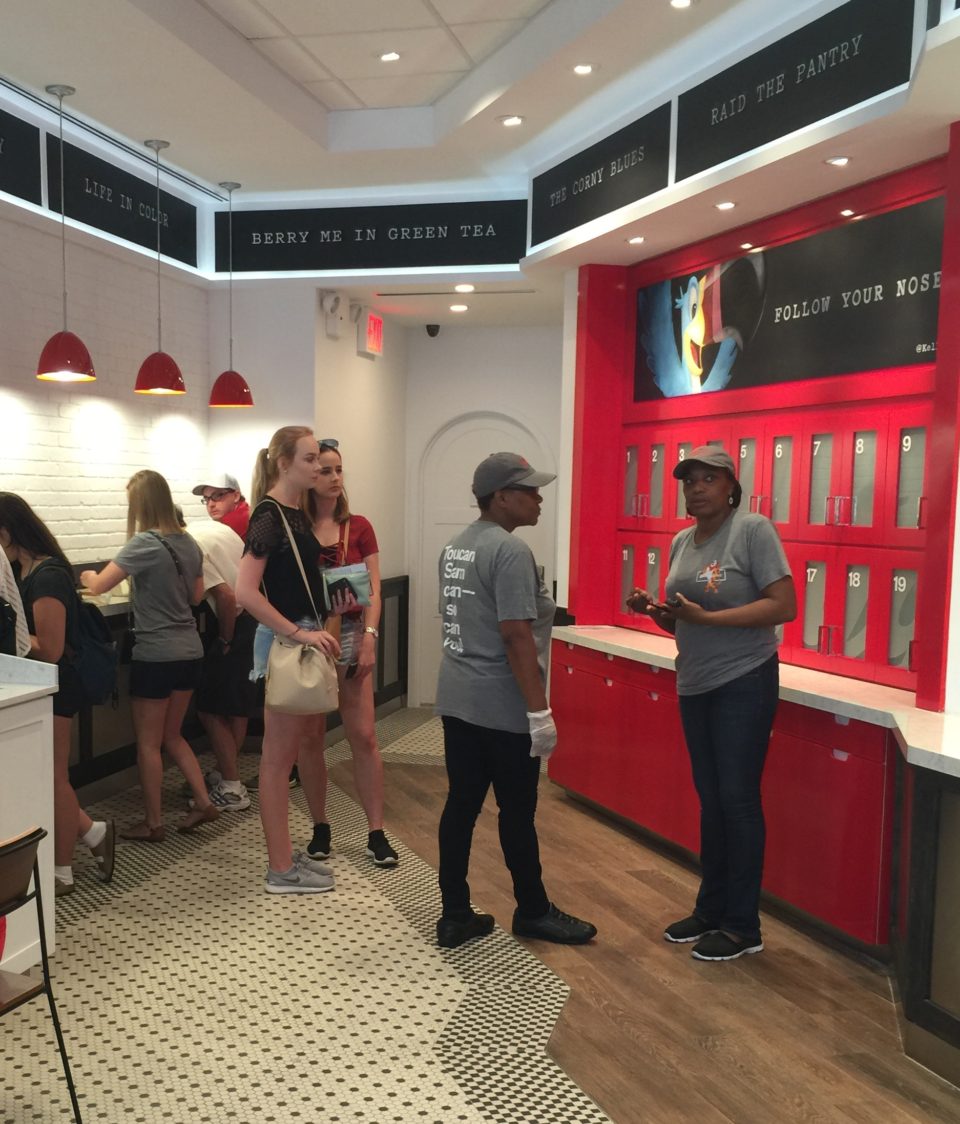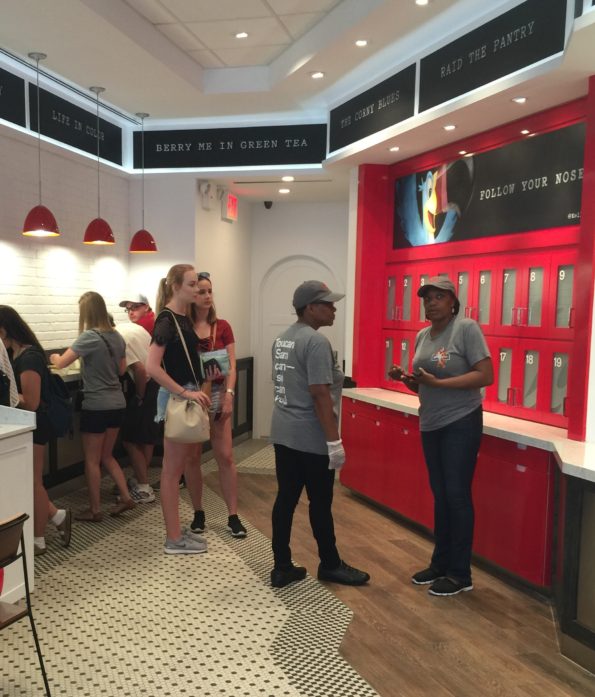 We walked in and was greeted by a sweet lady. She handed us a menu to browse before ordering. I am glad that I had already perused through the menu before leaving the hotel so I knew exactly what I wanted. My family on the other hand wasn't sure. But they quickly decided what they were going to order.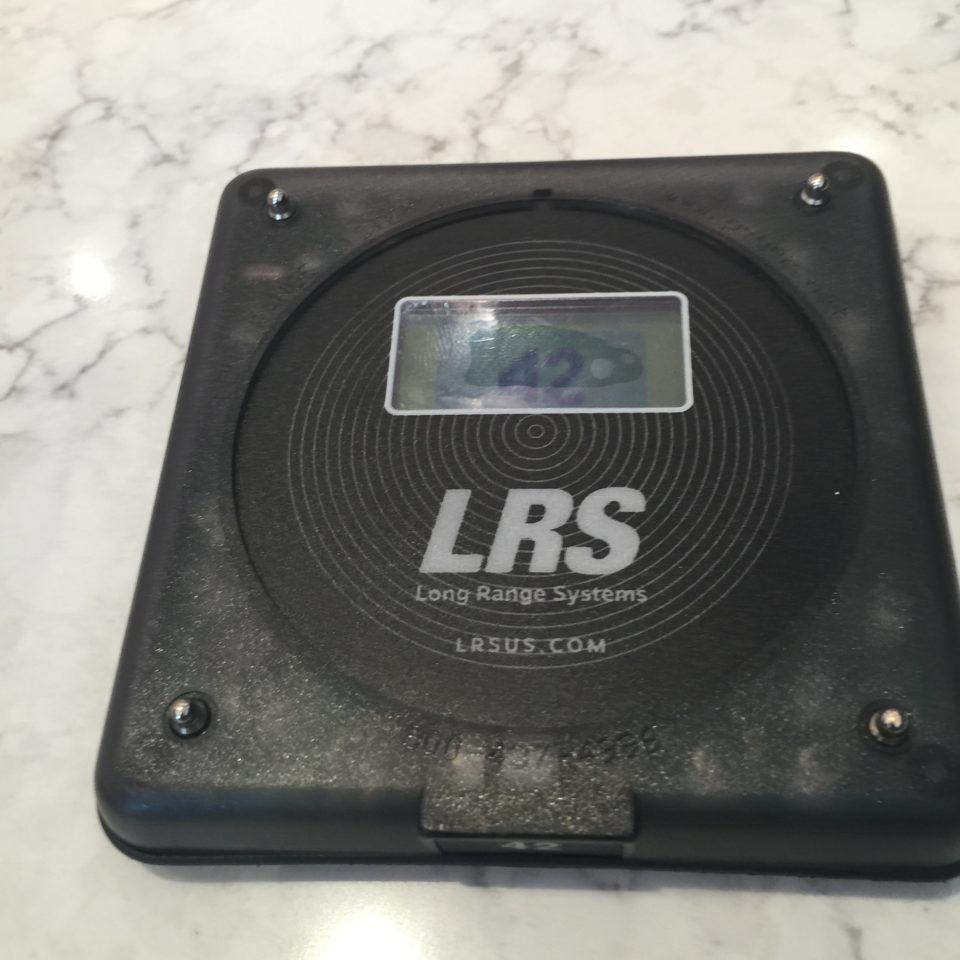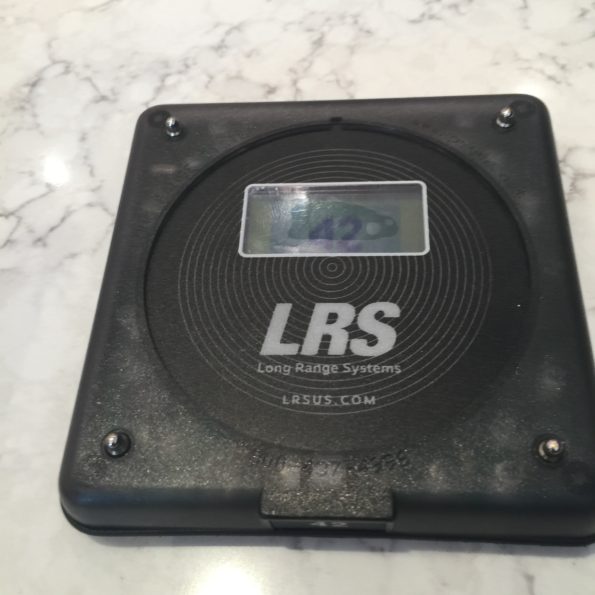 We approached the counter and I placed everyone's order. After ordering, we were handed a buzzer.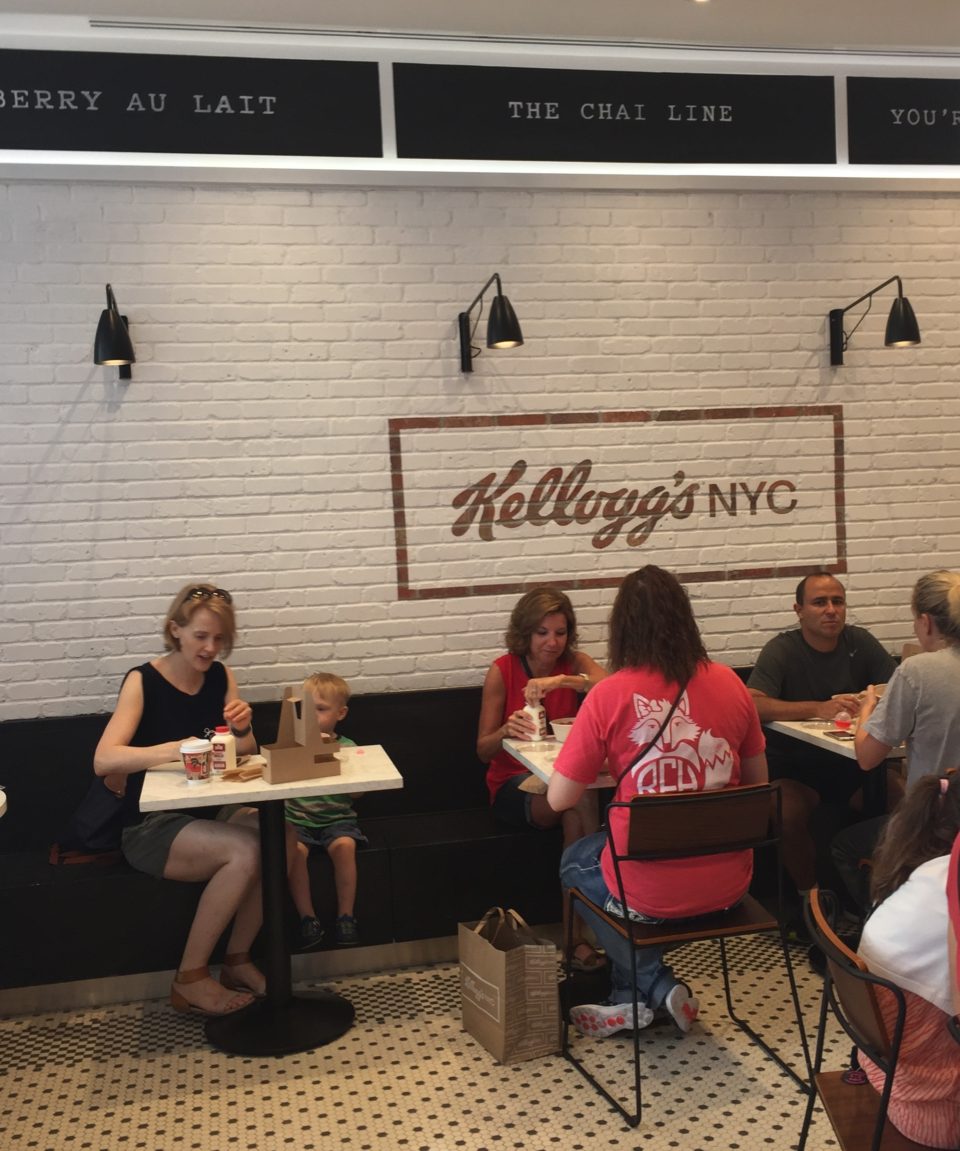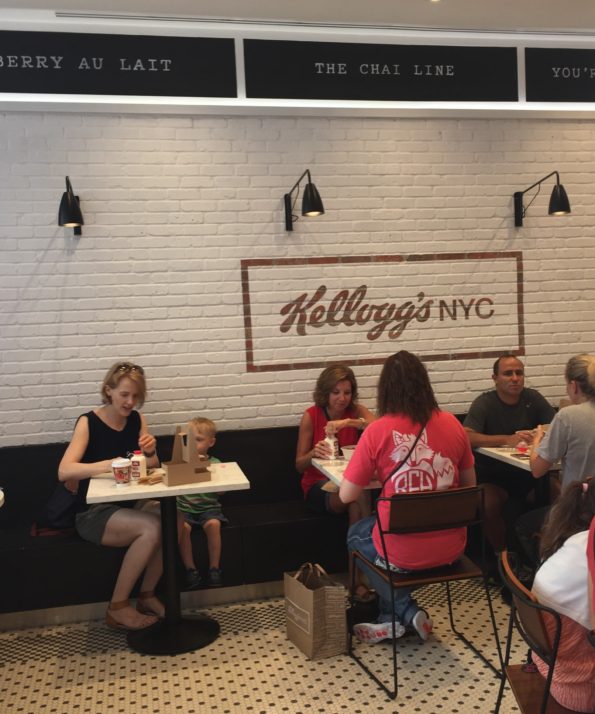 The restaurant was red and white in color with black accents. A very simple, but classy decor.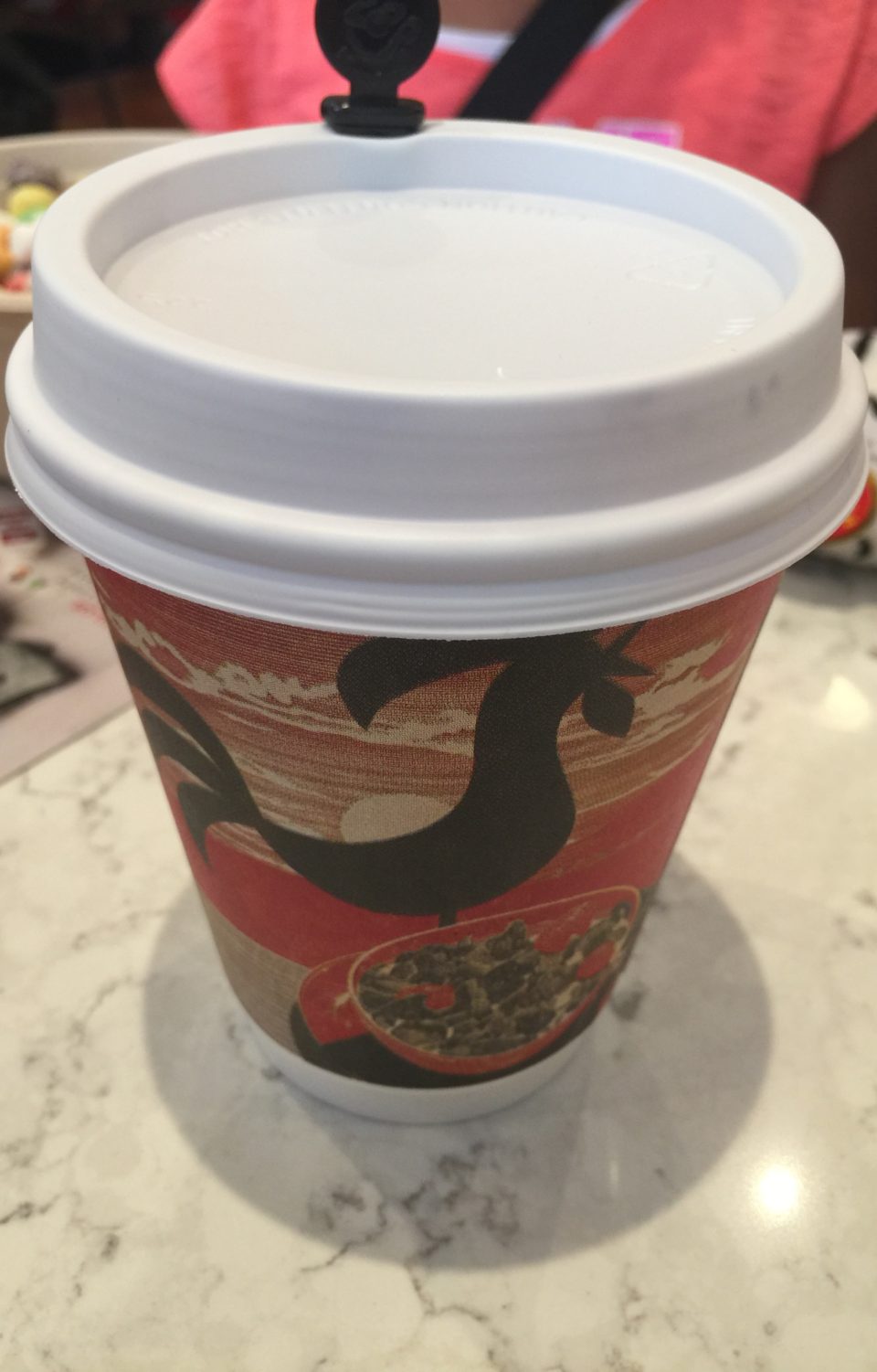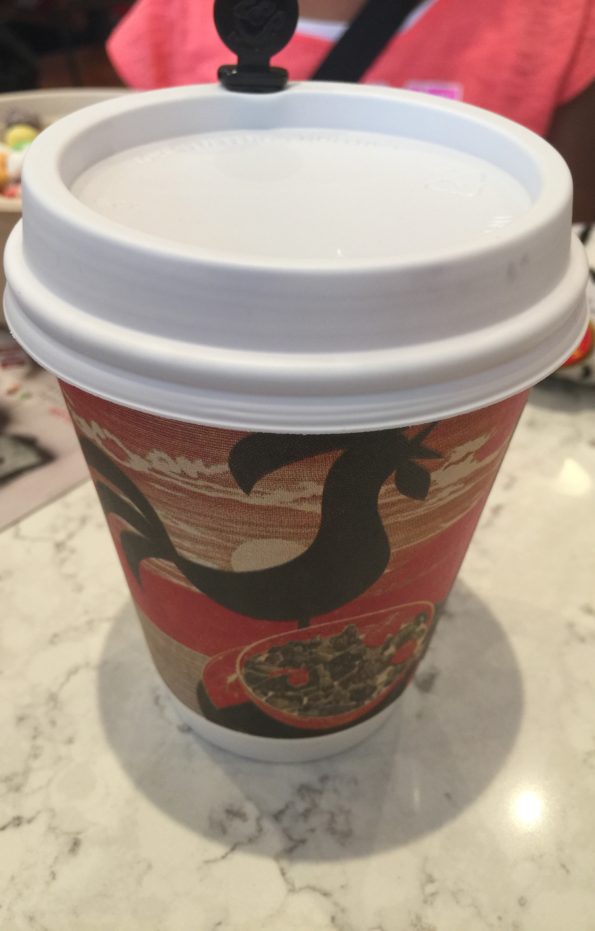 Baby girl ordered hot chocolate to drink. Her hot chocolate was delivered to the table. The hot chocolate was good, no need for sugar. Perfect cup of hot chocolate.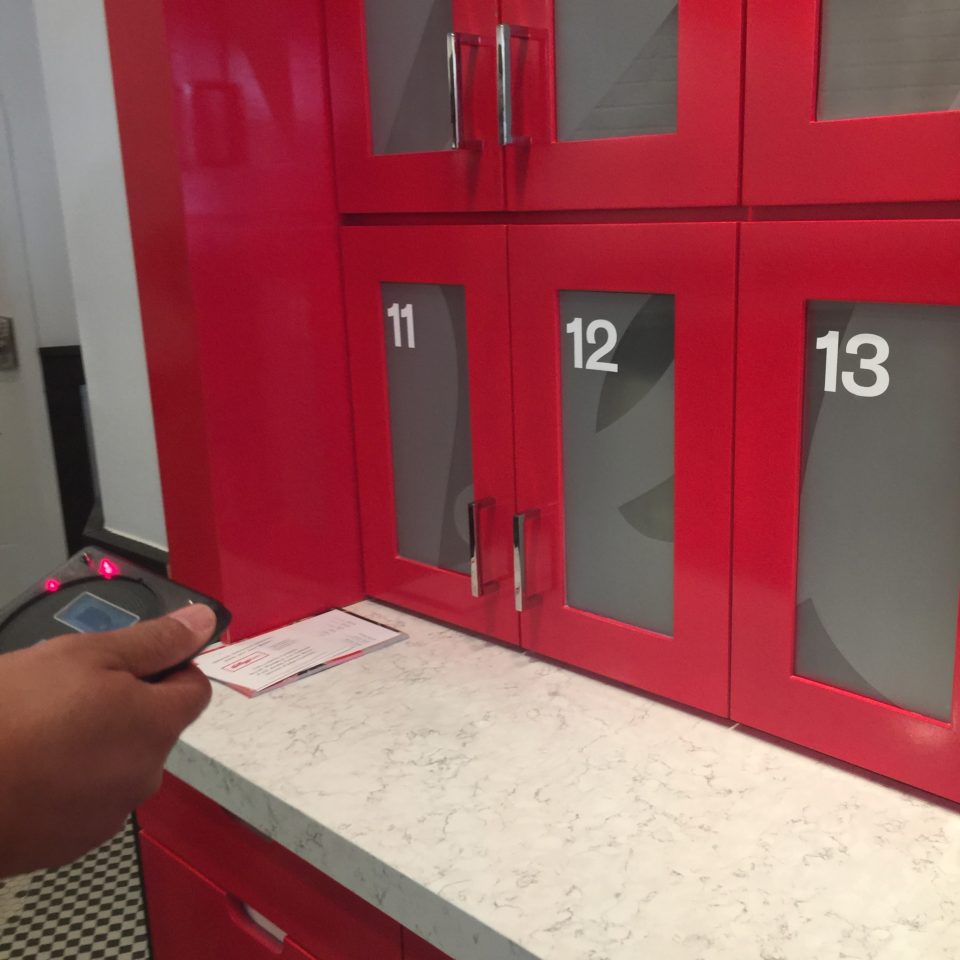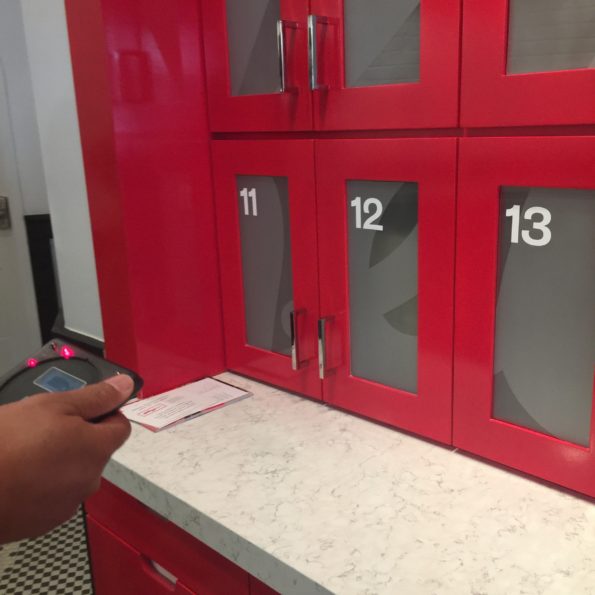 About 5 minutes later the buzzer began buzzing uncontrollably on our table.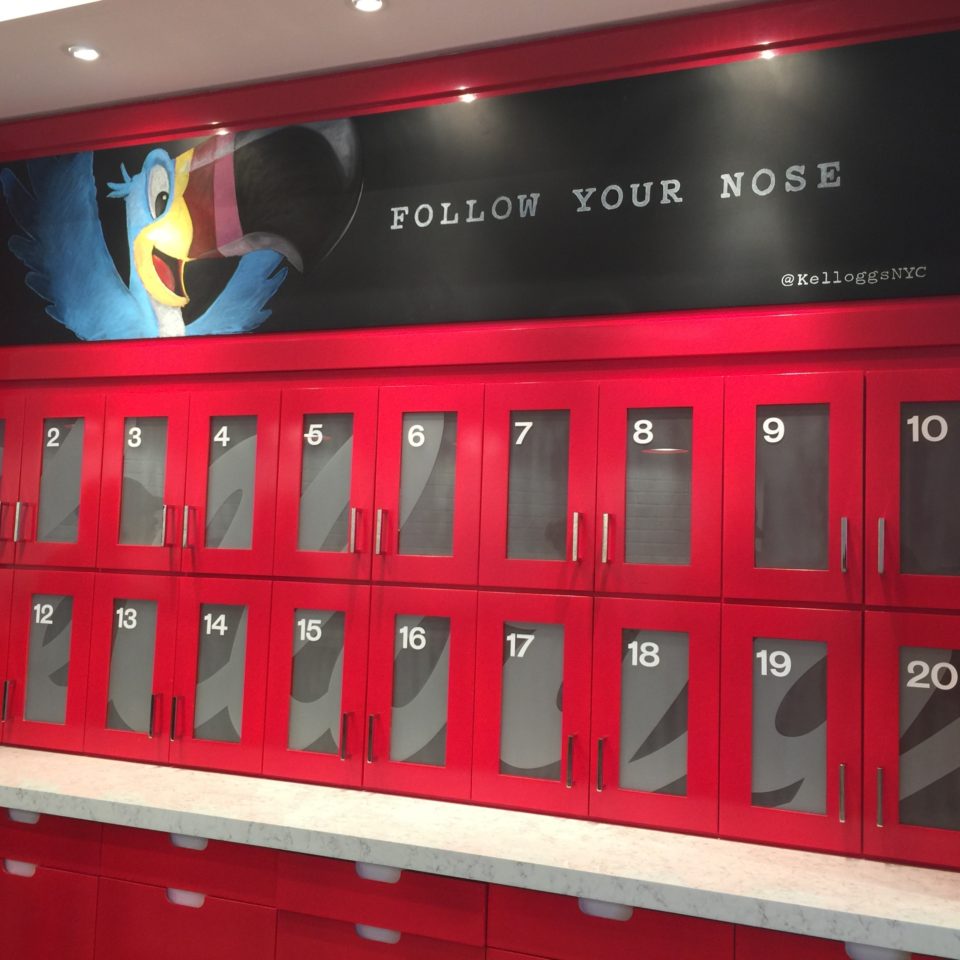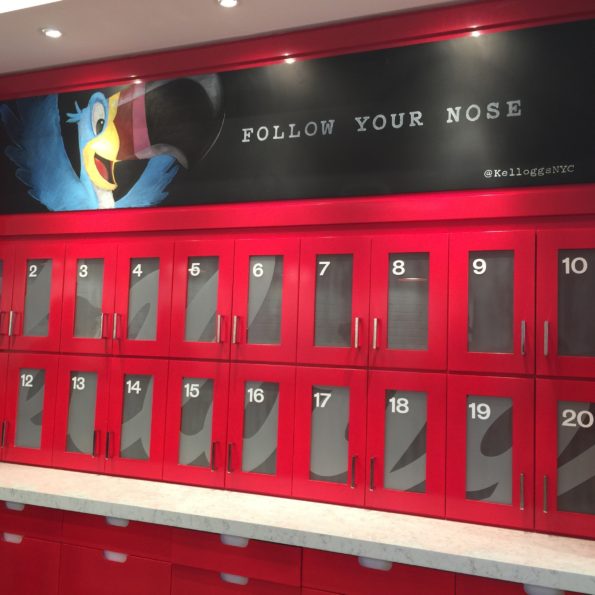 We were told that a number would appear on the buzzer and we would then find the corresponding locker number and our order would be in the locker.  A pretty cool idea.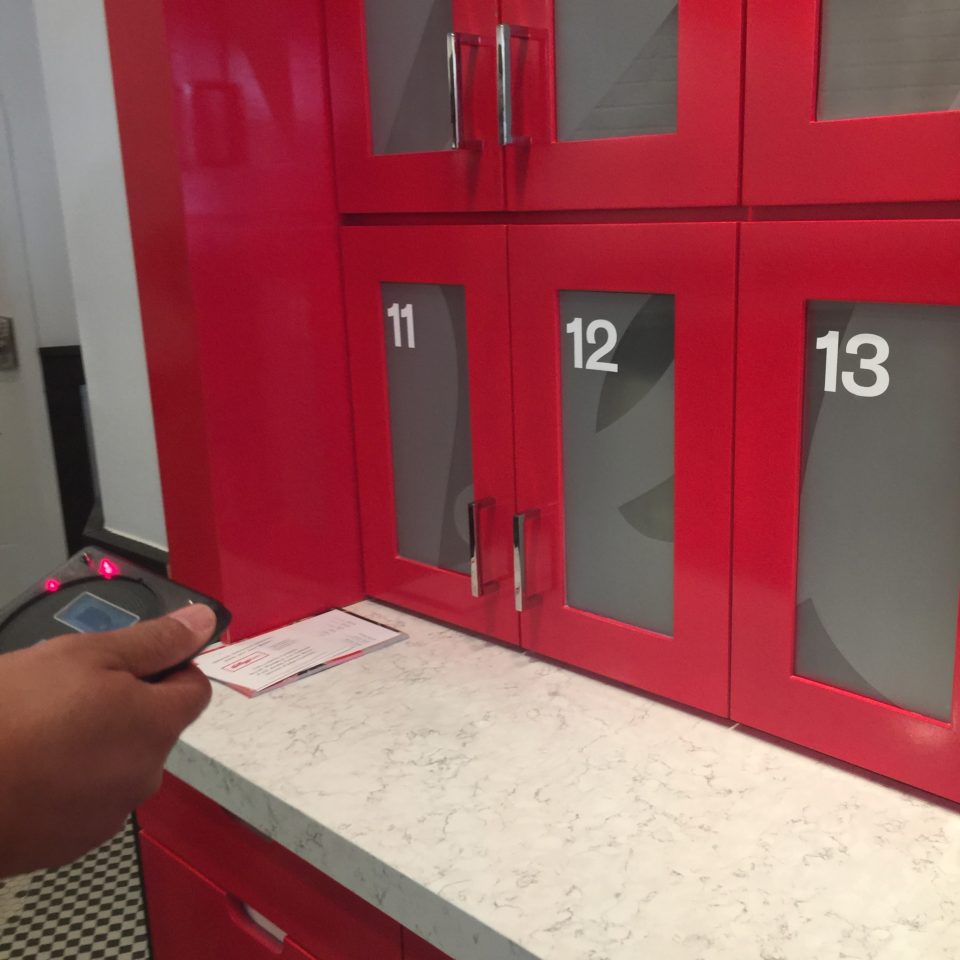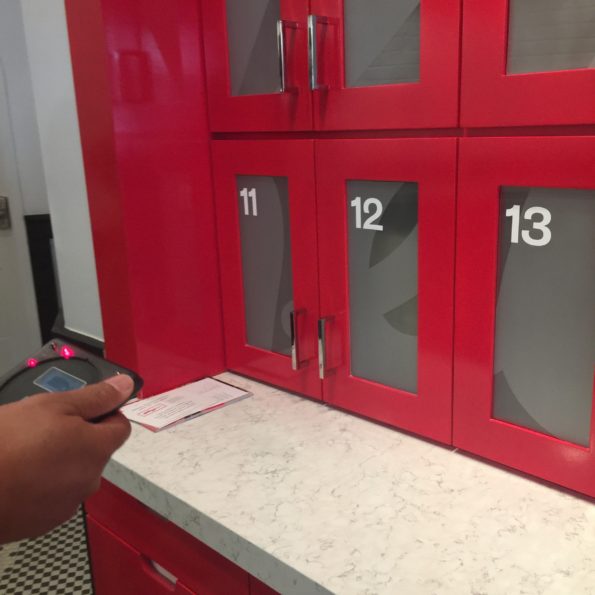 Our locker number was 12. We opened the locker and our food was packaged into a nice paper bag. Quick and easy.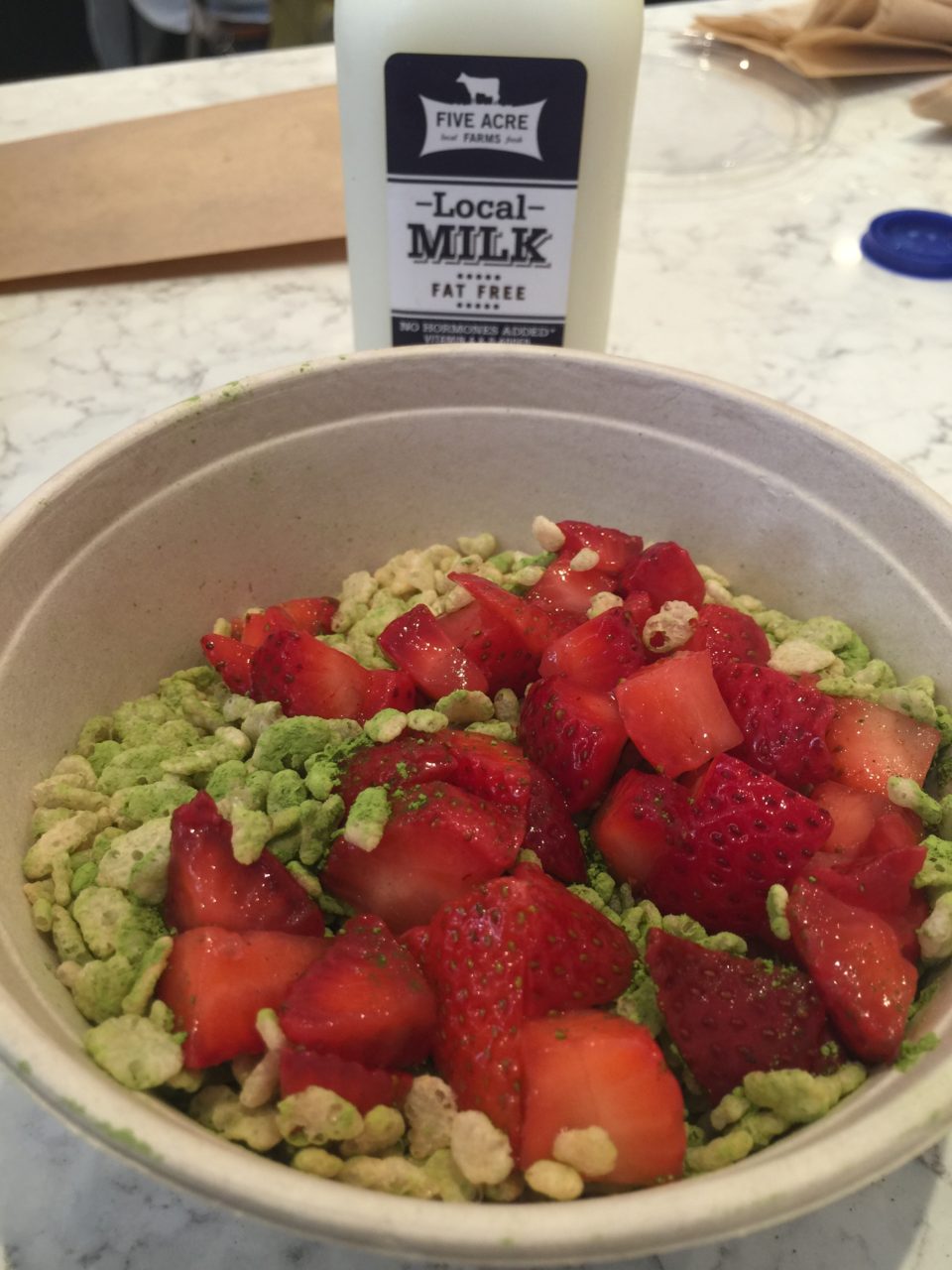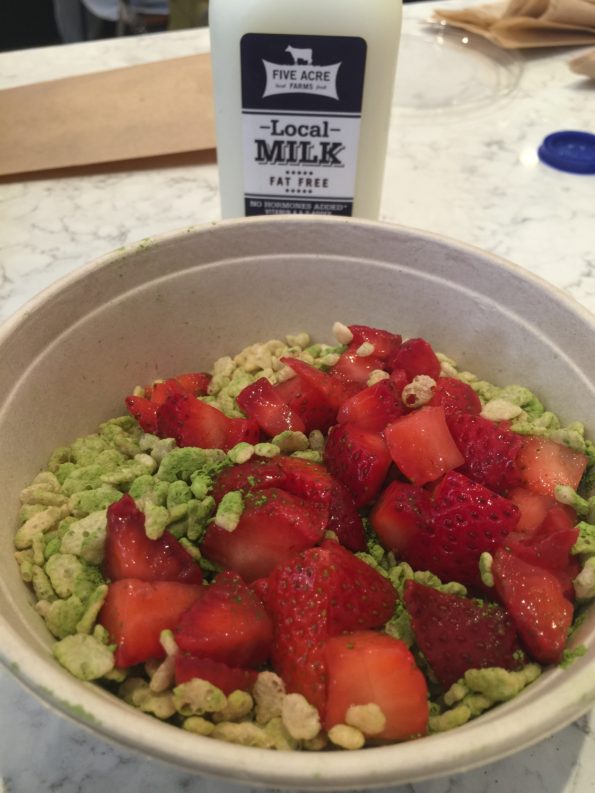 My husband and stepdaughter both ordered the same thing, The Berry me in Green Tea. Kellogg's Rice Krispies, Fresh Strawberries and Green Tea Powder. I wasn't sure about the Green Tea powder. It was different, just needed a little sugar to balance it out. But not bad at all. The cereal order included Five Acre Farms Milk which is from a local farm.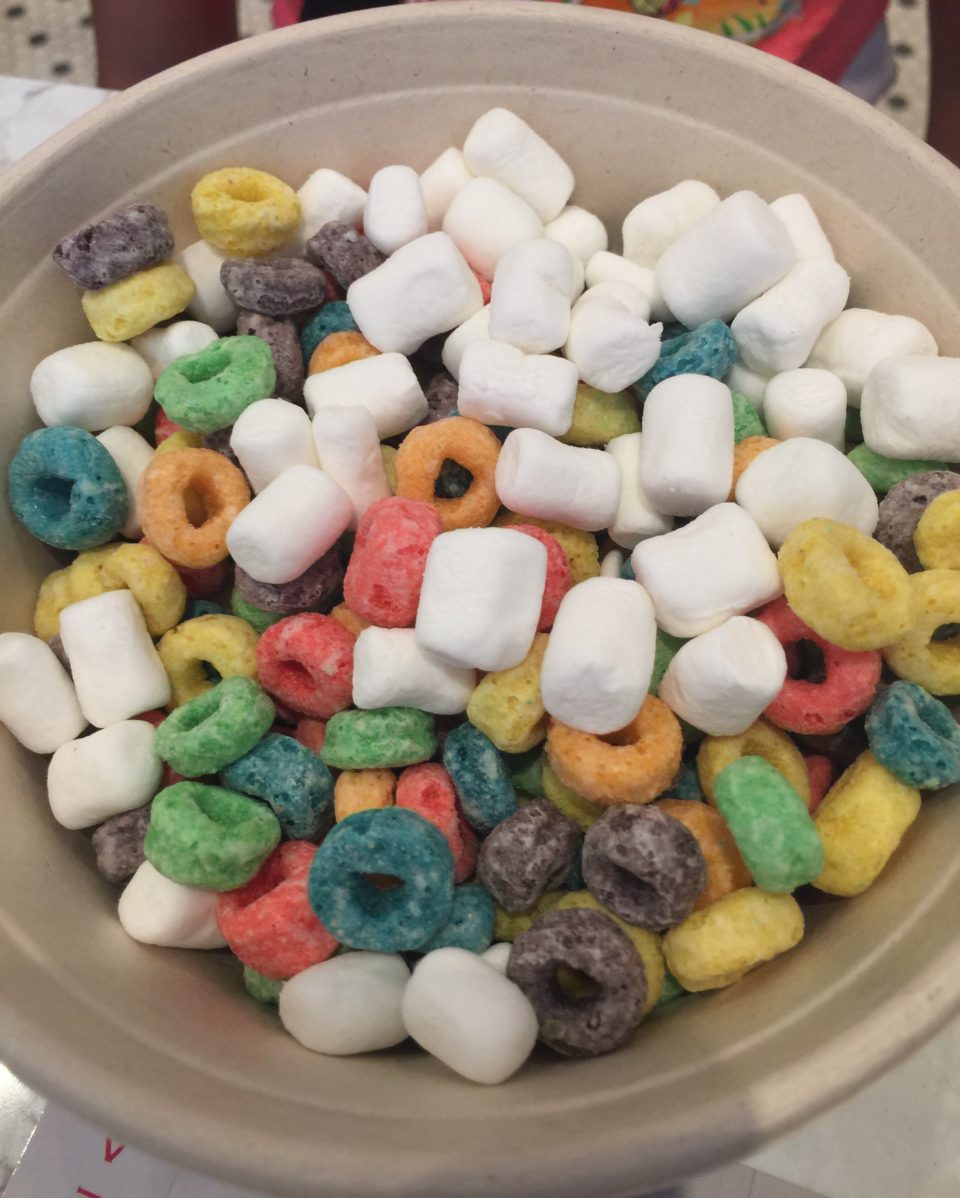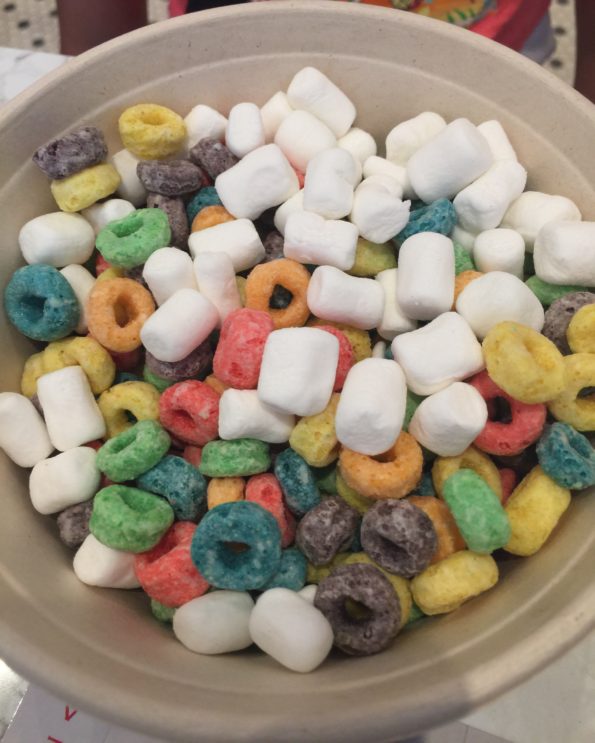 Baby girl wanted to build her own bowl of cereal. She chose the fruit loops with marshmallows. Good combination if I must say so myself.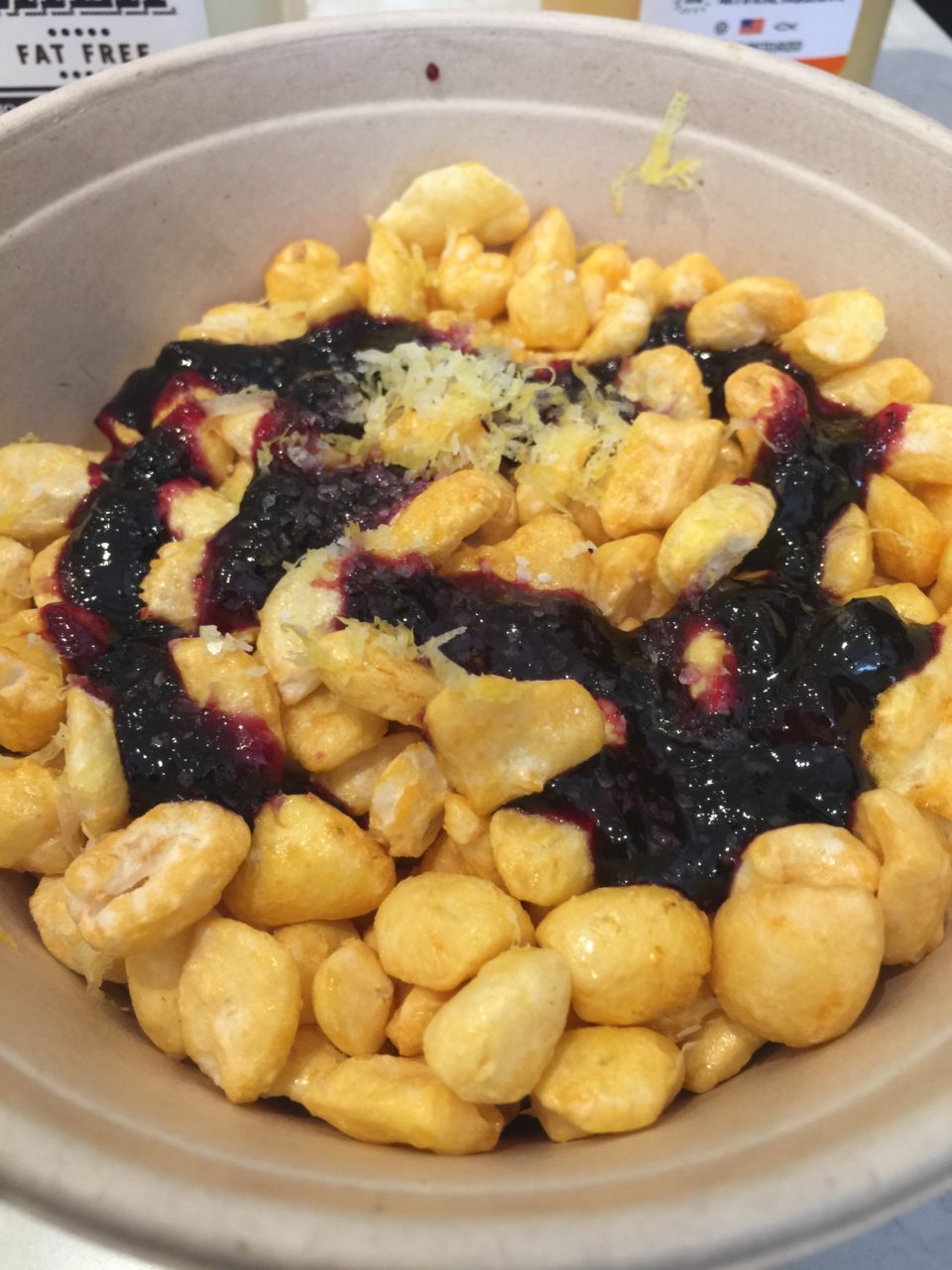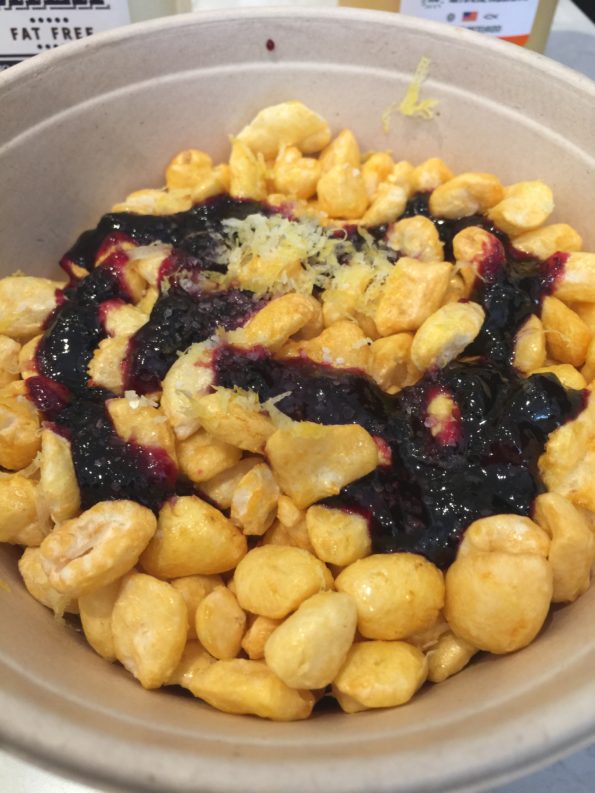 I ordered the Corny Blues. An interesting name indeed. The corny blues was the Kellogg's Corn Pops cereal with blueberry jam, lemon zest and a pinch of salt. I loved the cereal mixture. Very good.
The cereal comes in two sizes, either a small or regular. Each bowl included Five Acre Farms Milk. I am lactose intolerant so I like that they had other milk options besides whole milk; including 2% milk and soy milk as an option.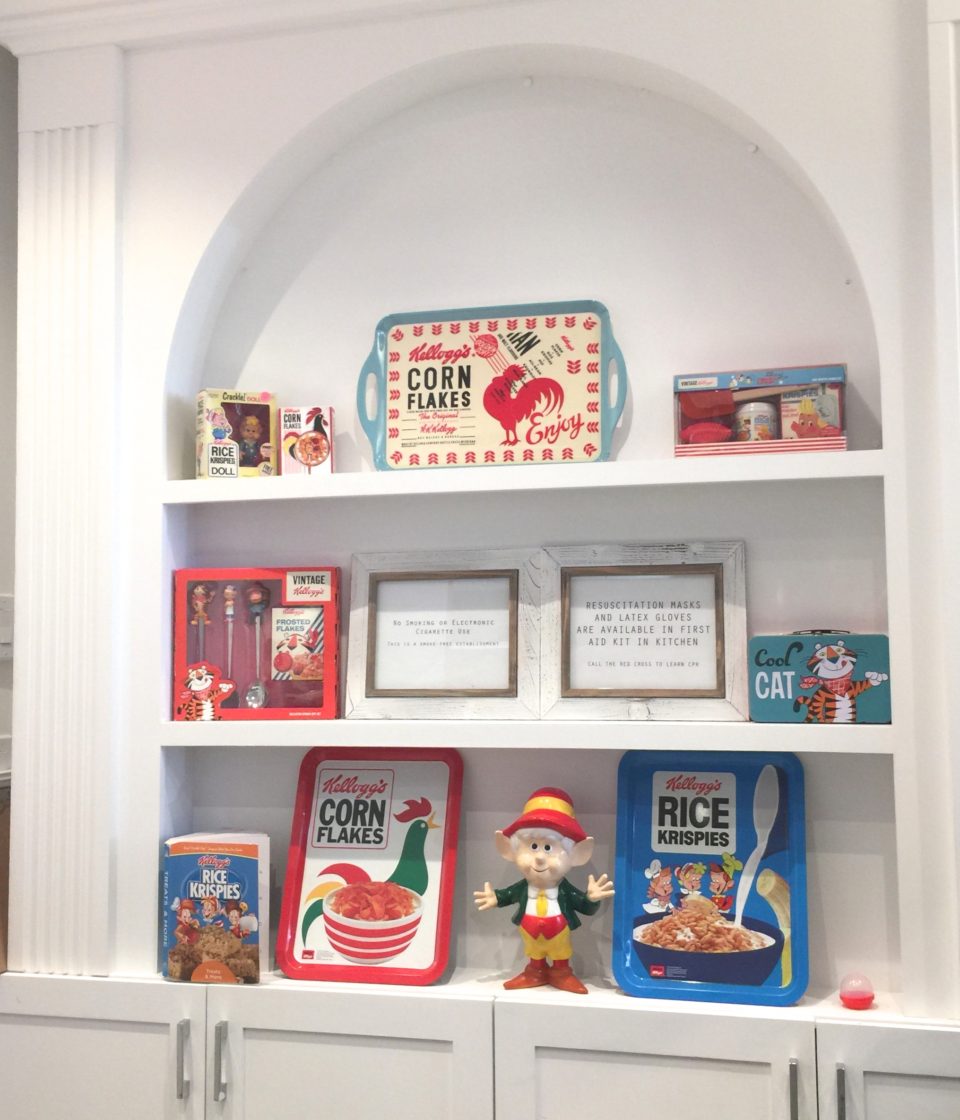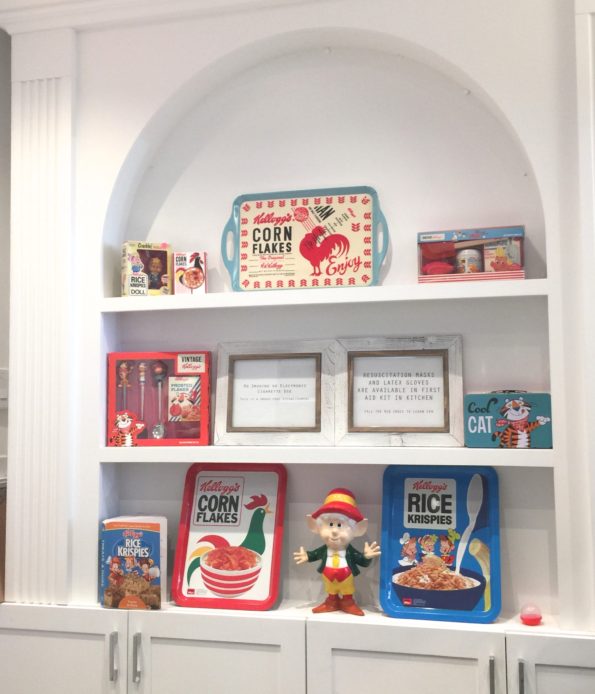 In addition to the cereal mixtures we chose, you can also build your own bowl with a choice of other cereals from the pantry and add a variety of fruit like bananas, blueberries, pineapples etc., as well as nuts & seeds like almond butter, pecans or peanuts just to name a few. If that's not enough, add a boost. A boost includes items like cocoa powder, honey, dark chocolate chips and much more.
There is something for everyone. No matter what your cereal preference is, Kellogg's NYC has something for you.
Kellogg's NYC also serves other drink options like Hot Coffee, Tea, Cold Iced Coffee, Iced Tea, Natalie's Juice Grapefruit, Orange Juice and Hot Chocolate.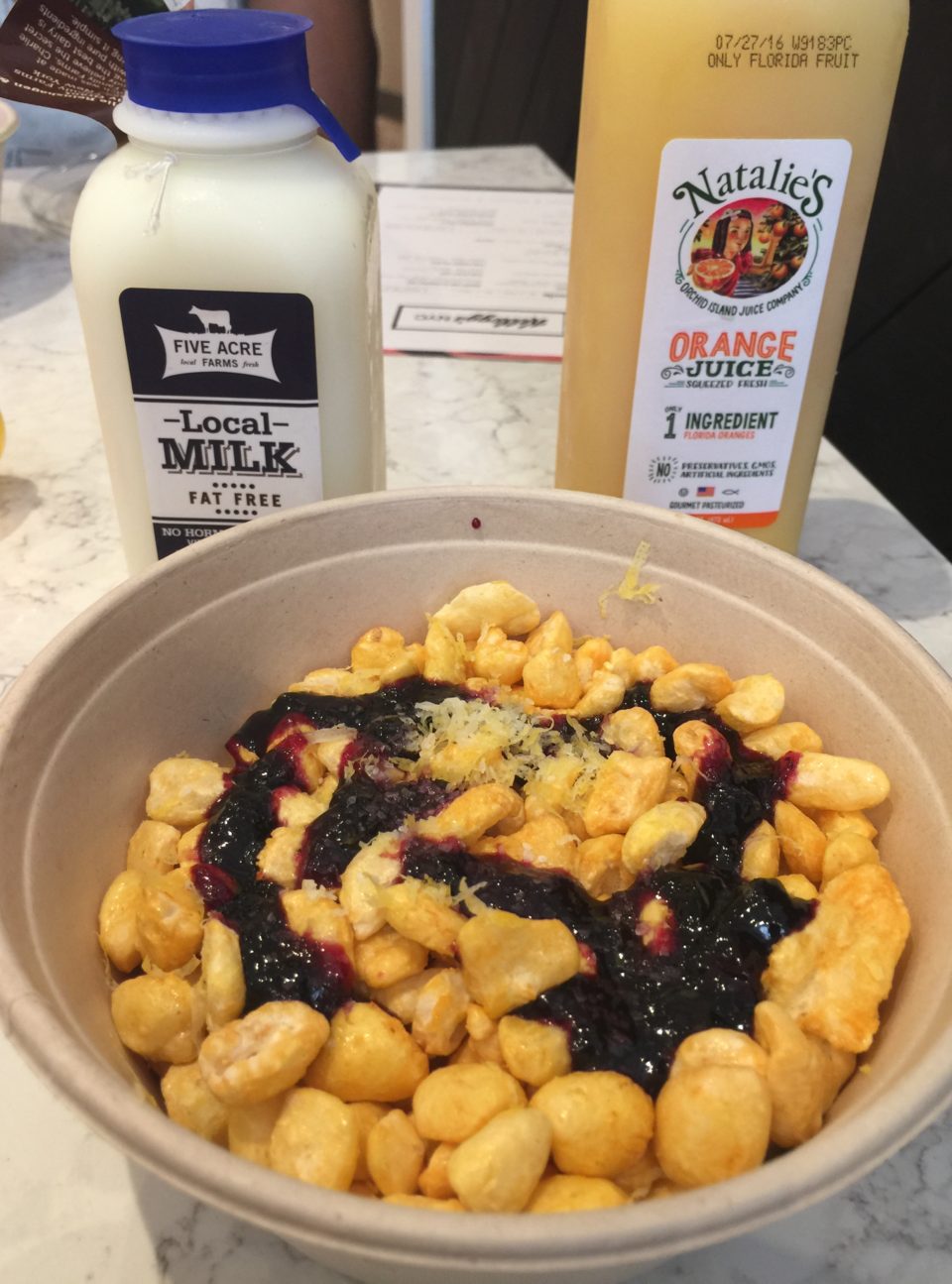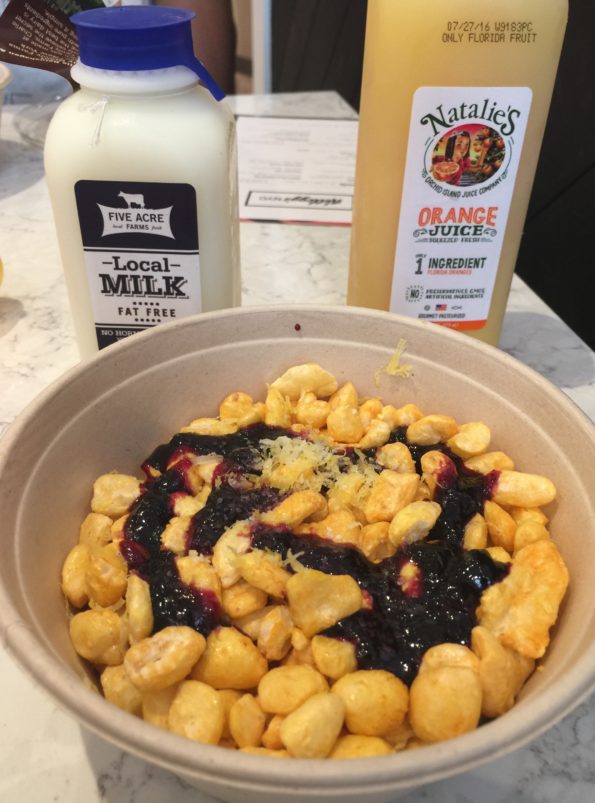 I tried the orange juice by Natalie's and it was very good. Made with Florida Oranges. So yummy.
Not a breakfast person, don't worry. Visit Kellogg's NYC for a Sundae. The Sundae includes Blue Marble Soft Serve Ice Cream with either your choice of toppings or a few suggested Sundaes. One example was the Honey Buzz. Includes the Honey Smacks, Honey, Toasted Pecans and Banana Chips.
Though we didn't get to try any of the Sundaes, definitely sounded quite delicious.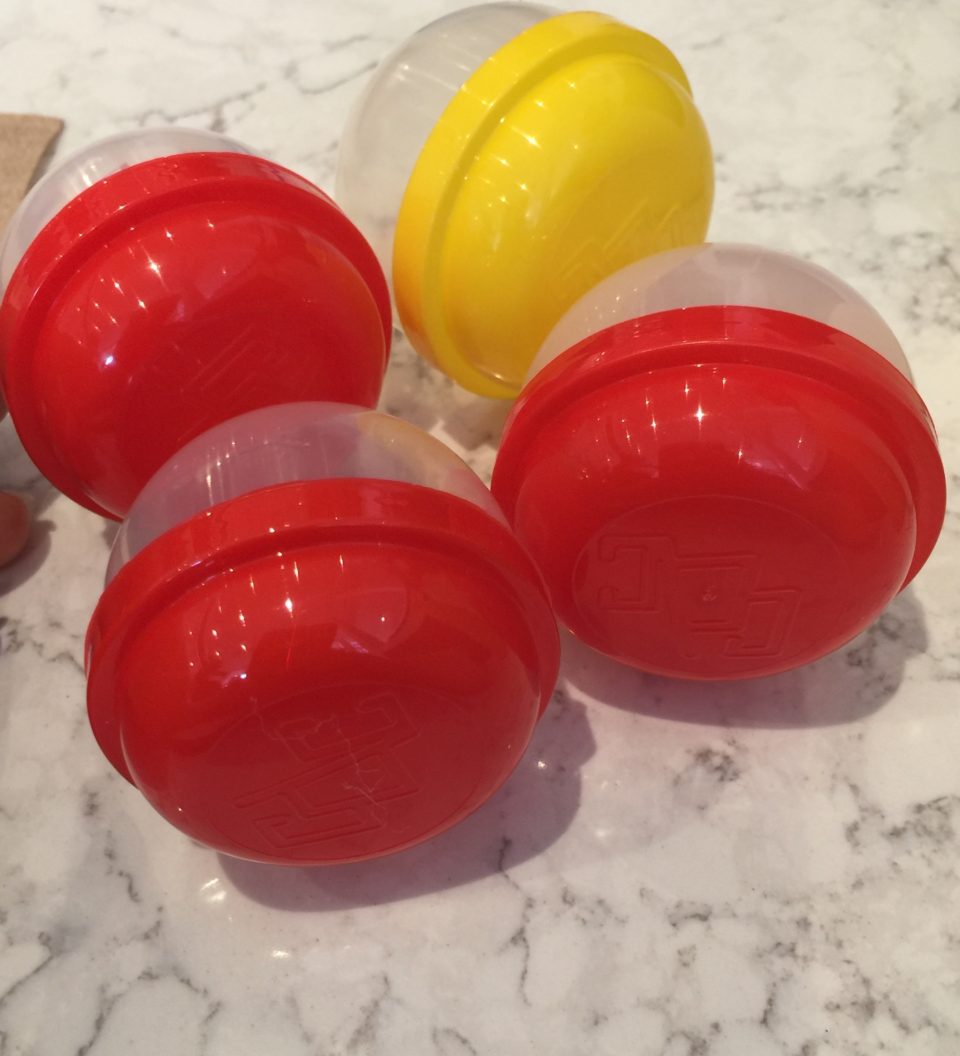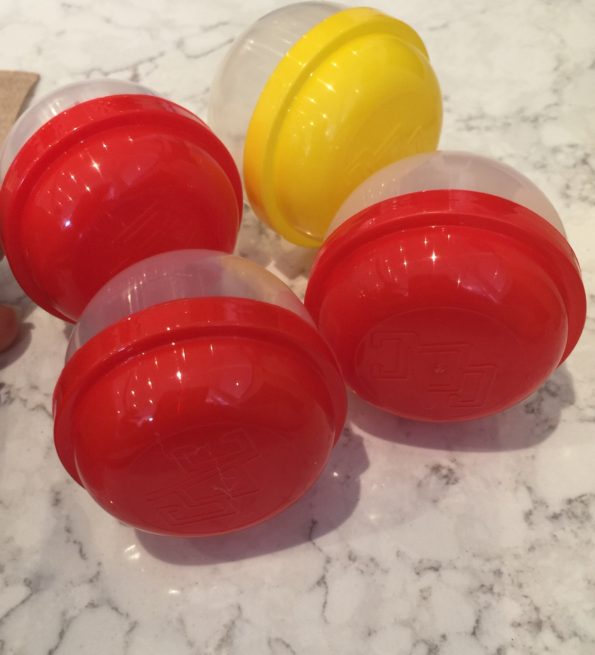 When eating cereal as a kid, you often would dig through the box to find the prize. Kellogg's gave this same experience without having to dig in the box. Each person was given a little prize. So cute. Such a genius idea.
Overall we absolutely enjoyed our dining experience at Kellogg's NYC. The service was wonderful from beginning to end. Kellogg's NYC is a genius idea. I am glad that we made time in our schedule to go and check it out. We left fulfilled and ready for our fun filled day in NYC.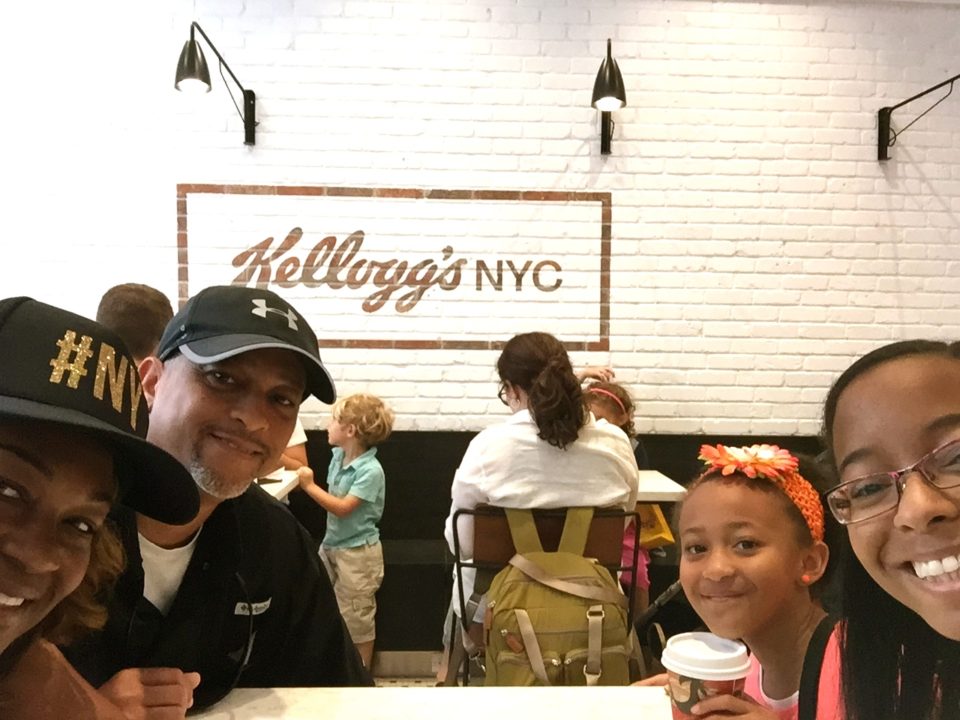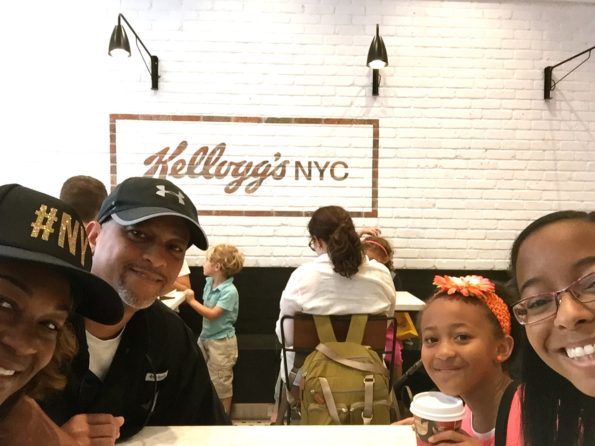 Kellogg's NYC is located at 1600 Broadway, New York, NY 10019. The hours of operation are Monday – Saturday 7:00 am -11:00 pm.
Remember, "no matter where you are from, it's always a good time for a bowl of cereal".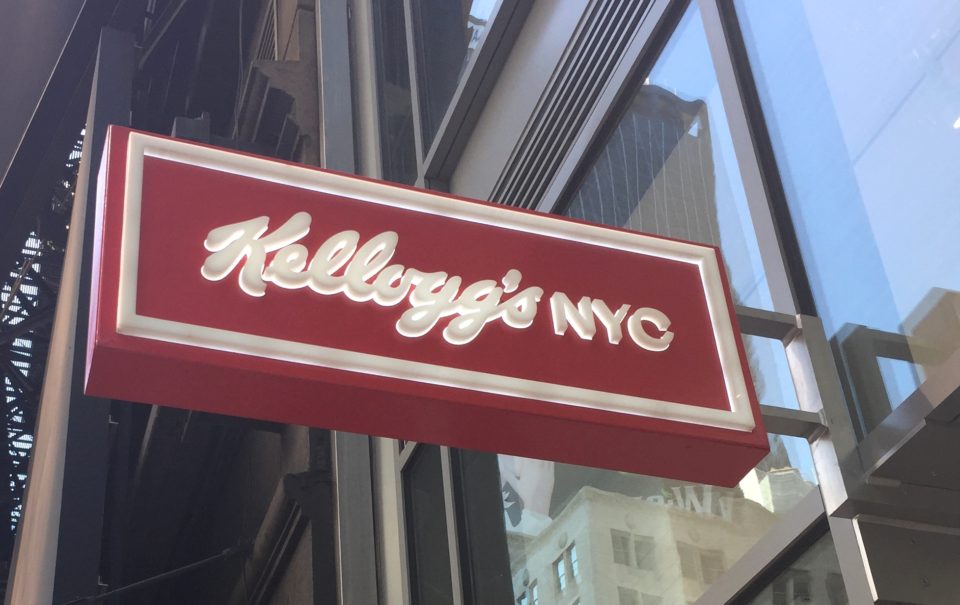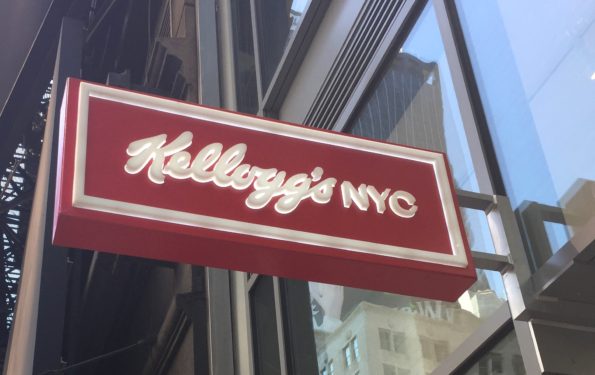 [bloglovin_button]