Thursday lil mama and I wanted a little something sweet. Since we were headed to the Southside we decided to try the new dessert shop, Indulge. Let me just say, did we indulge. Lol. This place was absolutely one of the nicest places for desserts I have ever seen. Indulge is Lafayette's very first dessert lounge.
Indulge has a very elaborate and extensive dessert & coffee shop. There was so much to choose from we didn't know where to start. Lil mama was in chocolate heaven, chocolate galore! We took a few minutes to decide what we wanted. As you can see in the picture below there were so many pastries & assortment desserts to choose from. Oh my…
The dessert case had just about anything you could think of from red velvet cake shots, assorted cupcakes, cheesecake (flavors like key lime, oreo), chocolate covered oreos, pineapple cream cheese cake. Oh the list went on and on. The menu is ever changing. You will find something different each time you go.
Indulge also serves a variety of coffees and espressos. In addition, there is an assortment of ice creams, shakes and smoothies. We sampled the red velvet smoothie. Omg, if you like red velvet you will love this smoothie. It was very delicious. Not too thick or too watery but the consistency was perfect. I am not sure what they use in the shake but it was really good.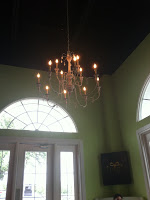 The decor was very classy. Though it has very colorful and bold walls and flooring it was not tacky. I loved, loved the chandeliers. As elegant as the place was, it is very kid friendly.
One of the things I liked too about Indulge is the fact that you can shop while or after you enjoy your coffee, pastries or some type of sweet. There are gift items for men, women, and children. So if you forget to purchase a gift and remember while you are drinking your morning espresso. Don't fret, because there is something that can accommodate everyone.
Lil mama's favorite thing was the chocolate dessert bar. The bar consisted of so many different chocolates. Omg. Good stuff.
Pictured above in the three pictures is the dessert bar. Indulge offers many assortments of chocolates. A few of the flavors and types of chocolates are milk chocolate with smoked sea salt and caramel, bailey Irish cream truffle, champagne truffle. It would take me all day to list all the other flavors, but just know if you like chocolate there is at least one in the bunch that you will love.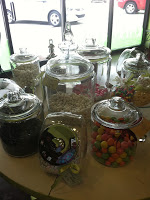 Indulge is candy heaven. The display tables also serve as a candy dispenser for your candy cravings. Gumballs, assorted candies. If you can think it, they have it. Wow.
I mentioned earlier that they have gifts available for purchase. The baskets were very nice. There was one basket that was made for a man that would cater to a baseball fan. In the baskets were baseballs made of chocolate, a book of the all time great players of baseball, cracker jacks, etc. Another basket was for football fans which had all items with LSU t-shirts, purple and gold sweets, etc. really cute.
Lil mama ordered a chocolate covered oreo with a fleur de lis design. Too cute. The pastry decorators are very creative and absolutely amazing at what they do!!
We also ordered the chocolate covered oreo cheese cake. The cheesecake was delicious. It was a little rich but tasted amazing! The ice cold delicious water helped me out putting it down.
For those who love milk with their pastries, there is also the option for milk. What is so cool is that they serve the milk or milk shakes in old school mason jars. So cute. I love drinking out of mason jars. Reminds me of when we were kids.
My grandma ordered the coconut creme pie with toasted coconut. It looked really good. She told me it was delicious.
I also wanted to try the red velvet shot pictured below. Isn't this too cute?? I thought this was adorable. Anyone who knows me, knows that I love red velvet. Oh my, this was superb!! The best! Good stuff.
My momma ordered the jamba juice strawberry banana smoothie. She told me that it was refreshing. When you can't put it down and continue drinking till its all done, you know that's some good stuff! Oh yeah..
I ordered a key lime cheese cake for my honey to go. Very pretty and the presentation is impeccable. I did try the cheesecake and it saddens me to say that I didn't like it. There seem to be something missing and it lacked sugar. But I may be bias because I am not a fan of key lime cheesecake.
This place was very warm. Even though it is a very dainty, girlie place, the environment was comfortable and inviting. The wait staff and baristas were very polite and really made us feel welcome. The owner was there as well and she is such a sweet lady. She not only spoke with us, but she also took the time to speak with lil mama. I was very impressed..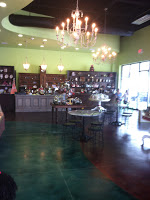 There is outdoor seating available as well as a kid corner for the children. A great place for a play date with the children.
Overall I was completely impressed with Indulge. This is my new favorite place for coffee and desserts. I am so excited for me and my friends to go together to have some girl time. This is a great meeting spot for you and your children, a group of girlfriends or a guy and his fellows. This place comes highly recommended! Let me know what you think!!
In addition, Indulge serves breakfast items like muffins, biscuits and biscotti. So whether you are meeting someone for a morning meeting or an afternoon chitter chatter. There is something for anytime of the day.
Another speciality about Indulge is that if you are having an event and want a dessert buffet or full candy bar give them a call. Choices range from macaroons, dessert shots, colorful candies, etc..
The facility is also available for rental on Sundays.
Indulge is opened Monday-Saturday from 9am-9pm. Located at 1921 Kaliste Saloom, Suite 111 in Parc Lafayette, 534-8700.