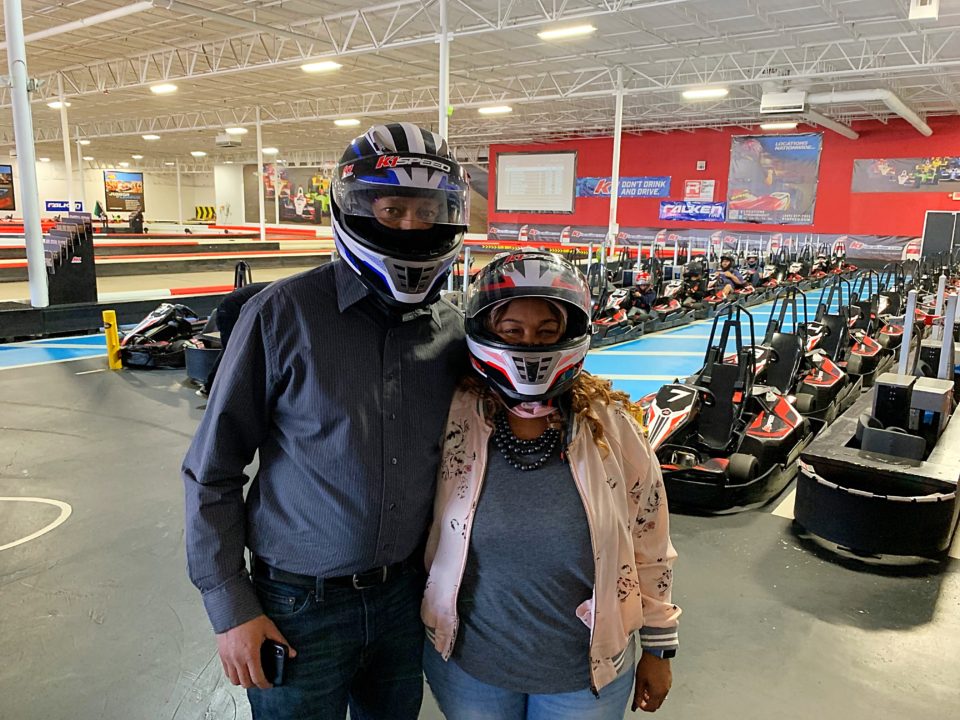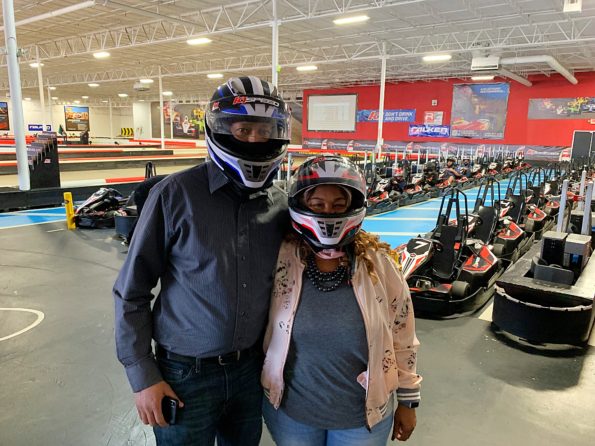 As a married couple, it's critical that you find a way to connect and spend it together.  A strong marriage is important for the success of any family.  When the husband and wife are happy, connected and enjoying one another's company this is better for your kids.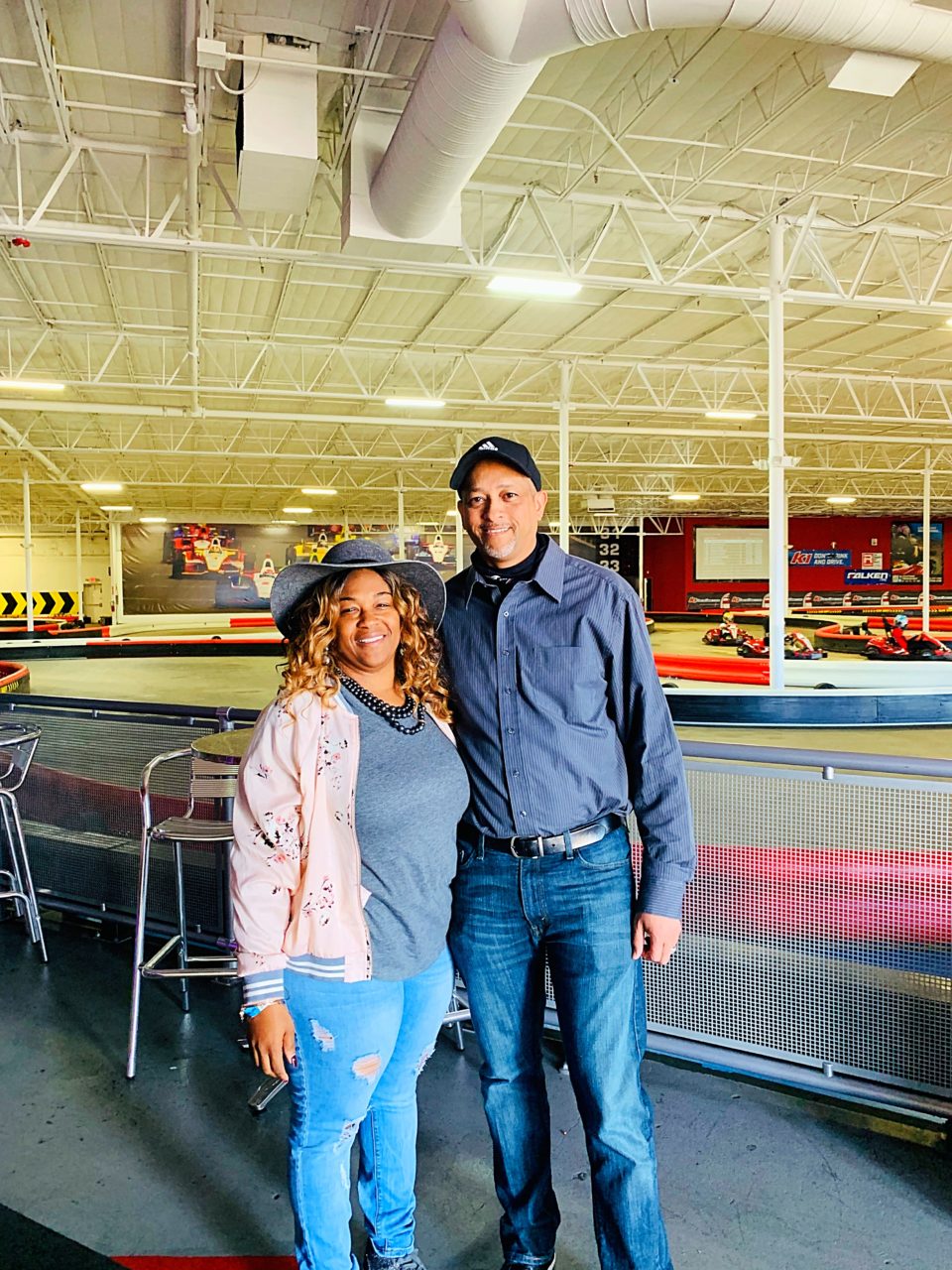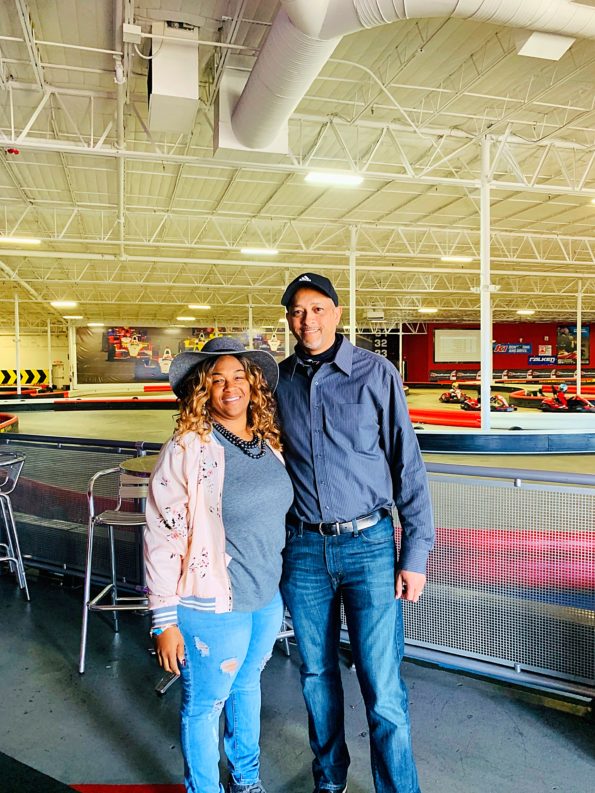 My husband and I love to have fun and try new things.  We checked out K1 Speed recently.  K1 Speed is an Indoor, Go Kart Racing facility to satisfy your need for speed.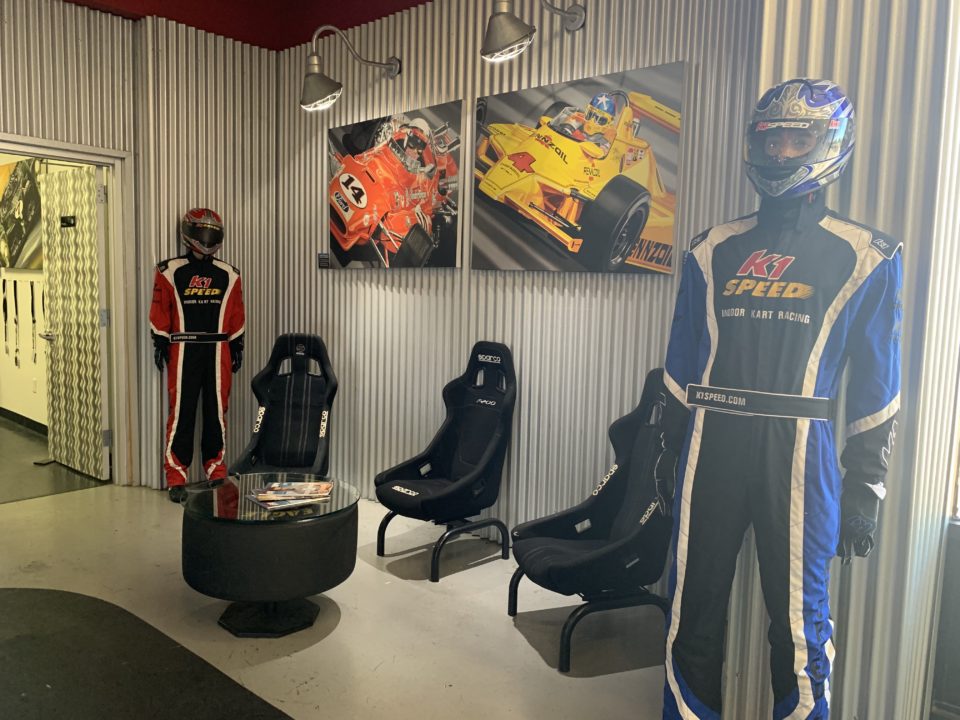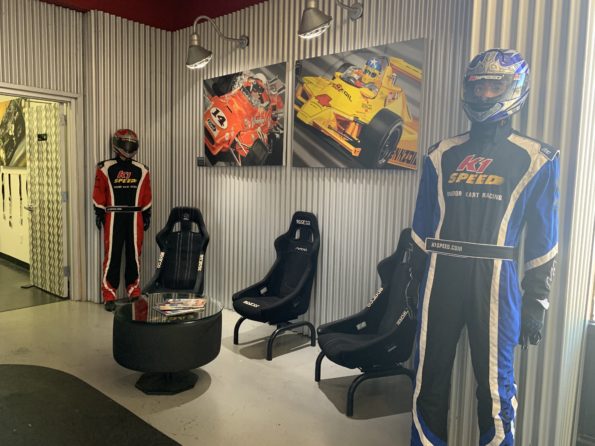 We arrived at K1 Speed around lunch time.  As we walked in there was Race Car items, pictures, seating all throughout the entertainment facility.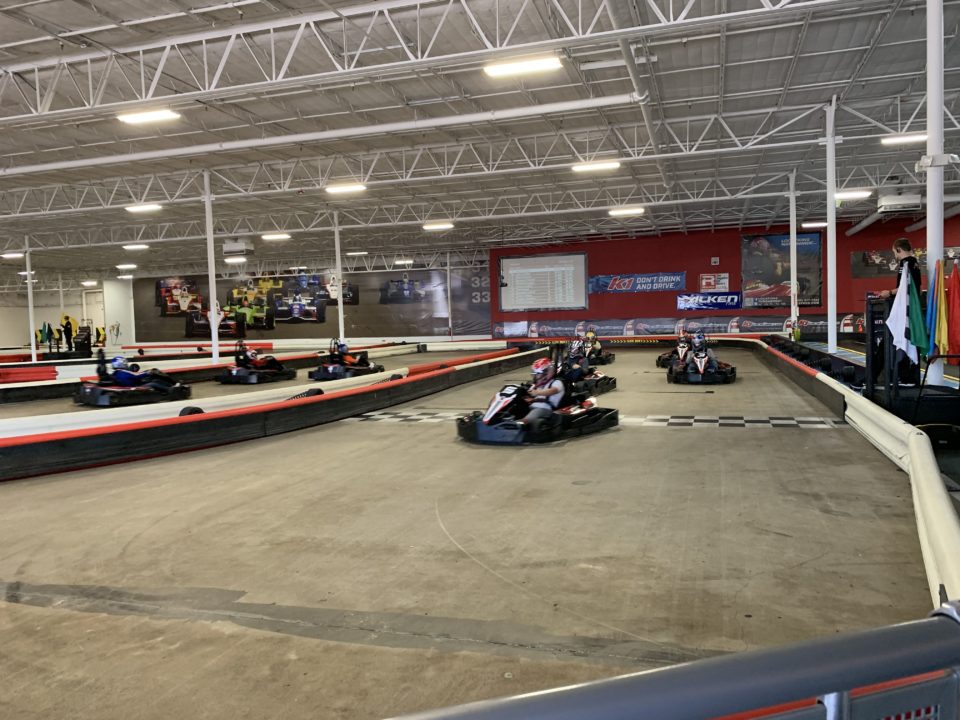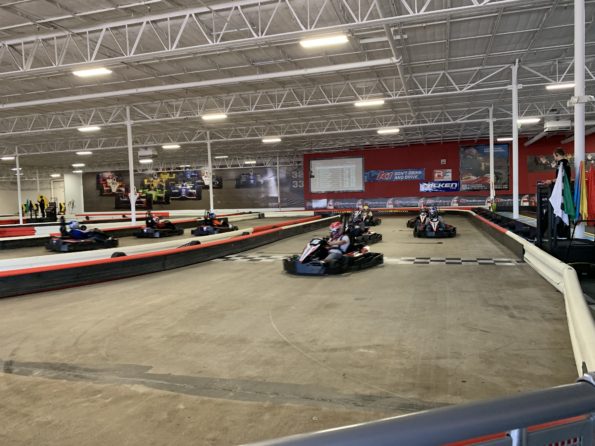 The Race Track was the focal point of the entire facility.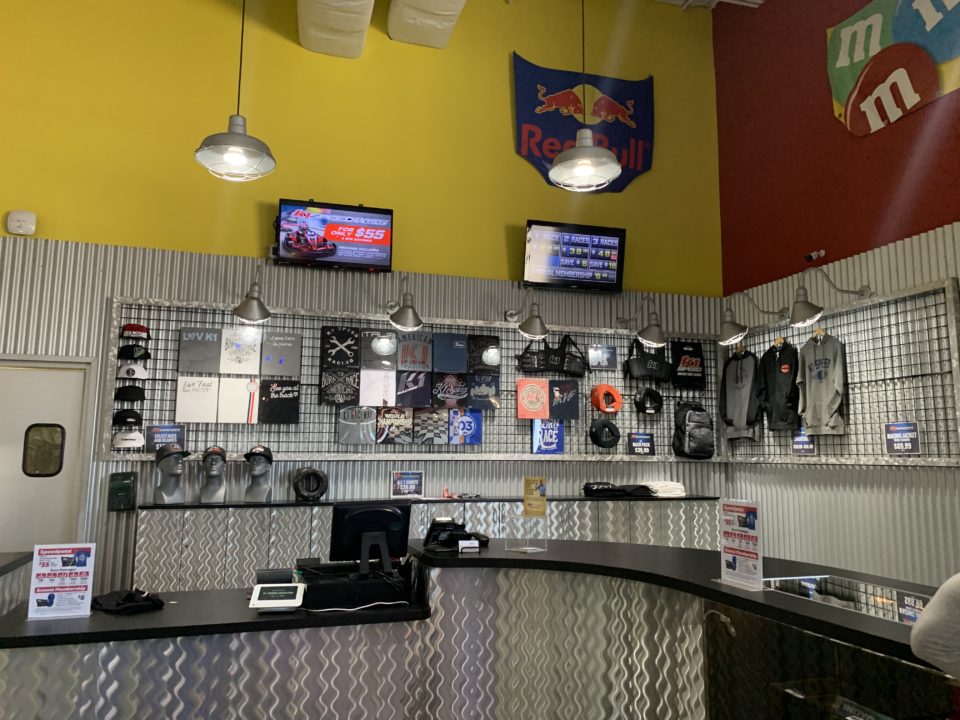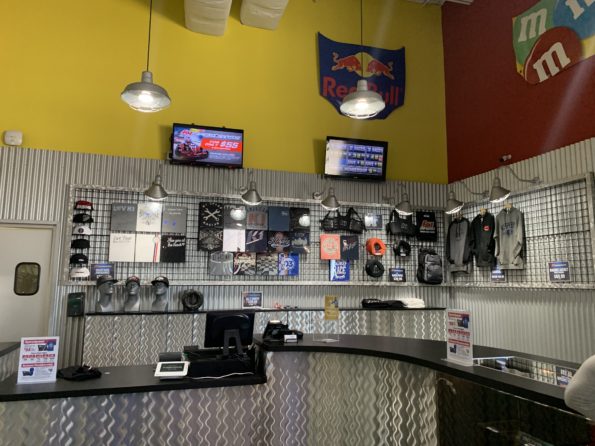 We headed to the counter to get instruction as to how we sign up and get ready for our race.
First up you have to sign a waiver and add your information to the system.
Once we completed the digital paperwork we headed to the check in counter.  This is the area you pay and sign up for your race.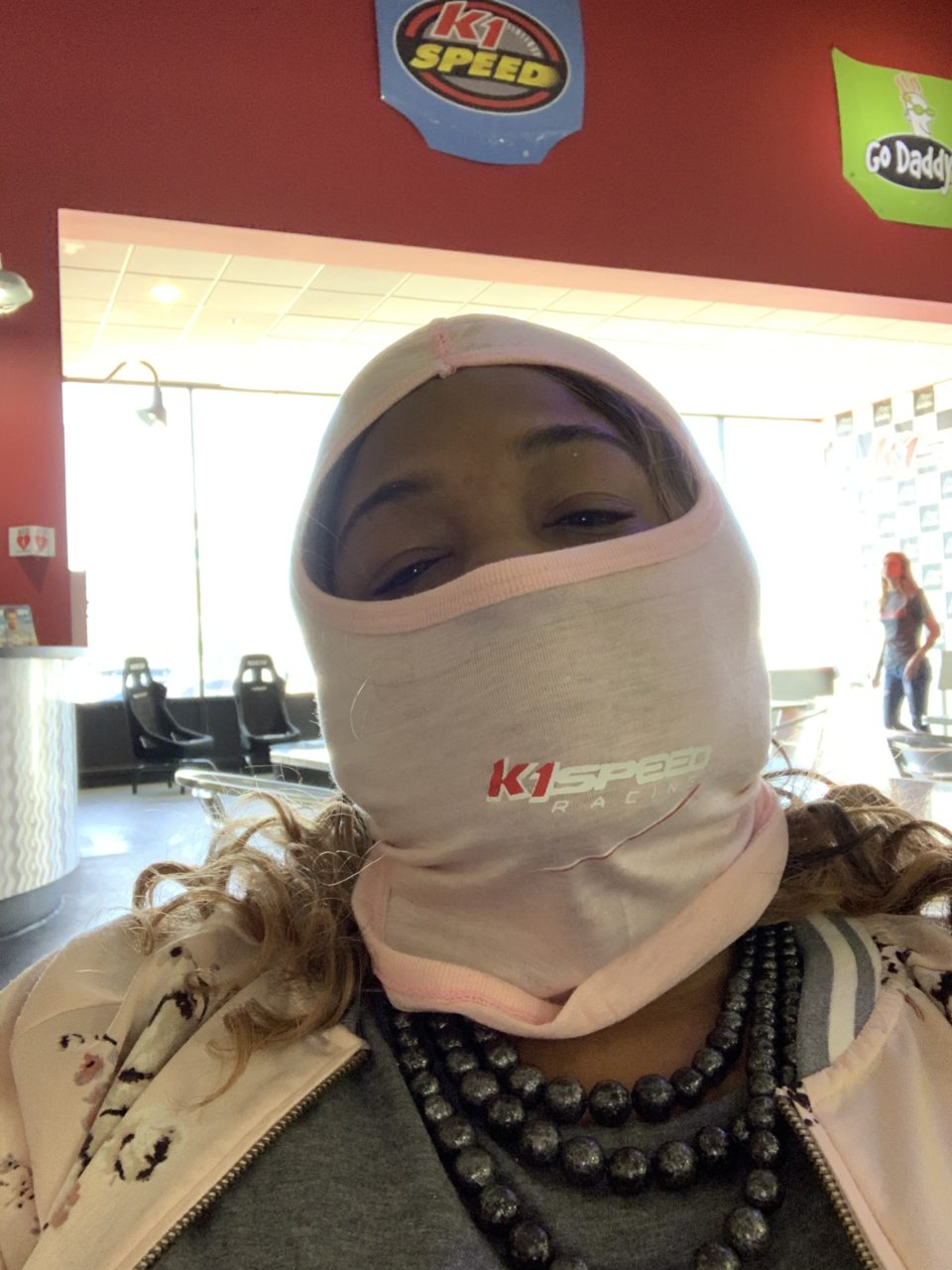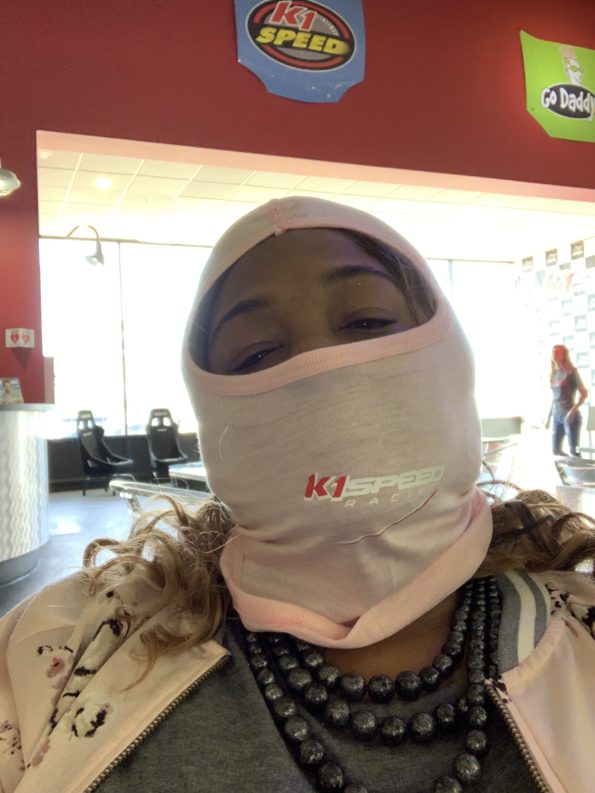 She handed our headgear and we waited for our names to be call.
We had a bit of a wait, so we played pool on the opposite side of the facility.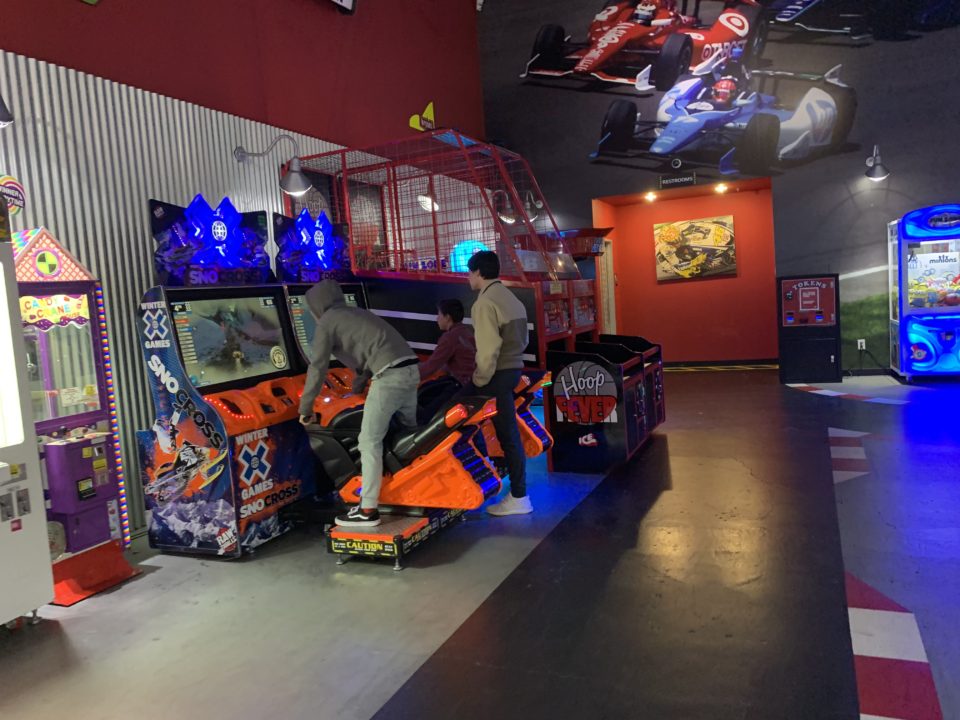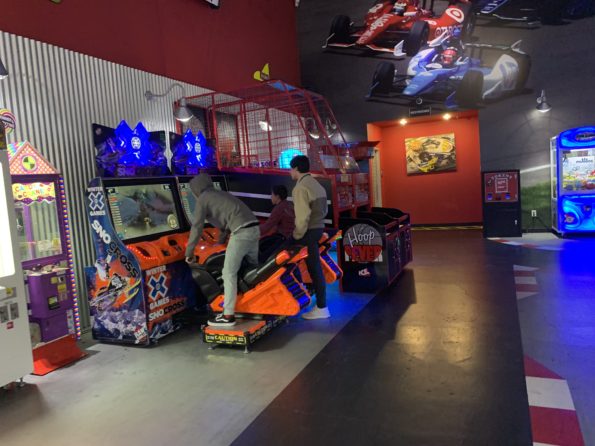 There was a gaming arcade area with basketball, boxing, racing and pool.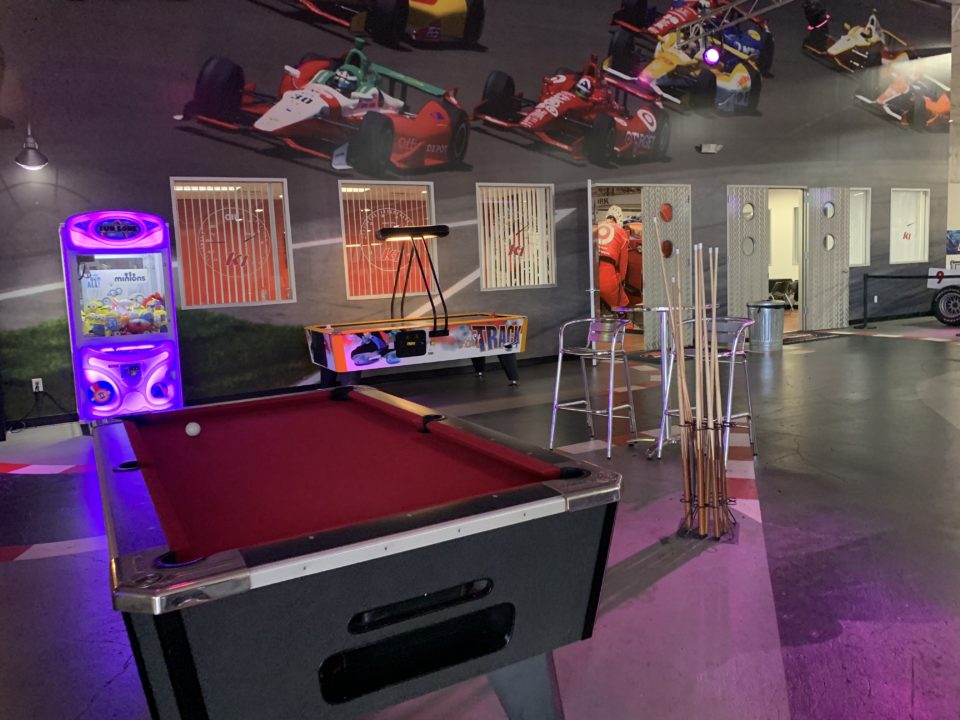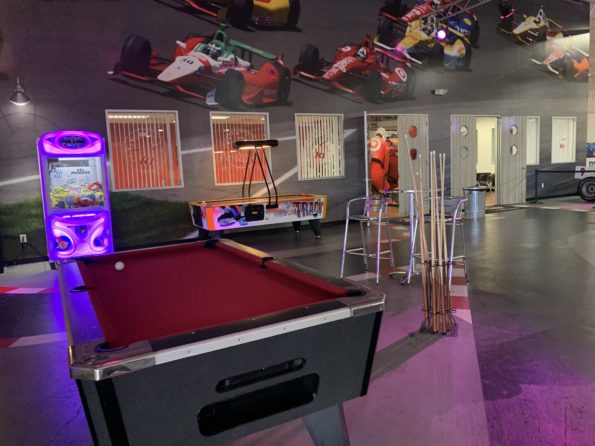 In addition there were a few party rooms to host parties.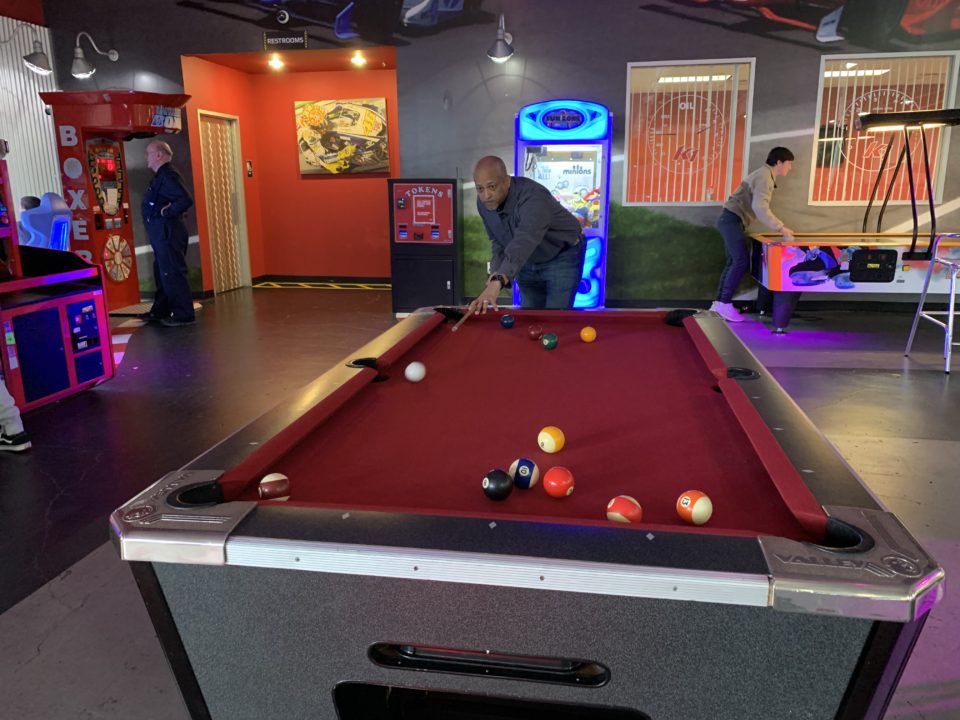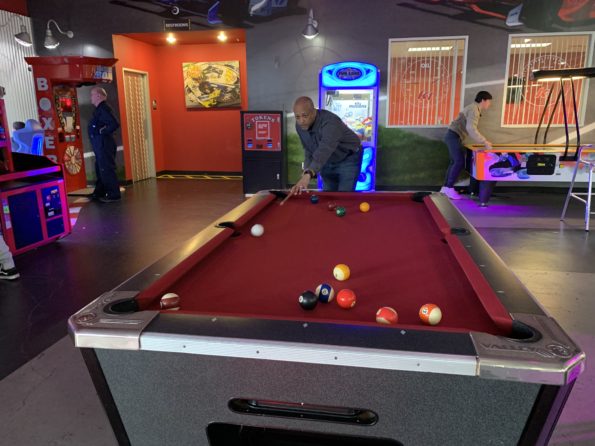 My husband and I played a game of pool.  Pool is one of the things we love to do together.  We love pool so much that we have customized pool sticks.  It's been a while since we have played pool but it was like riding a bike.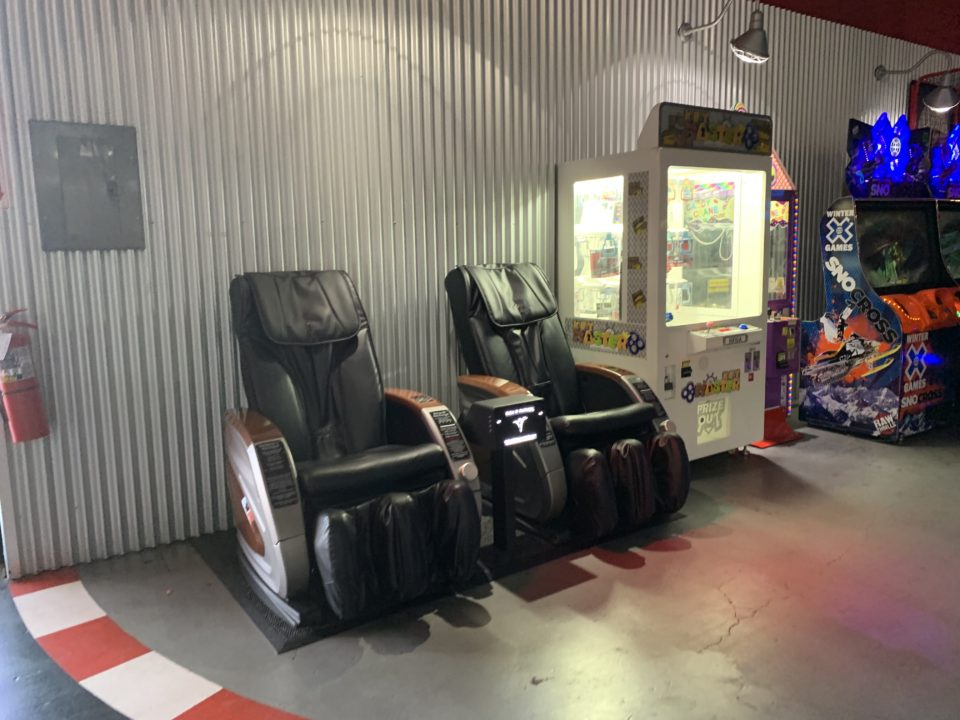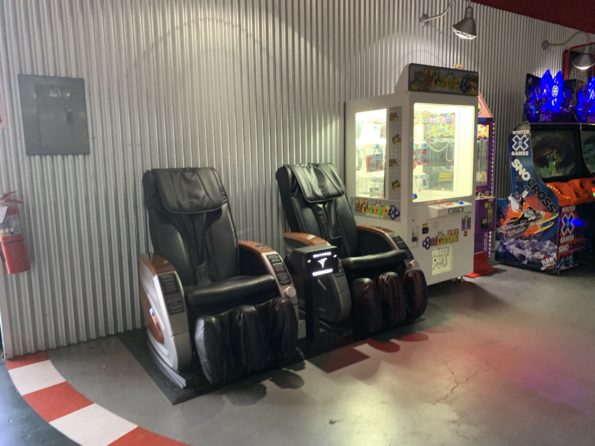 Not in the mood for games.  Why don't you relax in one of the massage chairs pictured above.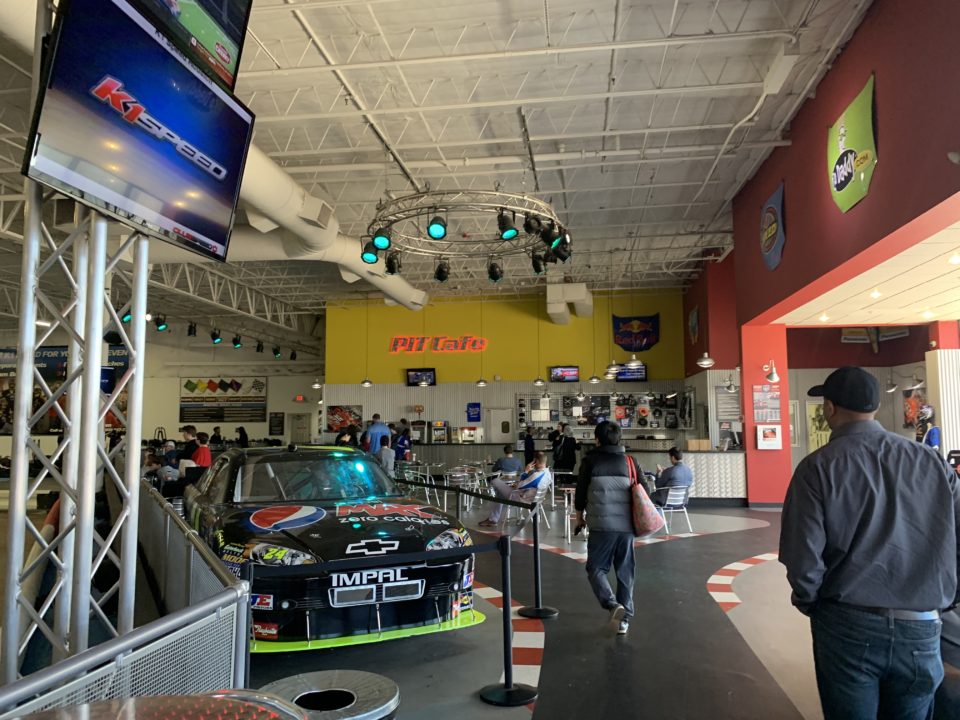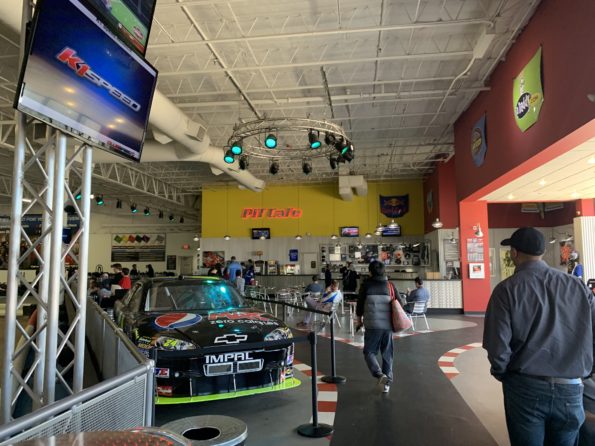 After our game of pool we headed back to the racing side.  We watched a few races and then our names were called.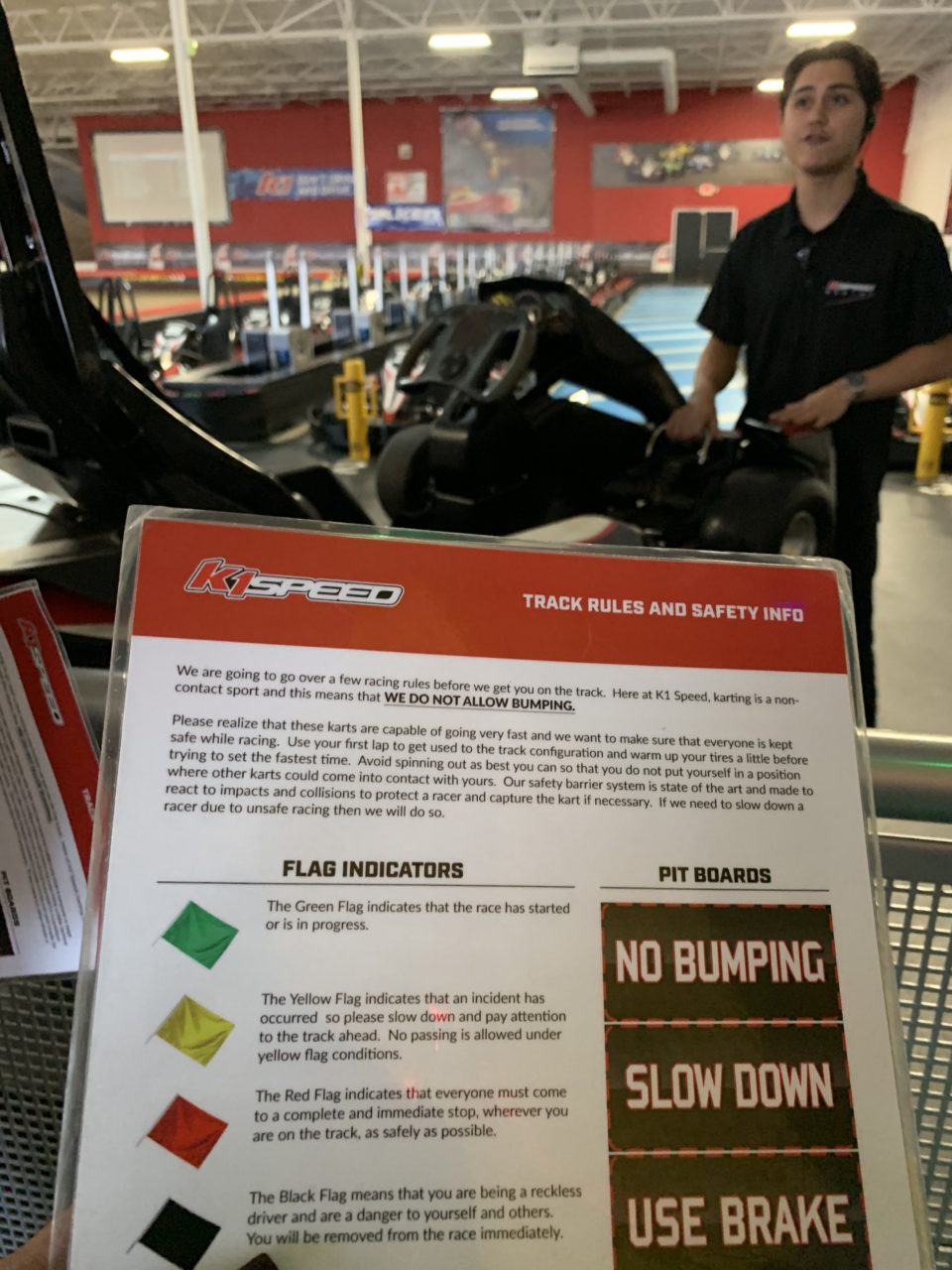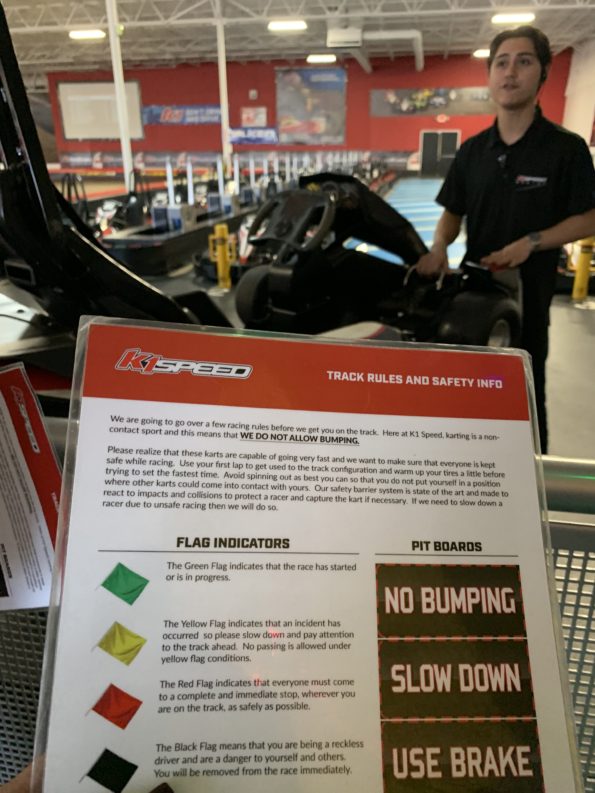 We were handed a laminated paper with rules and regulations of racing.  Simple instructions of do's and don'ts.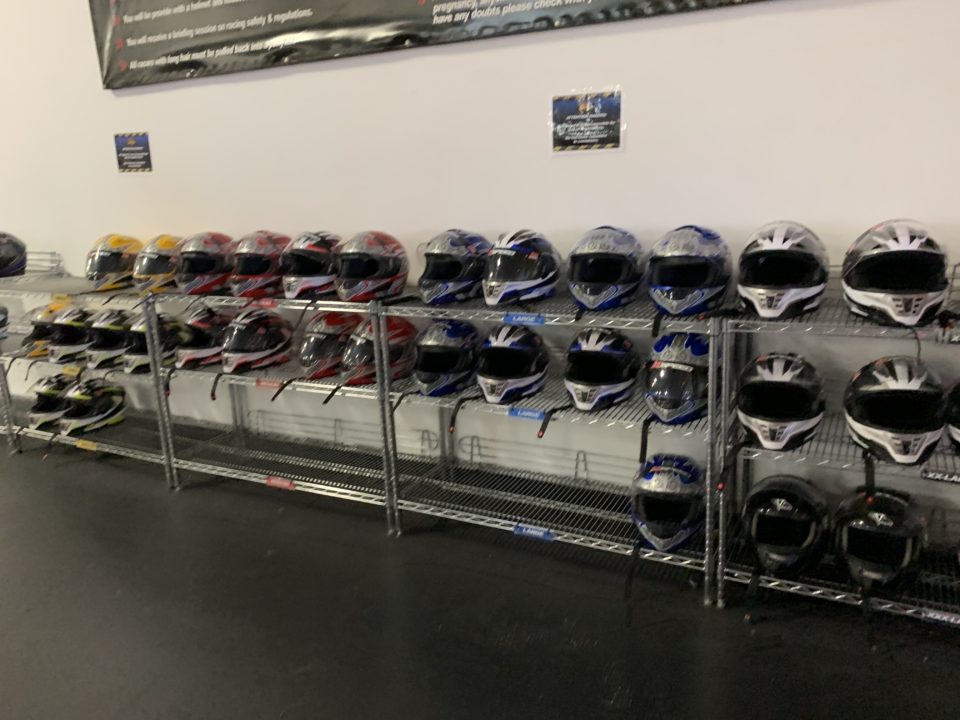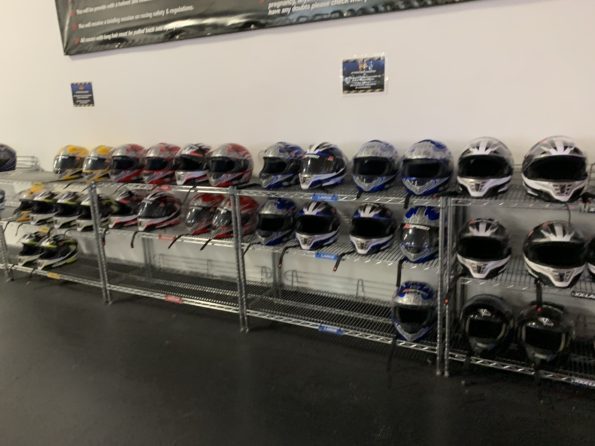 After receiving our rules, we entered the PIT and grabbed a helmet. The helmets are divided by size, Small, Medium, Large and XL.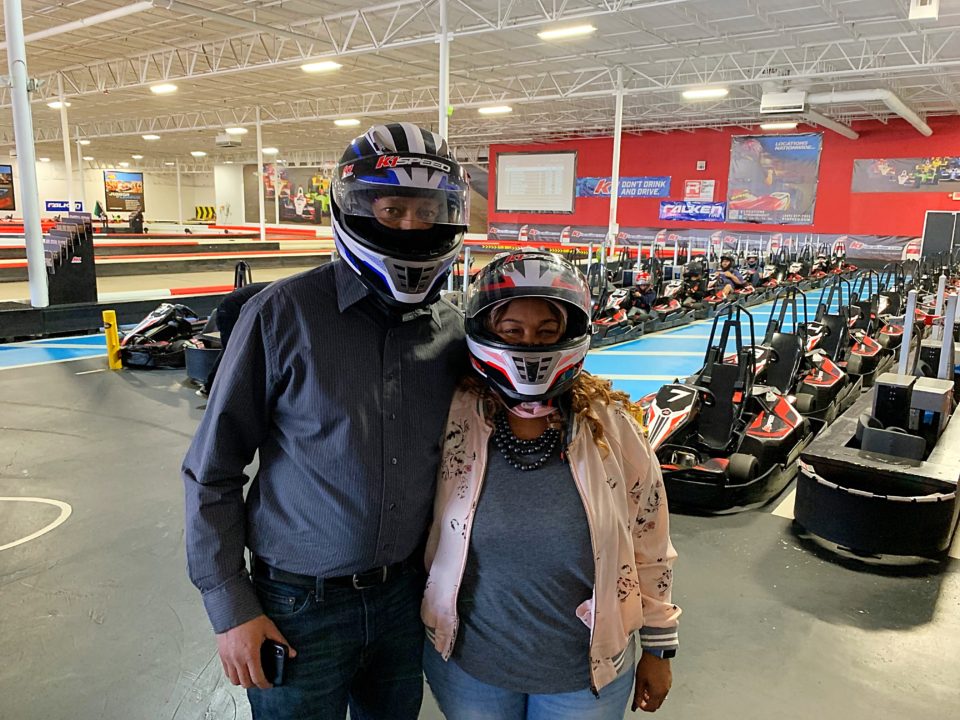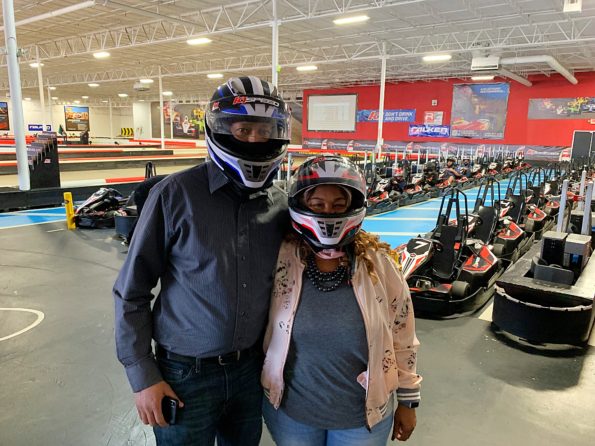 We grabbed our helmets, posed for a picture and jumped in our assign seating.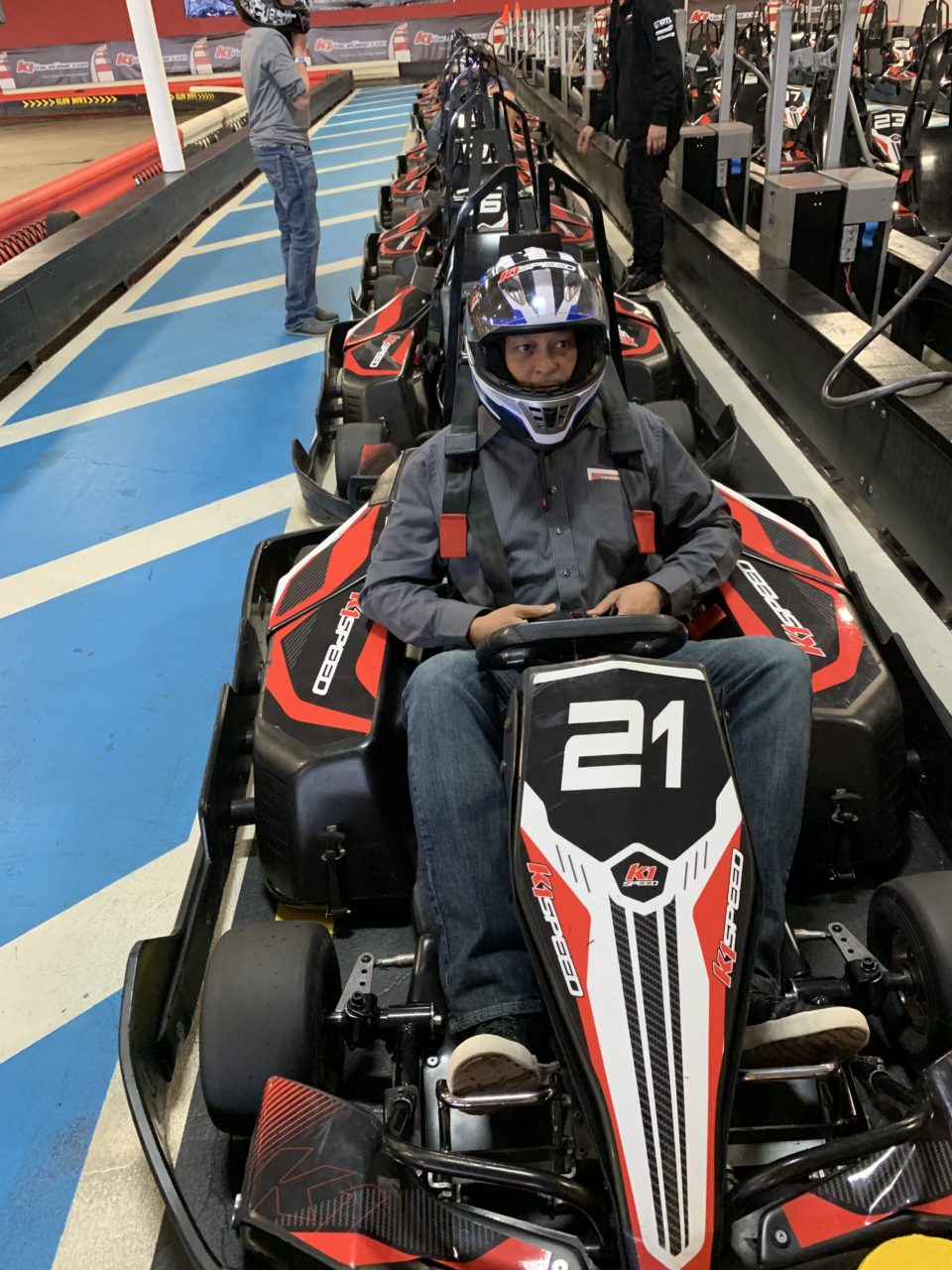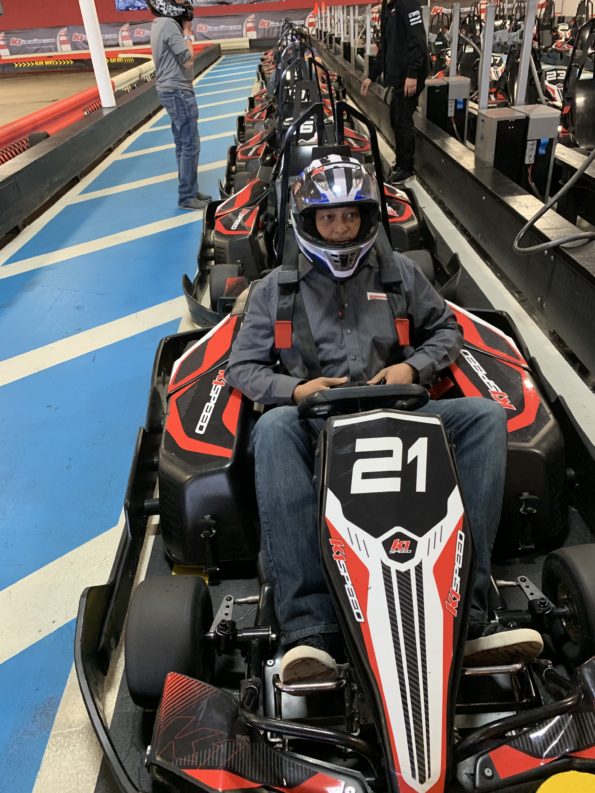 Each person is assigned a number for the race.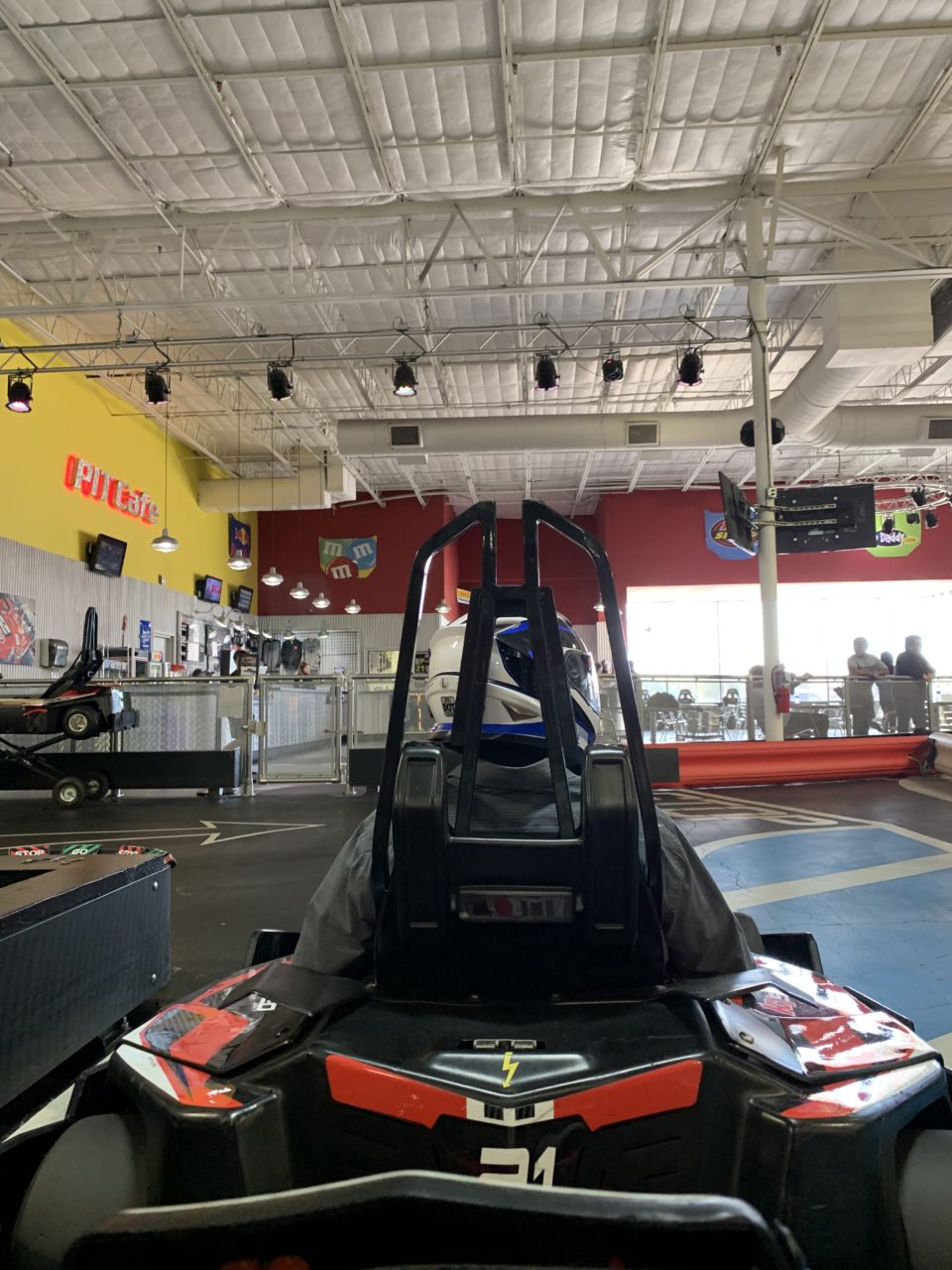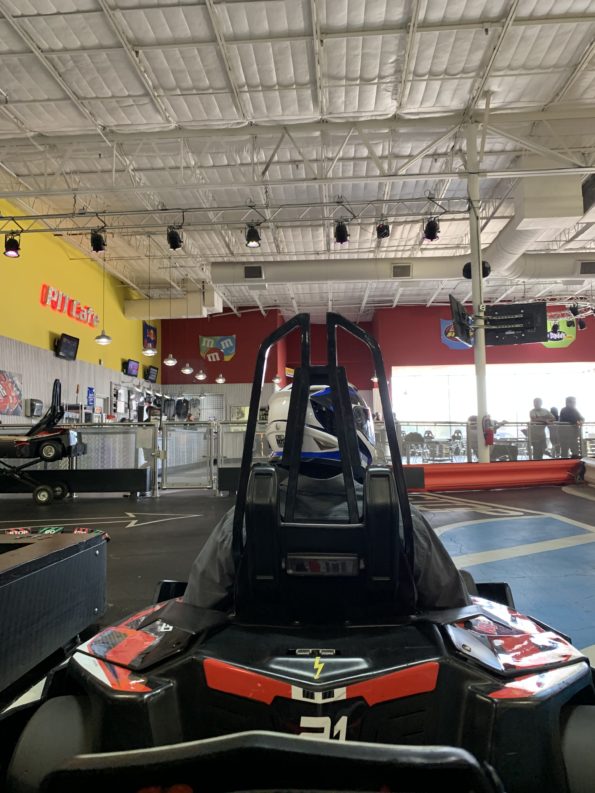 After finding our number, we buckled up and waited for further instruction.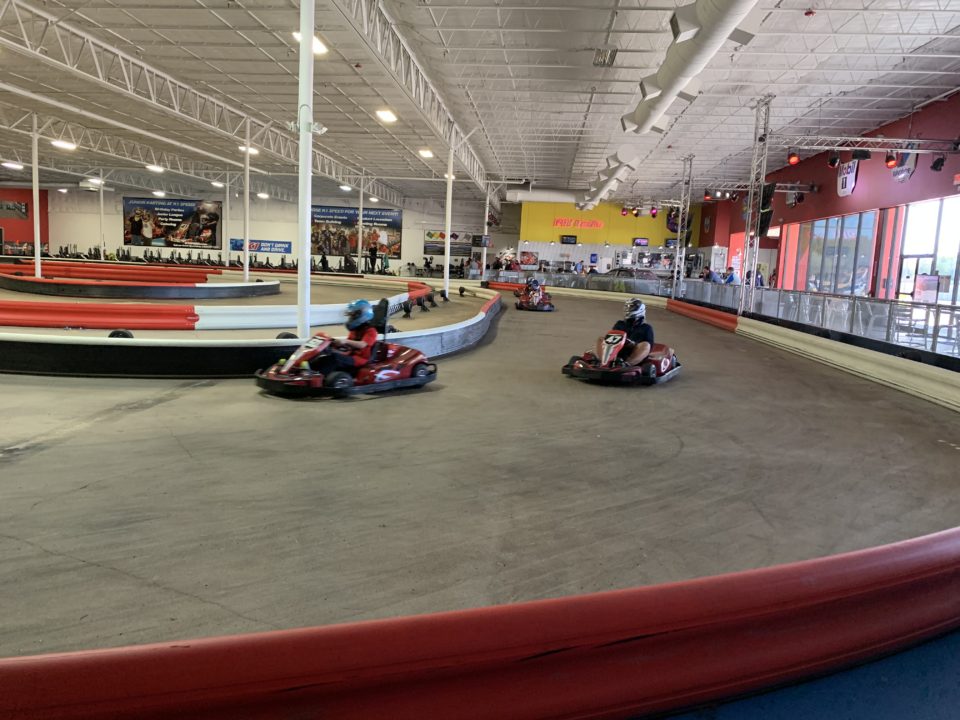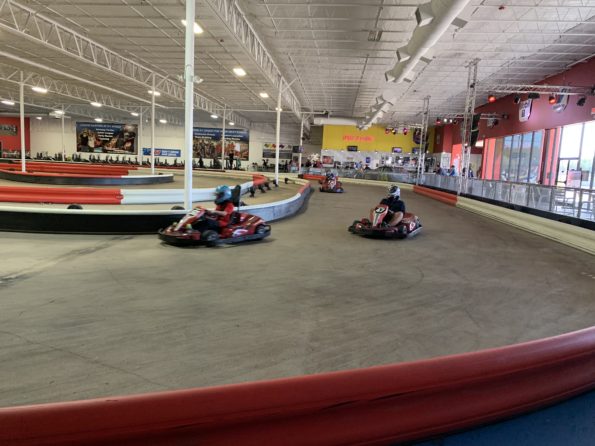 Once the race started everything was fast paced.  Need for Speed anyone?  We were rolling.  It took a few times around to get use to the twist and turns, but it was so much fun.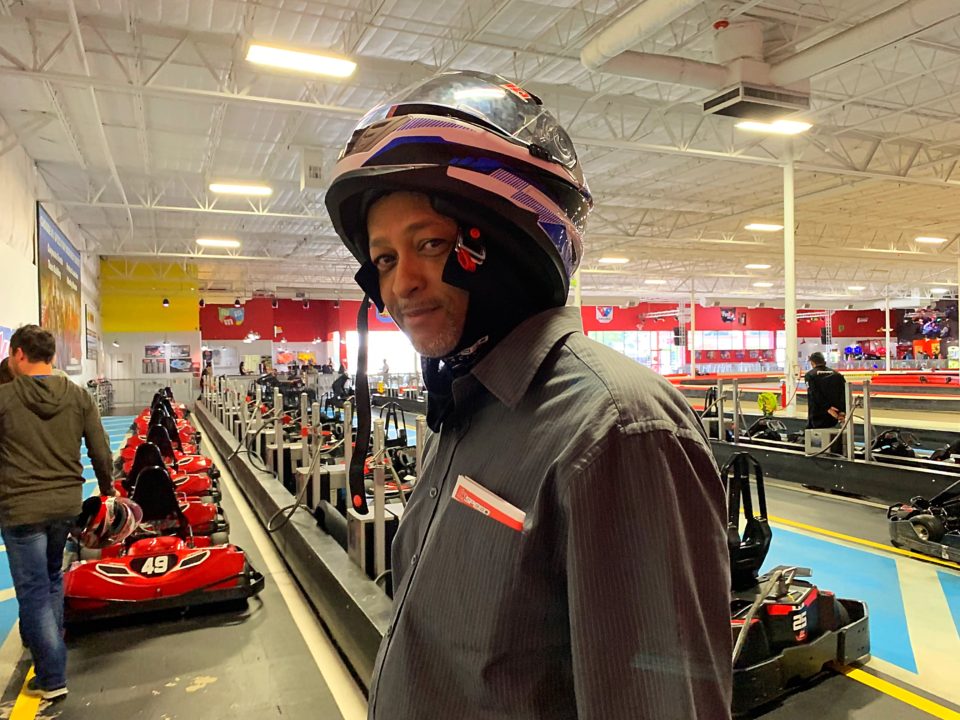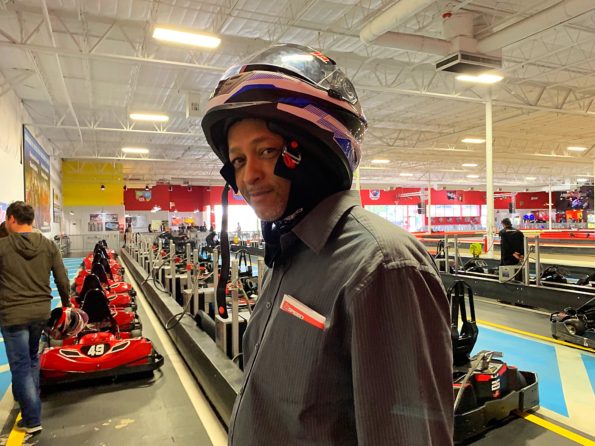 My husband and I loved it!
We paid for two rides so we had a 15 minute break in between the next ride.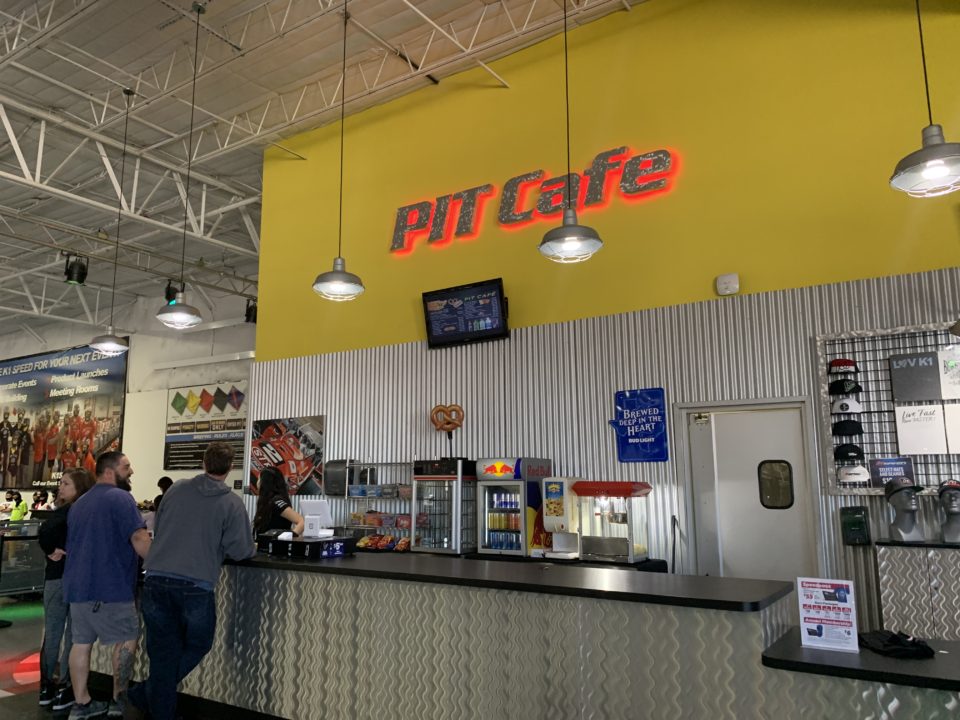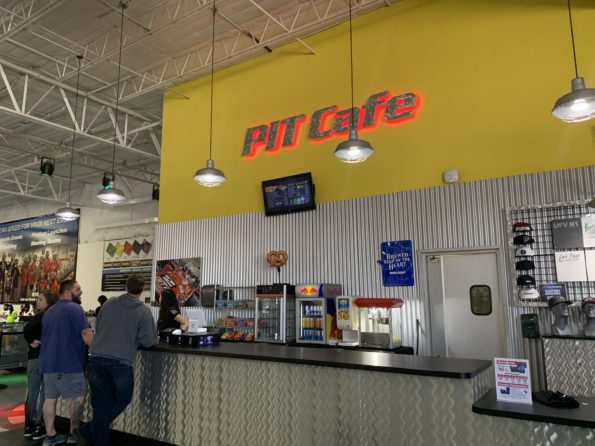 One thing I noticed while we were waiting was the Pit Cafe?  Hungry?  Grab a snack at the Snack spot.  Serving up Pizza, Nachos, Drinks, Candy and More.  We weren't hungry so we opted out of snack time.
But I am sure the food is good.  I mean pizza you can't go wrong.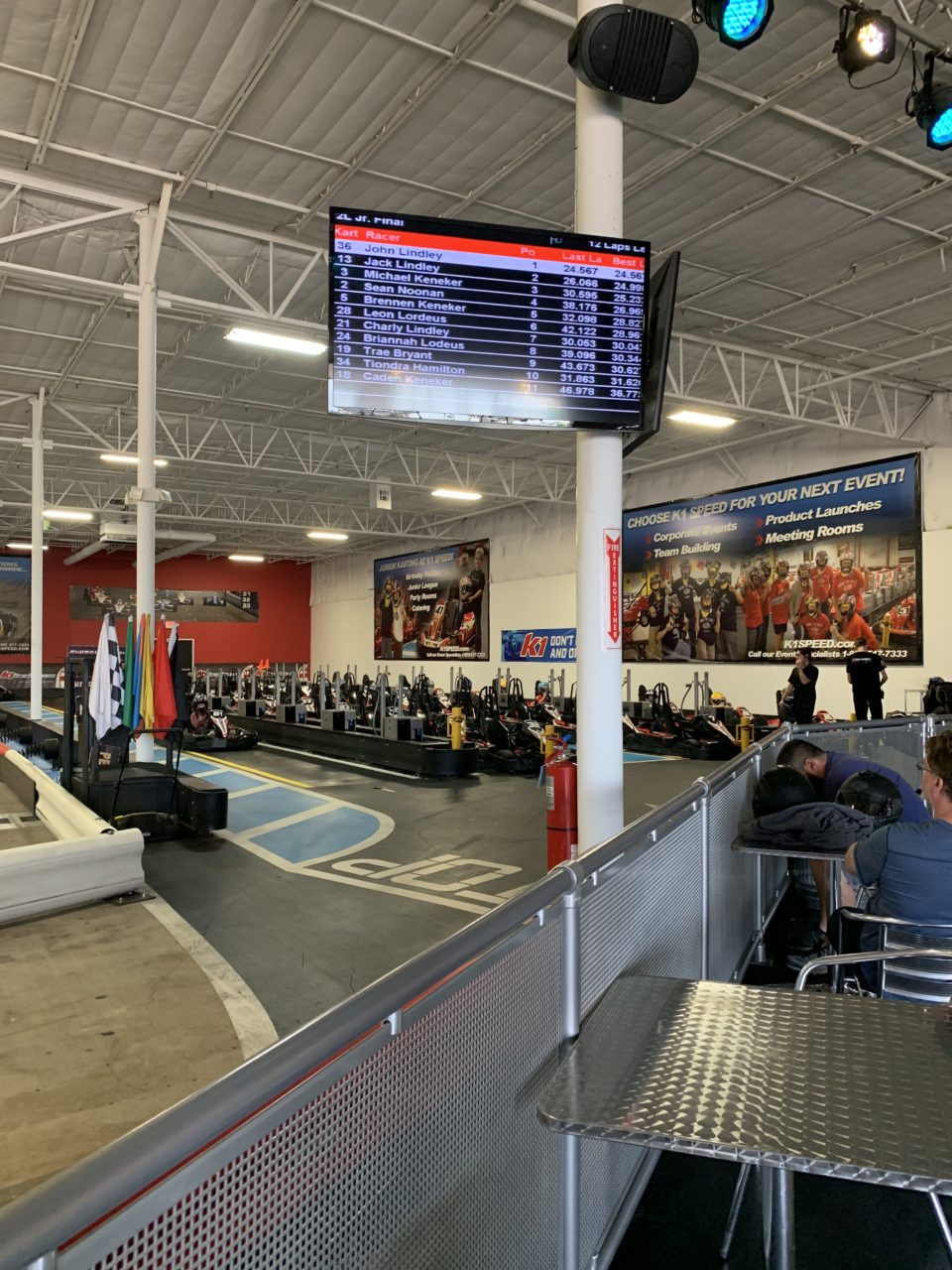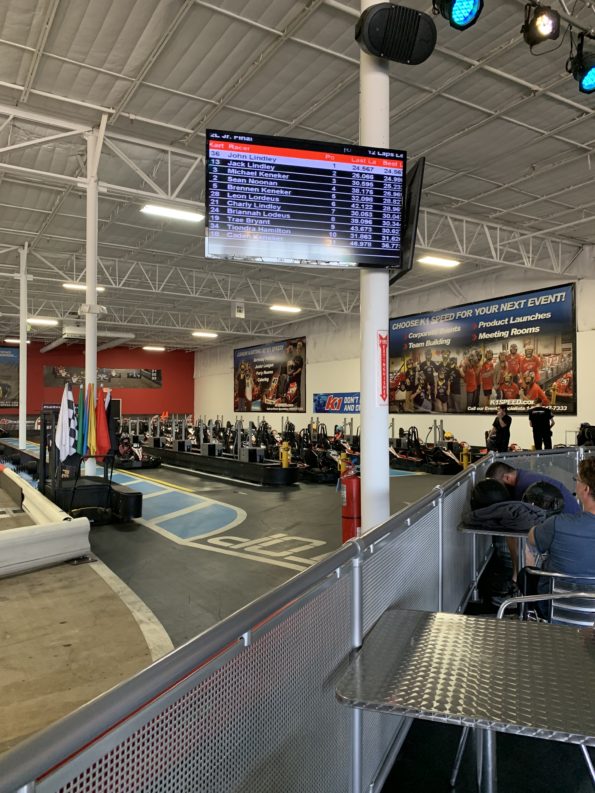 Our names were called, so we headed out for our last and final ride.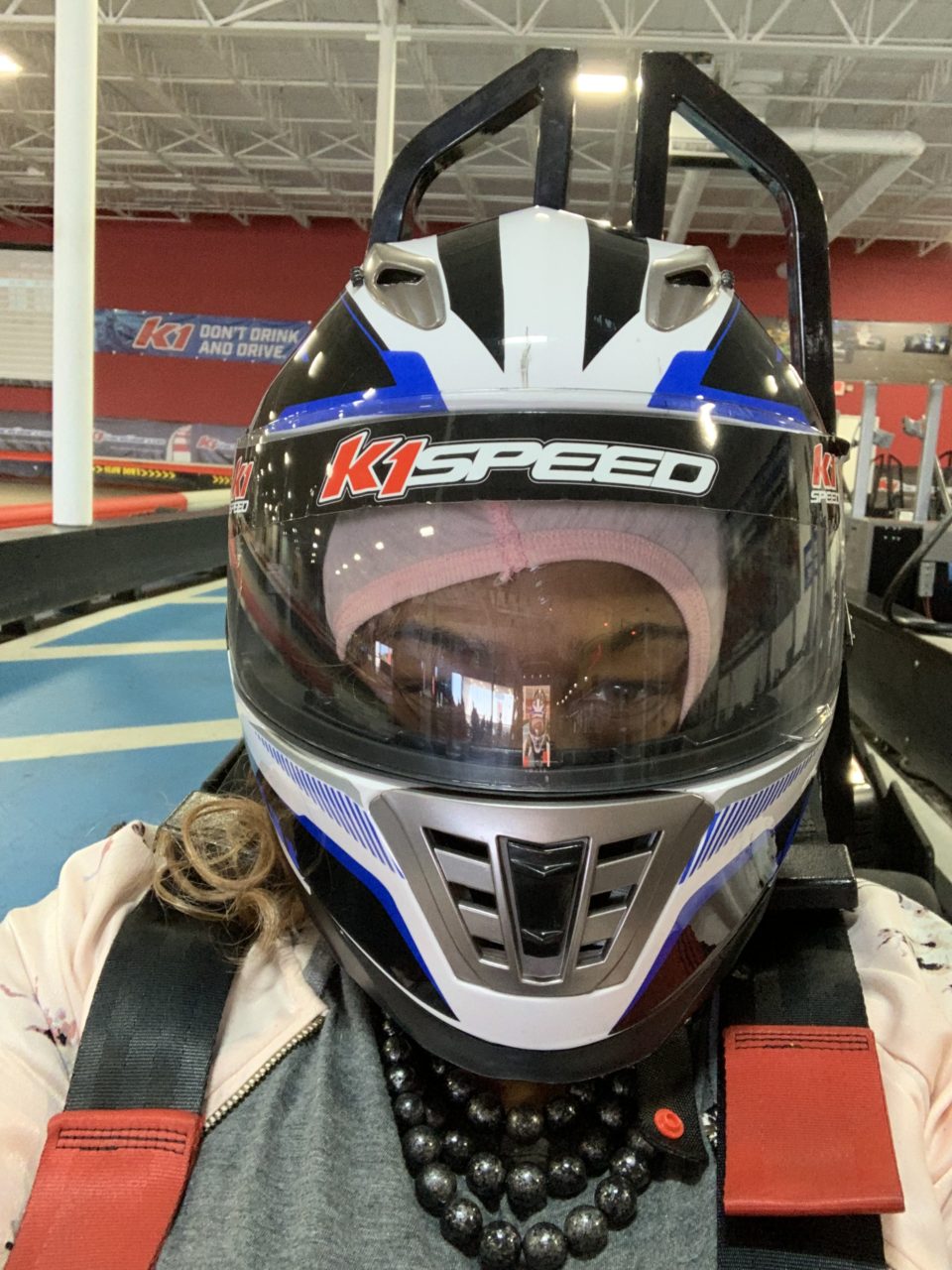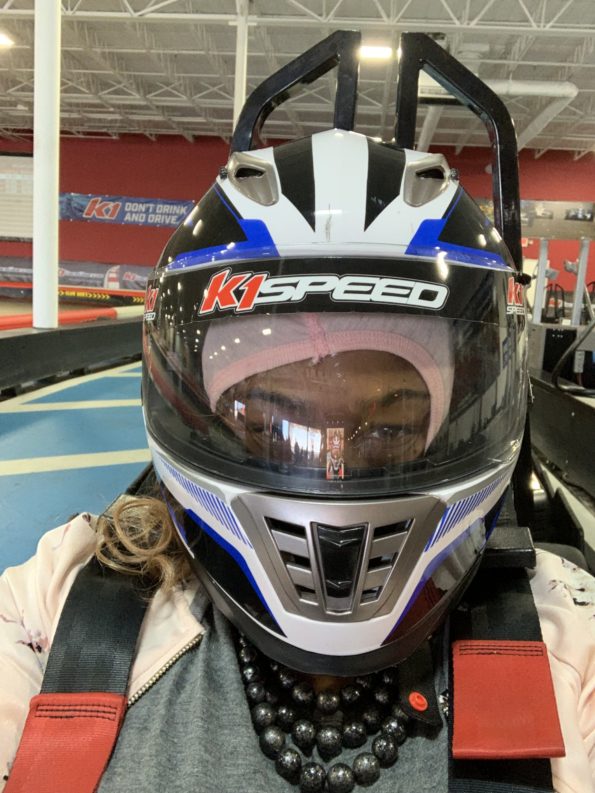 We felt much more comfortable, so we headed out with ease and sped our way around the track. So much fun.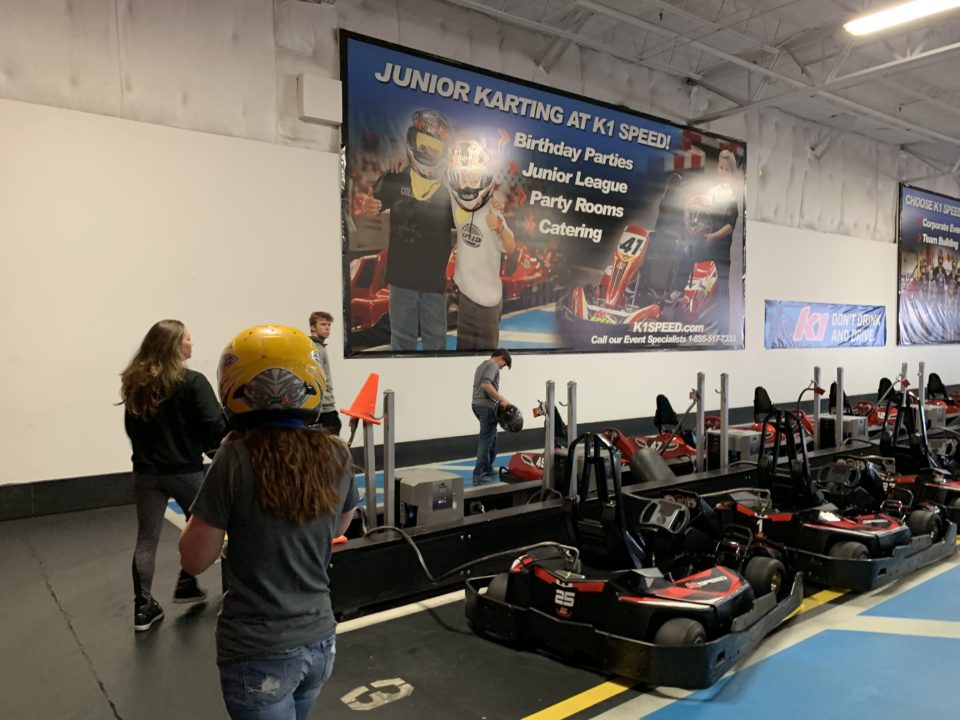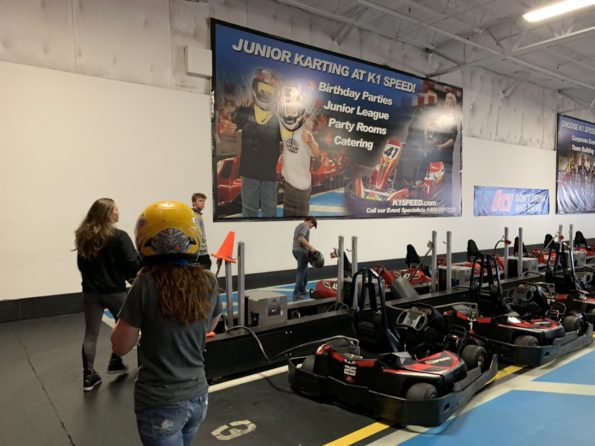 The people we raced with the second time was also the same for our group the first time.  They were so cool.  So much fun!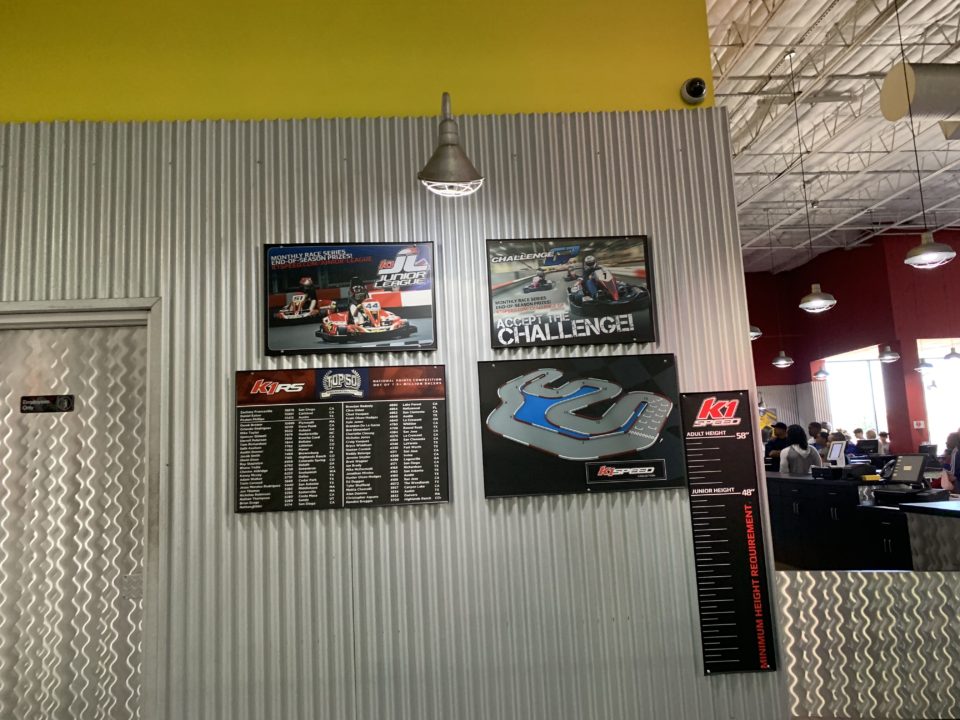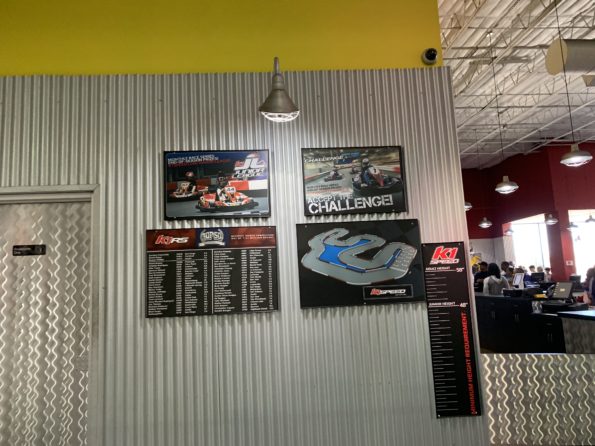 Overall, we loved our time at K1 Speed.  It was a lot of fun. The check-in was super easy. While you waited, there were things to do which made the time pass fast.  It's a great place for a family outing. Perfect for families with kids that are at least 7 & up.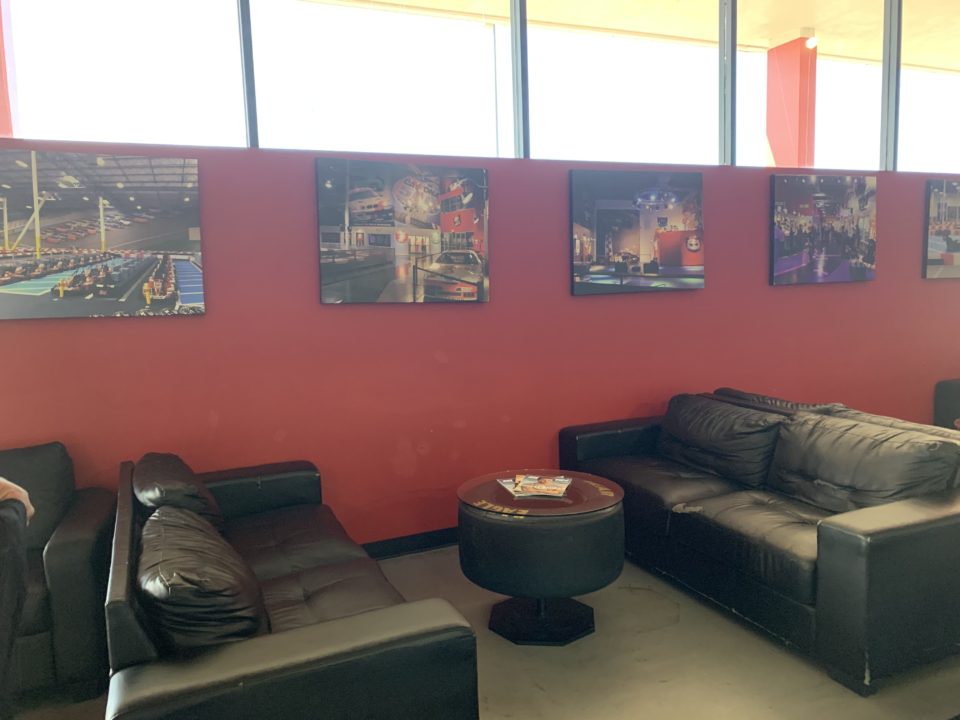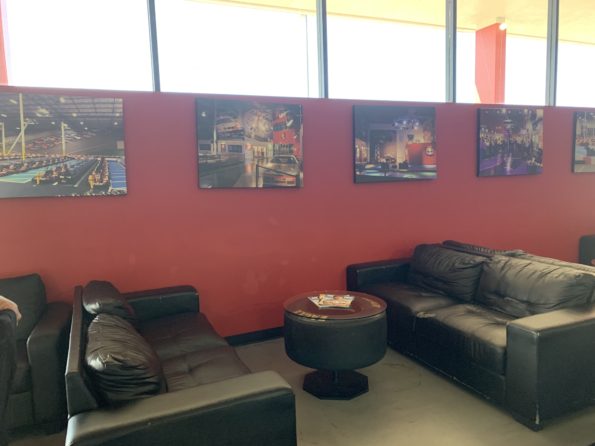 It was the perfect Day Date for me and my boo.  We really enjoyed ourselves.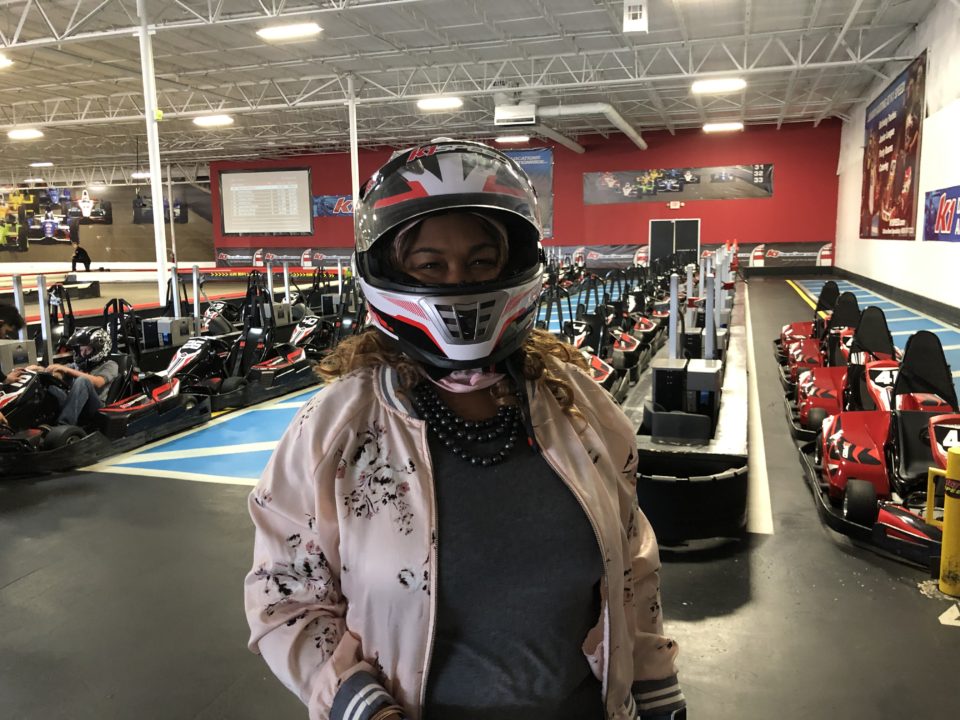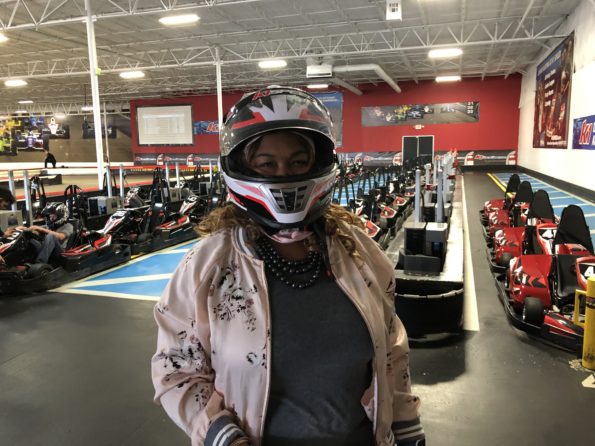 Get your adrenaline pumping and head on over to K1 Speed.  Be sure to tell them that Da' Stylish Foodie sent you.