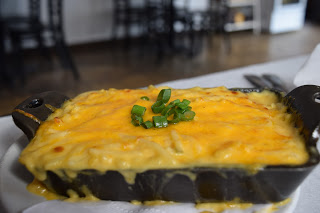 As a food blogger, I am fortunate to be able to go and enjoy many different types of dining experiences. Some of which are planned visits where the chef prepares these delicious meals for me to try and discuss on my blog.
But my most favorite dining experiences is what I call the blind review. I am the eyes and ears of the customers. I arrive like any other customer, I am looking at any and everything.
I am a very honest blogger, I will say the truth about what I think about a restaurant, not in hopes to offend, but to help the restaurant become better.
As a foodie, I believe in the Louisiana Culture and I want to see restaurants succeed. Blogging is my investment into the restaurant world.
But enough about food blogging let's talk about my next dining place, POP'S POBOYS. Pop's is located in the downtown area. The restaurant has been opened since April 2015. I have friends who are Foodies like me and many of them told me, you have to check out Pop's Downtown.
Unfortunately, my schedule has been jammed pack with restaurant reviews and media days, I couldn't fit it in. One of the magazines I write for, contacted me and wanted me to do a article on Pop's. I said well look at this, I am finally going to get a chance to try Pop's!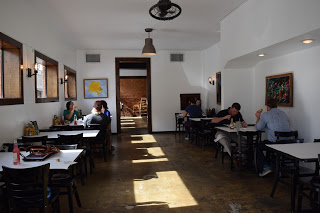 When I walked in, I thought the look was nice, casual. A good size space. The space had an old time feel too, but with a cool twist.
I am a fan of the chalkboard look, that was a plus. The white walls gave the restaurant a clean look.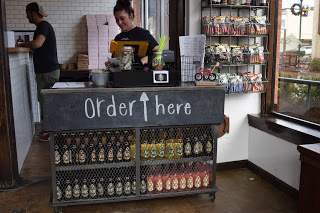 I was greeted by a sweet young lady. I approached the counter and quickly ordered something. But let me just say, I suggest you take your time and read through the menu. The menu offers a variety of starters, salads and poboys. In all honesty, I wish I would have. Because choices are everything when dining at a restaurant. I will elaborate a little more about that later.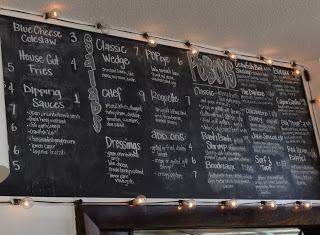 One thing that I liked was the displays through out the front of the restaurant. Swamp Pop is my all time favorite drink. So to see that when I walked in, made me feel right at home. I later found out that the owner of the restaurant is the creator of Swamp Pop how cool is that?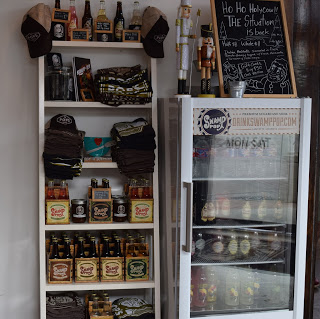 As a starter, I chose the Marty Mac Fry, which was house cut fries topped with gravy, Mimi mac and cheese, jalapenos, and pickled red onion. Superb! The brown gravy was similar to roux in thickness and taste. A fork full of all of the ingredients together, so good. A great appetizer. The mac n cheese as a topping was a great addition. The pickled red onions added a beautiful pop of color.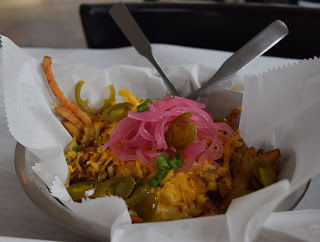 You can't go wrong with delicious mac n cheese. The dish wasn't greasy, perfectly well balanced flavors.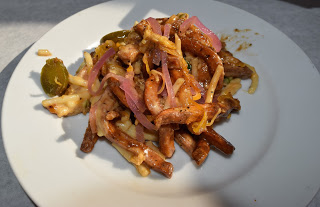 The next starter was the Mimi Mac & Cheese. Wow. Old fashioned style mac n cheese with the long noodles. The mac n cheese was creamy and cheesy. The mac was topped with additional cheese that was gooey when served and green onions.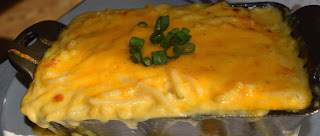 The mac n cheese was bubbly when placed on the table. Pipping hot! A very good mac n cheese. Comfort food at its finest.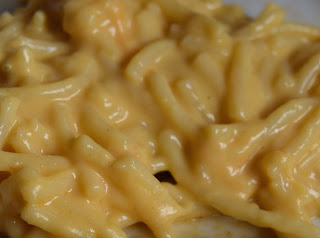 The two starters were a hit in my eyes. There were a few other starters that I have to go back and try like the pimento cheese with fire crackers and the smothered greens which is collards, turnips, mustard and bacon. Sounds mouthwatering. I will return to try those two for sure.
The starters as you can see are big enough to share and take some home. I had enough left to drop off to the hubby at work. Good portion sizes.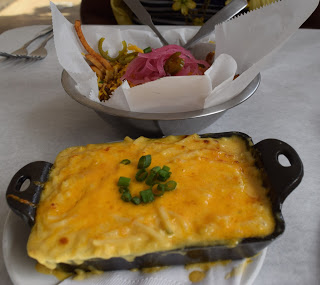 After trying those two starters, my mom and I were so excited to try the Poboys. Pops has the traditional Poboys like Shrimp or Oysters. The other Poboy options are creative and innovative in that they are not what you might normally mix together.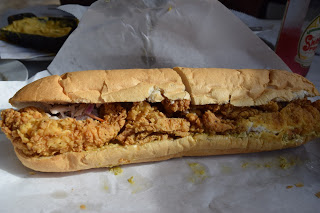 Above is the Boudreaux which is a buttermilk fried catfish with pickled okra tartar sauce and blue cheese coleslaw served on a Langlinas Bread which is made local.
The catfish was fried perfectly. But unfortunately the flavors didn't work for me. I was bit underwhelmed by this Poboy.
The catfish had no punch to it. I didn't taste the tartar sauce at all if it was on it. The coleslaw was ok, the good thing is that it wasn't overpowering as blue cheese can be sometimes.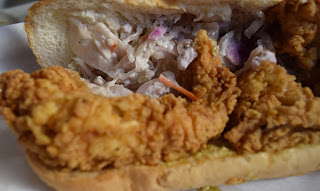 My suggestion would be maybe a jalapeno ranch or a different tartar sauce or mix the coleslaw with something different and add a little lemon or cilantro. It just didn't work for me.
But I will definitely go back and try a different one. One of the ones that stood out was the crawfish boiled sausage or the Banh Banh Shrimp. Those two will definitely be one of my choices for my next visit.
In addition, Pop's also serves Salads as a healthier options. Salads like the Classic Wedge, Chef Salad or Popeye Salad.
Overall the service was excellent. The food was prepared fairly quick. The crowd was steady, we beat the rush.
One of my complaints was that there were no desserts. I love desserts and I was a bit disappointed but I know that may come in time. But hey that's my only suggestion.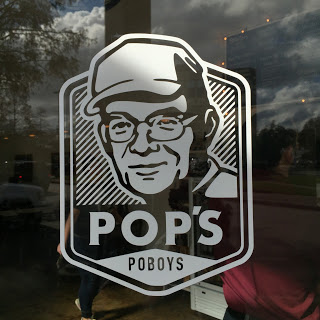 I was curious as to why the name, Pop's Poboys, so I asked a young lady and she said that the restaurant is name after Chef Collin's grandfather.
Chef Collin is the owner of Pop's Poboys and he is the same guy who bought us the Viva la Waffle Food Truck. Let me just say, the waffle food truck was one of the best food trucks around. As I said earlier, he is also the originator of the Sugarcane soda line Swamp Pops. I think Chef Collins has a great restaurant that will grow and grow.
Chef Collin is building an empire and I can't wait to see what he comes up with next.
Pop's Poboys is located at 740 Jefferson Street.
Please follow and like us: