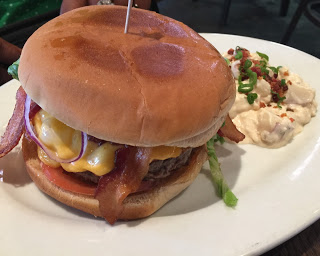 French Press is a casual dining restaurant that is located in the Historic Downtown area. I am no stranger to the deliciousness of the food at French Press. It has been several years since I have written about the food.
Though they have been around for about 3 years, the restaurant is still thriving and cranking out delicious dishes.
My reason for blogging again about this restaurant was because recently my mom and I dined for lunch. The lunch menu included a few new items that I had never tried. The dishes were impressive and packed with flavor.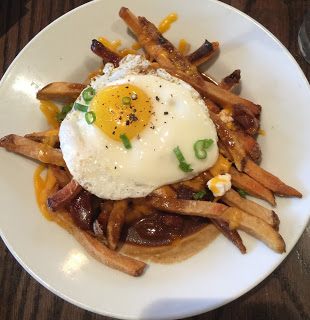 Above is the what I think was Frites and Gravy. The dish consisted of french fries with gumbo, shredded cheese, a egg over easy garnished with green onions. Superb. The gumbo on top had a great flavor.  Much different than any other dish I have tasted like this one. The gumbo set the dish over the top. Once we cut the egg, the yolk on top seeped down and married together, making a good dish. Awesome.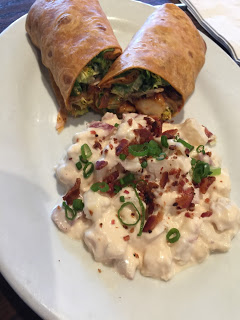 For my meal, I ordered the blackened shrimp wrap with blackened shrimp, lettuce, tomatoes, and charred scallion aioli, served with bacon and scallion potato salad. The wrap was really good. Great flavor, the wrap wasn't hard but nicely toasted. I usually order breakfast dishes, but the lunch was a nice switch and I am glad that I did.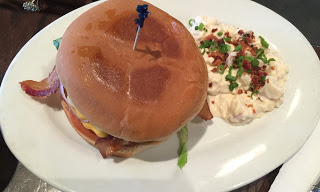 My mom ordered the Couillion Burger. This burger consisted of a 1/2 lb burger on a toasted bun with lettuce, tomato, onion, over medium egg, 2 strips of bacon, American cheese and special sauce. The burger was delicious, cooked perfectly and seasoned well. The burger was served with your choice of sides. My mom chose the bacon and scallion potato salad.
Mom enjoyed her birthday lunch.  The burger was more than enough for her to eat. She had leftovers for the next day. Below is a few photos from across the street from French Press. Such a pretty place and the weather was perfect that day.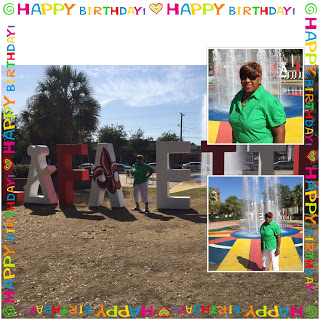 After writing this blog, I am officially craving the chicken and waffles. So that means I will be dining at French Press soon.
Overall the experience was amazing as usual. The food was spectacular and the service was wonderful. The lady who waited on us was both friendly and knowledgeable.
French Press is located Downtown at 214 E. Vermillion, Monday – Friday 7 am-2pm, Saturdays and Sundays 9 am -2 pm.