Mother's Restaurant has been open since 1938; a family owned restaurant that was started by Simon and Mary Landry (Mother) and their large family. Mother's was a popular hang out for the Marines during and after World War II. Being a Marine was not uncommon to the Landry family. Within their family alone was 5 of their 7 children were Marines. Matter of Fact, one of their daughters became the first female in Louisiana to join the Marines.
Even as time changed, Mother's has remained the same. They are one of the only original restaurants that is still thriving. Mother's is a popular place for the common folks as well as the well-known. But their motto is "Everybody gets fed, everybody comes back".
In 1986, Mother's was purchased by John and Jerry Amato. The Amato's expanded the menu to include some of the local favorites of New Orleans like Jambalaya and Shrimp Creole.
Another interesting fact is that Mother's had the same cook for over 22 years. She missed one day of work in the 22 years she worked there. Her name was Miss Mae. Her legacy remains at the restaurant as many of her nieces and nephews work there today. How awesome is that?
We have passed Mother's many many times in the past while visiting New Orleans. Every time we would pass, there was a line of people waiting outside. I would often tell my husband, is the food really that good for them to be waiting outside.
Mother's is more than just Cajun, Creole home cooked food, but it is also like home. When you walk in you feel right at home. The people are very welcoming.
We were greeted at the door by a gentlemen who told us to come right in. There was a line of people inside waiting to be served.
The service is Cafeteria style. You receive a menu at the door to look at while you are in line. The restaurant has been maintained with the original look. Though there was a line, the wait was minimal.
Mother's serves Breakfast, Lunch and Dinner. The menu was quite extensive. There was so much to choose from. Everything from Daily specials, to made to order meals and the everyday items that they keep on the menu. Decisions, decisions, decisions.
I decided on the Red Beans and Rice with Sausage. My meal also included 2 sides, which I chose the Greens and Potato Salad. The portion sizes were huge. Brian and I could have shared a plate. The food was very good. I would have like a little more heat in the Red Beans, but the food was delicious. Also a cornbread with the Red Beans would have definitely finished the place nicely. But overall it was a good meal.
My husband ordered the Combination Plate which was massive. He decided on Shrimp Creole, Jambalaya, Red Beans, Potato Salad and Grits. He slaughtered that plate; it didn't stand a chance. He said his food was absolutely delicious. I tried the Shrimp Creole and the Jambalaya, both had very bold flavors and was well seasoned.
Baby girl kept it very simple. She went with a grilled cheese and fries. There is a kids menu that included Grilled Cheese, Fried Shrimp and Fries, Chicken breast and fries and Debris biscuit which is roast beef with Au jus gravy. She said the grilled cheese was yummy and quite cheesy.
One of our friends daughters ordered the Fried Shrimp. The shrimp was fresh and fried perfectly. Definitely a win win situation. I don't think there was a bad dish in that place. The cooks know what they are doing.
Mother's also serves desserts, sweet potato pie, pecan pie, cookies, brownies and bread pudding. I decided not to get dessert, but our friends did. They ordered the sweet potato pie and the pecan pie. The pies looked delicious, but I didn't try any. They said that the pies were good. Definitely homemade.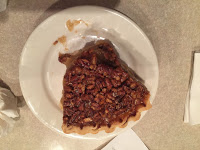 Breakfast is served all day. There are some Po-boys that are served during Breakfast time as well. No matter what time of day you go, there will be something on the menu to tickle your fancy.
Mother's is most known for their Po-boys and their World Famous Baked Ham. Po-boys actually originated in New Orleans during the Transit strike; it was served to the transit workers from the back door of the restaurant. So Po-boys have been sold at their restaurant since way back when and they have continued the legacy.
Their Po-boy menu included many choices Roast Beef, Shrimp, Sausage, etc.
Overall we loved our time at Mother's. The food was divine. I loved the environment, very homely, the people were very nice. Our waitress was amazing, she was so funny. We enjoyed having her as our waitress.
Mother's is located at 401 Poydras street at Tchoupitoulas. They are open from 7 am – 10 pm.