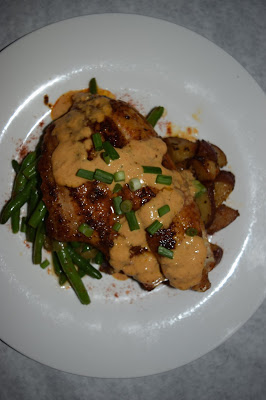 Artmosphere is a cozy neighborhood restaurant, nestled in the wonderful Downtown area. A very creative and interesting restaurant that is known for their bar, grill, art and music venue.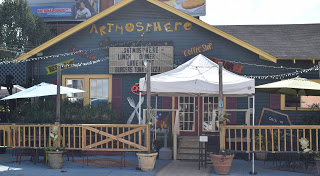 If you love music, this is the place to be. Live music 6 days a week. There is a stage area, microphone and speaker. A nice setup.
Artmosphere host a variety of styles of music such as Folk, Cajun, Zydeco, Jazz just to name a few. Tuesday nights are Karaoke, Wednesdays is Songwriters night/Open Mic.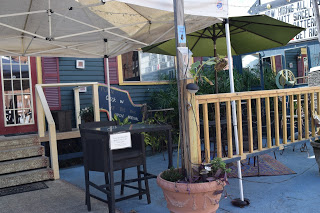 Artmosphere has been open downtown for about 12 years. The restaurant started out as a funky coffee shop that served small bites. The entire place was later transformed with a new vision.
I must say, I had never been to the coffee shop, but I was impressed with what I saw on this particular day.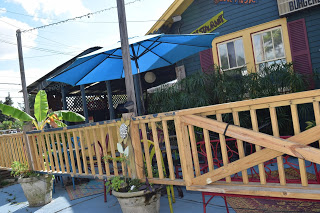 When I walked in, my first impression was this is a very artsy bar and grill. The Decor at Artmosphere is very Eclectic.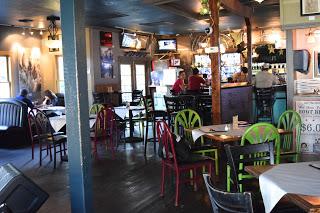 On the wall of Artmosphere you will find the art work of Local artist that is displayed and available for purchase.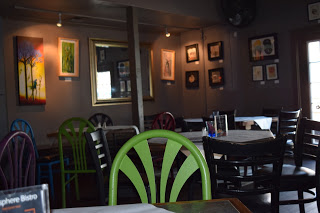 Artmosphere has an enormous amount of covered outdoor seating. Shaded area covered by trees and colorful umbrellas.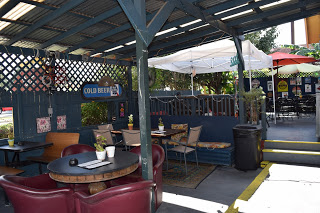 Which is such a great thing during this time of the year, because the weather is gorgeous. Both in the front of the building as well on the side of the building.
The goal of Artmosphere's menu is to serve healthy food that taste amazingly delicious and is very unique. The menu showcases fresh ingredients picked right from their garden and local markets.
.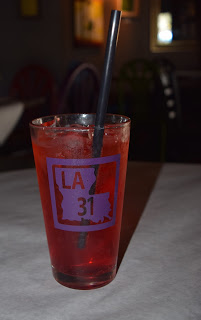 To start I ordered a Shirley Temple. Icy and cold with the right amount of Cherry Juice. Some people don't care about what I drink, but that's my thing fruity drinks, non-alcoholic of course.
For my starter/appetizer, I ordered the Sonny Sliders which consist of Louisiana Boudin, blackberry sriracha gastrique on a sweet roll.
A gastrique is a sweet and sour sauce that is caramelized sugar or sometimes honey combined with it; equal parts vinegar, reduced slightly to make a tart slightly thickened syrup.
The slider is topped with Poche Boudin pressed in a panini maker. The gastrique is a sweet and sour sauce. Love the taste of the Blackberry Sriracha sauce. So good. Complimented the spice of the boudin very well.
Presentation and design of the Slider looked great. Delicious appetizer with a nice balance of flavors.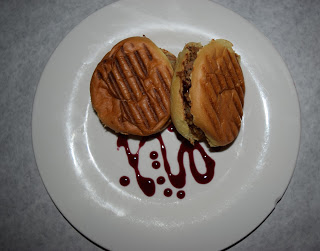 Below is the entree, Blackened Catfish with rosemary potatoes and green beans topped with a superb cream sauce.
The blackened catfish was cooked perfectly and seasoned well. The rosemary potatoes were absolutely delicious. The green beans were a little bland but I liked the crunch of the green beans. I don't like overly soft green beans. The cream sauce on the fish was superb. I couldn't stop eating this dish. The flavors captivated me, the only suggestion would be add a little more sauce. This dish was sophisticated and incredible.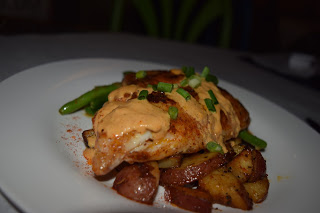 For dessert, below is the bread pudding. The Louisiana bread pudding topped with their rum sauce. Served pipping hot with a cute presentation.
The bread pudding was made with the right amount of cinnamon with a delicious rum sauce. Absolutely delicious. One of the best bread pudding desserts I have ever had. Wow.
My only disappoint with the dessert was that there was only one option for dessert. As someone who dines out often, I would recommend adding an additional option.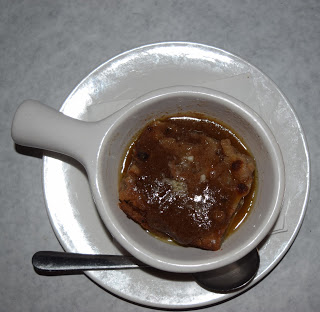 While dining, I had a chance to speak with Chef Jared. The Chef was very passionate about his cooking. He did an incredible job on the presentation and the preparation of the food.

Overall I was pleasantly surprised by how delicious the food was. Artmosphere is serving solid dishes that are made with quality and a level of sophistication and elegance combined with bar food that is elevated to another level.
Artmosphere also serves lunch, dinner, dessert, juicers, smoothies and snacks. In addition to their lunch and dinner menu, there is a brunch menu on Saturday and Sunday mornings from 11 am-2:30 pm.
If you are looking for a place that displays and serves the rich culture of Louisiana? Look no further, this is the place for you.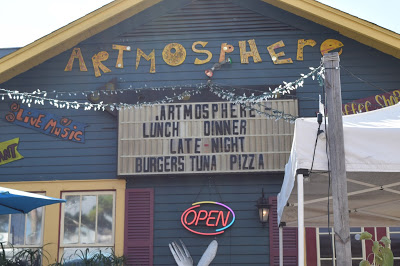 Artmosphere is located at 902 Johnston St. 70501. Downtown, 2 blocks from U.L.L
337.233.3331
Tue – Sat: 11AM – 2AM
Sun: 11AM-12AM