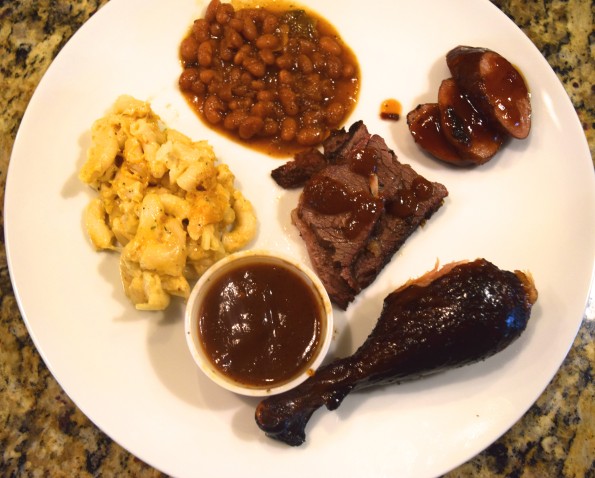 This past Saturday, my kids and I attended a birthday party. After leaving the birthday party, we were hungry, so we decided to check out East Gate BBQ.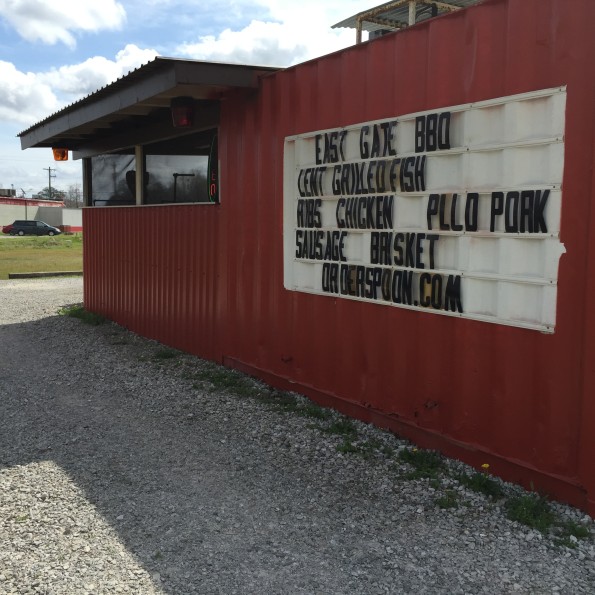 East Gate is a pick-up style BBQ Restaurant. The BBQ is smoked, "It is our wood that makes us good". This is the motto of East Gate. The BBQ is completely smoked, no gas grill.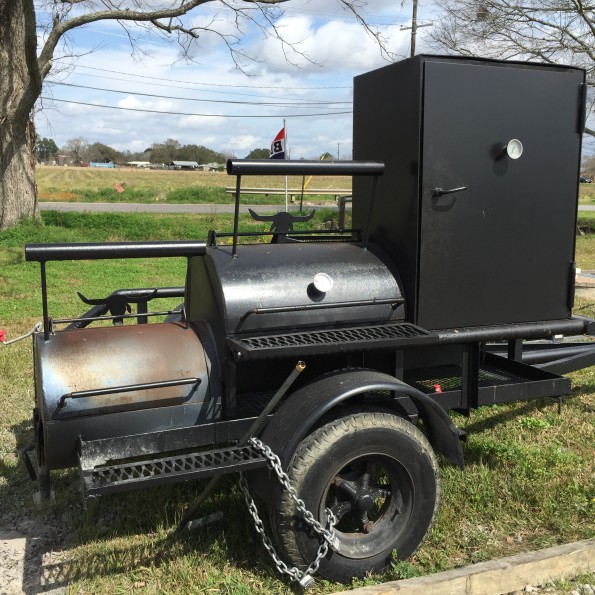 I ordered the 3 meat plate with Brisket, Sausage and Chicken with 2 sides, the mac n cheese and the baked beans with an additional Mac n Cheese.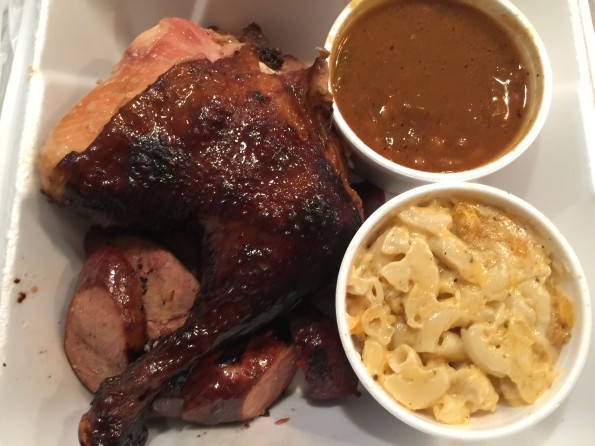 The chicken had a gorgeous, shiny skin and beautifully smoked. I have watched my share of BBQ Cook offs and the bbq was ready for a cook off both in appearance and taste.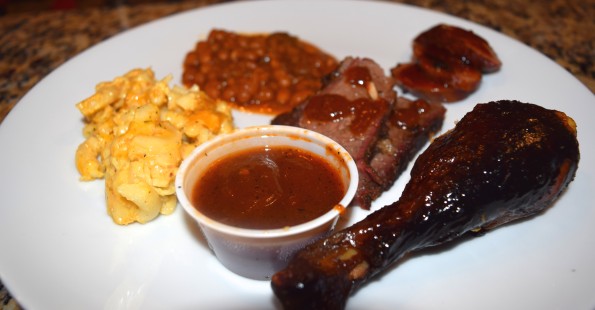 The Mac n cheese was absolutely delicious. Creamy and cheesy with incredible flavor. The kids loved the mac n cheese.
The baked beans were spicy with a little BBQ sauce. So good.
East Gate also had coleslaw and potato salad as a side.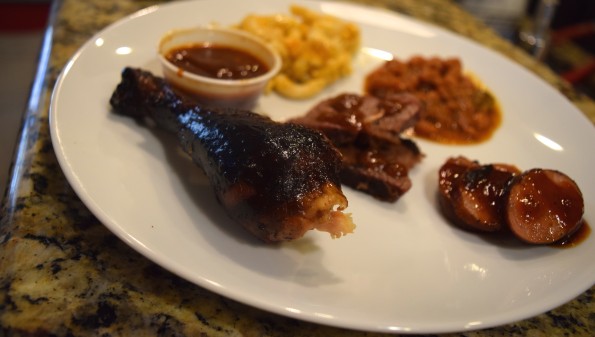 All sides are made in house and are available in 3 sizes. Either small, pints or a quart.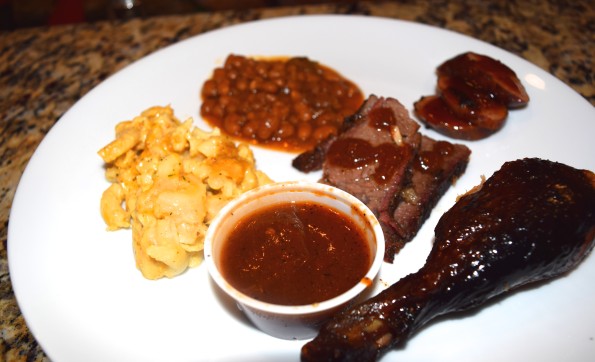 The Brisket was smoky, moist, not dry. Perfect with their original BBQ sauce.
The pork sausage was made in house and smoked to perfection. The sausage was so good. Sausage is one of my favorite meats to enjoy at a BBQ. This was no different. A very good sausage.
The meat is sold by the pound. Available Chicken, Sausage, Brisket and Ribs.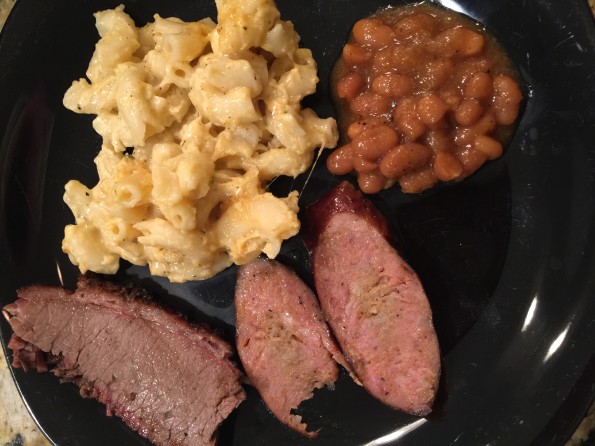 The BBQ was some of the best BBQ I've had in a long time. From the meat to the side dishes, everything was superb.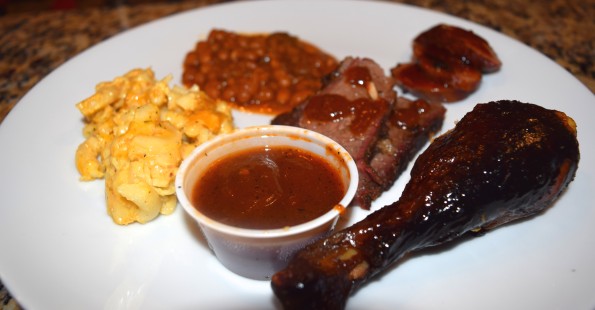 Other menu items included The Trash Grits and the Big Sloppy Sandwich. The trash grits includes pepper jack cheese grits, pulled pork, fried egg, green onions and grilled onions.
Lent season is here for some, don't fret, East Gate has a Black Drum Plate for lent.
One item that I didn't have an opportunity to try was the Turtle Cheesecake. I am a dessert fanatic and every time I went there was none available. I was a bit disappointed, especially since I went back twice and they were out. I really wanted to include the dessert in my post.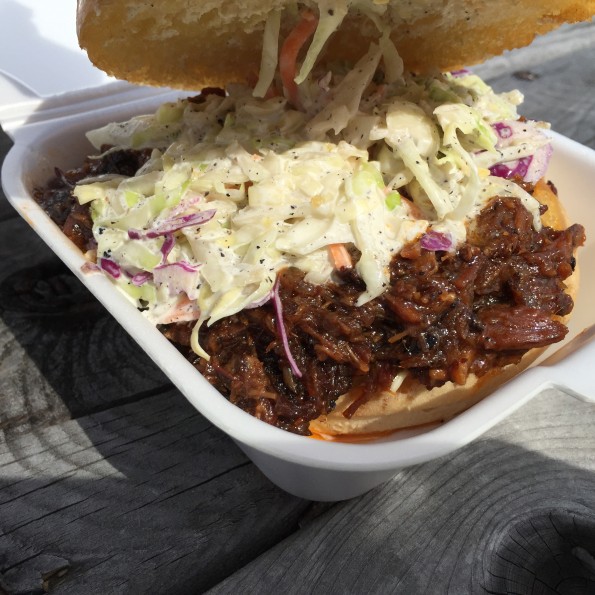 Pictured above is The Big Sloppy Sandwich. The Big Sloppy is the brisket,  pulled pork and sausage all cooked down in the East Gate original BBQ sauce sandwich dressed with coleslaw and pepper jack cheese.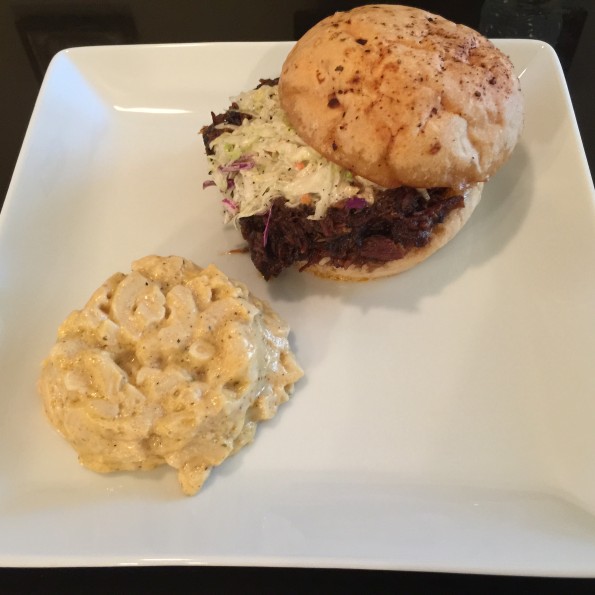 The Big Sloppy Sandwich was huge. Enough to share. Taste wise I thought that the sandwich had great flavor and texture. The bun was was toasted and held well with the toppings even after the drive home.
A delicious sandwich.  The Coleslaw married well together with the brisket, sausage and pulled pork.
Too much for me to eat alone, I ate half of the sandwich. So good. The mac n cheese was irresistible, so I ordered a small order as my side.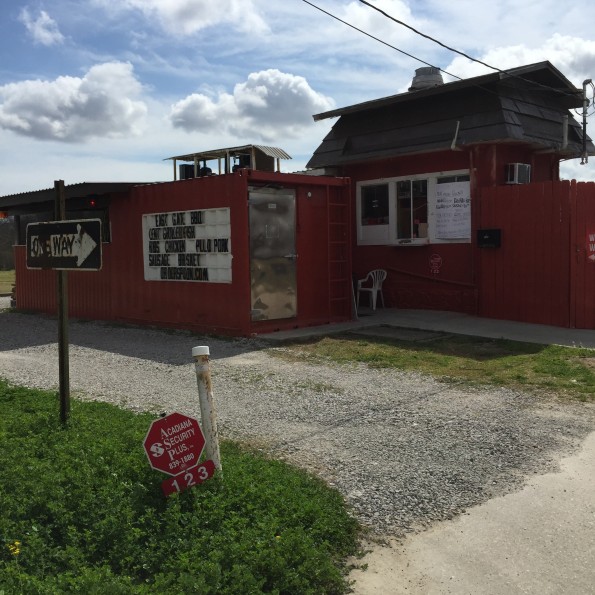 East Gate has a drive thru window to order and pick up. In addition, there is a walk up window if you want to order your food and dine outside. There are two round tables available to sit outside. One recommendation would be to add umbrellas to the tables, especially with the spring and summer weather coming.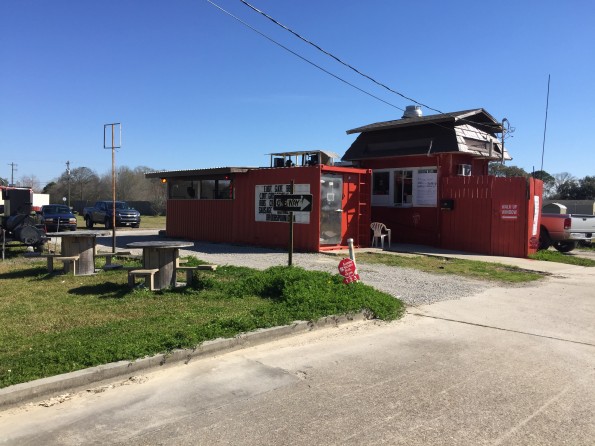 East Gate BBQ is Da' Stylish Foodie approved. The BBQ was really good. The portion sizes were enough to share.
Great location, 123 La Neuville RD, Youngsville, LA. Opened for lunch from 11:00 am – 2:00 pm and Dinner 4:00 pm – 8:00 pm.
Orders can be placed at www.orderspoon.com
Go on over and check out East Gate BBQ Express. Tell them Da' Stylish Foodie sent you.
[bloglovin_button]