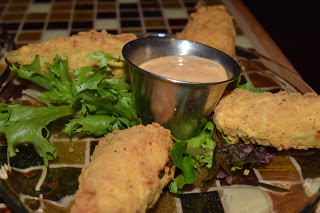 Cafe Josephine is a down home, fine dining restaurant. The restaurant is a quiet, elegant and casual restaurant. Located in a small, quaint town. The curve appeal was very clean.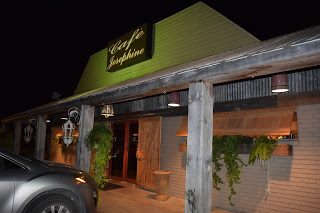 Upon entrance, I loved the fall decor that was placed through out the restaurant.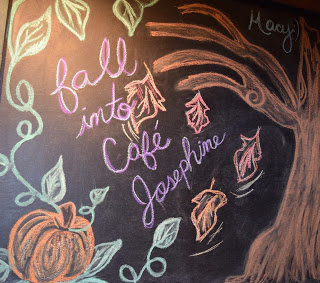 Cafe Josephine had that small hometown feel. That feeling when you are invited to a dinner party or dinner at a friends house. I felt right at home when we walked in.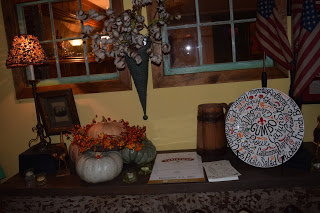 We were greeted by our waitress. She was knowledgeable, friendly and quite funny.  She told us a little about the menu and what the restaurant is most known for. We gave her our drink orders and we began looking over the menu to decide what we wanted.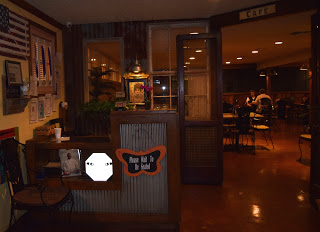 The restaurant provides buttery, moist biscuits. Those biscuits were absolutely delicious. Some of the best I have eaten in a long time. So good.
Our first appetizer was the Crab Stuffed Jalapeno Peppers that was deep fried and served with a dipping sauce. The dipping sauce was similar to a spicy mayo. Very good appetizer.
Our second appetizer was the Zydeco Shrimp. OMG.. I am drooling just looking at this picture. The flavors were superb. The shrimp were fried golden brown and tossed in a homemade spicy mayo, srirachia and pepper jelly. Wow.  A little on the spicy side, but very good. The two appetizers that we tried are their top 2 appetizers ordered. I see why, they are both delicious.
For my entree, I ordered the Braised Beef Short Rib. This is a dish we make quite often at our home. So I couldn't wait to taste this dish. One of my favorite dishes. The short ribs were braised and seasoned very well. The ribs were served on a bed of homemade mashed potato cakes, seared on both side with gravy and carrots. This dish was amazing. The ribs were so tender, flavorful. The ribs are slow-cooked for 12 hours.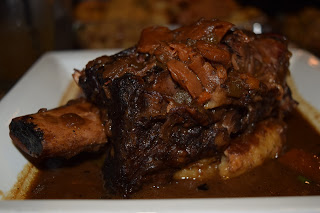 Our entrees were also served with a side of Smothered Cabbage. The cabbage is smothered in a black pot with bacon. Intense flavor. Reminded me of my grandmother's cabbage.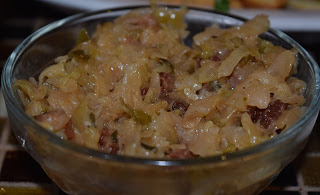 My mom accompanied me on this dinner and she ordered the Seafood Platter. The seafood platter included fried fish, stuffed crab, shrimp, shrimp en brochette, 2 stuffed shrimp, homemade fries, and served with seafood gumbo. My mom opted for the smothered cabbage instead. The platter can be ordered either fried or grilled. A large portion that can be shared. Fried a golden brown color.
I loved the bacon wrapped shrimp and the stuffed shrimp. The platter was very good. I would suggest a stuffed baked potato instead of the french fries.
To finish off our meal we tried a couple of desserts, the chocolate lava cake and the bread pudding. All I can say was OH MY! The chocolate lava cake was topped with homemade ice cream, made in house. That chocolate goodness was amazing. The Chocolate lava cake had fondant in the middle.
The bread pudding was served pipping hot, topped with powdered sugar. All we were missing was a big glass of milk. The desserts were spot on! My only suggestion might be to add fruit or something to garnish the dessert. But other than that, nothing else needed.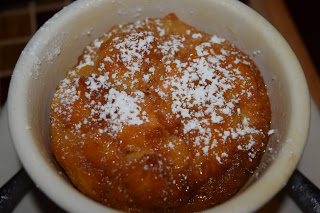 For a Thursday night, there was a steady crowd coming in and out. The dining area was almost full by the time we left.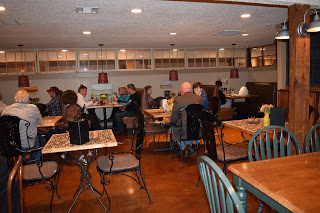 Before leaving we had the opportunity to sit and chat with the Chef and owner, Chef Troy Bijeaux. Oh what a wonderful time chatting with him. He shared some of the stories of how he started and where the restaurant is now.
Chef Troy was very down to earth, humorous and relatable. His food is served with love and he appreciates his customers. Their motto is the freshest and finest ingredients. "Food with an attitude".
One thing that I love about his restaurant is that there is a Guest book at the door when you leave. He wants for his customers to sign the book as well as state any complaints that they might have.
One thing he told me, I want to get better and the only way to do that is to ask the people that dine at Cafe Josephine. I love that!! This is a great way to increase/enhance your customer service and your food service.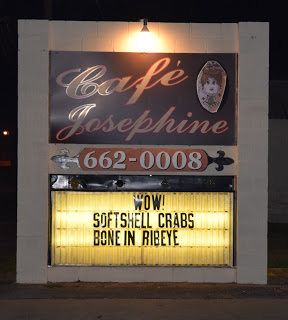 Overall we absolutely enjoyed our dining experience at Cafe Josephine. We were extremely impressed with the food, service and the professionalism at Cafe Josephine.
Cafe Josephine is located at 818 Napoleon Ave, Sunset, LA. The Hours of operation at Cafe Josephine is Tuesday-Thursday 11:00 am – 2:00 pm, 5:00 – 9:00 pm and
Friday – Saturday from 11:00 am – 10:00 pm. Go visit Chef Troy and tell him Da' Stylish Foodie sent you!
[bloglovin_button]