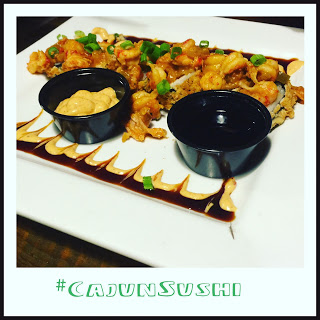 Let me start out by saying, I am very behind with my blog post. We are in the process of revamping our website and making some major changes to the blog. So I apologize for the delay of post. 
My husband, daughter and I recently visited The Silver Slipper. The drive to Silver Slipper was very long and rainy that particular night we dined. On the way there I told my husband, I sure hope the food is worth this drive in this nasty weather.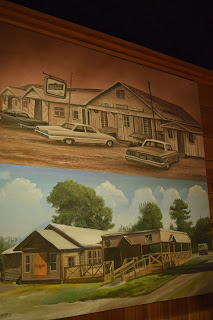 The Silver Slipper is a local Arnaudville landmark, Rustic restaurant that offers Asian inspired dishes with Cajun flavors. A restaurant that offers food that you won't find many places.   
The environment at the Silver Slipper was a country, family friendly environment.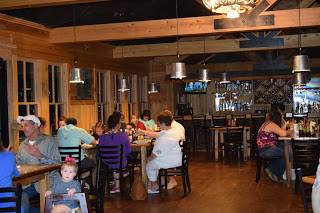 We drove up to place and was unsure of whether we were in the right place. Yes the weather was bad, but there was not a Sign that was legible to read when approaching. I would suggest especially since there aren't many street lights at night that they invest in a nice sign. 
When we walked in, there was no hostess stand or no clear place to enter. We weren't sure whether we should seat ourselves or wait to be seated. It took about 3 minutes for us to be greeted. So we decided to stand and watch the cooks near the hibachi until someone had time to seat us.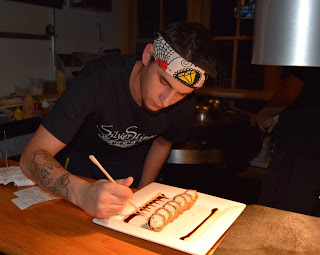 The owner came over and spoke with us. I proceeded to ask a few questions about the restaurant. He shared information about the restaurant and his desire to give back to the community there in Arnaudville. His goal is to build a restaurant where people can come and eat good food and enjoy a nice relaxing environment. A very nice guy.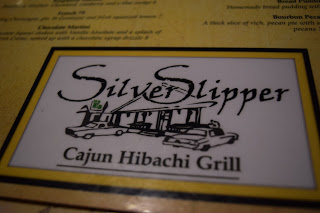 Once we were seated, we took some time to read through the menu. The menu was filled with many different options to choose from.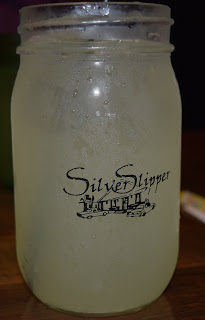 We started with the Egg Rolls. The egg rolls were stuffed with corn, sausage, crawfish, cabbage and bell pepper and was served with a Thai Chili Sauce. This was a very good appetizer. The egg roll was very good and paired perfectly with the dipping sauce. The dipping sauce needs to be bottled, it was so good. Absolutely delicious dish.
My only complaint was that the stuffing was falling out as you picked up the egg roll, but that is an easy fix. The flavors were amazing.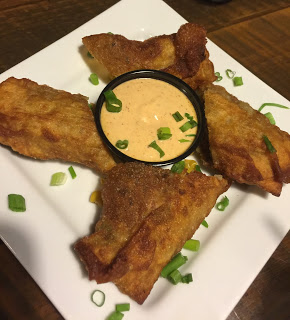 We also tried the Leonville Sushi Roll. A crab mix and cucumber roll that was battered and fried then topped with crawfish etouffee and green onions, served with soy sauce and spicy mayo. The Leonville was delicious. I was a bit concerned about crawfish etouffee on a sushi roll, but they nailed it! The presentation was pretty. The sushi was definitely different with the crawfish on top. Baby girl loved the sushi.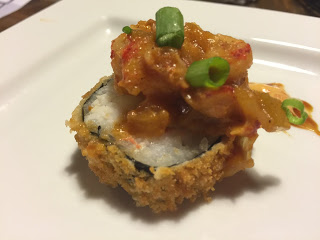 The sushi was a hit, we moved on to the entrees, Baby girl ordered the Fried Alligator with fries and a sweet chili dipping sauce. She had never had alligator before this night but she said it taste really good.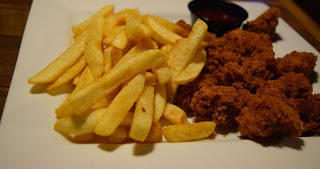 I took a bite and the alligator was delicious. The alligator was seasoned and fried well. I would guess that the alligator was marinated to avoid the meat being tough and rubbery. The dipping sauce was a good addition to the dish. She is normally a picky eater but she enjoyed the dish.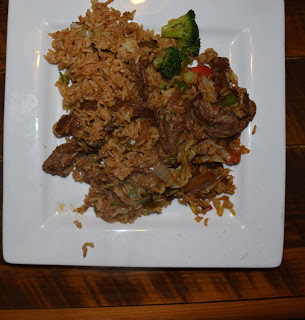 My husband ordered the Steak Stir Fry. The stir fry was made with a flank steak that was stir fried in a cajun soy sauce, onions, bell pepper, brocolli and cabbage. But instead of ordering with noodles, he decided  he wanted the rice.
The Stir fry was good. It wasn't the best I had ever tasted before, the dish wasn't memorable and it lacked in presentation. Because the hibachi isn't prepared in front of you, I think that it should be presented better. But that's just my opinion.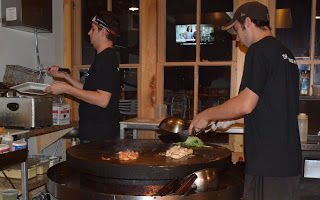 The cooks prepared the stir fry on this large hibachi grill. You can actually see the hibachi from the dining area depending on where you sit. It was not your typical hibachi that is served at your table, but it worked just as well.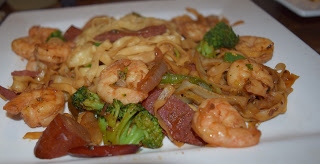 For my entree, I ordered the Shrimp and Sausage Stir fry with asian noodles. Very good dish. Well seasoned. The spicy sausage and tender shrimp were delicious. I really enjoyed the dish.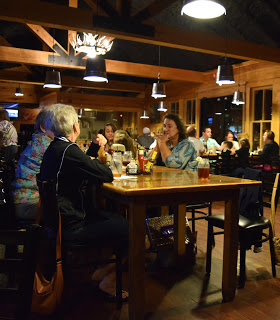 Overall the food was pretty good. The majority of what we chose was very good. I like that there was a large variety of dishes to choose from. The environment is very laid back and relax. A very kid friendly restaurant. Great hang out spot as well.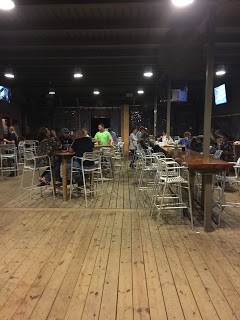 The outdoor patio pictured above had a wide open space and had several televisions mounted. This is a great place to go and watch a sporting event. Plenty of space and really nice.
It was a good night with the exception of the bad weather. The service was top notch once we were seated. I think that they need to set up a hostess booth or a sign that says were to check in.  Our waiter Chris did a phenomenal job. He was very knowledgeable about the restaurant.
The Silver Slipper is located at 2818 Hwy 31, Arnaudville, LA. The restaurant is opened Wednesday-Thursday 11:00 am – 9:00 pm, Friday – Saturday 11:00 am – 10:30 pm and Sunday 10:00 am – 9:00 pm.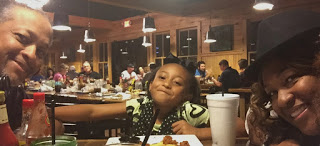 [bloglovin_button]