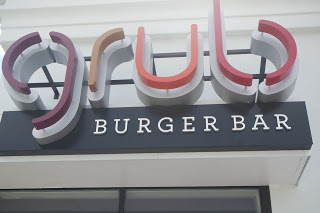 The Grub has become one of my favorite spots to dine. Just recently I was made aware that I have never blogged about The Grub, Burger Bar. I told that person, yes I did, because I just knew I had being that I had been so many times with many different people.
Well after checking my blog post from the past, I was so wrong. Lol. Some might say what is it that you love so much? I love so many things about this restaurant; location, good food, atmosphere. Here are a few things that I have tried and/or my friends and family. The burgers are ground daily which is a blend of brisket and chuck. In addition, the buns are made from scratch every hour in house.
First up is the Jive Turkey. By far my favorite burger there. This burger was amazing. Cooked well, delicious topping. The burger consisted of turkey breast, ground and pesto seasoning, bacon,
swiss cheese, sprouts, avocado, and chipotle aioli on a wheat bun. I asked for extra chipotle aioli. The burger was beautifully prepared and put together. I also ordered a side of fries with jalapeno ranch dressing to dip my fries in. So good.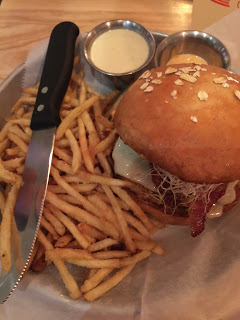 Some turkey burgers are dry but this one was juicy and the toppings added to the flavor of the burger. Superb. My favorite burger there. The turkey burger is on an oat bun. There is also a Gluten Free option that comes from Bibi's Patisserie for an additional cost.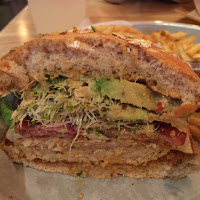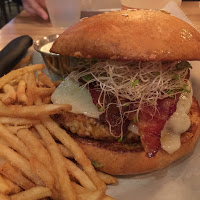 One Thursday I dined for a birthday party dinner with some friends. One of my friends tried the Greek to Me burger. It didn't look like my type of burger but she thoroughly enjoyed it. The burger is a chicken breast, that is ground in house, and is olive crusted, topped
with feta cheese, lemon caper vinaigrette with arugula, tomato,
and fresh tzatziki.
The Chicken breast burger looked ok. My friend said it was delicious. For me, it was an interesting choice of toppings. But hey, there is a burger out there to meet the need of everyone's taste buds.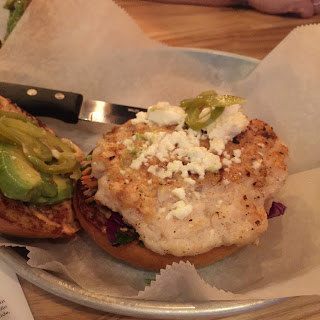 The Guacapotle also looked amazing. The burger was dressed with Chipotle aioli, cheddar cheese and handmade guacamole. The melted Cheddar Cheese looked so good. The guacamole is made in house as well. All you guacamole lovers should check this out. A slice or two of bacon would have added flavor to this burger in my opinion.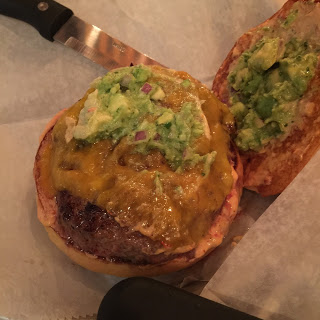 Here is a seafood suggestion for all the seafood lovers. This burger is a Wild Alaskan Salmon hand chopped topped with avocado and ancho
chile, topped with black bean charred corn medley, a tequila
lime aioli and some fresh cilantro. This seafood burger is called Swimmin' Upstream. This one did not look too appealing to me. It looked particular dry. My friend said it was ok. She wasn't sure if she would ever order it again.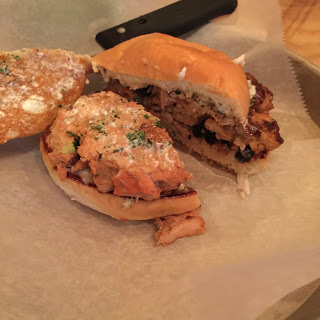 On a separate occasion I had lunch with a friend and her daughter. I tried the Voodoo Mushroom Burger. Oh my, so good. A ground burger topped with sauteed mushrooms, swiss cheese, and Tabasco mayo. The Tabasco Mayo adds a kick to the burger. The only thing I would recommend was adding a little salt to the mushroom while the mushrooms are grilling.
All Burgers are prepared medium well. If you want it medium or well done. Be sure to tell the check out person that you want it whatever way you prefer. Just a suggestion.
Have a sweet tooth? Yum yum. The Grub has amazing Hand spun Milk Shakes that come in a variety of flavors. One thing that I liked is that we were unsure which one to try so we were able to sample a few different ones before choosing. One suggestion would be to sale the sample sizes in 3 different flavors for $5.00-$7.00.
My friend ordered the Salted Caramel. I tried it too. It was good, but the portion size was huge and definitely a shareable item. If you like Salted Caramel, a good one to try.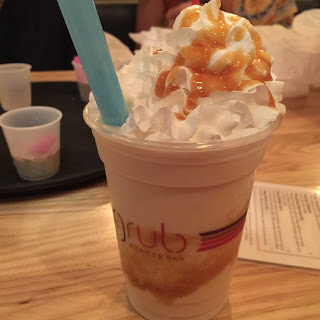 I ordered the Strawberry Shake. So good. The strawberry shake was topped with whip cream, strawberry syrup and gummy worms. I felt like a big kid, but it was delicious. Again the portion size was enough to share. Another size would be a good idea as well.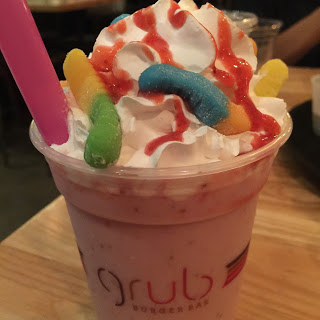 For those who like Alcohol, The Grub offers Spiked Shakes, which includes Alcohol.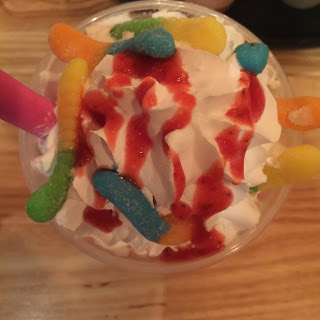 For Kid Diners, The Grub has a few options to choose from; Grilled Cheese, Burgers, Peanut Butter and Jelly and chicken tenders.
Baby Girl ordered the Grilled Cheese with apples. The Grilled cheese is Cheddar Cheese that is placed on a bun that is flipped inside out. So its a reverse sandwich. A cool idea if I must say myself. Great grilled cheese.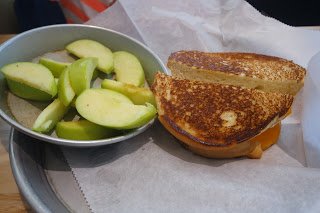 The Grub is an incredible place to dine. My only complaint is that you order before you sit down. Which for those who are indecisive may be frustrating, some days I have no idea what I want. So I sit at the bar to read over the menu before getting in line. That's my only complaint.
For those who love Sports, there is a bar area with Big Screen Televisions. Great spot for Football Season.
The Grub also has an outdoor area. The space isn't that big but there is a small area that also has a few Big Screens.
The Grub is located at 1905 Kaliste Saloom Road, Suite 101, Lafayette, LA 70508.