A few weeks ago, I celebrated my birthday. My friends decided to take me to Dinner and Desserts. Those who know me, know that The Social is one of my favorite restaurants to dine.
The Social has a great atmosphere and a Unique Menu.
I love Fruity Drinks, but I don't drink Alcohol. There was a Non-Alcoholic Drink made with Pomegranate. Unfortunately I don't recall what the name was, but it was delicious. Very tasty and fulfilled my desire for the Fruity drink. Definitely a plus for me.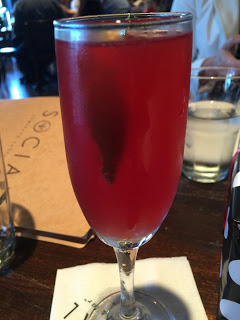 The girls and I decided to share a few different menu options. Which was a wonderful idea. This gave us a chance to try 6 different dishes.
We started with the Kimchi Frites which was hand-cut russets, house made Kimchi, onion, cilantro and a farm egg on top. For those who don't know Kimchi is a spicy pickled cabbage. This dish is one of my favorite speakeateries, which is an appetizer. The fries are fried perfectly topped with the listed ingredients above. Before eating you have to cut the eggs so the yoke can drizzle across the fries. So good. There is also a sauce that is drizzled on top. Delicious. The flavors married so well together.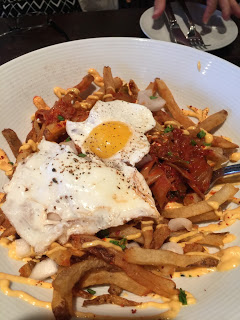 The Chicken Fried Green tomatoes came to the table next. The Green Tomatoes was fried to perfection, placed on a rectangle plate that was drizzled with honey and the plate also had cayenne pepper sprinkled on top. The Fried Green tomatoes are placed on top with green onions and Jalapeno Ranch dipping sauce.
This dish gives you a balance of crunch, a variety of textures and spice levels. The dish has elements of heat as well as sweetness that helps to balance the dish. One of my favorite appetizers on their menu. Always a winner in my eyes.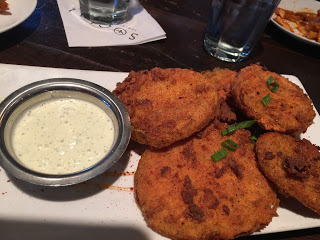 On to a more healthy option. The Social Wedge was absolutely delicious. I am not big on Blue Cheese but this Salad was amazing. This Wedge salad consisted of Grilled Romaine Lettuce with baby tomatoes, Spanish blue crumble, bacon and a creamy smoky garlic dressing. One of the best salads I have ever had. Everyone loved this salad. The smokiness and the creaminess was a great choice for the dressing. The plating could have been a little bit nicer but the salad taste great. An amazing salad.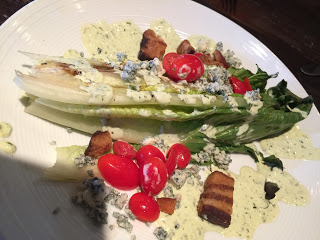 The Mac-N-Cheese is not the traditional type of Macaroni. The dish included a Rotini Pasta which is a spiral pasta with aged white cheddar, sake and topped with a blistered pepper. The pasta is very creamy with a strong cheese taste. The Mac has a bit of crunchiness as well. A pretty good side dish to go with the fried chicken.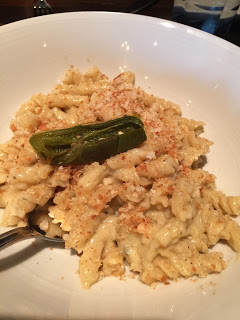 The Smoke-Fried Chicken is one of The Social's top sellers. The Fried Chicken dish also includes sweet potato biscuits. The chicken is all natural and hormone free. The crunch on this chicken is incredible, fried perfectly. The plate is drizzled with Ghost Pepper Honey. That combination is a great balance of heat and sweet. Very good. One of my favorites.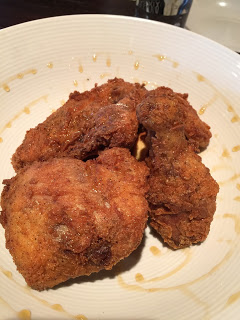 The Social also has Vegetarian options. The Social Flatbread called The Farmers Market Vegetable Flat bread. No meat at all. This option varies due to what vegetables are available. Our flat bread had Zucchini, Squash and Fresh Tomatoes. The flatbread was just ok to me. Some of the other ladies loved the pizza. I like Vegetables on my pizza but not without meat. But hey that's just me. But I think that having this option is great.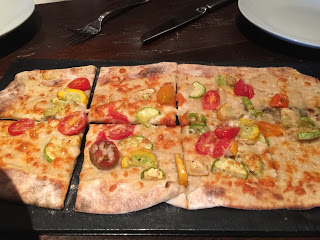 The waiter gave outstanding service. He was kind enough to space out the delivery of each dish to our table. Which gave us an opportunity to thoroughly enjoy each dish, without feeling rushed.
We had a blast that night. So many great laughs and fun. I absolutely loved all my gifts I received that night. Friendships are crucial to the enjoyment of life. These are a few of the closest women in my life. I am eternally grateful to have women that pour into my life and I am honored to be able to do the same. Life is so much better with others. Everybody needs someone.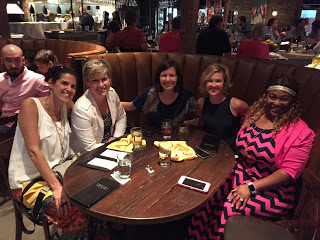 Please follow and like us: