Newk's Eatery is scheduled to open a brand new location on Monday, October 26th in Lafayette, LA. Newk's is a fast casual restaurant. The restaurant features an open kitchen which servers soups, salads, sandwiches and artisan pizzas that include fresh ingredients. All items are made daily.
Last week I had the pleasure of attending their Media Preview Day. My initial reaction when I walked in was wow. The restaurant had a very clean, futuristic look. The colors in the restaurant really popped and stood out. I loved the specific designs of each station.
One of my favorite things were the technology tablets. Initially I wasn't sure what they would be used for; I later found out that the tablets will be used for menu specials and limited time offers. In addition, Newk's is looking to do a full menu digital board roll out in 2016. This is an awesome idea with technology constantly growing and changing this will be a plus for their restaurant.
The condiments round table was very eye catching. The floral arrangement added a very nice touch to the table. The condiments table was loaded with toppings, capers, jalapenos, croutons, jalapeno, pickles, breadsticks, etc.
#PickyFacts is that the Croutons are made from the ends of the sandwiches.
The restaurant had many different special touches. Pendant lights, different types of tables, color schemes, etc. There was a board with more details about the design of the restaurant, the color choices, the types of fabric and flooring. It was nice to hear why the different choices were made to complete the full look.
One of the walls included a special Lafayette sign, which was a nice touch. The Seating zones included a booth wall which is for families. A community table, height table for individuals that may come alone, but doesn't have to feel alone, among the lunch crowd. A great visual effect.
Newk's has a culinary driven menu that includes Salads, Soups, Pizzas and Sandwiches. One of there best selling salads is the Ahi Tuna Salad. A beautifully presented salad with both color and fresh ingredients. The salad is a Seared, sushi -grade Ahi Tuna with mixed greens, carrots, cucumbers, grape tomatoes, radishes, wonton strips and house-made ginger wasabi dressing. I didn't try it personally, but I sat near a gentlemen who was ranting and raving about how delicious the salad was.
Below is the preparation of the Mediterranean Artisan Pizza. The Mediterranean pizza has sliced, flame-grilled chicken breast, ripe tomatoes, kalamata olives, artichokes hearts, house-shredded mozzarella and provolone cheese and house-shredded mozzarella. A beautifully constructed pizza. I didn't try it but the ones who did absolutely loved the pizza. I will definitely be going back to try one.
All of the pizzas are hand-rolled to order with Newk's Artisan dough. The dough is brushed with the house-made garlic olive oil or chili oil. The pizza is then baked to crispy perfection with premium toppings.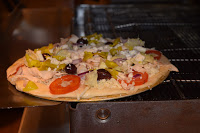 Newk's speciality toasted sandwiches are perfectly made. The sandwiches are built with flame-grilled meats, imported cheeses, hand-chopped vegetables and Newcomb family recipes like the chicken salad or pimento cheese.
Below is the Newk's Club, hand-sliced ham, oven roasted turkey, thick cut Applewood bacon, Ammerlander swiss cheese, aged cheddar cheese, tomatoes, lettuce all topped with mayo and made from scratch honey mustard.
I had the exact sandwich but instead of the pasta, I chose the soup. The Baked Potato soup was topped with sour cream, chives and bacon. The soup was delicious but the potatoes were a bit hard. I won't dock them hard for that, because I know that there are always kinks that need to be ironed out before opening day. The soup had a great flavor.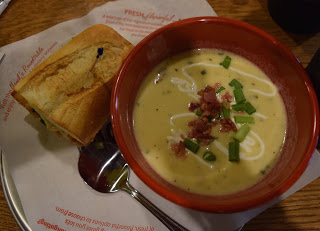 Top right is the Newk's Q. A sliced flame-grilled chicken breast, our signature white BBQ sauce, applewood smoked bacon, ripe Roma tomatoes, jalapenos, house-shredded mozzarella and provolone cheese over our crust brushed with chili oil.
The sandwich looked delicious. Yum. One of the guys had it and he said I must try it. The cheese was oozing out on the side.
Other side options included chips, pasta, fruit coleslaw or Tippah County Caviar. Below is a few of the listed options.
All dressings are made daily. Honey Mustard, Sherry Vinaigrette, Greek, Ranch, Cesar, Remoulade, Balsamic Vinaigrette, Ginger Wasabi, Lemon Basil Vinaigrette as well as 2 speciality dressings, Bleu Cheese and Fat-Free Raspberry Vinaigrette.
Below is some of the toppings available for dressings. Hand chopped vegetables, premium meats, nuts and imported cheeses, grapes, carrots, cucumbers, etc.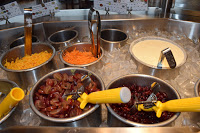 Newk's has a beautiful new restaurant to serve Lafayette. The location is in a perfect spot right near Whole Foods. I am excited to see what becomes of this restaurant.
A Grab n Go section will also be available with salads, sandwiches and a few other options, If you are in a hurry and need to pick up food feel free to check it out.
Newk's is kid-friendly and has a kid's menu that includes sandwiches and pizza.
Hosting a big holiday party, let Newk's Cater the event for you. Their motto is We Cater…You Party. Sounds good to me. Let Newk's do the heavy lifting. They deliver, set up and assist with what you need.
One thing I like is that Newk's refers to the Corporate office as the Support Center. The workers are referred to as hourly partners and the customers are guest. Love this analogy instead of the names we normally refer to them as.
Overall my experience at Newk's was amazing. The food was delicious. The service was exceptional. One disappointment was that there was no dessert for us to try. We were invited for the VIP night, but unfortunately I couldn't attend because of a prior engagement. But I do intend to go back and try a few other items.
Newk's is located at 4243 Ambassador Caffery Parkway, Suite 110 near Whole Foods. Officially opening on today, October 26th. Go flood the restaurant and tell them TasteePlaces sent you!