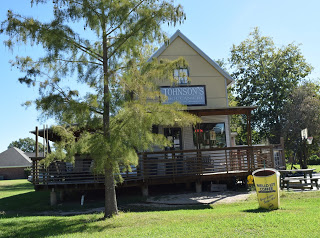 My husband and I had the pleasure of spending some time at Johnson's Boucaniere. Johnson's Boucaniere is a dine-in, take-out restaurant and meat speciality store. Boucaniere is known as a smokehouse.
When we walked in, so many memories of my childhood flooded me. We were greeted by Mr. Wallace Johnson who is the Patriarch of the family.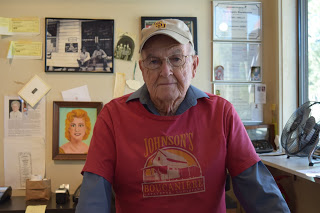 For those who don't know Mr. Wallace's parents opened Johnson's Grocery in Eunice, LA in 1937. He grew up working in the store. There was no dull moment during our time chatting with Mr. Wallace. He was full of history, knowledge and wisdom. We talked with him for a while about life and things that he has seen growing up.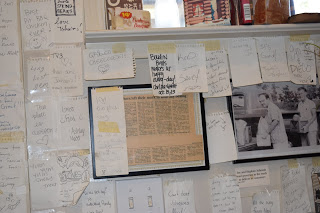 Mr. Wallace reminded me of my Grandmother's friend, Mr. Adam from childhood. He was a man who had a lot of wisdom and he was never shy about sharing any of it with anyone. Mr. Adam was a cook and made many items from scratch, boudin, sausage etc. So being in their location made me feel at home.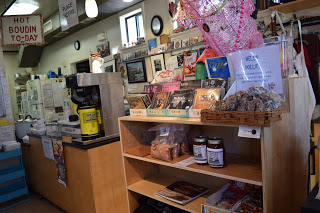 The inside reminded me of the corner store near my grandma's home where I grew up. Johnson's has the neighborhood feeling. The walls were filled with all sorts of notes left by the people who have dined at their restaurant or tasted their food. Brian & I took several minutes to read some of the notes.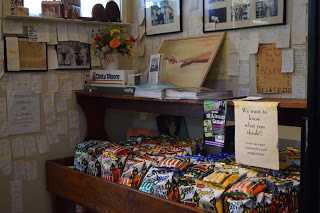 If you are visiting and want to take home a few items, no worries. There are prepackaged smoked meats, ribs, sausage. Johnson's also sells Smoked Pork or Chicken Broth as well and Smoked Chicken Noodle Soup.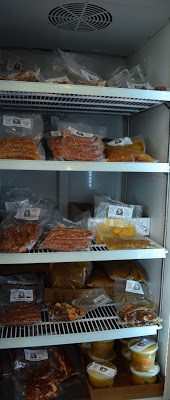 Mr. Johnson was very involved. He works the front area, taking orders, chatting with the customers and sharing stories . Below you can see he was weighing and pricing Smoked Sausage.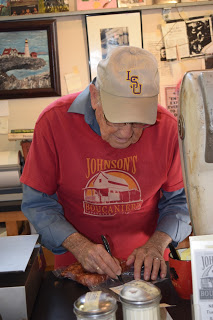 Mrs. Lori Walls is the daughter of Mr. Johnson. She runs the restaurant and has worked hard in making a name for the company here in Downtown Lafayette. She has done a super job doing so. Her kind spirit definitely has assisted in the success of the restaurant.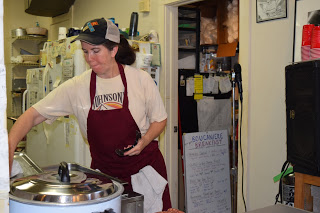 Around 11:10 the restaurant was booming. People were steadily coming in to order. Some were picking up to-go orders and many others were dining on their outside patio area.
Prior to trying the food, I was given a tour of where the magic happens the smokehouse. The smell was incredible. It was my first time ever being in a smokehouse.
Below is a view of the Pork Ribs and Chicken. All of the meat is rubbed with their in house spice rub. The meat finished nicely with a beautiful color. The meat is typically smoked for 12-14 hours.
The Parrain Special is a sandwich with smashed boudin between two slices of cheese and placed on a Evangeline Maid burger bun. The bun is spread with house made BBQ sauce and grilled into a delicious grilled cheese. Yummy indeed; the sandwich is different but in a good way.
The Brisket Plate shown below is a Smoked Brisket, rice and gravy, BBQ Tots and Grits with smoked sausage and cheese. Omg. The best Plate Lunch I have ever had. Wow. I have had my share of plate lunches, but this one was by far one of the best. Incredible Flavor in every dimension of this plate. Home cooking at it's finest.
Below is the Smoked Pork Ribs that is rubbed with a made in-house spice rub. The Pork Ribs are served with the house made BBQ sauce, mac n cheese and potato salad. A scrumptious BBQ Plate; the BBQ sauce was delicious. The Pork Ribs were tender. The boudin was very good with a kick of cayenne pepper.
For Dessert we tried the Hello Dolly (left) which has a graham crust, pecans, chocolate, condensed milk and coconut. Chocolaty goodness, chocolate heaven, all I was missing was a big glass of milk. The dessert was warmed and so good.
Below is the Bread Pudding with Praline Sauce. If you are a bread pudding lover, be sure to try this one. Devilishly good, oh my word.
Overall our time at Johnson's Boucaniere was amazing. We thoroughly enjoyed talking with the Staff. If you have never been to Johnson's Boucaniere, you owe it to yourself to go and enjoy breakfast or lunch.
Johnson's specialize in a variety of items, BBQ Plate Lunches, Salads, a few different types of Grilled Cheese. As well as a Kid's Menu for the little ones. There is something for everyone at Johnson's Boucaniere.
I specifically asked what they would suggest for someone who can eat only Gluten Free. Here was some of Mrs. Lori's suggestions, Pulled Pork bowl, Boudin, Salad, Jambalaya or Pulled Pork Plate lunch.
Starting next week they will be serving Chicken and Sausage Gumbo. Perfect for the Fall weather.
Johnson's Boucaniere had a nice atmosphere. The outside space was great. The outdoor space filled up rather quickly, so if you are going for lunch, be sure to arrive early or you might not have a place to sit. I think that Johnson's may have to consider expanded their seating area or place tables with umbrella and seating on some of the property near the parking area.
The staff was very hospitable. They made us feel right at home. My family and I will definitely be back for lunch or breakfast. We loved our experience at Johnson's Boucaniere.
Johnson's Boucaniere is located at 1111 St John Street. Hours of operation is Tues.- Fri. 7am – 3pm and Sat. 7 am – 5:30 pm.