Pat's is a Family-Owned Restaurant that has been around for a long time. The restaurant is most known for flavorful tradition of delicious seafood dishes. Pat's is owned and operated by Mr. Pat and his children.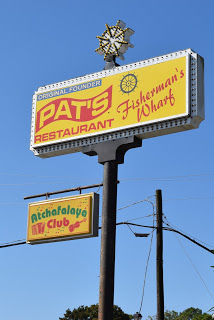 We often passed Pat's Restaurant when we are going fishing at Bayou Amy, but we have never stopped to enjoy the delicious food. So when I finally had the opportunity to dine with Pat's for lunch, I couldn't wait to try the food.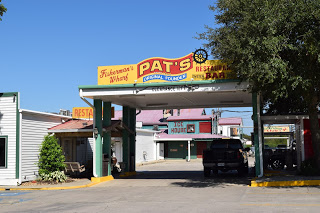 The restaurant upon entrance has a Cajun flare. The menu consist of  authentic, Cajun inspired dishes. The recipes at Pat's have been passed on by Mr. Pat's mother.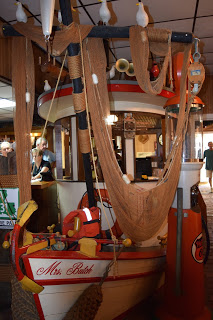 We arrived right at about 11 am. So we beat the lunch rush. It was such a nice day to sit outside. I absolutely loved the outdoor deck overlooking the water. On beautiful days, I am sure that is the happening place to be.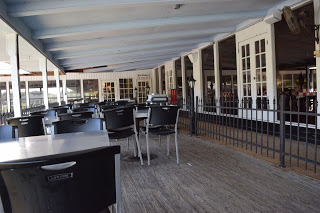 Each table receives a complimentary basket of buttery french bread. For our appetizer, we tried the Catfish Bites, served with cocktail and homemade tartar sauce. The catfish were fried perfectly, golden brown. A very good appetizer.
We also had the Seafood Gumbo which was loaded with shrimp, crab and crawfish. A well seasoned gumbo. The gumbo didn't have a strong Roux taste. Very good and nice presentation as well.
The first entree we tried was the Snapper Patrick. The snapper was filled with lump crab and served with red potatoes and grilled asparagus. Superb dish! The snapper was cooked perfectly and the potatoes were delicious. A beautiful plate.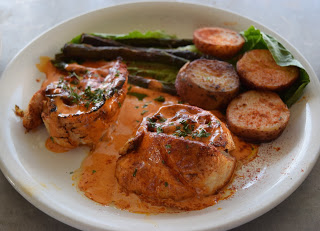 The Pat Huval Camp Style Crawfish Etouffee. The Crawfish etouffee was so good. Nicely seasoned with onion, bell peppers and the etouffee sauce was delicious.  Served over rice with a fruit salad. The fruit salad consisted of a pineapple, mayo and cheese.
Below is the Seafood Platter. The seafood platter was piled high. Loaded with Fried Shrimp, Fried Oysters, Filet Catfish, Fish Patty, Stuffed Crab and Stuffed Shrimp and Jambalaya and Onion Rings. Wow, a huge plate of food that can be shared.
Below is Nancy, she was our waitress. She has been employed at Pat's for 35 years. Mrs. Nancy was so sweet and very knowledgeable about the restaurant.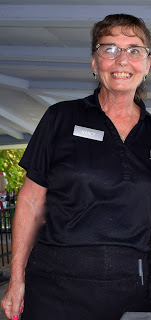 Overall we absolutely enjoyed the food and the service at Pat's. The food was served in a timely manner and everything was served pipping hot. The outdoor space was lovely. Pat's has been around for over 35 years and I can see why they have remained contenders in the restaurant industry. Great service and excellent food. Pat's didn't disappoint at all.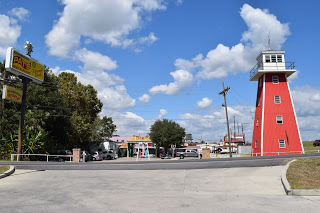 Pat's is located at 1008 Henderson Levee Road in Henderson, LA. The hours of operation are Sunday – Thursday 11:00 am – 9:30 pm and Friday – Saturday 11:00 am – 10:30 pm.
[bloglovin_button]