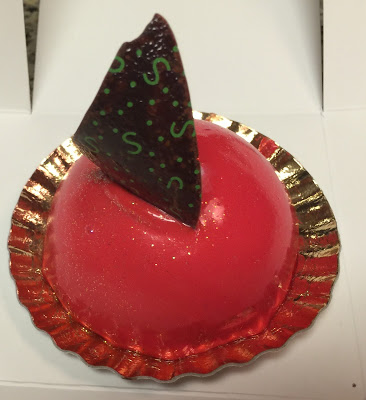 My family and I love taking occasional road trips. During the Christmas Holiday we decided to travel to New Orleans for a few days. Our initial plans was to be in New York, but we were blessed to Foster a handsome baby boy. So we decided to change our plans since we weren't sure how he would travel and we desired to give him time to adjust.
As my husband and I contemplated places to go that wouldn't be to far, but we could do things with the kids as well enjoy ourselves. Immediately New Orleans was one place that came to mind.
New Orleans is our go to place for a quick getaway. Simply because there is always something to do.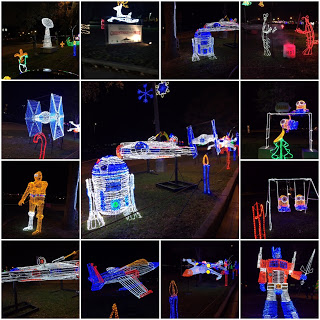 One night we decided to take the kids to Lafreinere Park Christmas Lights. OMG. So much fun. The kids absolutely loved it. Above are a few photos that we took while there.
It is a really cool drive through like Light Display. You can walk or ride as you look at the lights. This night was extremely cold, so we decided to drive and look at the lights. The children loved the different character of lights that were displayed.
This was our first time, but it won't be our last. We are definitely planning to go back annually to see the lights.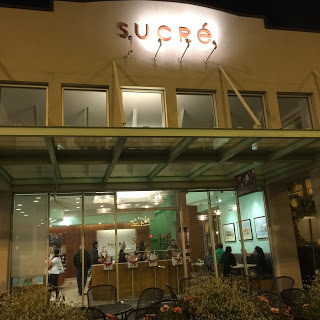 After the lights display, we decided to stop for desserts before heading back to the hotel. Sucre Macaroons are one of our favorites so we decided to stop at Sucre. Sucre sells many different flavors of macaroons. One of my favorites is the Strawberry.
Baby girl choose two macaroons she loves the chocolate and the bananas foster. Both are equally delicious.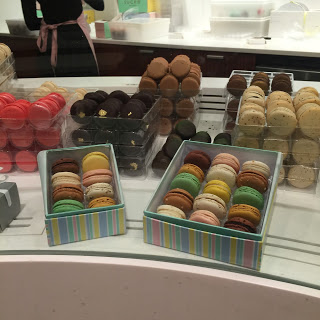 Sucre doesn't only have Macaroons but many different options of desserts. Anyone who knows me knows that I love desserts. I know it's not always the best thing for me, but I eat in moderation.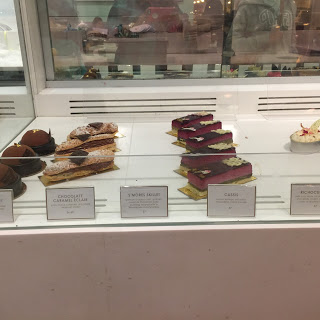 As you can see, the Desserts were absolutely gorgeous. I loved how nicely the desserts were decorated. A few options that night were a Chocolate Caramel Eclair which looked incredibly delicious and Cassis which is a lemon sponge cake with pistachio mousseline and cassis mousse. The cake had a similar look as an ice cream sandwich. So pretty.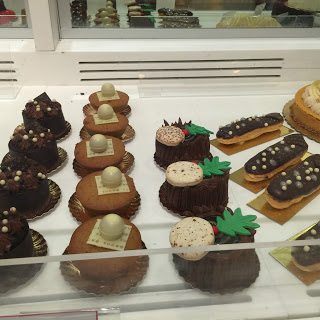 Below is the cake displays and cakes that were for sale. Just gorgeous cakes. Intricately decorated and designed to the T.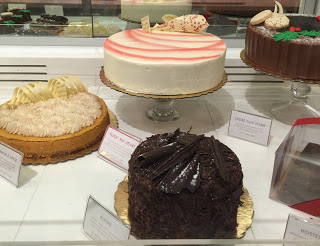 We weren't quite sure what we wanted to so we walked around a little. I really liked the boutique look. So many dessert options to choose from as all coffee, gelatos and shakes. A cool dessert shop.
In addition, there were many gift set options available for purchase.
The hubby decided on this beautiful dessert pictured below.   The dessert was similar in appearance to an apple candy. An apple candy is normally hard, but this dessert wasn't hard at all. Very nice texture and tasty. I loved the gold leaf paper underneath and the chocolate accent on top with the S. Very classy.
I tried the Red Velvet with Cream Cheese mini Cupcake. The cupcake was so so good. Moist, the cream cheese was smooth and delicious. The cupcake was not overally sweet. Some cupcakes can be super sweet, but this was delicious.
We ordered our deserts to go.
For late at night, there was a good crowd. The desserts were simply delectable.The service was mediocre to us. I think their customer service can use some help. But the Boutique is in a great location near many restaurants and the mall. Perfect spot to hangout with friends and family after a long day of shopping.
Sucre is located at 3301 Veterans, Metairie, LA. The hours of operation are Sun.-Thurs. 8:00 am – 10:00 pm and Fri.-Sat. 8:00 am – 12:00 am.
[bloglovin_button]

Please follow and like us: