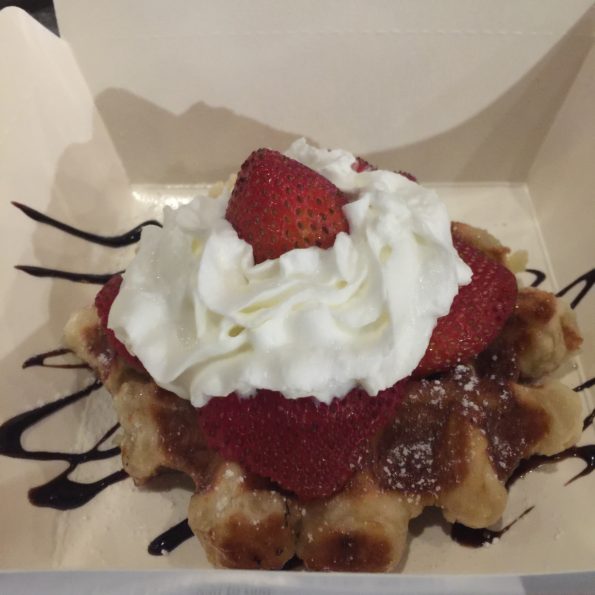 My husband and I have often said that if we had the money we would open up a Coffee Shop. While visiting NYC, we came across this really cool coffee shop called CaffeBene. If I were to open a coffee shop I would model the shop after this company or Franchise with CaffeBene.
CaffeBene coffee shops are very similar to the traditional European Coffee Shops. The goal of CaffeBene is to be a place of rest and relaxation in the midst of a chaotic and hectic city life.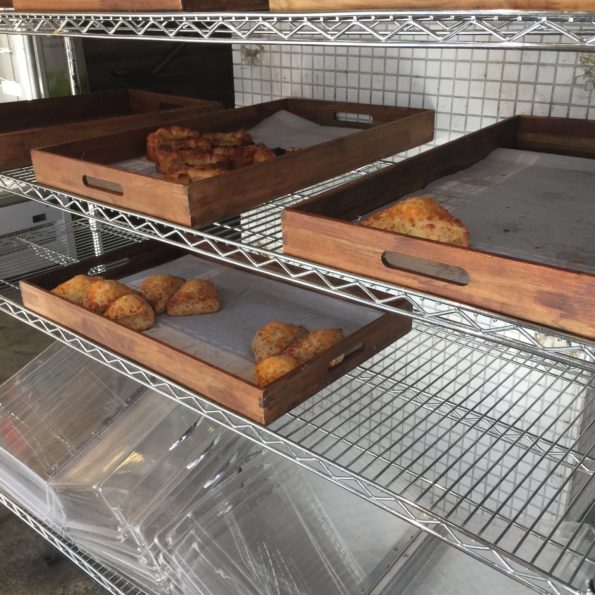 CaffeBene was located within walking distance of our hotel. We walked into the coffee shop and quickly noticed that there was a section for eating on the go. There was a shelf that consisted of pastries for people wanting to grab something quickly. Items like Croissants, Apple Danishes, Scones, just to name a few.
In addition, a large variety of drinks in a can, bottle or jars. Unfortunately, there were no fruit juices which was a bit odd. If you will have a large drink section, offering fruit juices would be a great addition for your customers.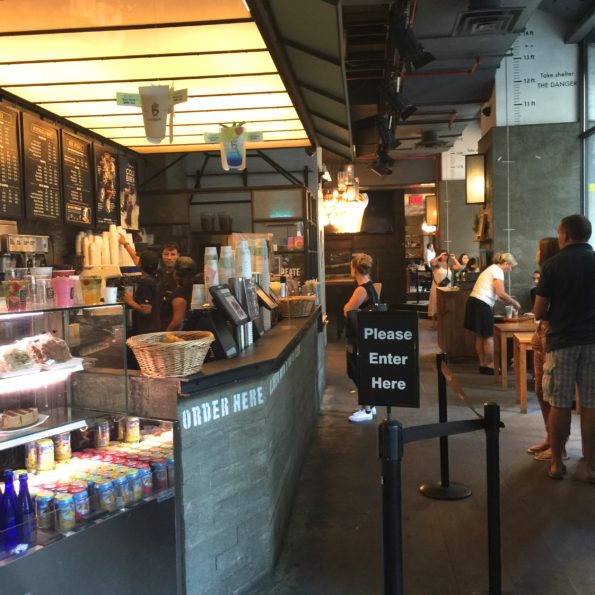 The ordering station was similar to a Starbucks but more upscale. We placed our order and walked through the Coffee shop and found a place to sit. The Coffee Shop had many places to choose from. I loved that there were window seats with elevated chairs. as well as a room that looked similar to a library with tables and chairs and built in bookshelves.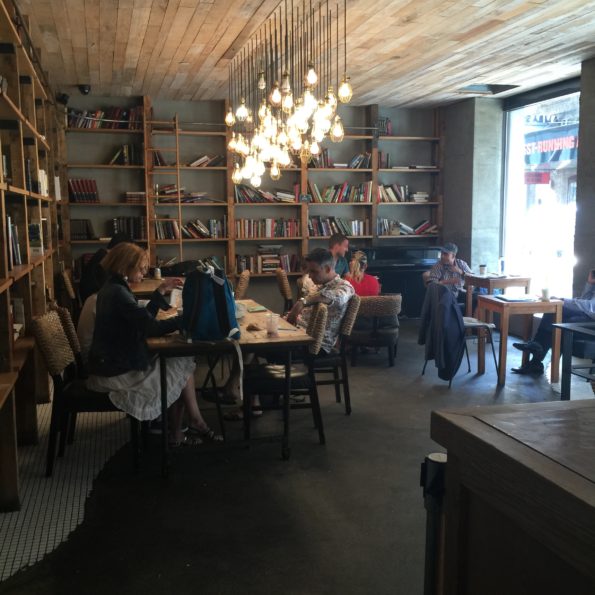 There was also an upstairs room. We chose a table upstairs that was near the corner of the room. The room also had smaller tables placed strategically under pendant lights. A very nice setup. The upstairs area felt very cozy and homey.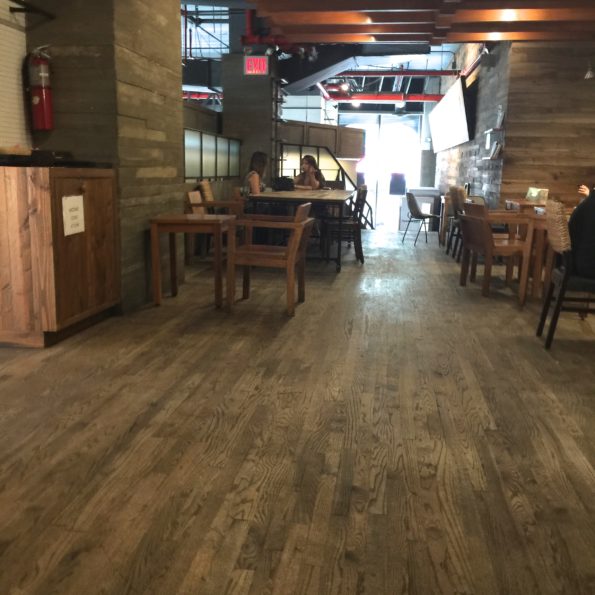 Within a few minutes of finding a seat, our orders were ready.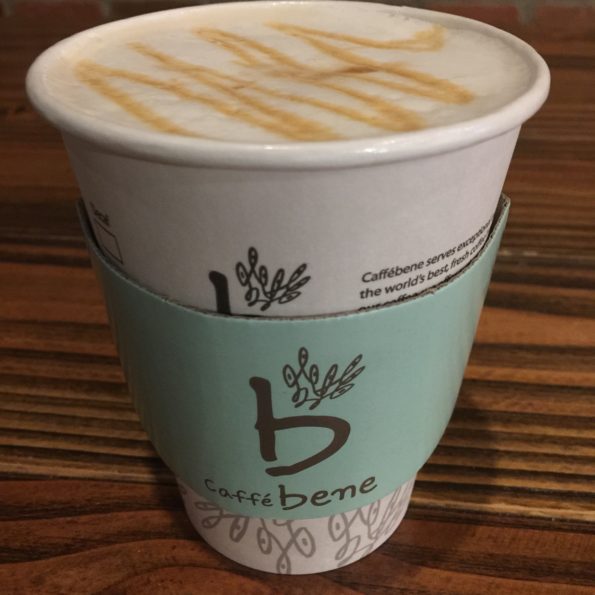 My coffee of choice was a Caramel Macchiato. The coffee was smooth, strong and tasty. Just like I prefer my coffee. The coffee was perfect. No need for sugar or any type of sweeteners.
The coffee at CaffeBene had a very distinct flavor.  CaffeBene uses a very unique process that brings out the flavor of the Coffee Beans. A superb cup of coffee.
A great morning always starts off with a good cup of coffee for me and this morning was no different. The coffee did not disappoint. I enjoyed the coffee so much that I went back twice while we were in NYC.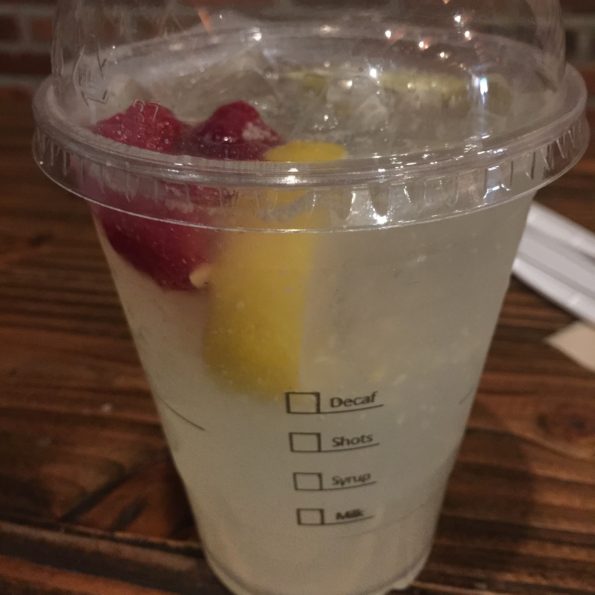 The hubby ordered one of the Mocktails. He ordered the Lemon Berry Mojitos. The drink didn't look anything like the promotional picture. The drink was served hot and actually tasted like a Limonata we buy from World Market. Not very good. Actually felt like false advertisement. There was no mint in the drink and the drink didn't look icy like the photo. Taste wise it failed the test.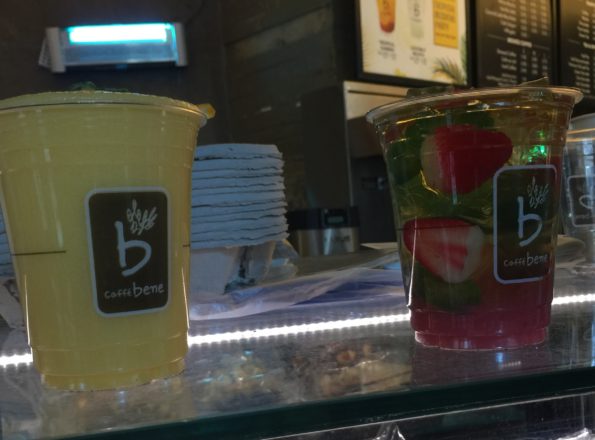 Anyone who reads my blogs or know me personally, I love Fruity drinks. This one failed miserably. If you will put up a display, be sure that the drink comes out looking exactly like or close to it. I am just saying.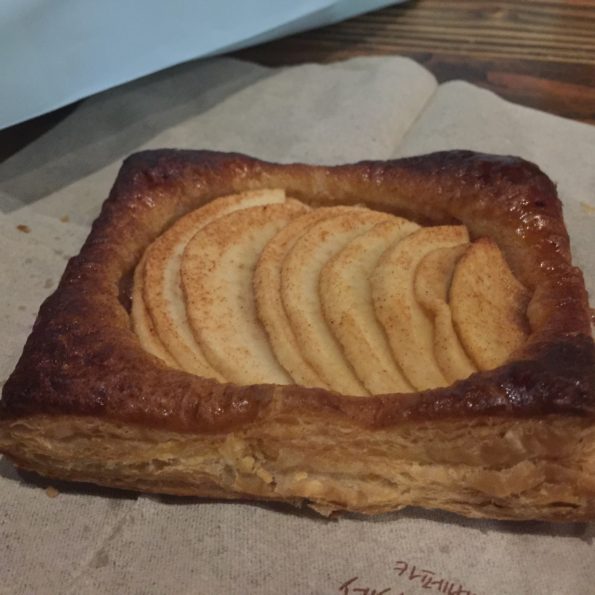 Baby girl decided to pick a 3 cheese scone and an apple tart for her breakfast. I didn't get a picture of the 3 cheese scone but pictured above is the apple tart. The apple tart was yummy.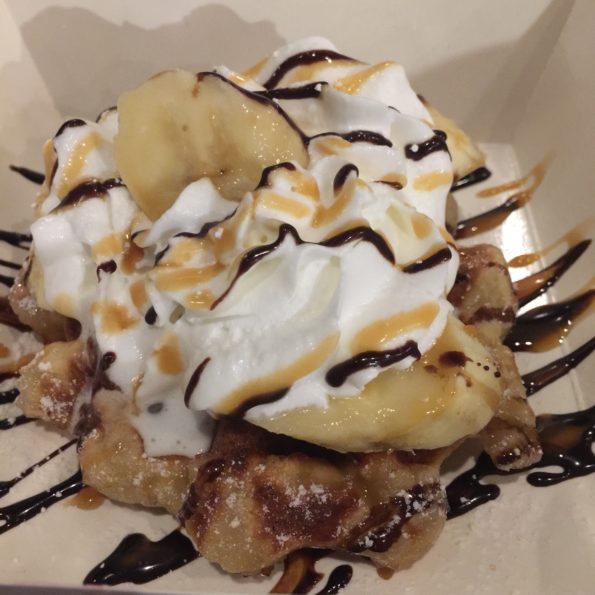 The hubby ordered the Whipped Cream and Banana Waffle. The waffle was so good. I love that the waffle was served in a nice see through container. The waffle was topped with whipped cream, sliced bananas with caramel drizzle and chocolate. Superb.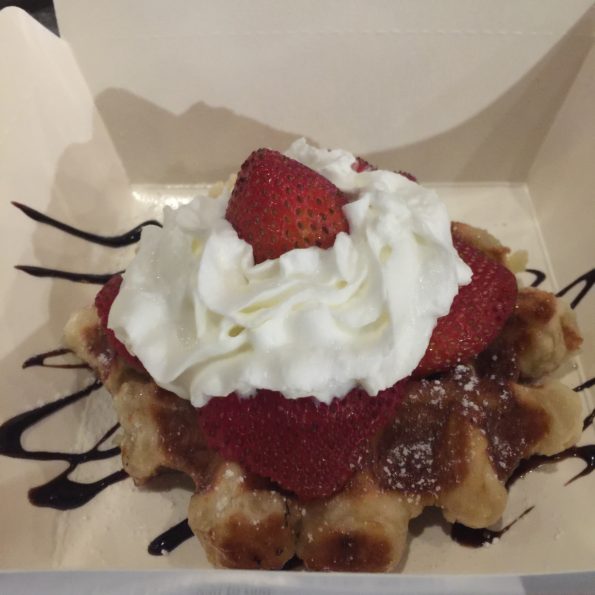 My stepdaughter and I ordered the Strawberries and Waffle. The waffle was light, airy with a sweet batter. So good. The waffle was topped with strawberries, whipped cream and a little chocolate drizzle. Absolutely delicious.

In addition to the items we ordered, CaffeBene also offers Iced Coffees, Hot Chocolate, Espresso and a variety of Lattes. Other cold beverage options are Frappes, Smoothies, and Mojitos.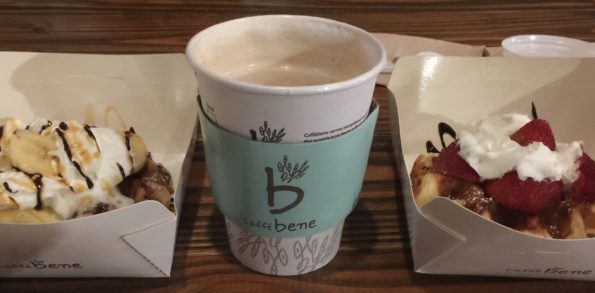 Besides the Waffles we ordered,  CaffeBene also serves options like Cream Cheese & Blueberry, an Original Waffle or a Yogurt & Blueberry Waffle.  Also honey breads with a variety of toppings.
In addition, savory sandwiches. Ham & Egg, Portabella Sandwiches or Spicy Chicken Sandwiches. The savory sandwiches include fresh ingredients.
CaffeBene serves a good variety of items.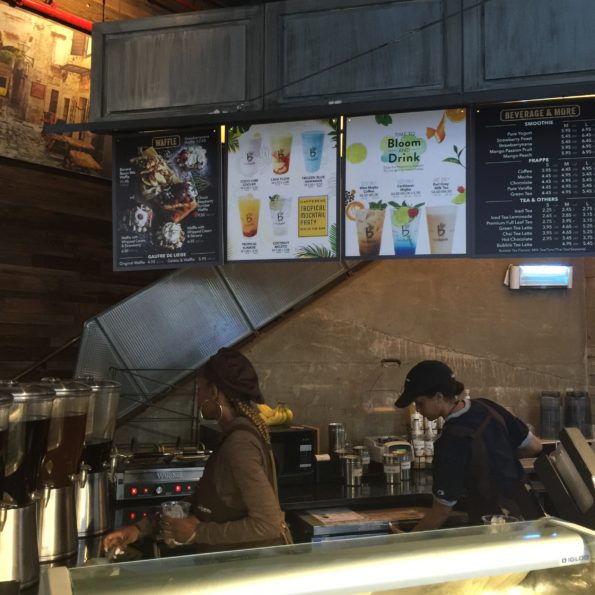 Overall  we enjoyed our time at CaffeBene. We absolutely love the look and feel of CaffeBene. The coffee was superb. Breakfast didn't disappoint. The waffles were incredibly delicious.
If we ever decide to franchise a coffee shop, CaffeBene. would be our first choice. A great coffee shop.  Though we had a few complaints about our visit, CaffeBene. was an awesome coffee shop.
While we are waiting for our opportunity to Franchise, CaffeBene. we welcome you in Louisiana.  If you are ever in NYC, go and try CaffeBene.. Be sure to tell them Da'Stylish Foodie sent you!!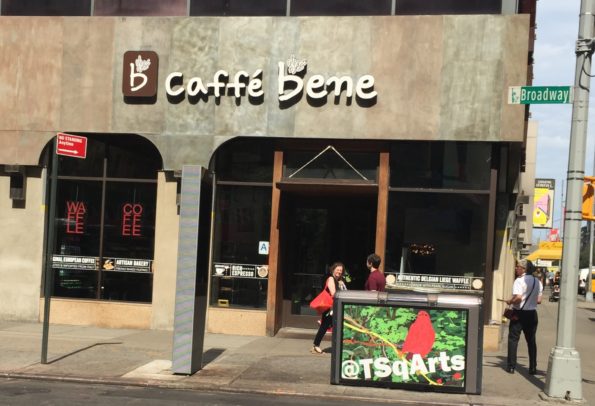 CaffeBene. is located at 1611 Broadway, New York, NY 10019. The Hours of Operation are Monday – Friday 6:30 am – 12:00 am, Saturday – Sunday 7:00 am – 1:00 am.
[bloglovin_button]