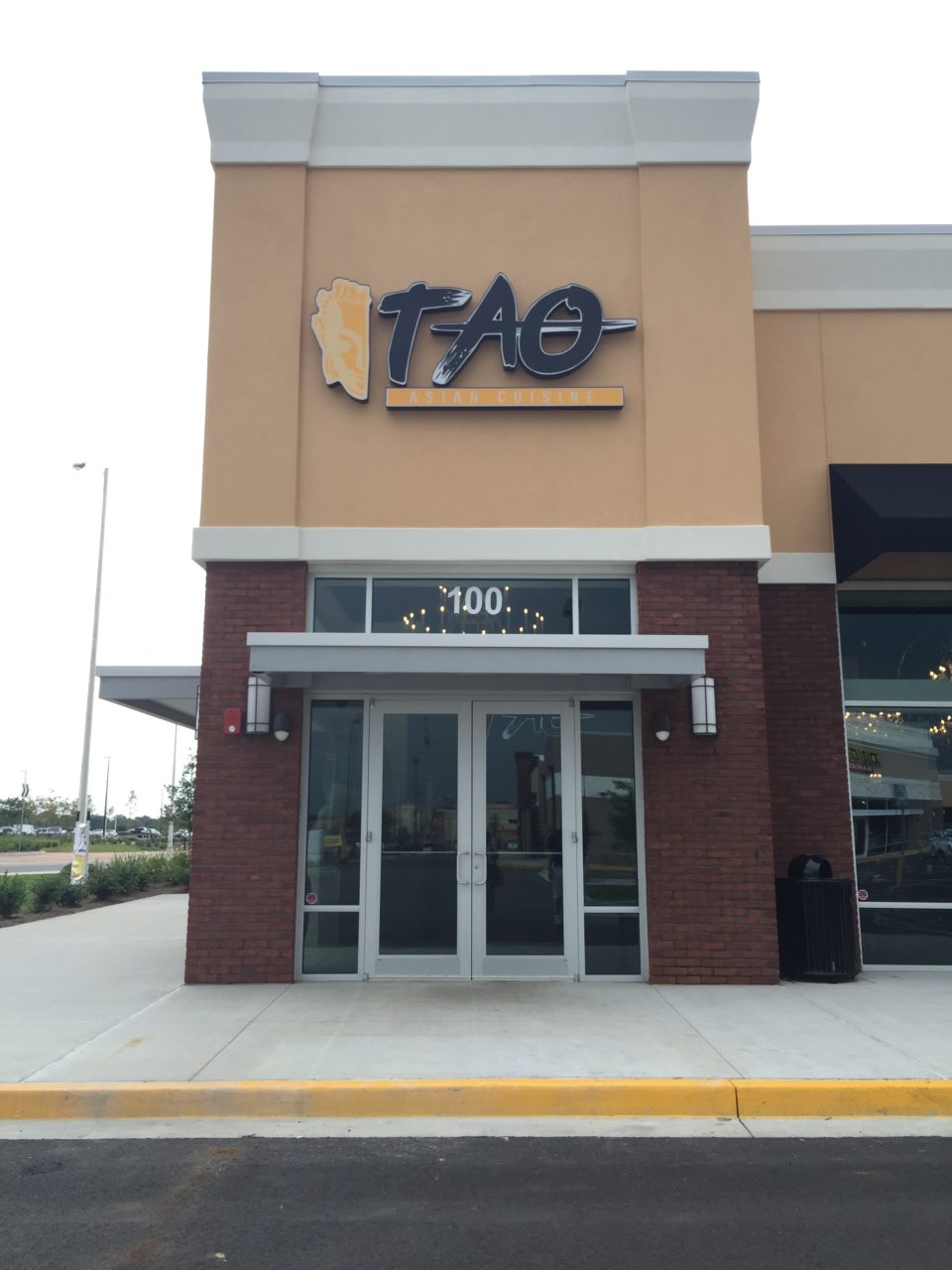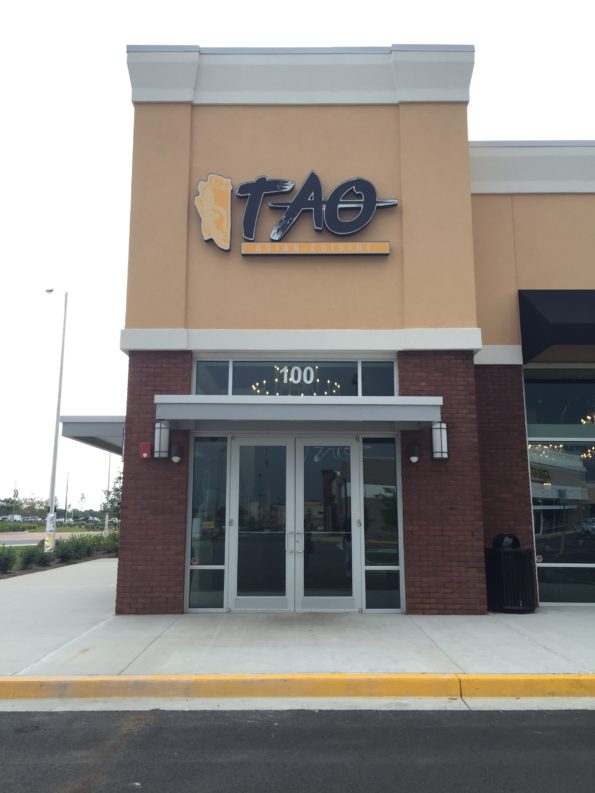 Tao is a brand new Asian Restaurant in the Costco development. Tao opened a little over a week ago. A locally owned restaurant serving up Asian Fusion.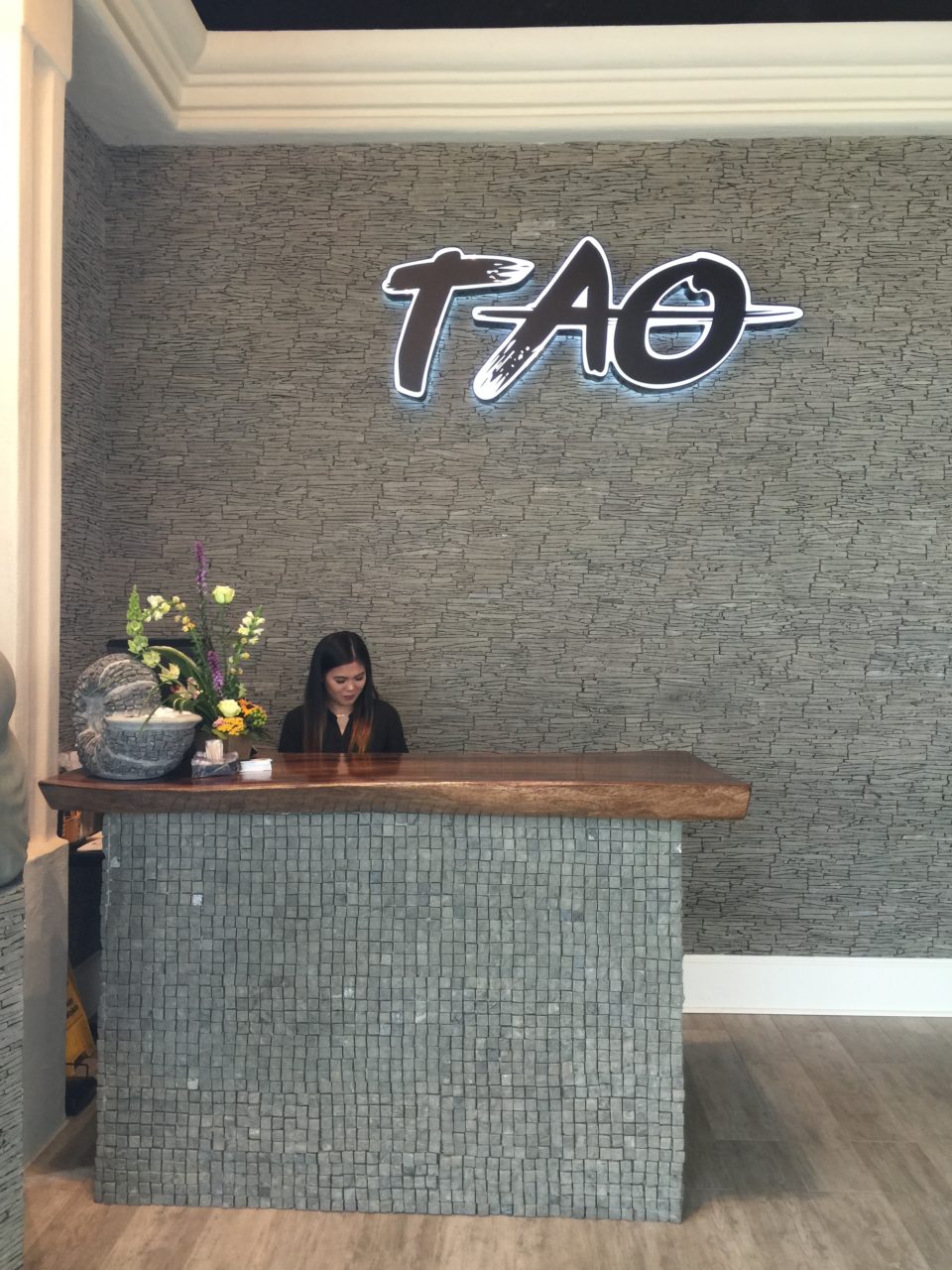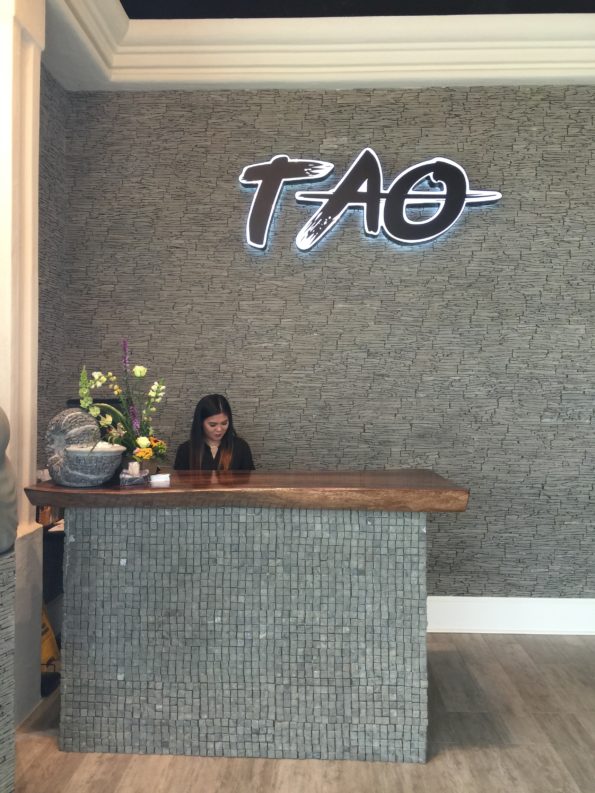 My husband and I arrived at TAO on Thursday evening. When we walked into the restaurant, we were absolutely blown away by the decor of the restaurant. The restaurant was beautifully decorated with gorgeous chandeliers.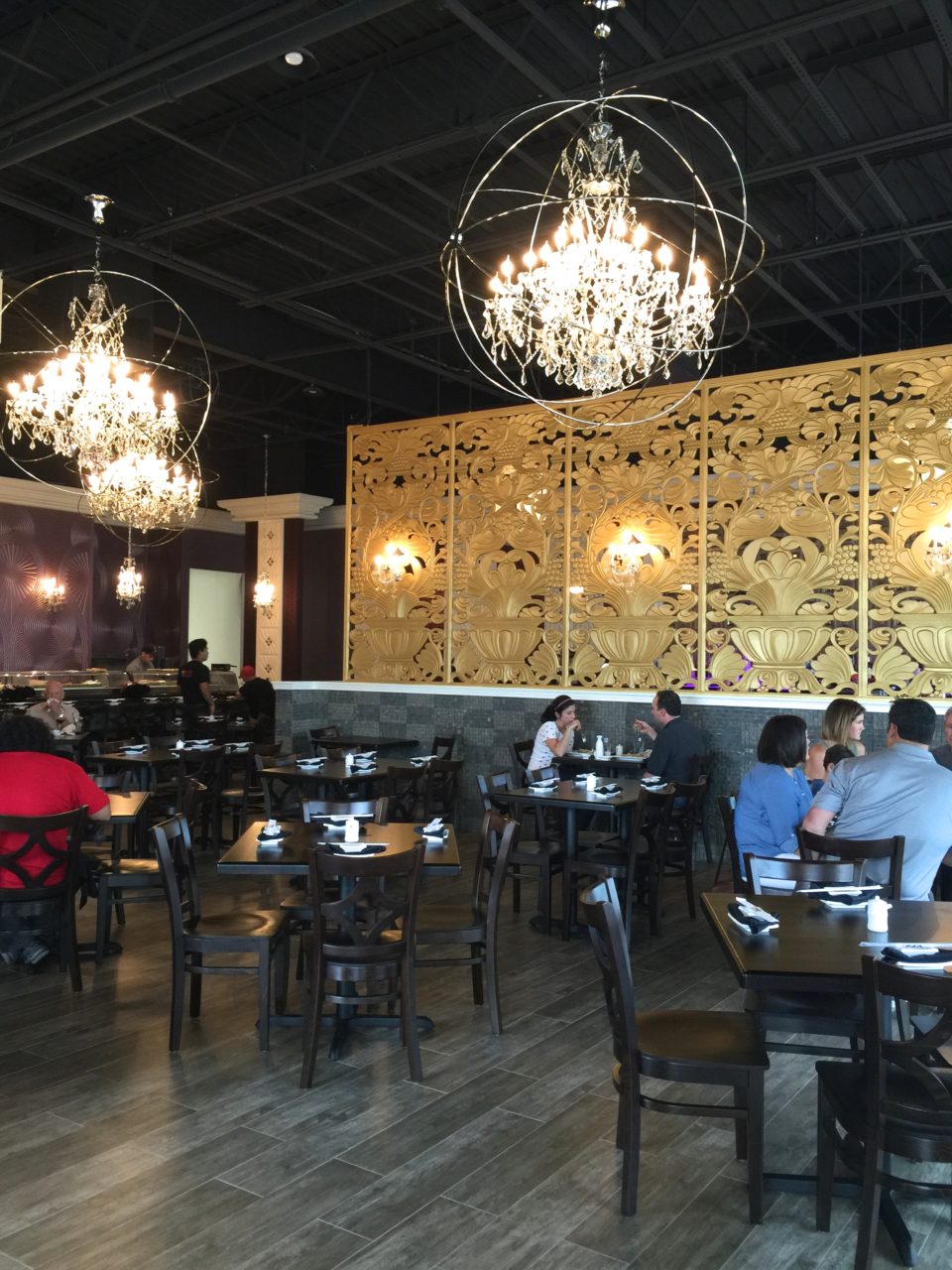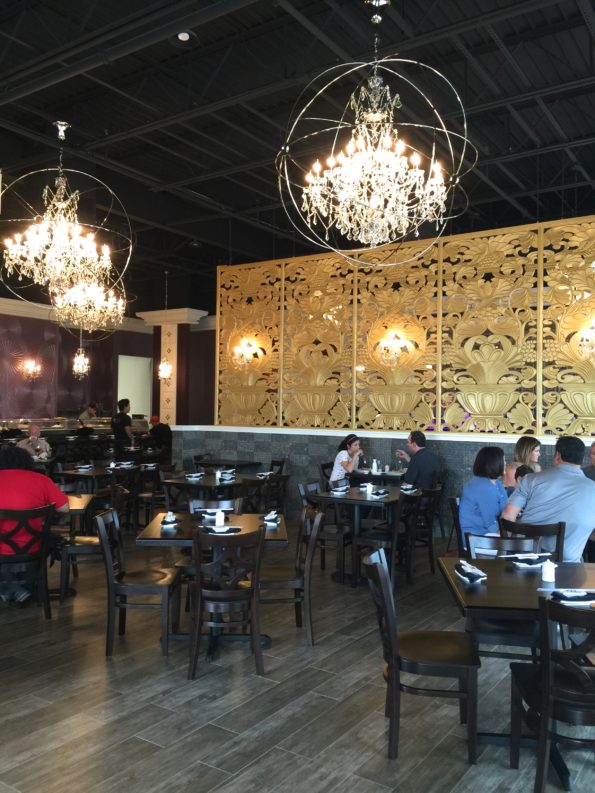 The chandeliers were stunning and added such an elegant touch to the restaurant. The entire restaurant was beautifully decorated and very cohesive.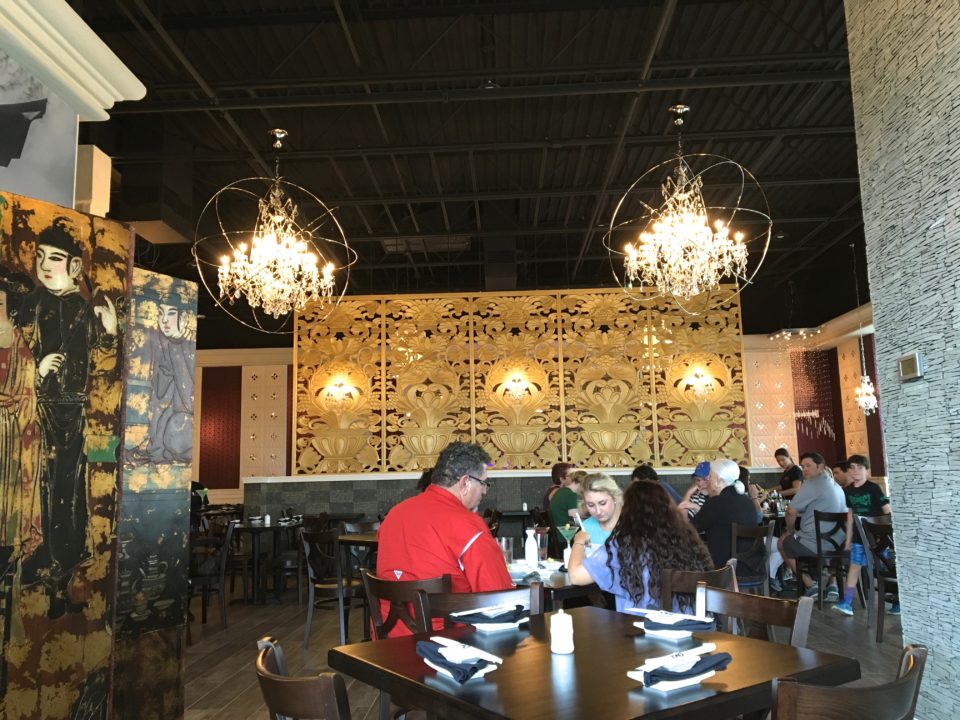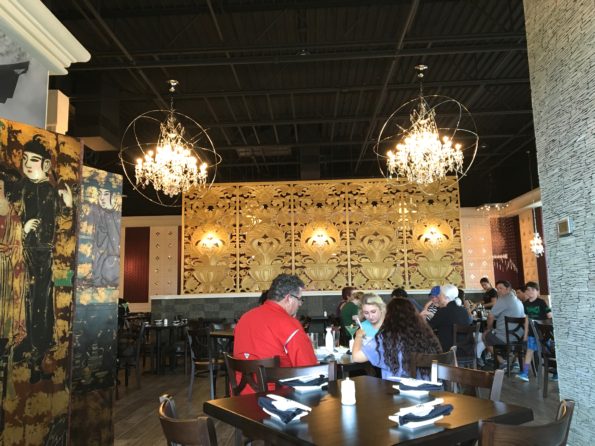 We were seated near a window with a perfect view of the entire restaurant.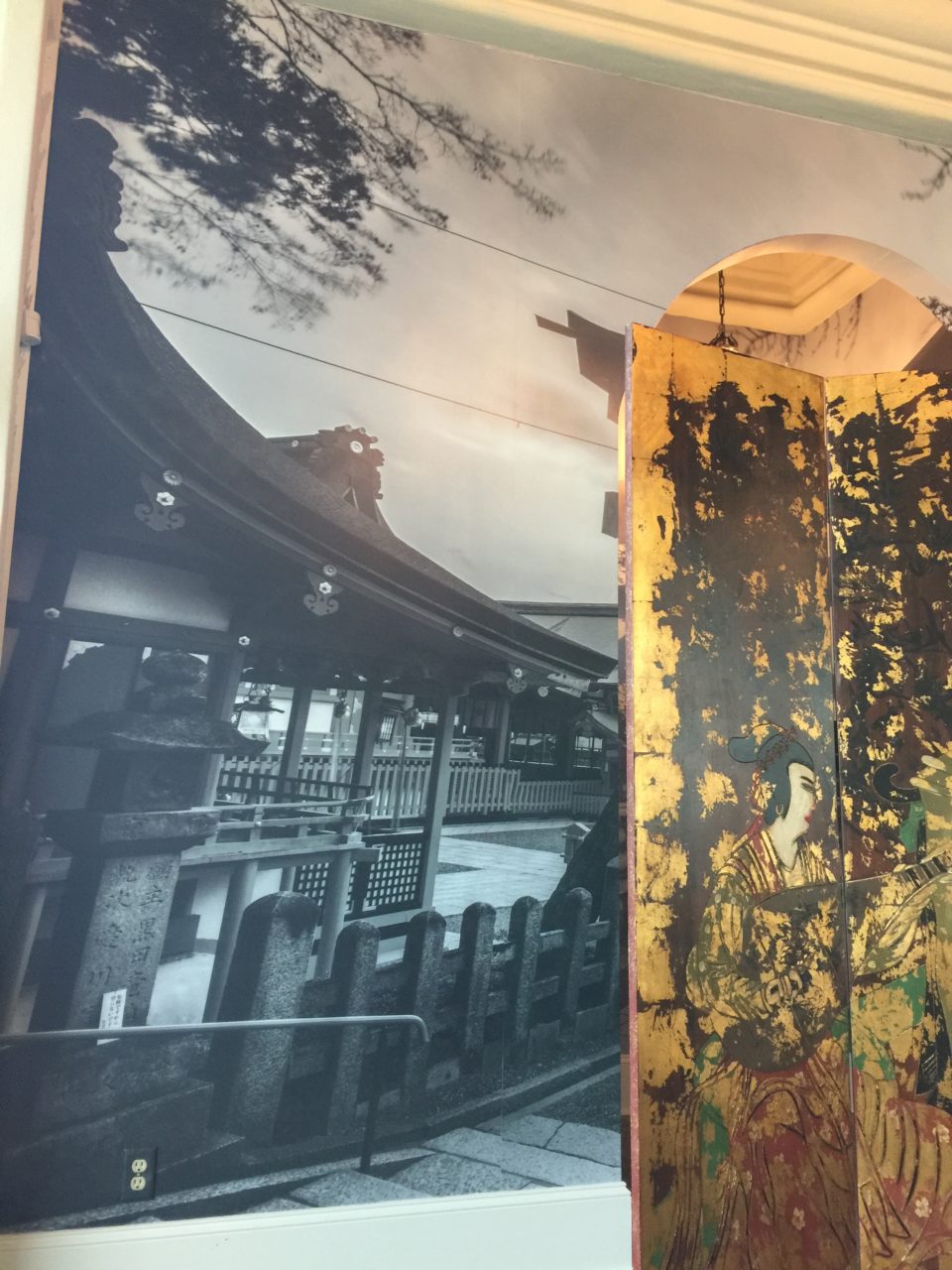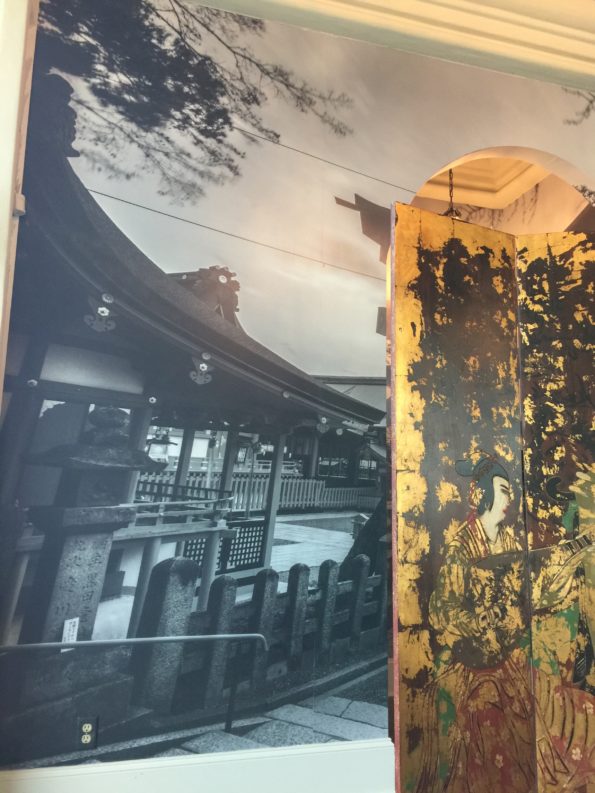 Immediately after being seated, we noticed the wallpaper mural of a Asian home in Japan. Pictured above, really nice.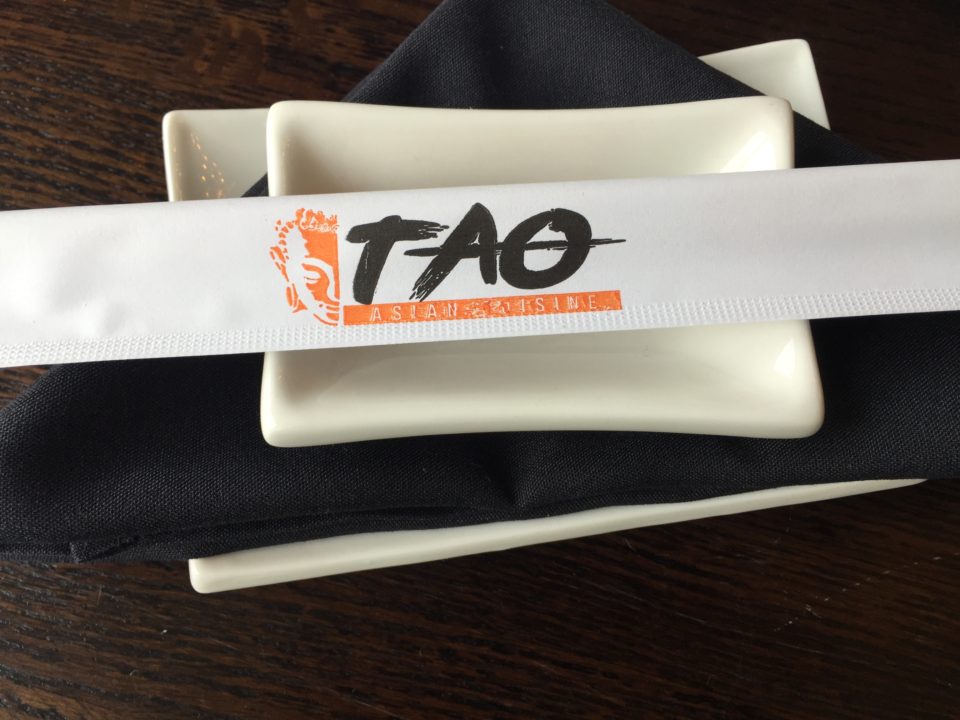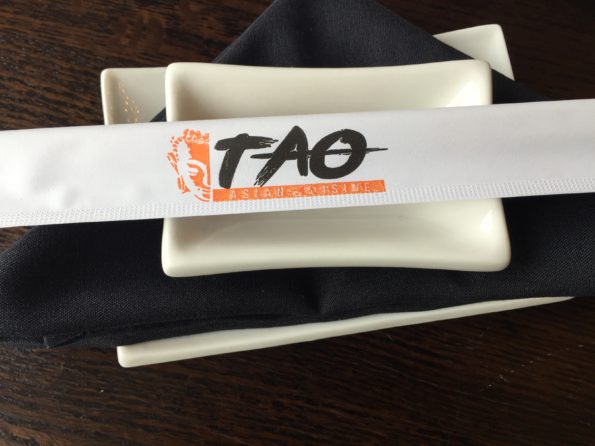 The waiter came to the table after we were seated and asked us if we wanted something to drink. I asked him if the bartender could make me a fruity non-alcoholic drink.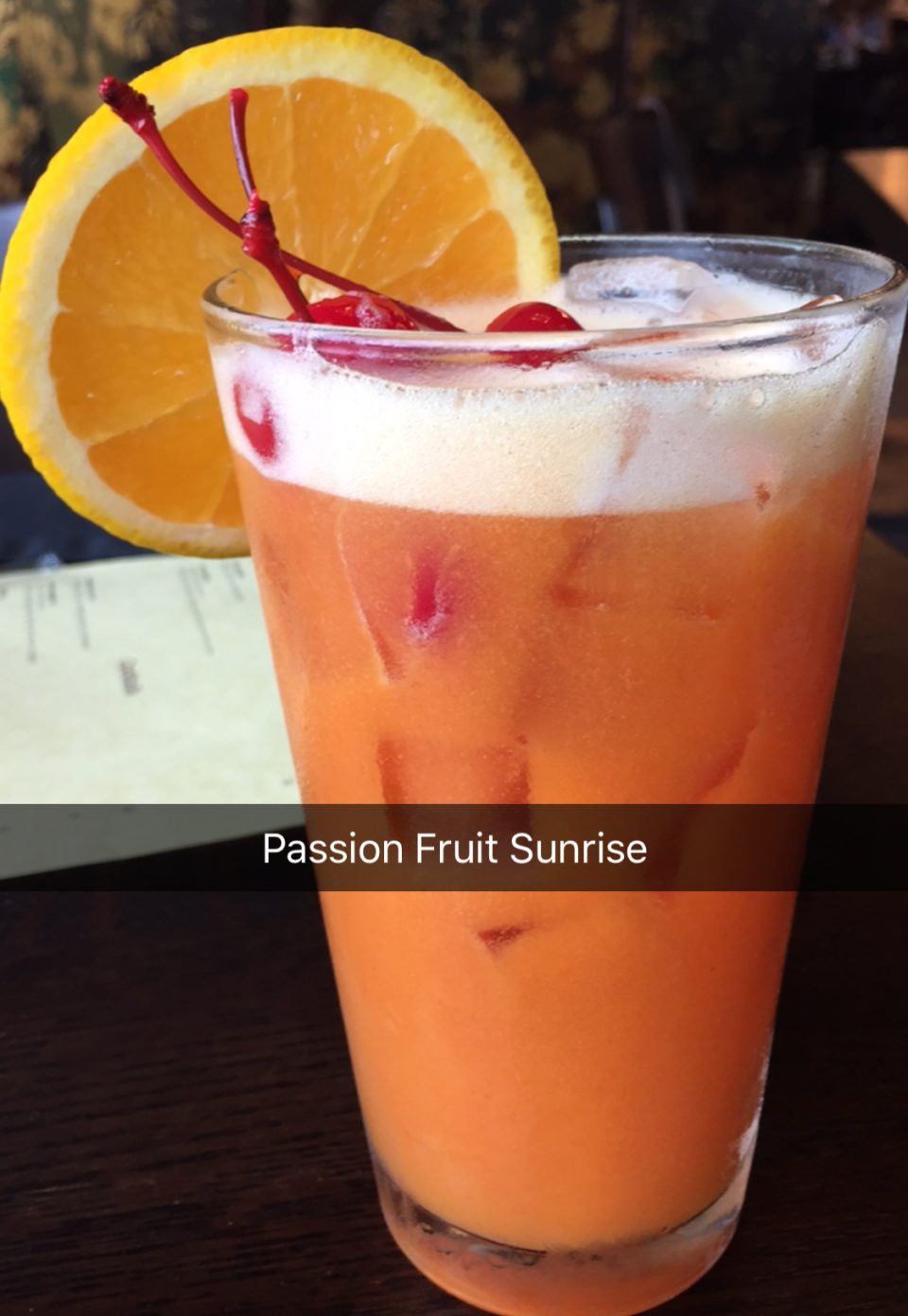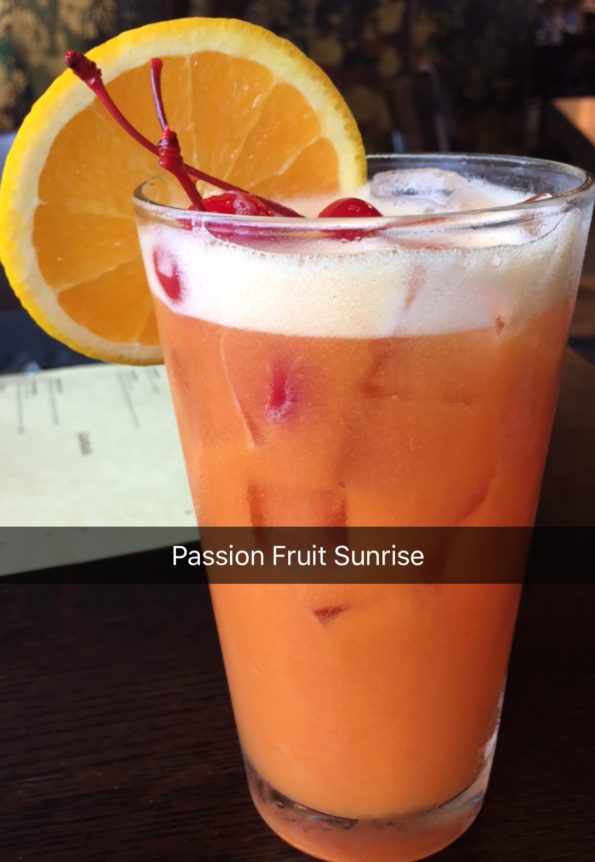 The bartender created a Passion Fruit Sunrise. The drink was superb. Garnished with an orange and cherries. Beautifully presented.
We ordered a few Tapas, which are small plates.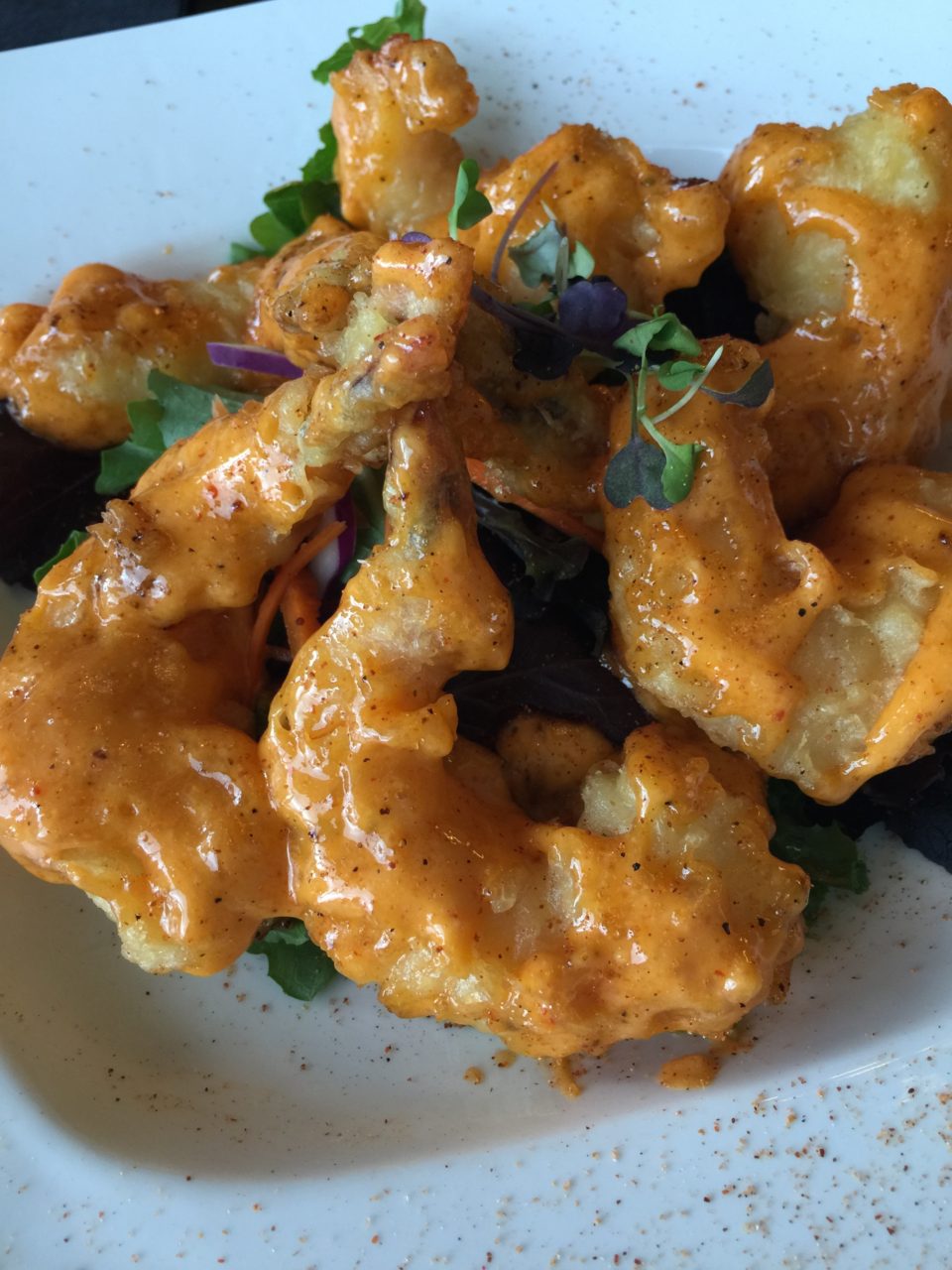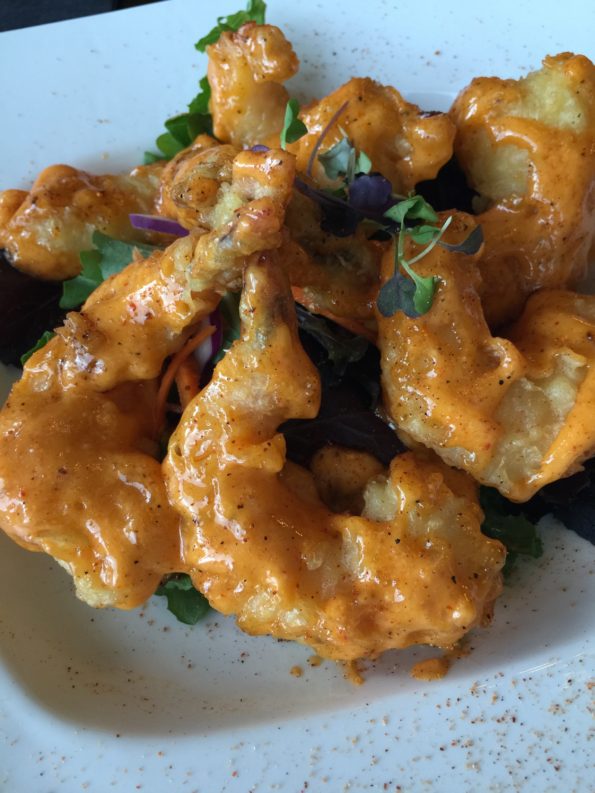 Pictured above was the Asian Cajun Shrimp. The presentation was simple, yet stunning. The shrimp were fried, golden brown tossed in a spicy sauce and served over a bed of mixed greens. So good. Spicy, nicely presented. Loved the spice level.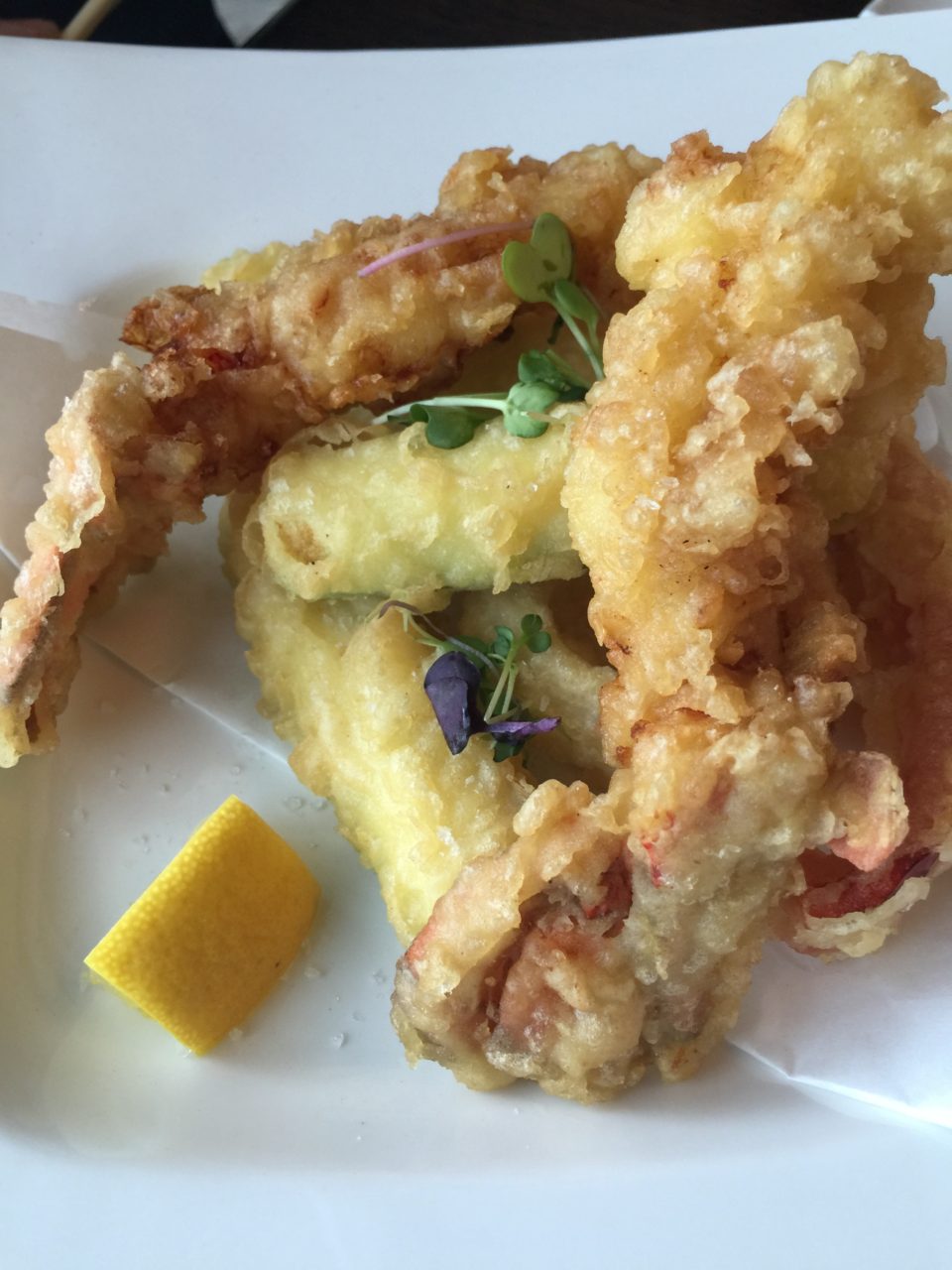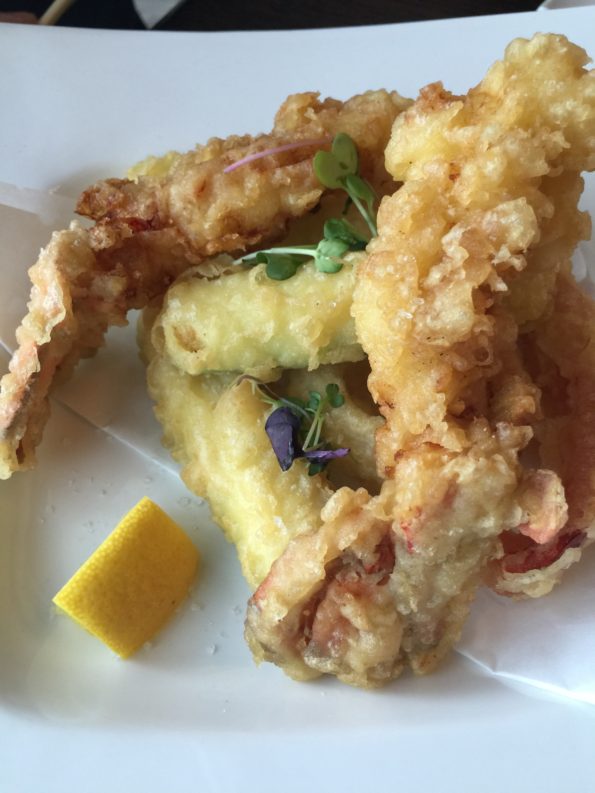 We also tried the Colossal Lobster Tempura. The small plate included tempura fried lobster, onion rings, red bell peppers and zucchini.  A really good small plate. I would have liked a little salt on the veggies. The lobster was perfect. A nice soy sauce dipping sauce would have complimented the dish nicely.
But overall a good small plate. I would order it again. This small plate is also available with just Veggies. Nice option.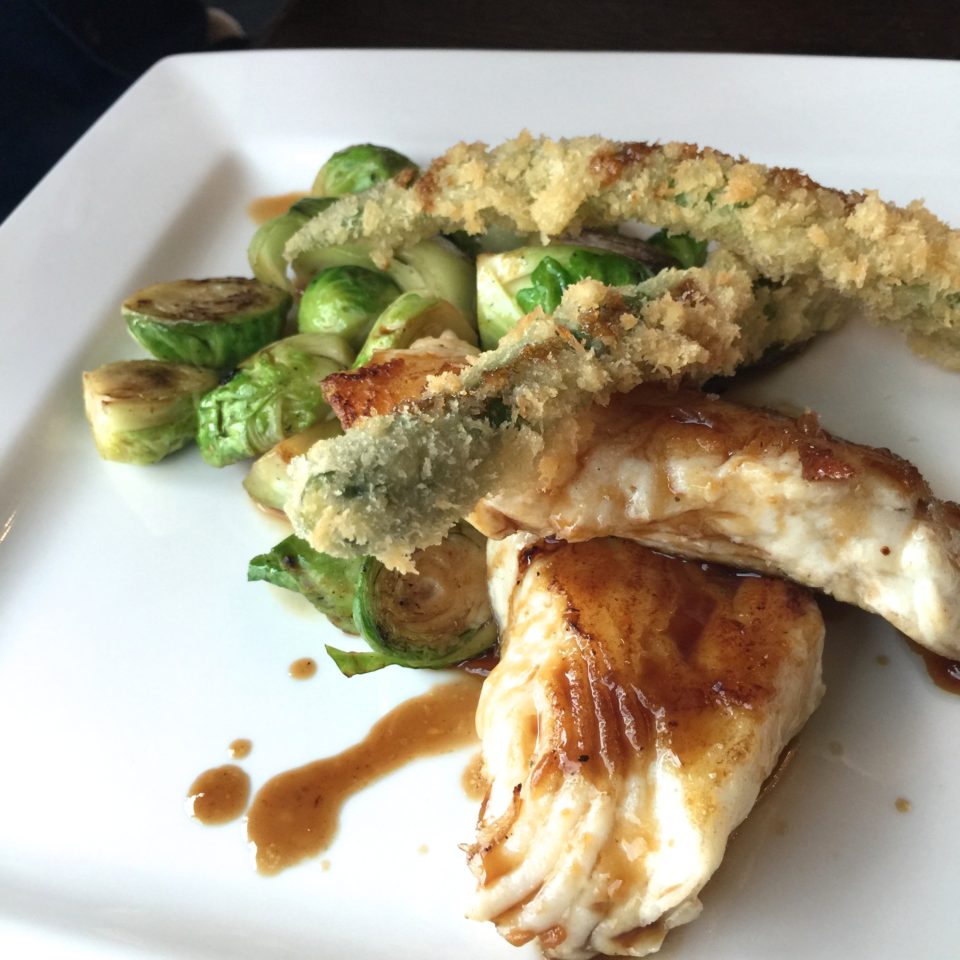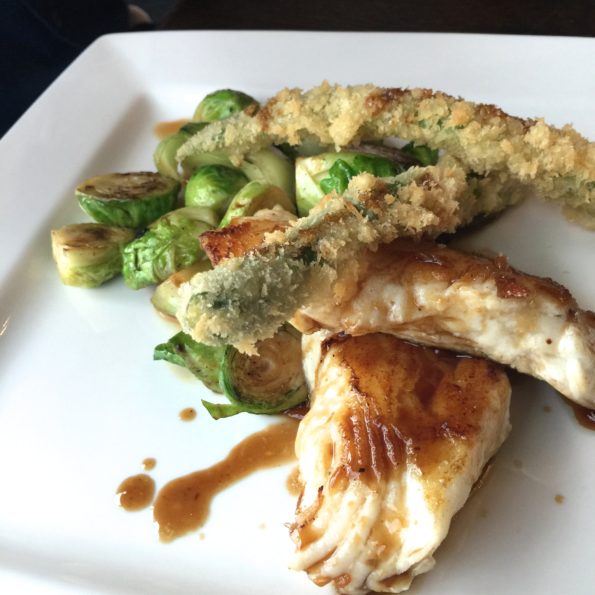 The hubby ordered the Grilled Sea Bass. The entree included Sea Bass, marinated in an Asian dry rub. The Sea Bass was grilled and topped with an Asian glazed sauce. Served with brussel sprouts and grilled bok choy.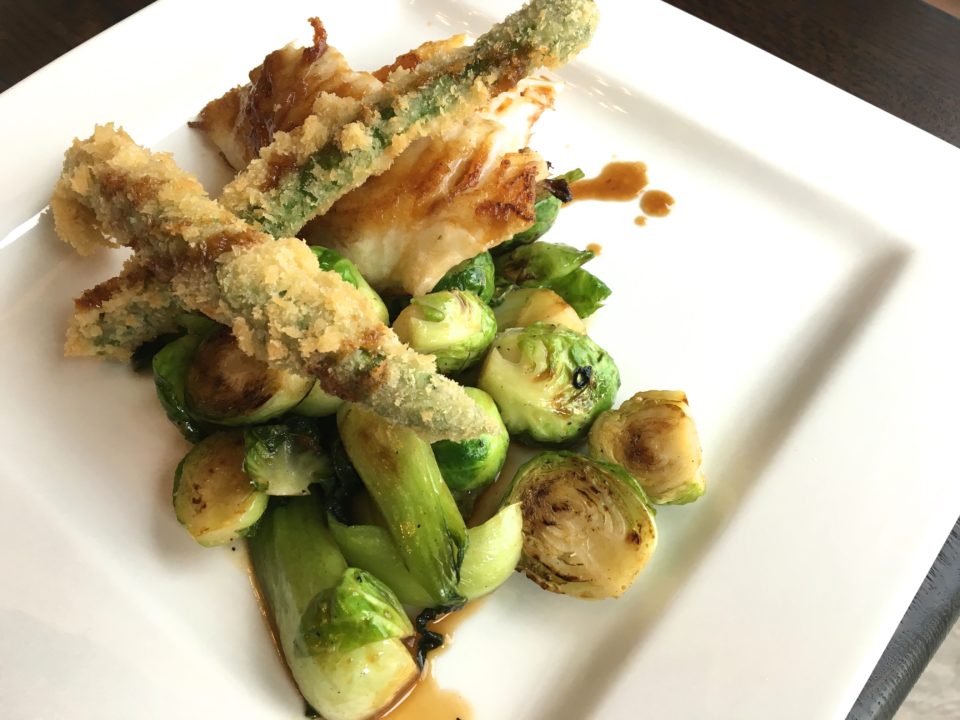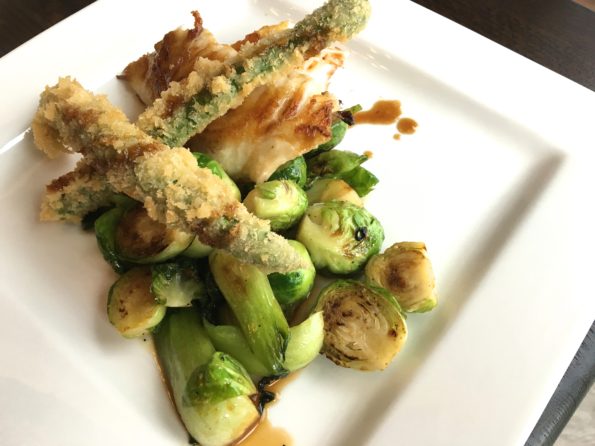 This entree was absolutely delicious. The Sea Bass was cooked perfectly, moist, not overcooked. I loved the Asian sauce, so good. The Sea Bass was seasoned perfectly. Lightly seasoned, not too heavy.
I loved the grilled bok choy.  Grilled nicely and seasoned with a little salt. So good. A great choice. The dish had a nice balance of flavors.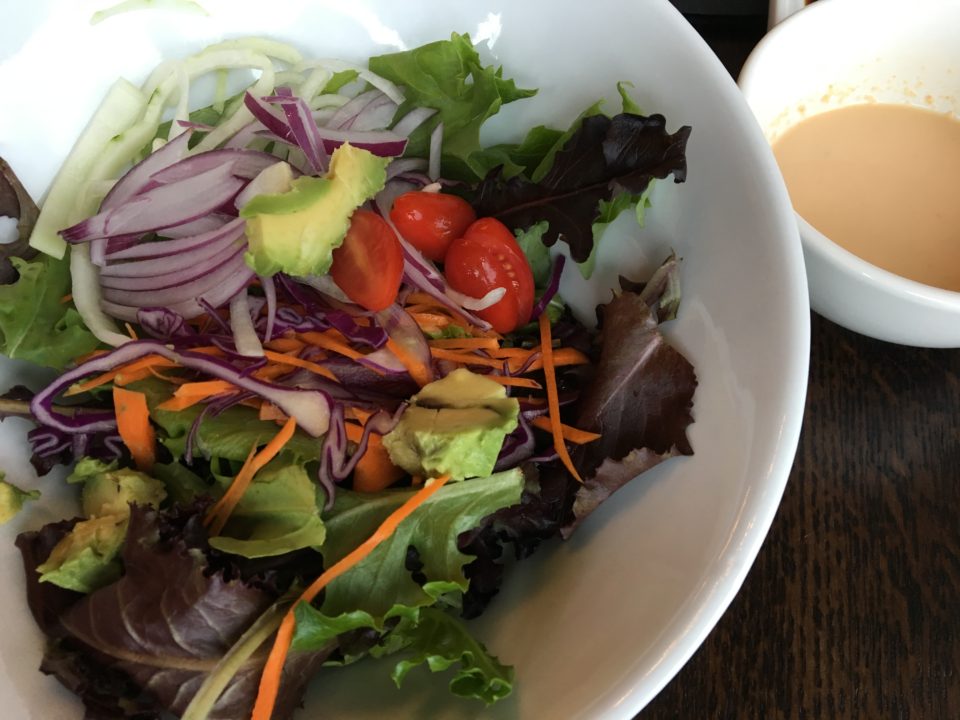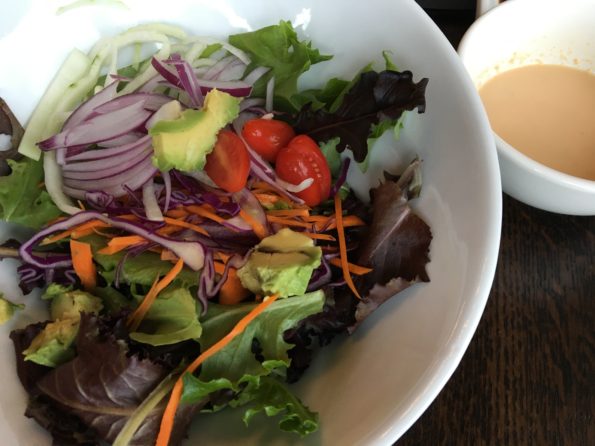 My husband's entree was served with a house salad and a house dressing. A simple salad with a tasty house dressing.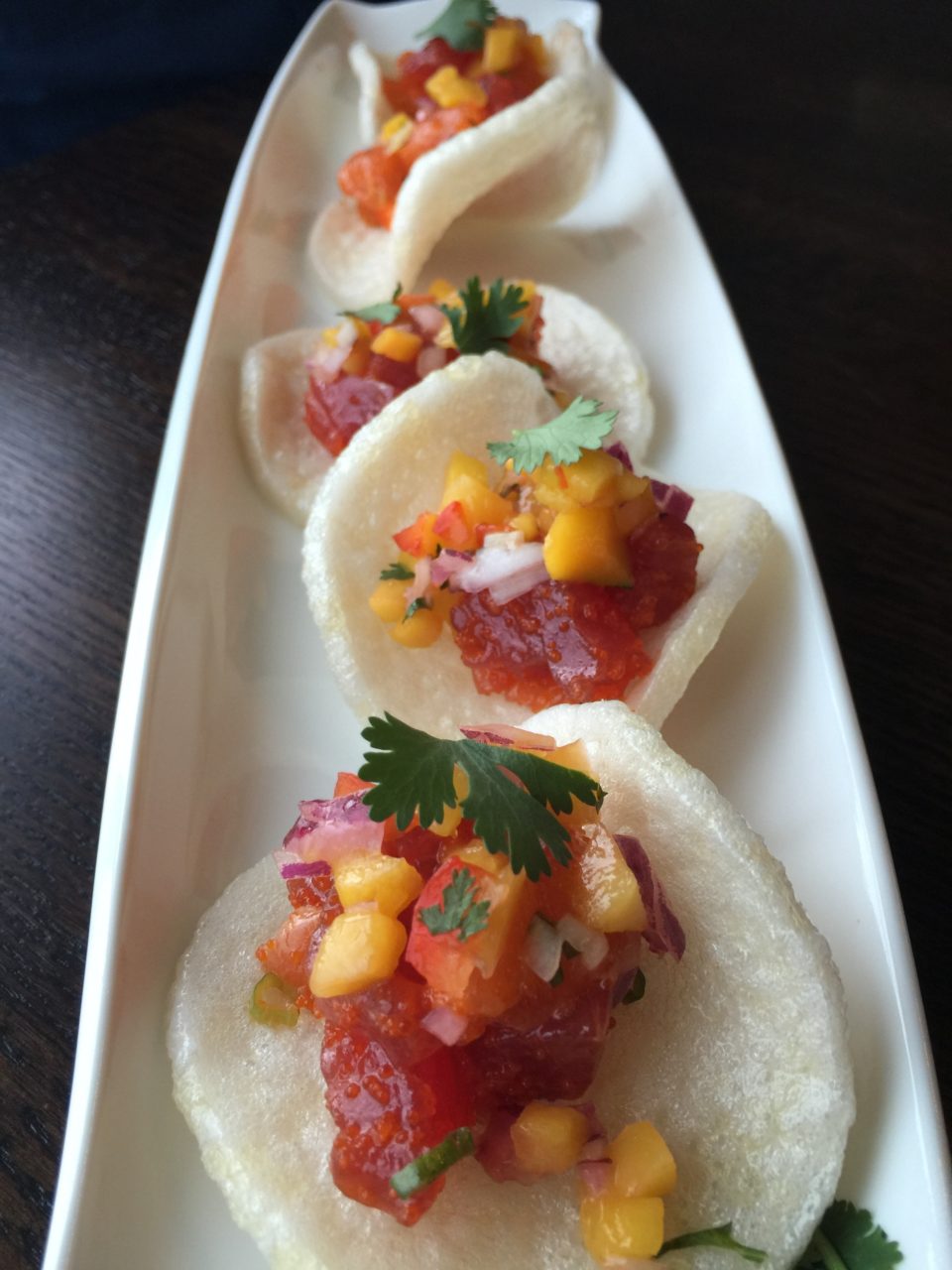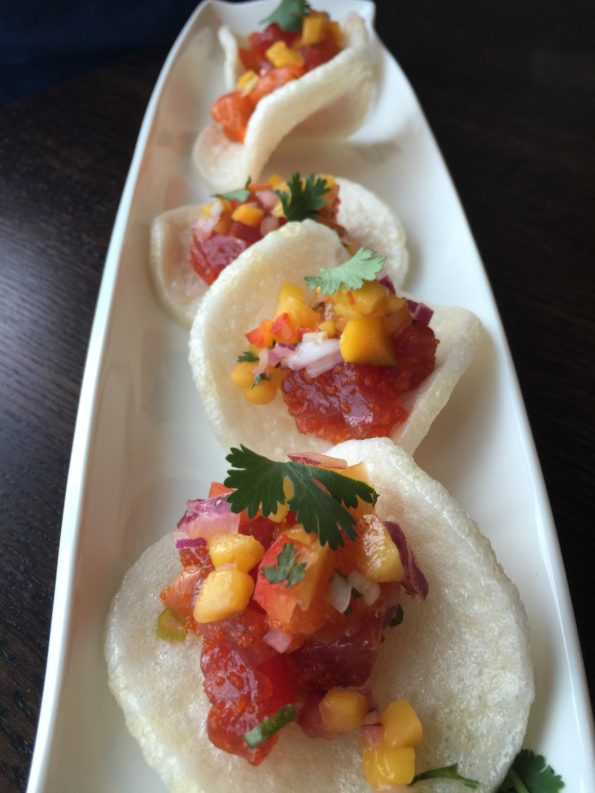 I ordered the Shrimp Chips. I must admit, the dish was not at all what I expected. But the presentation was gorgeous. The colors were beautiful.
The Shrimp Chips consisted of marinated Fresh Tuna and salmon with mango salsa on a bed of crispy shrimp chips. The shrimp chips were similar to a pork skin but lighter.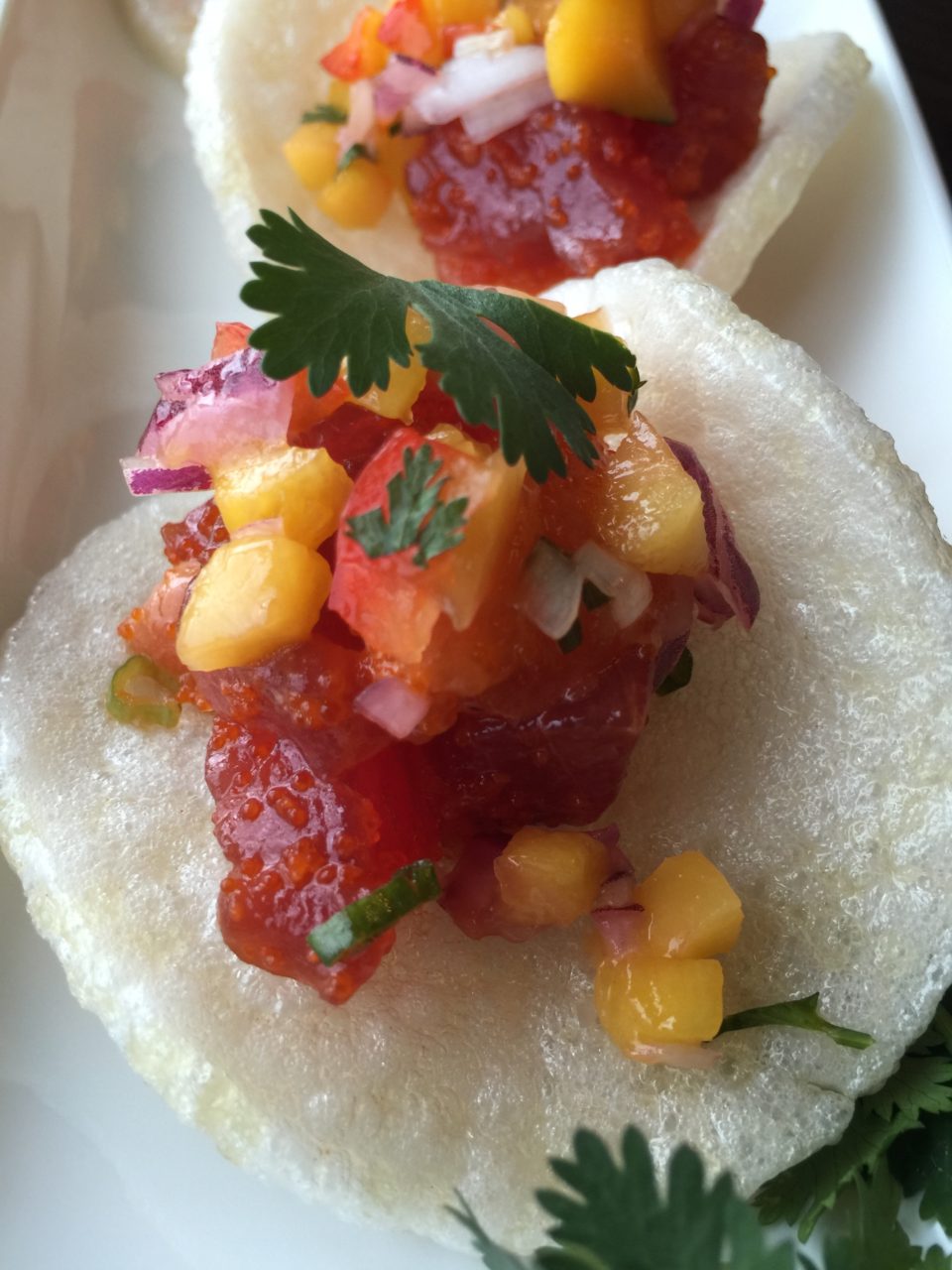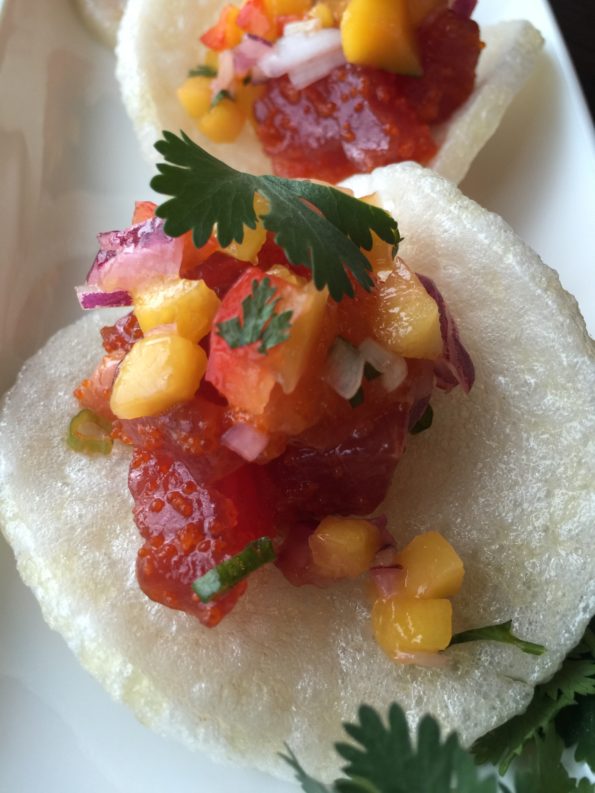 I loved the garnishing on top. Absolutely stunning. Very good. The fish was fresh and the flavors balanced together well.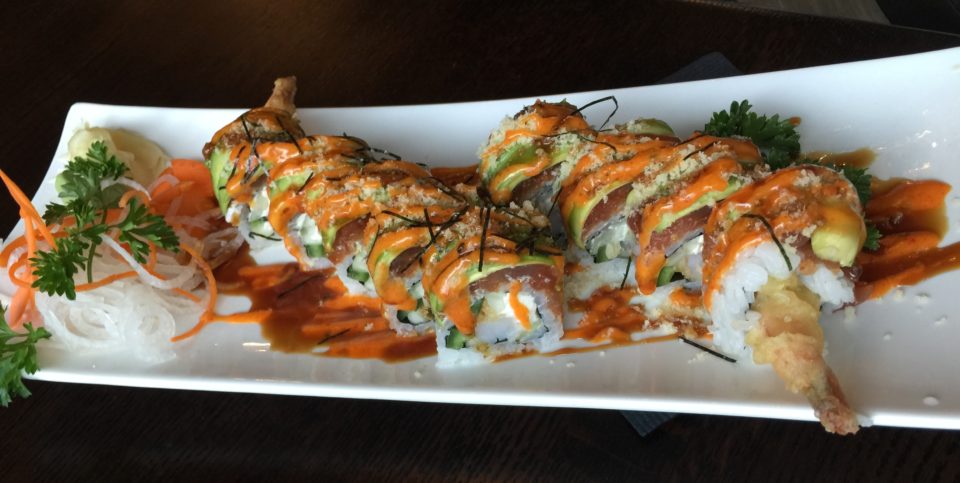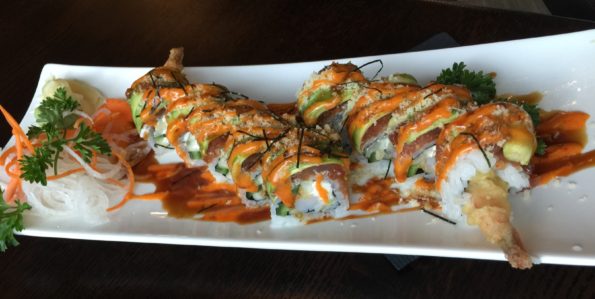 Above is the Fusion Sushi Roll. The Fusion Roll included shrimp tempura with cucumber, jalapeno and cream cheese. Topped with spicy tuna and an avocado layer. Served with a spicy mayo sauce and eel sauce and shredded seaweed, red and black tobiko and crunchy batter. So good.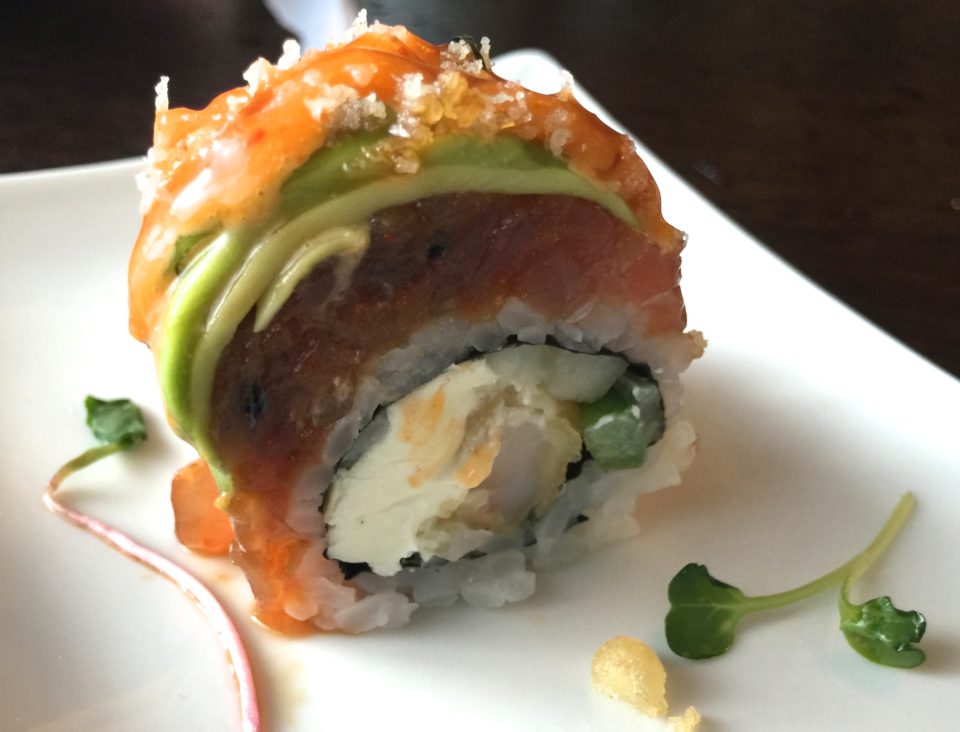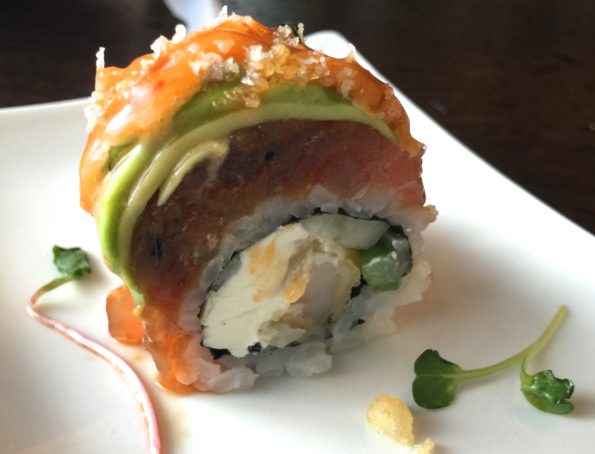 The Sushi roll had a lot of ingredients, but a good balance of flavors. I liked the different textures in the sushi roll. A good choice.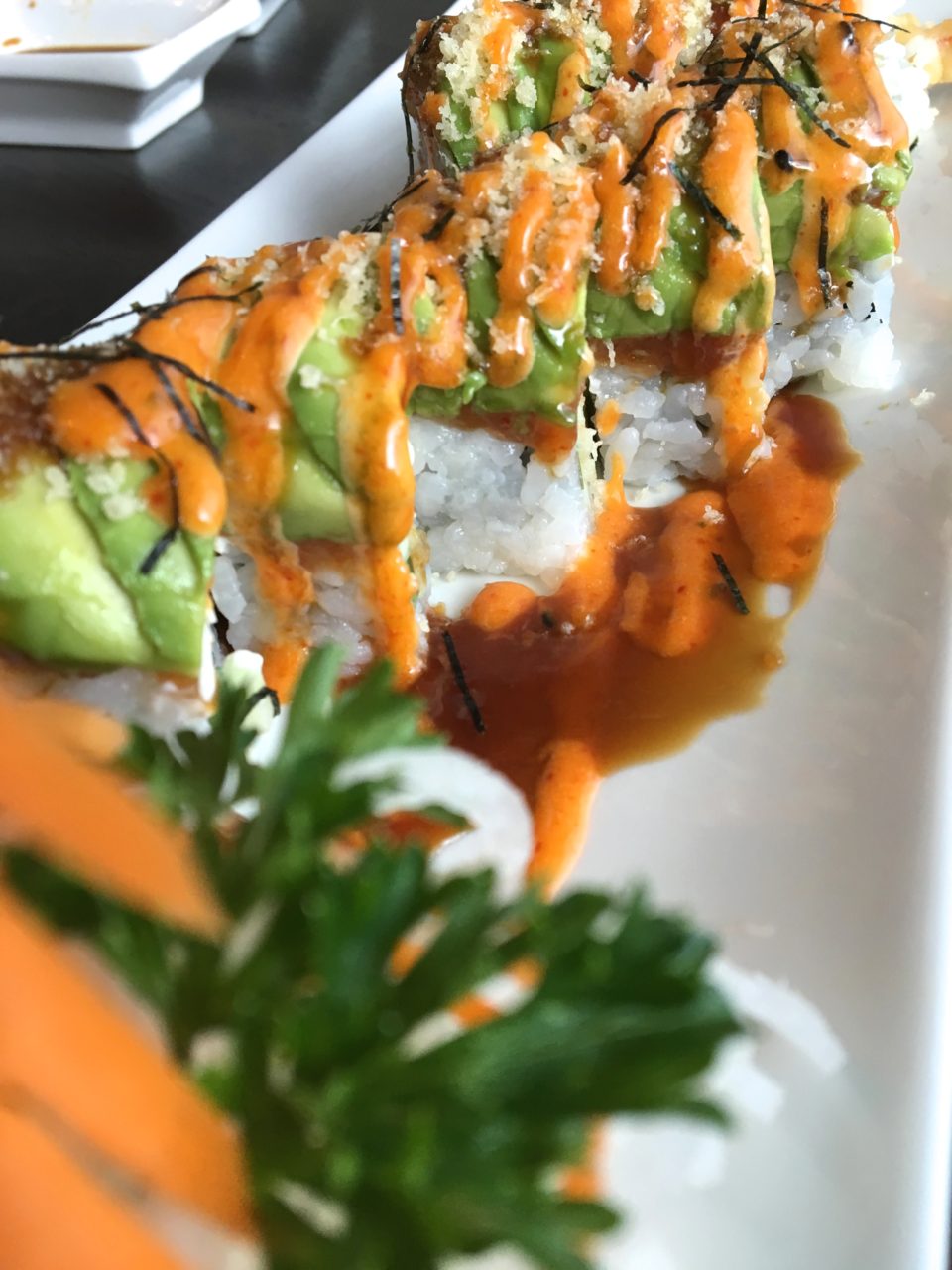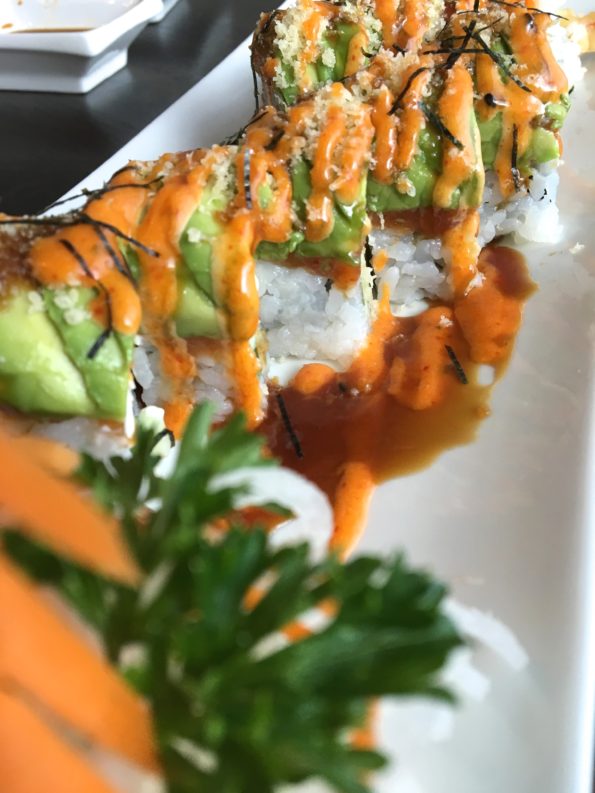 After Dinner, we decided to try a dessert. TAO had a variety of desserts. We chose the Fried Ice Cream. The fried ice cream was served with fried bananas, fresh strawberries, blueberries and chocolate and drizzled with raspberry sauce. So good. Presented nicely.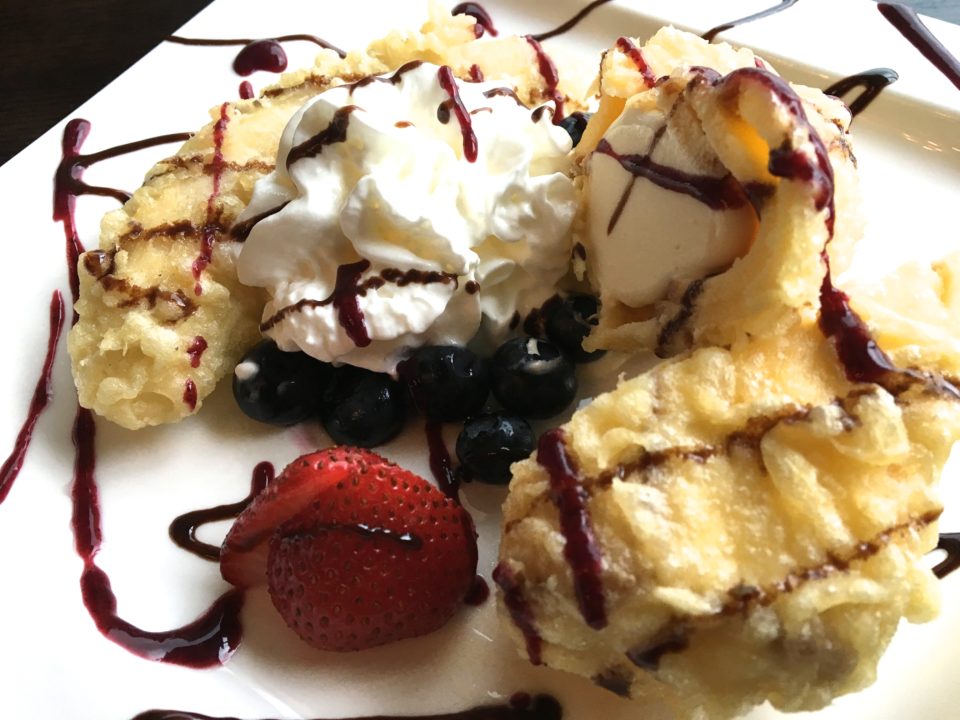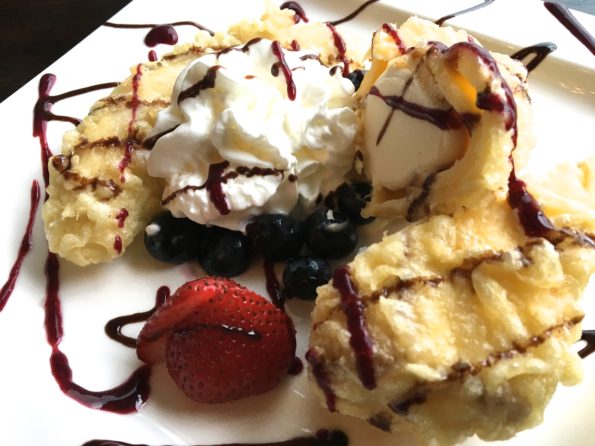 A great ending to a wonderful Date Night.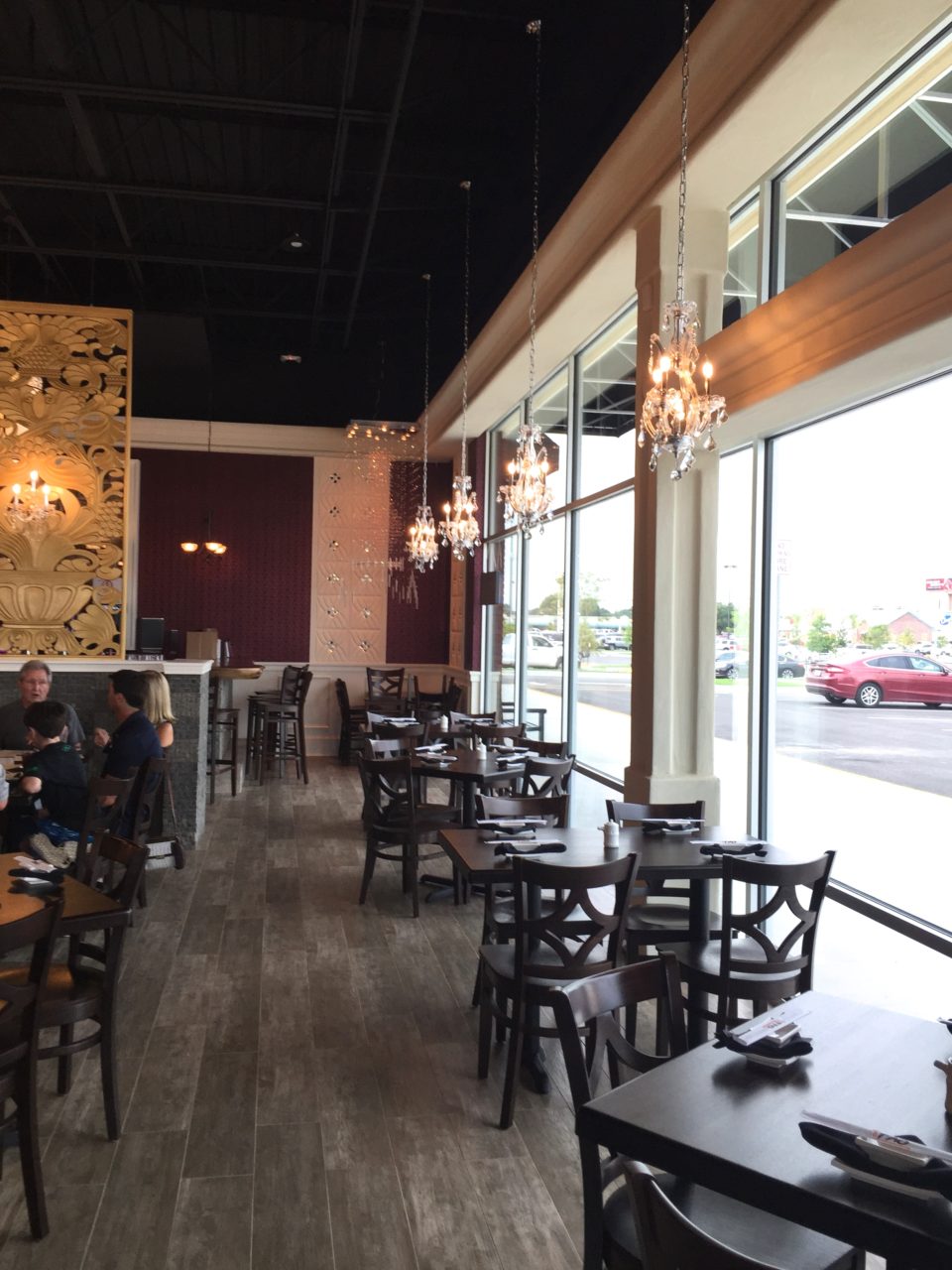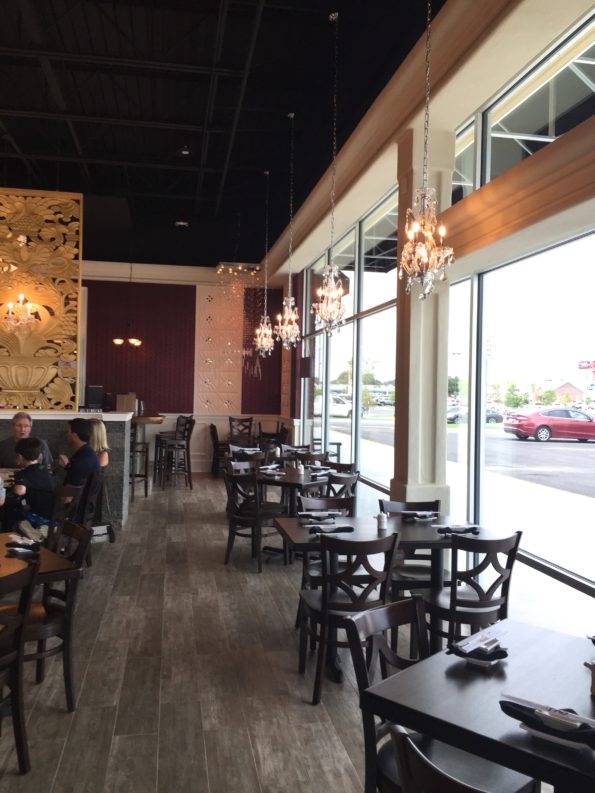 Overall we enjoyed our time at TAO. TAO is a place that I can see us visiting often. Everything was delicious. The food was of top quality. The presentation of each dish was well thought out.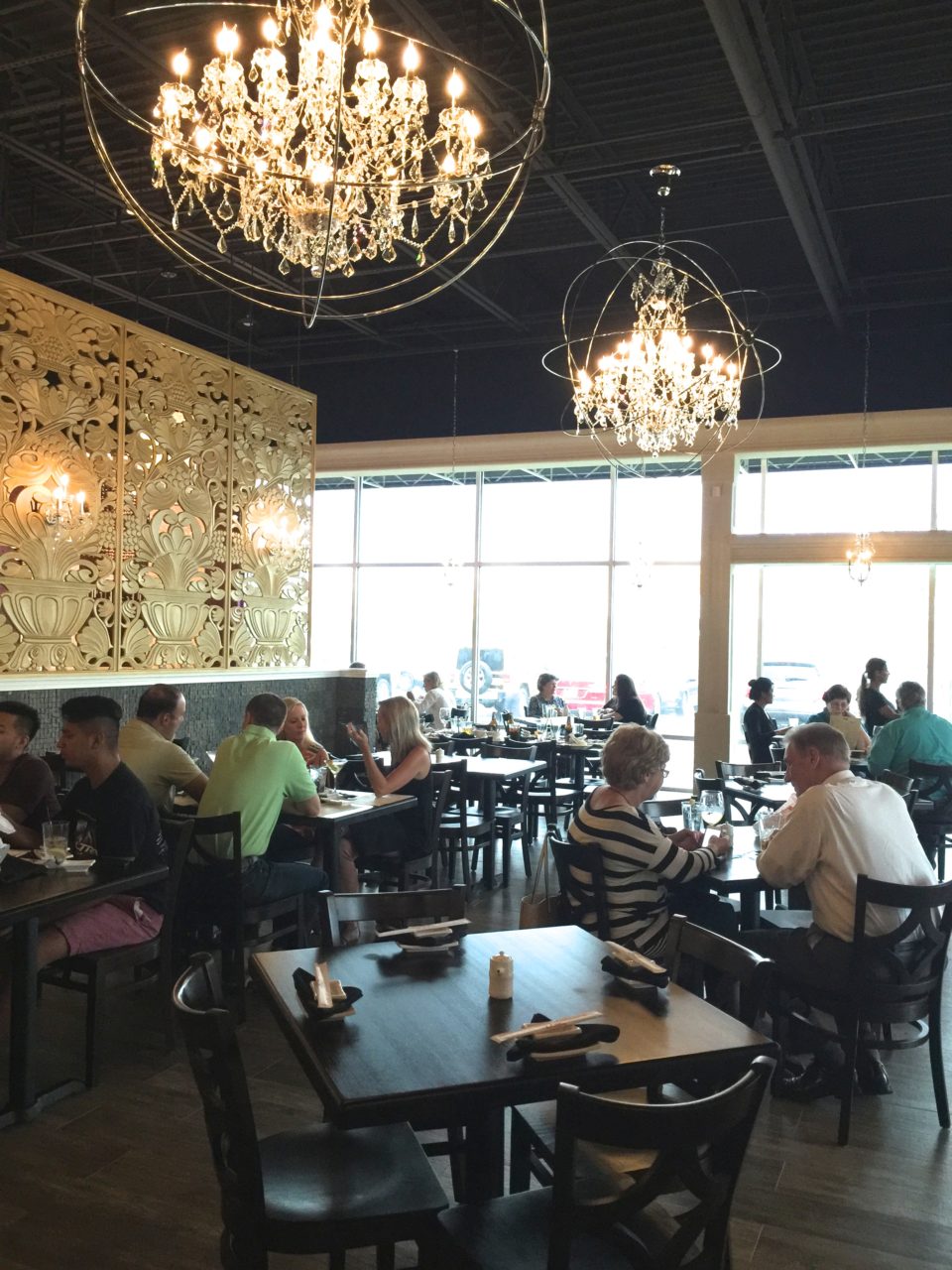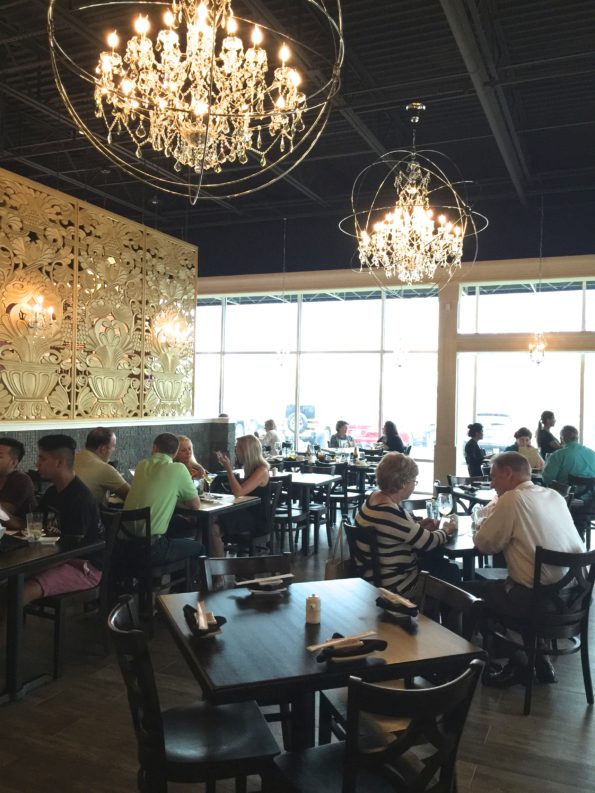 The service was amazing.  Our waiter did an incredible job. TAO is a great place for a Date Night, Girls Night Out or a Couples Night out.
Wonderful service, delicious food, pleasant atmosphere and a beautifully decorated restaurant.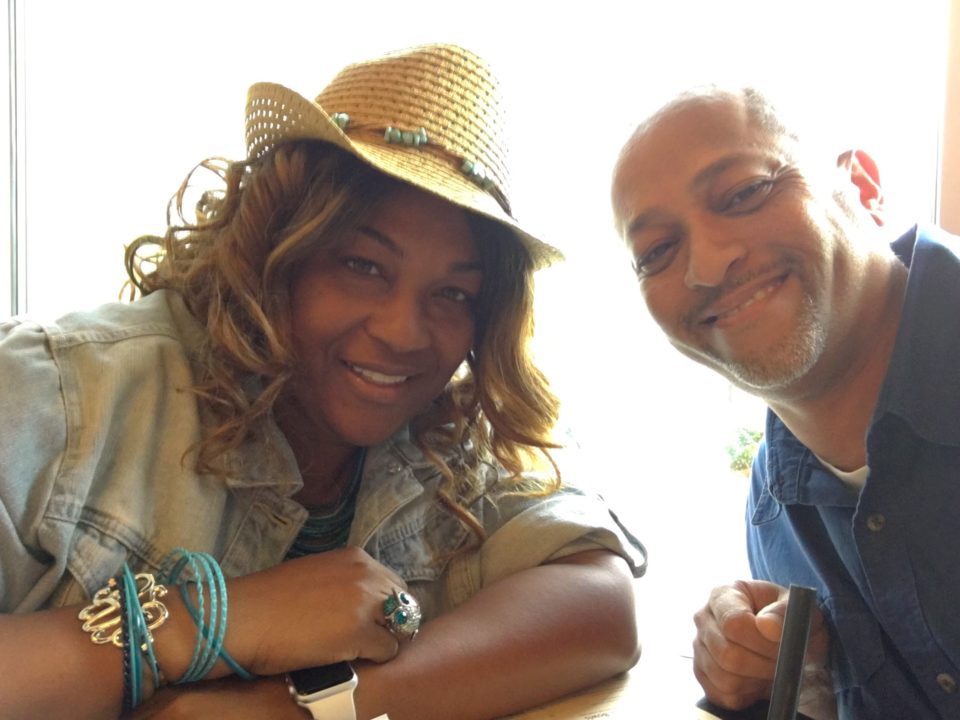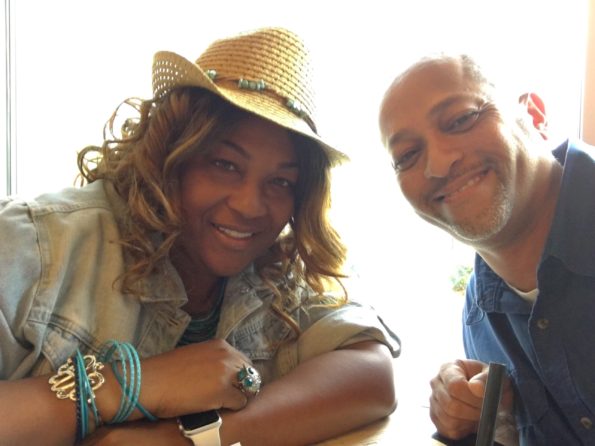 Go Check out TAO, you won't be disappointed.  Be sure to tell them that Da'Stylish Foodie sent you!!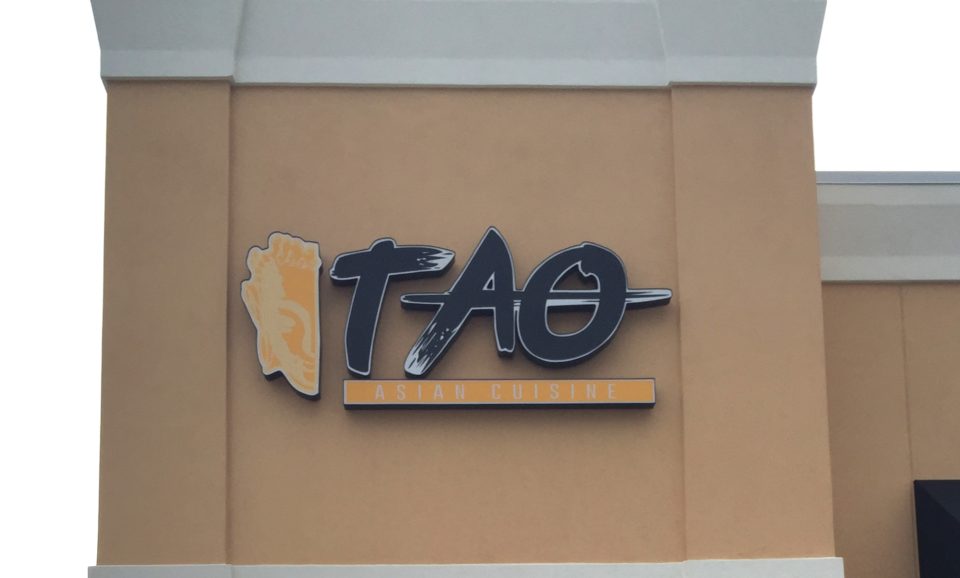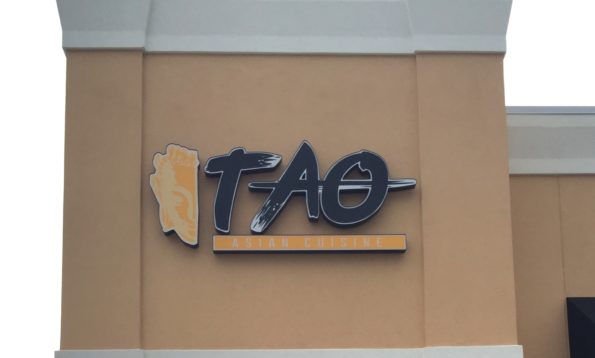 TAO is located at 114 Meadow Farm Road, Lafayette, LA. The Hours of Operation are Monday – Thursday 11:00 am – 9:00 pm, Friday – Saturday 11:00 am – 10:00 pm and Sunday 11:00 am – 9:00 pm.
[bloglovin_button]