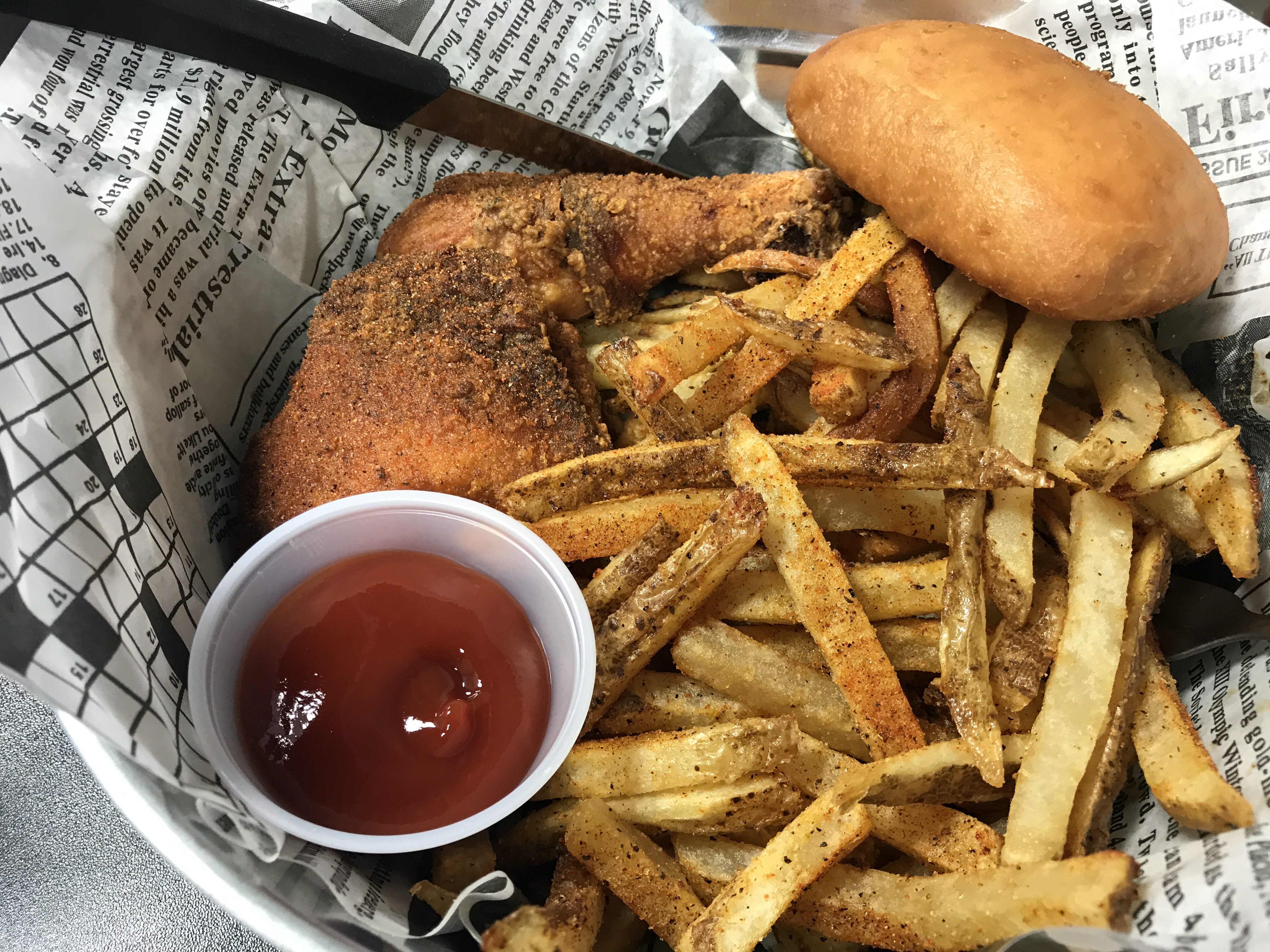 KK's Cafe & Cakery is new to the Youngsville area. My family & I have lived in Youngsville for over 6 years now. As a food blogger and a resident of Youngsville, we are always excited when we find out new businesses are coming to area.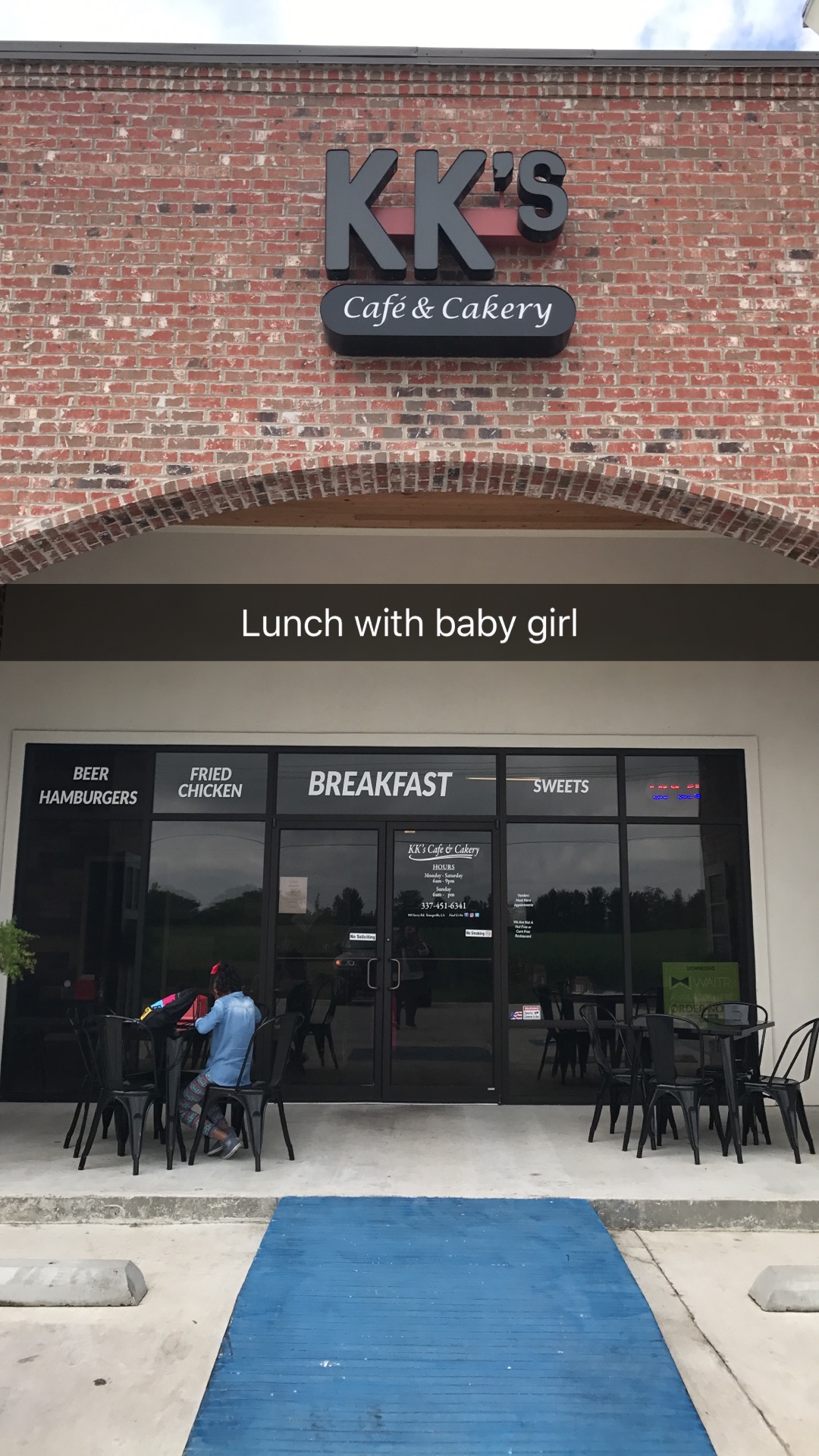 KK's Cafe & Cakery has been opened since approximately April of this year. My schedule has been slammed over the last couple of months but I had KK's on my list of must visits.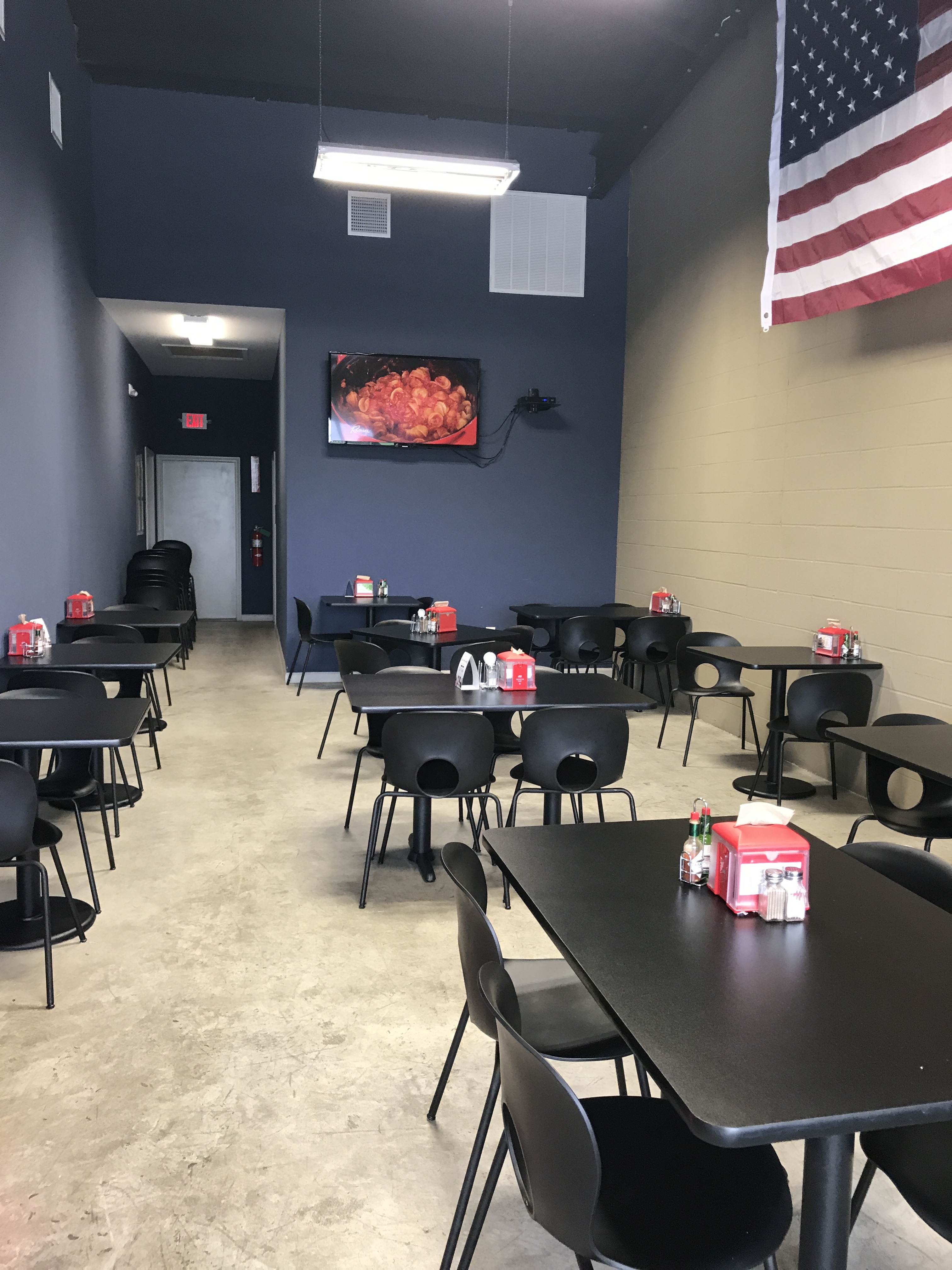 Two weeks ago, baby girl and I dined at KK's Cafe & Cakery.  Summer is more of a relaxed time for us.  We are always looking for cute, new places to try.  We decided to have lunch at KK's.
We arrived at the Cafe at around 11 am. When we walked in, a young lady greeted us and told us we could sit wherever we liked.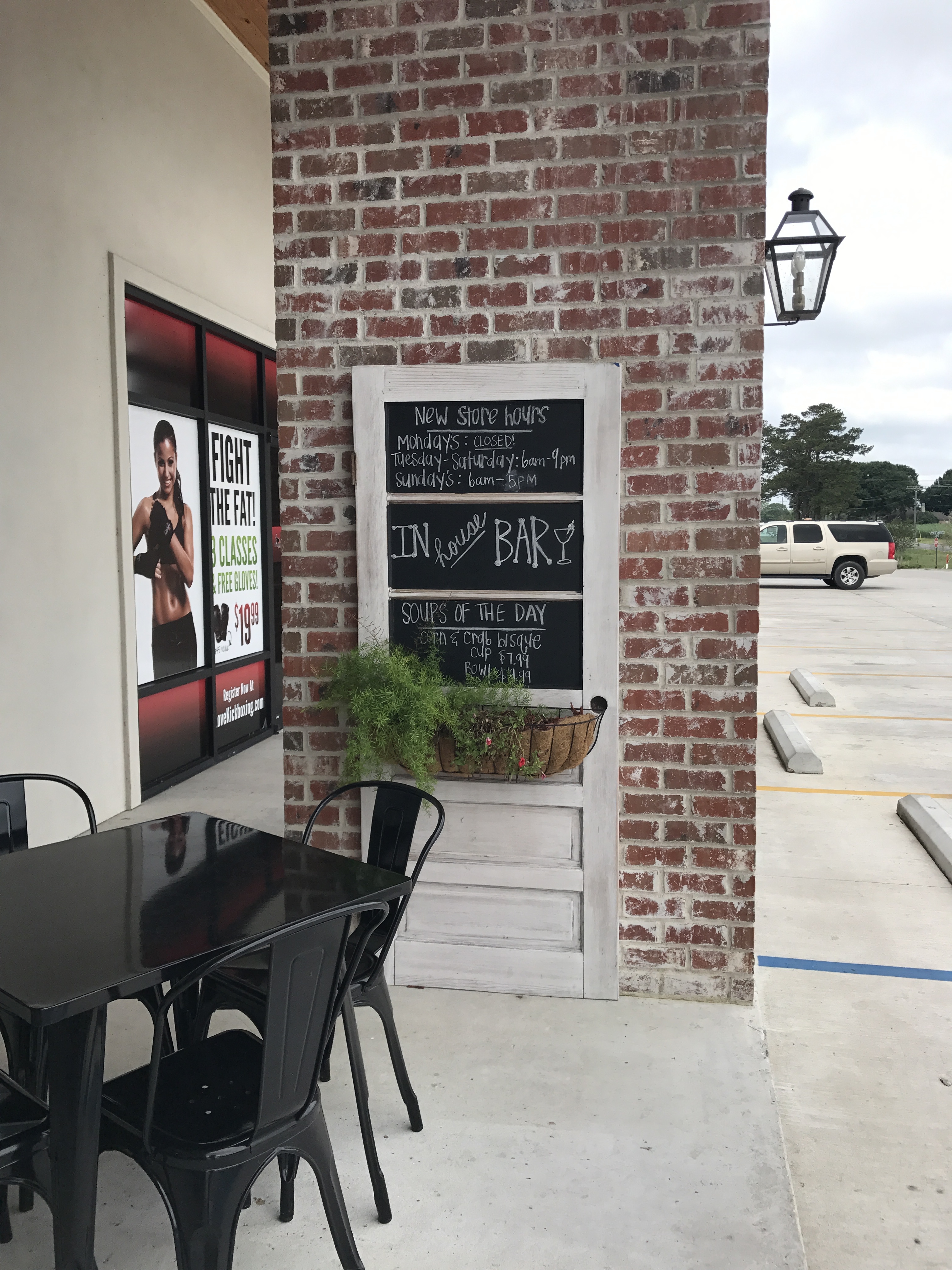 It was a gorgeous day, so we decided to sit outside.
After we were settled, the waitress arrived at the table and took our drink orders. We looked through the menu and decided on what we wanted to order.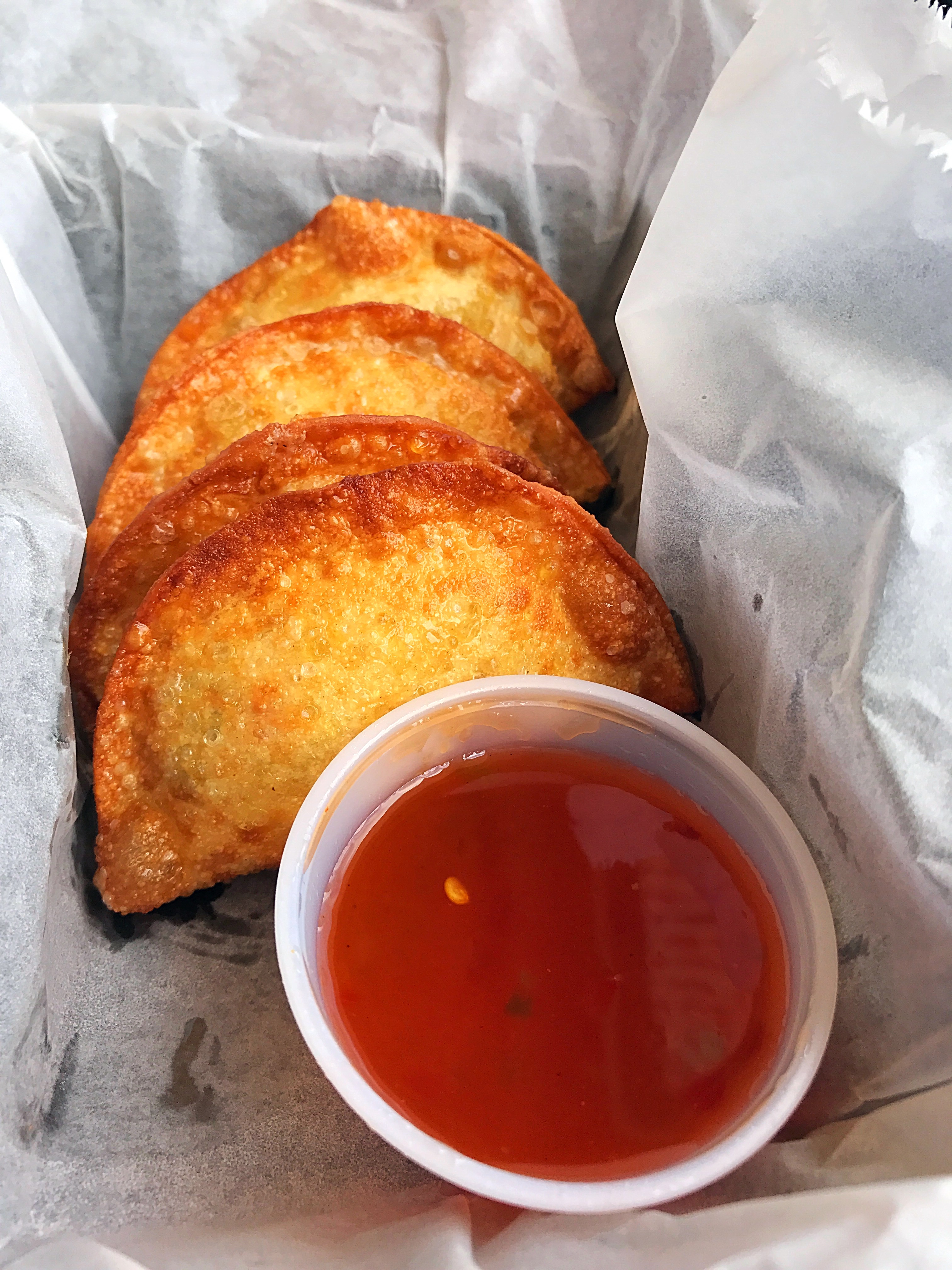 As an appetizer we chose the Duck Wontons.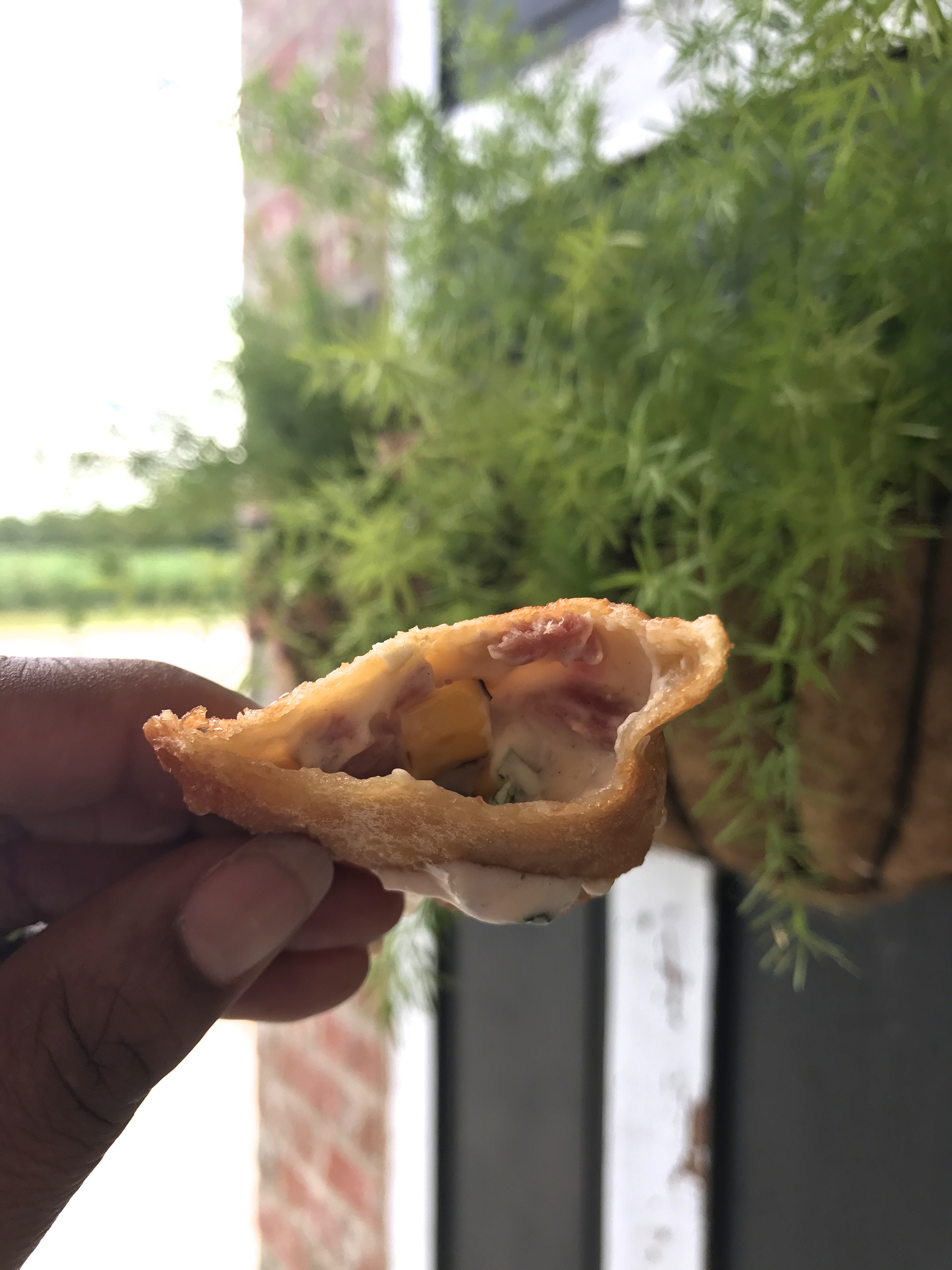 The Duck Wontons are filled with smoked duck breast, roasted corn, bacon and cream cheese that are fried in a wonton wrap. Served with a sweet and sour dipping sauce, this starter was absolutely delicious. Deep fried, golden brown with incredible flavor. The dipping sauce complimented the wontons perfectly.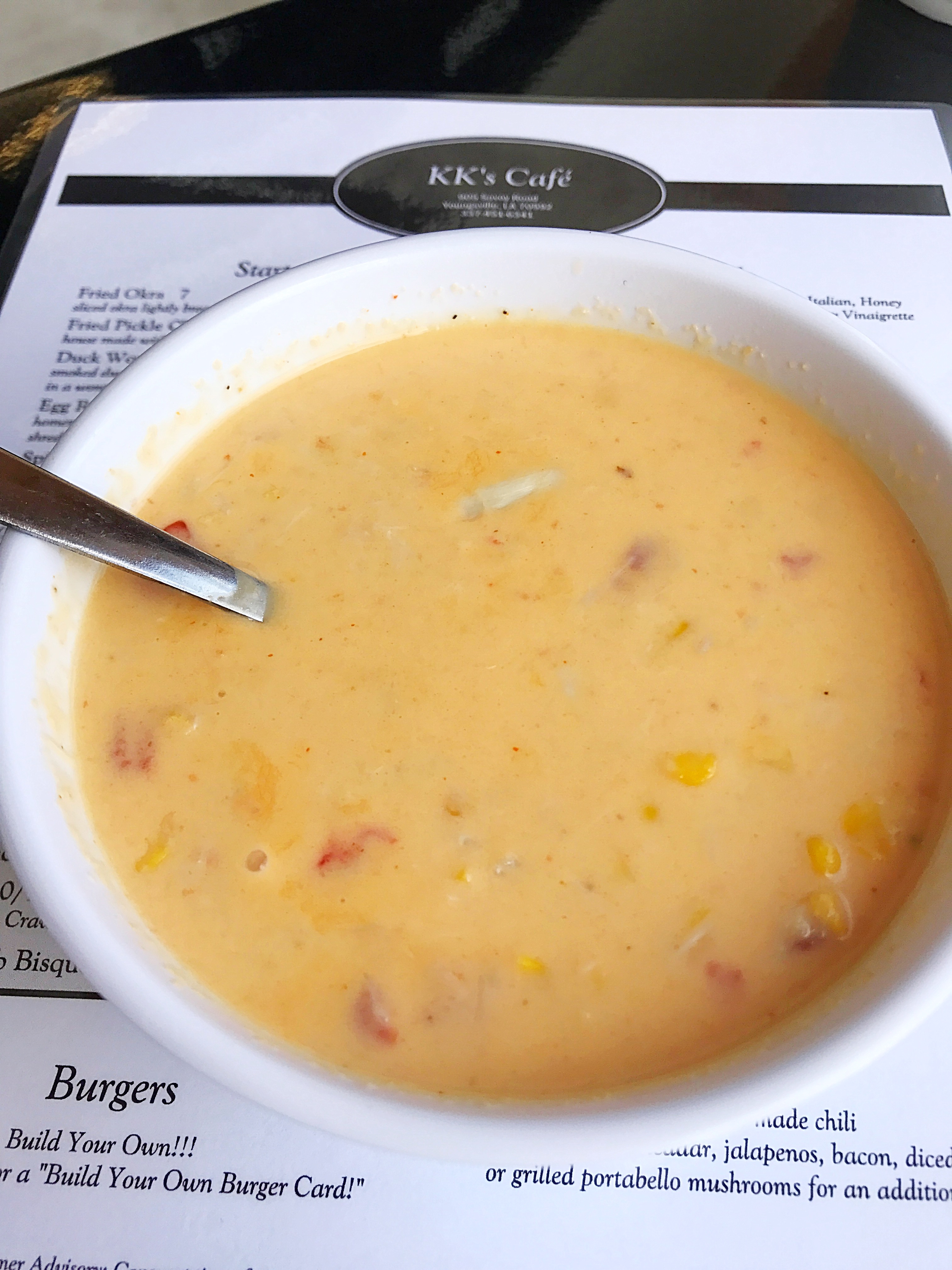 Baby Girl wanted to try the soup so she ordered a cup of Corn and Crab Bisque. The bisque was chunky and flavorful. A nice size cup of soup that was large enough to share. Really good.
After receiving our soup, we decided to move inside because the wind was a little high. The waitress was great, she helped us relocate to a table inside.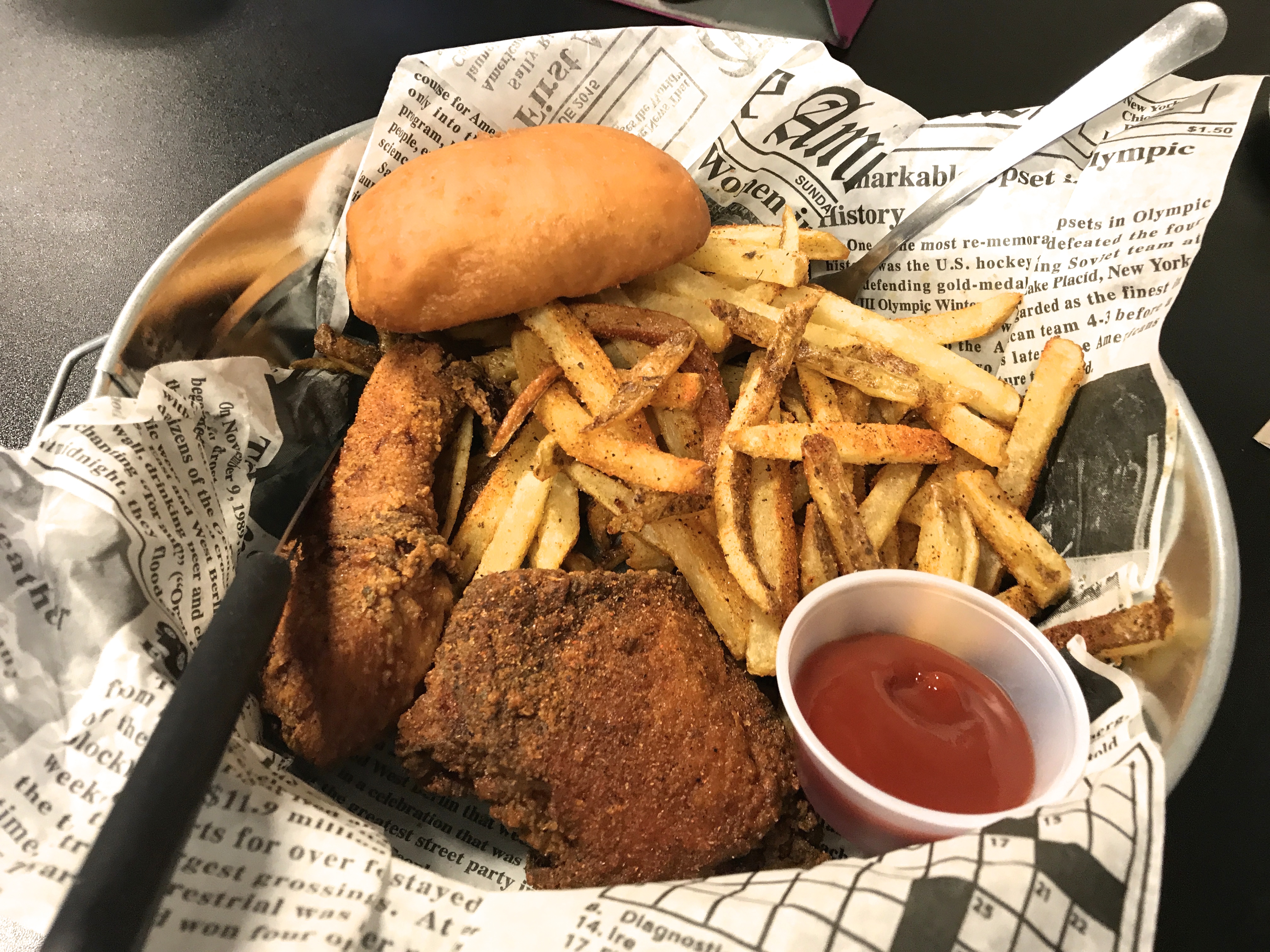 We ordered a few entrees that we shared. First up was the 2 piece Fried Chicken with housemade seasoned Fries and a Pistolette.
The Fried Chicken arrived at the table, nicely presented. A nice silver plated, round dish with a newspaper style paper. The fried chicken was golden brown, seasoned to perfection.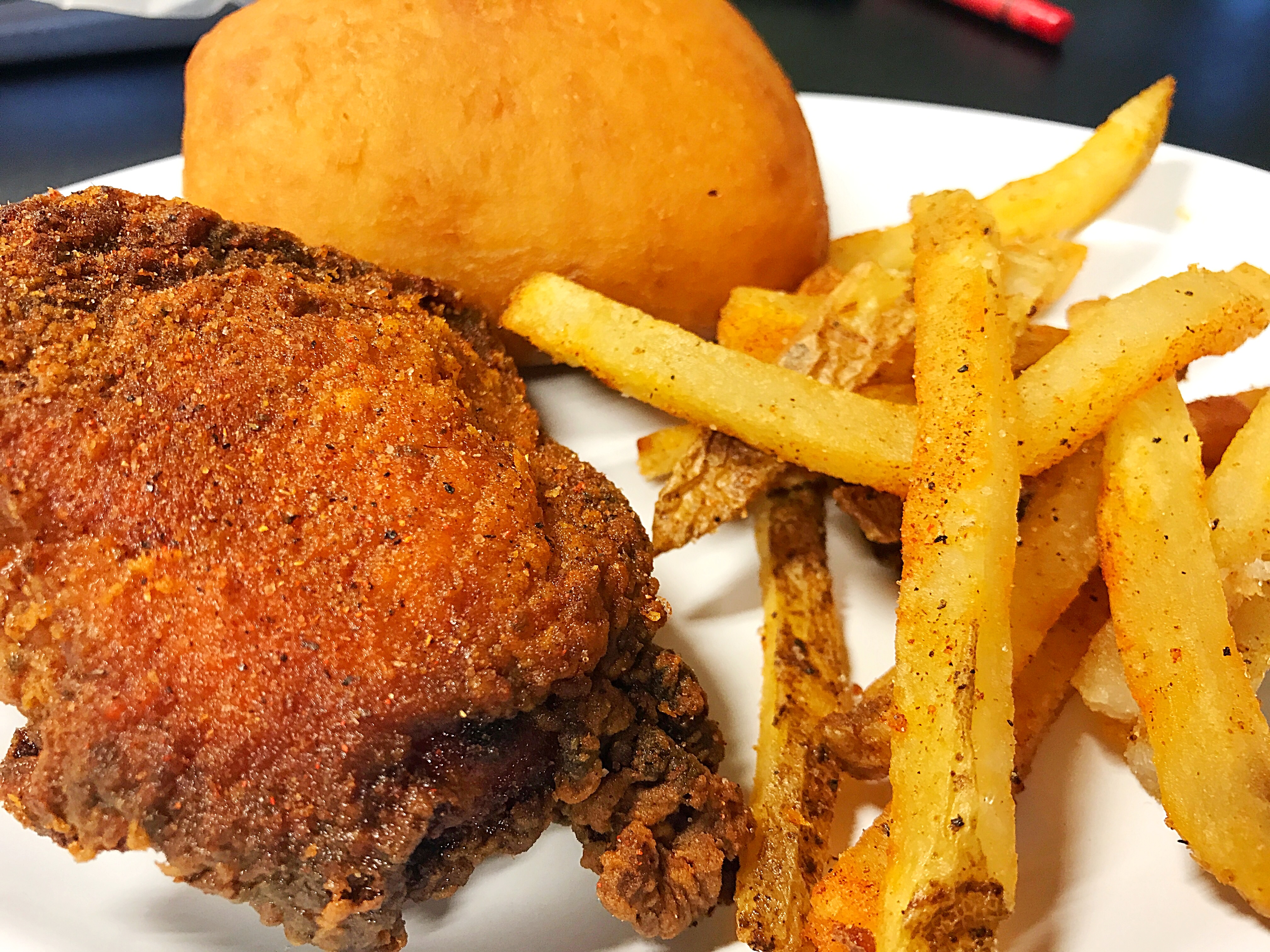 The fried chicken was absolutely superb. The housemade fries accompanied the chicken nicely. The pistolette was soft and buttery. So good! The fried chicken was a hit!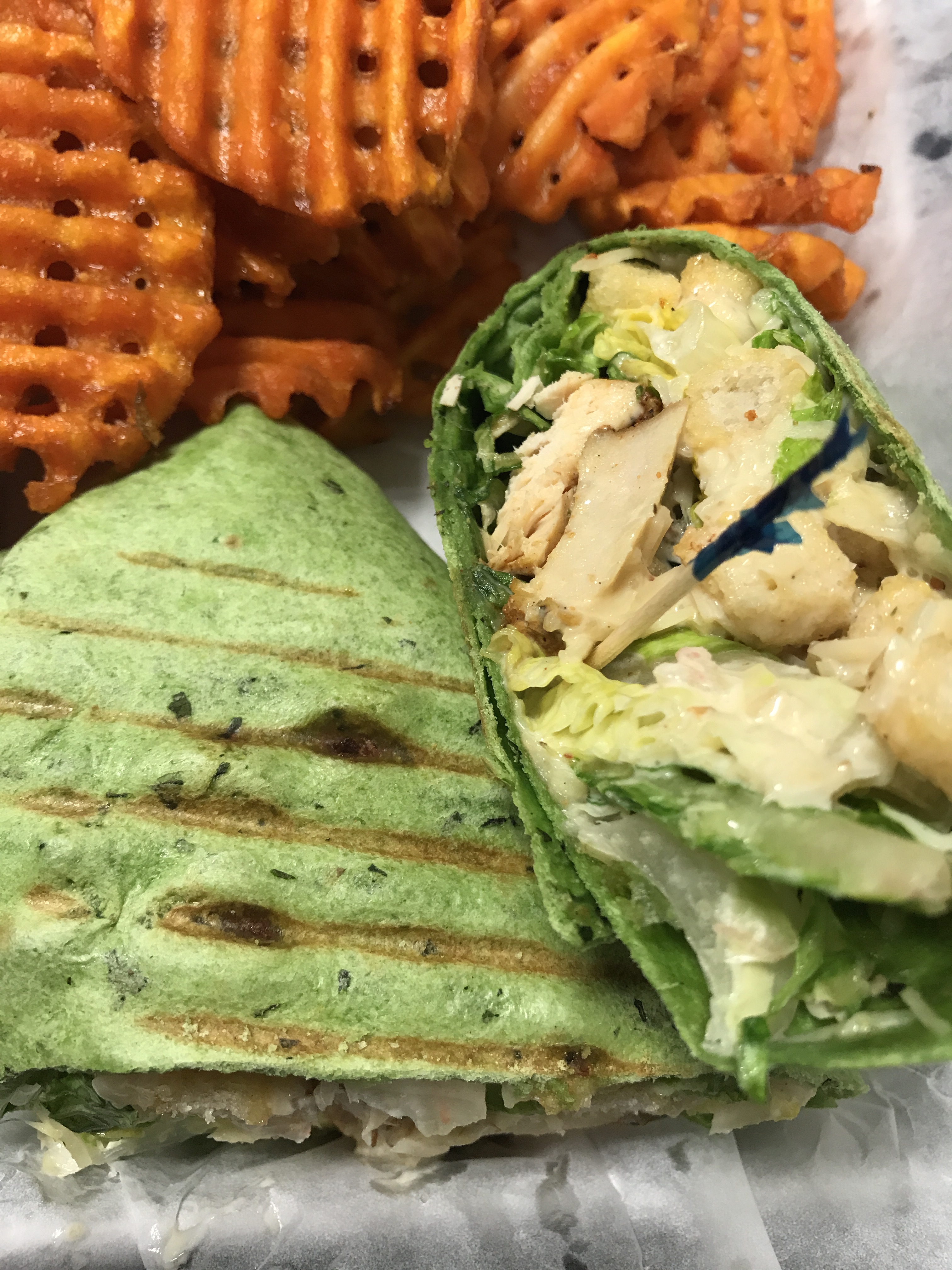 We also tried the Smoked Chicken Caesar wrap. The wrap was made with smoked chicken breast, romaine, croutons and Caesar dressing. They were out of flour tortillas so I ordered the spinach tortilla.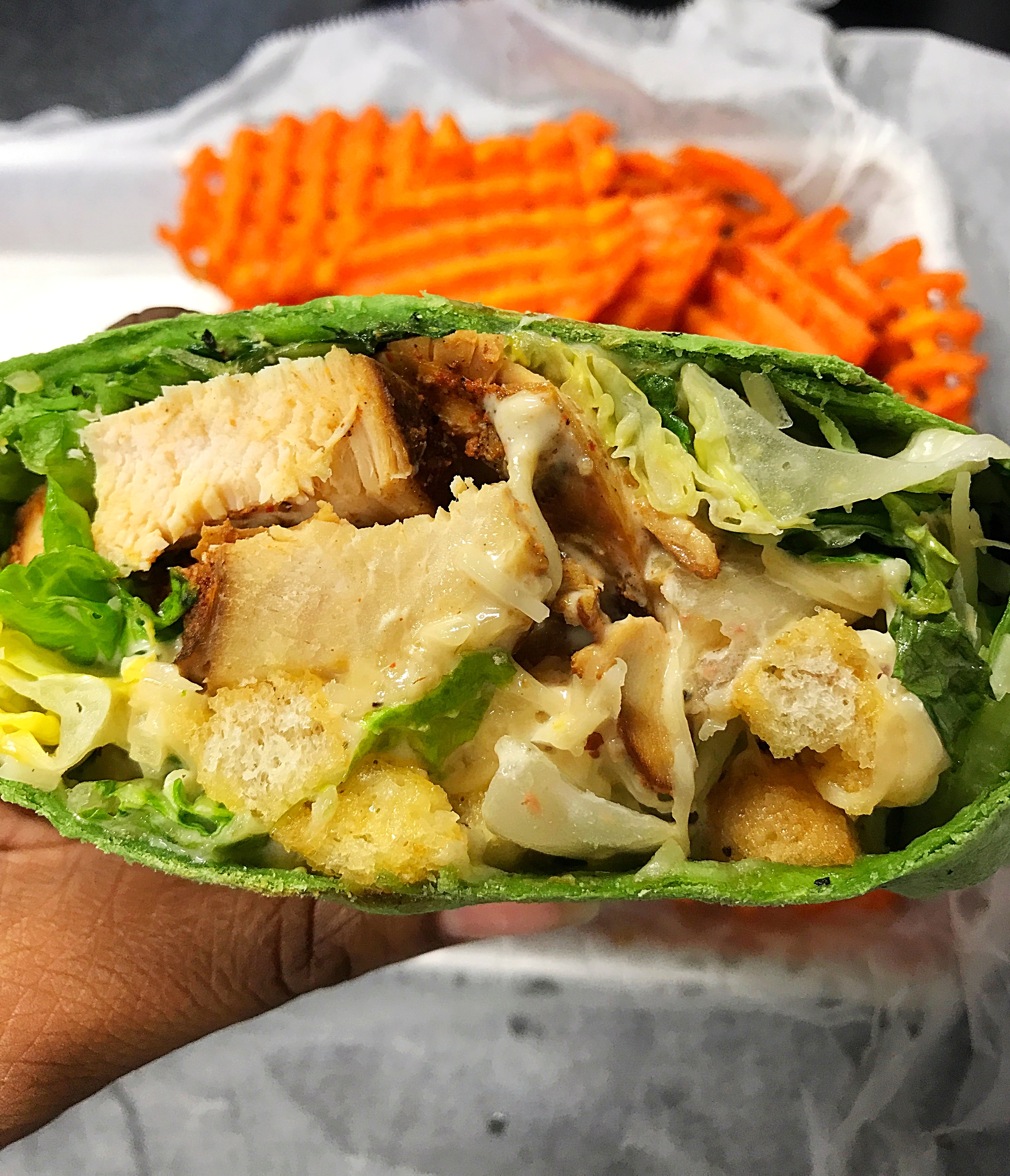 The wrap was good. The smoked chicken was seasoned well, but a bit on the dry side. The wrap was served with sweet potato waffle fries. The waffle fries didn't taste homemade but they were a good option besides regular fries.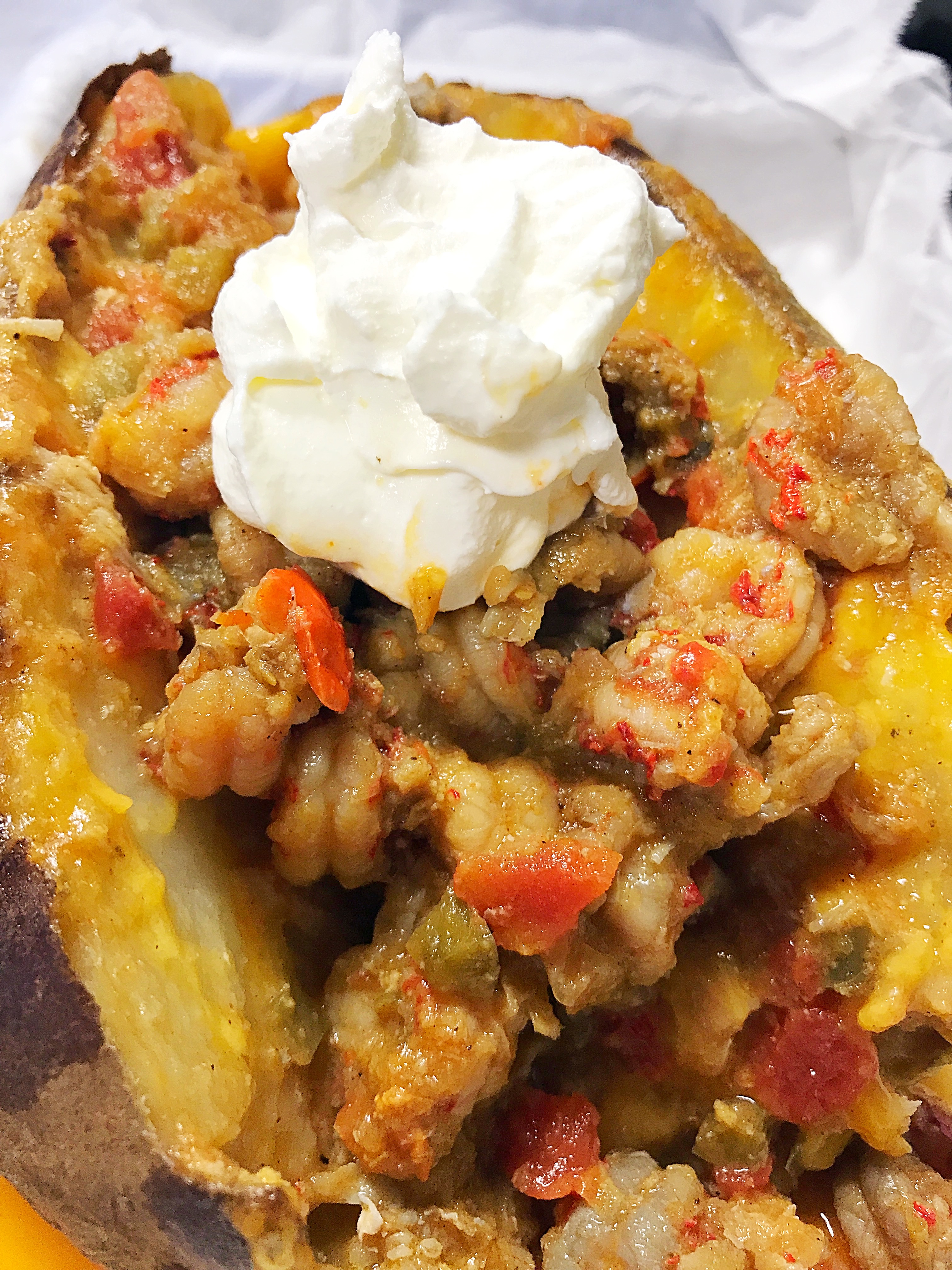 We also ordered the Loaded Baked potato to go. The oversized baked potato was served with butter, shredded cheddar, topped with crawfish étouffée and sour cream. The baked potato was good. A creamy étouffée on top.
The baked potato can also be topped with either smoked chicken breast, pulled pork, smoked brisket or crawfish étouffée.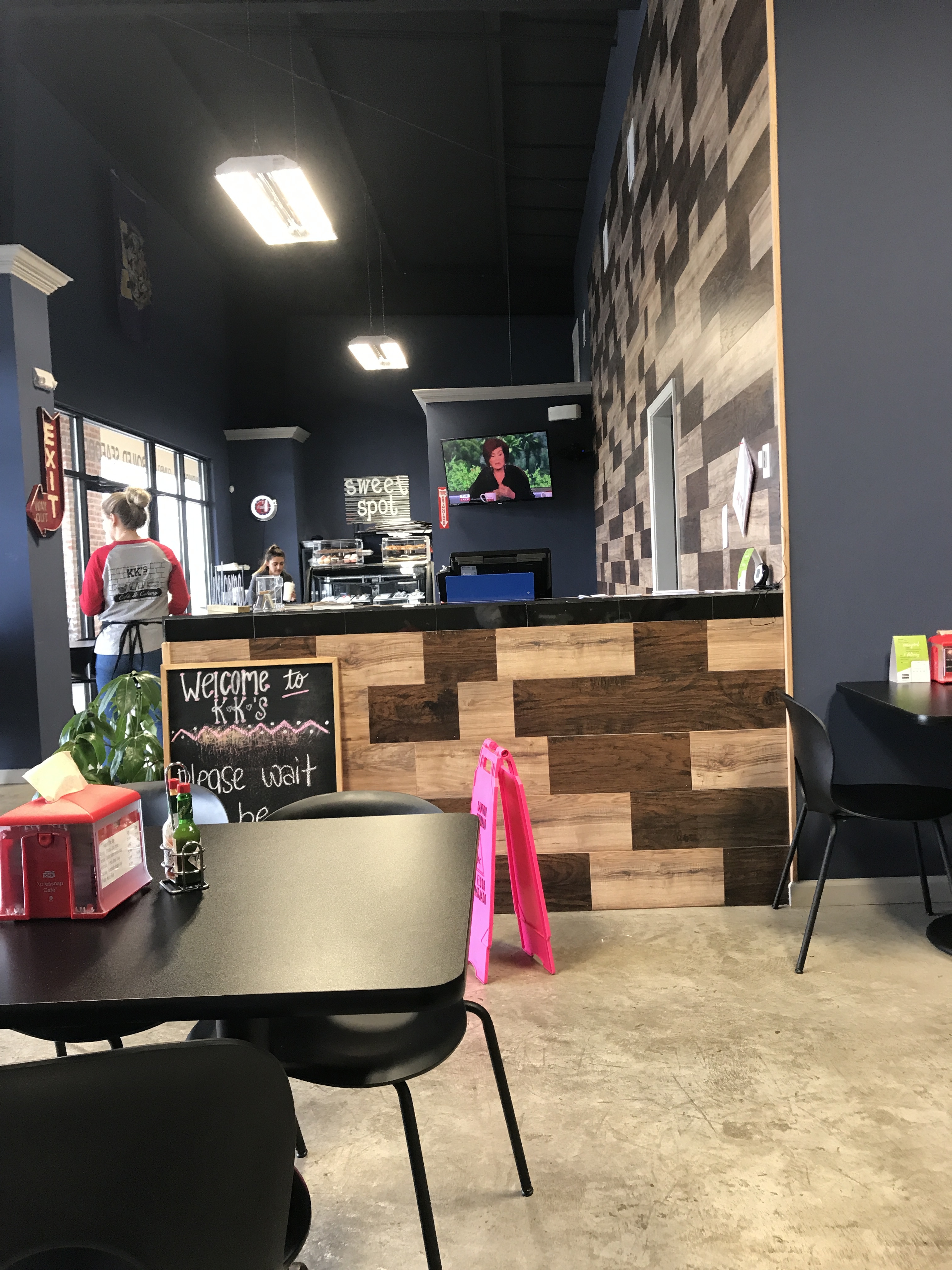 After eating lunch we stayed a while at KK's Cafe. There was free WiFi, which allowed me to get some work done while eating lunch.
Before leaving we decided to order dessert. Anyone who knows me, knows that I love dessert. We visited the sweets spot in the restaurant and drooled over all the desserts in the sweets case.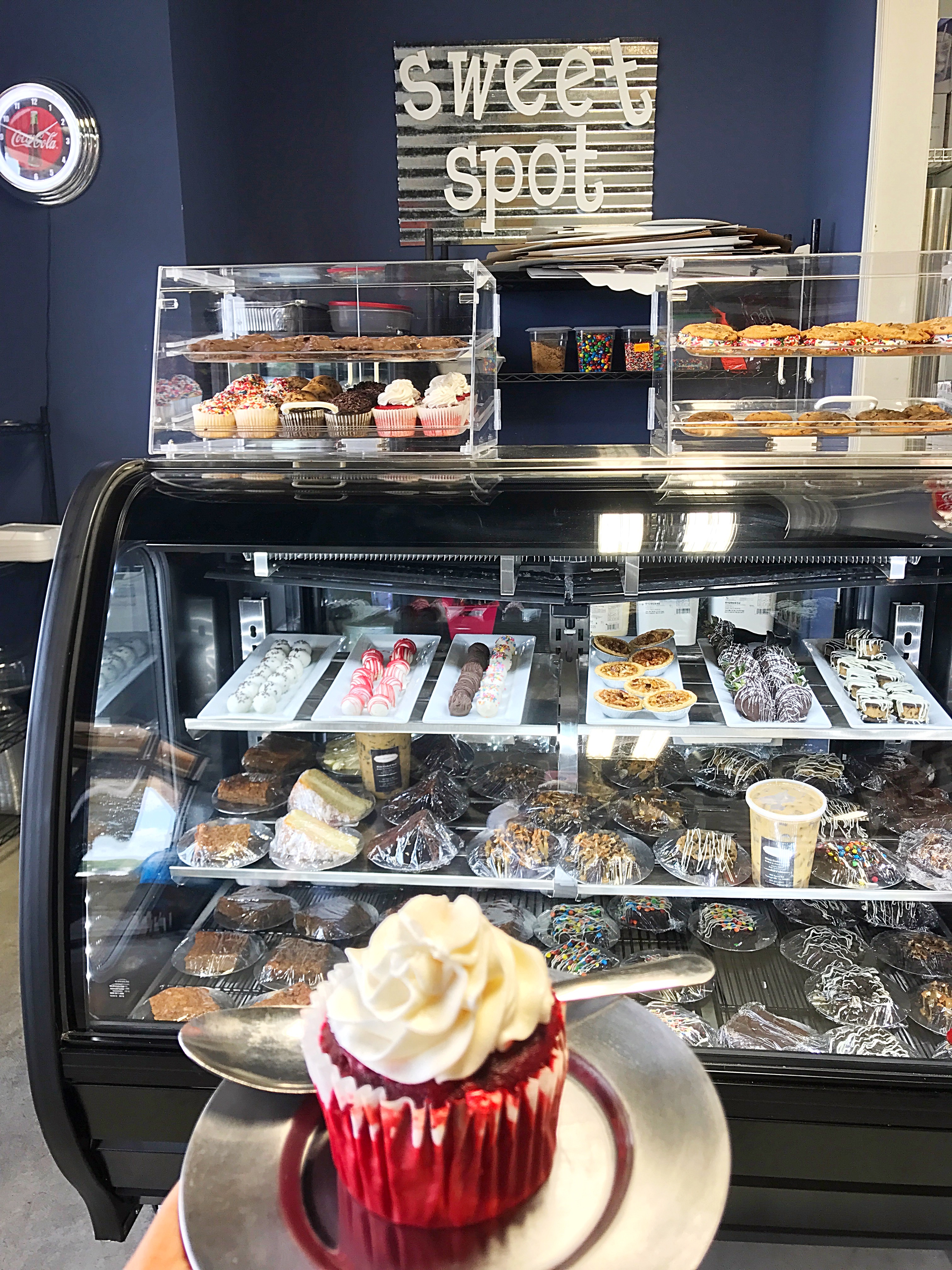 The sweets case was nicely displayed with many options to choose from. I ordered the Red Velvet cupcake and baby girl ordered the brownie with cookie dough on top.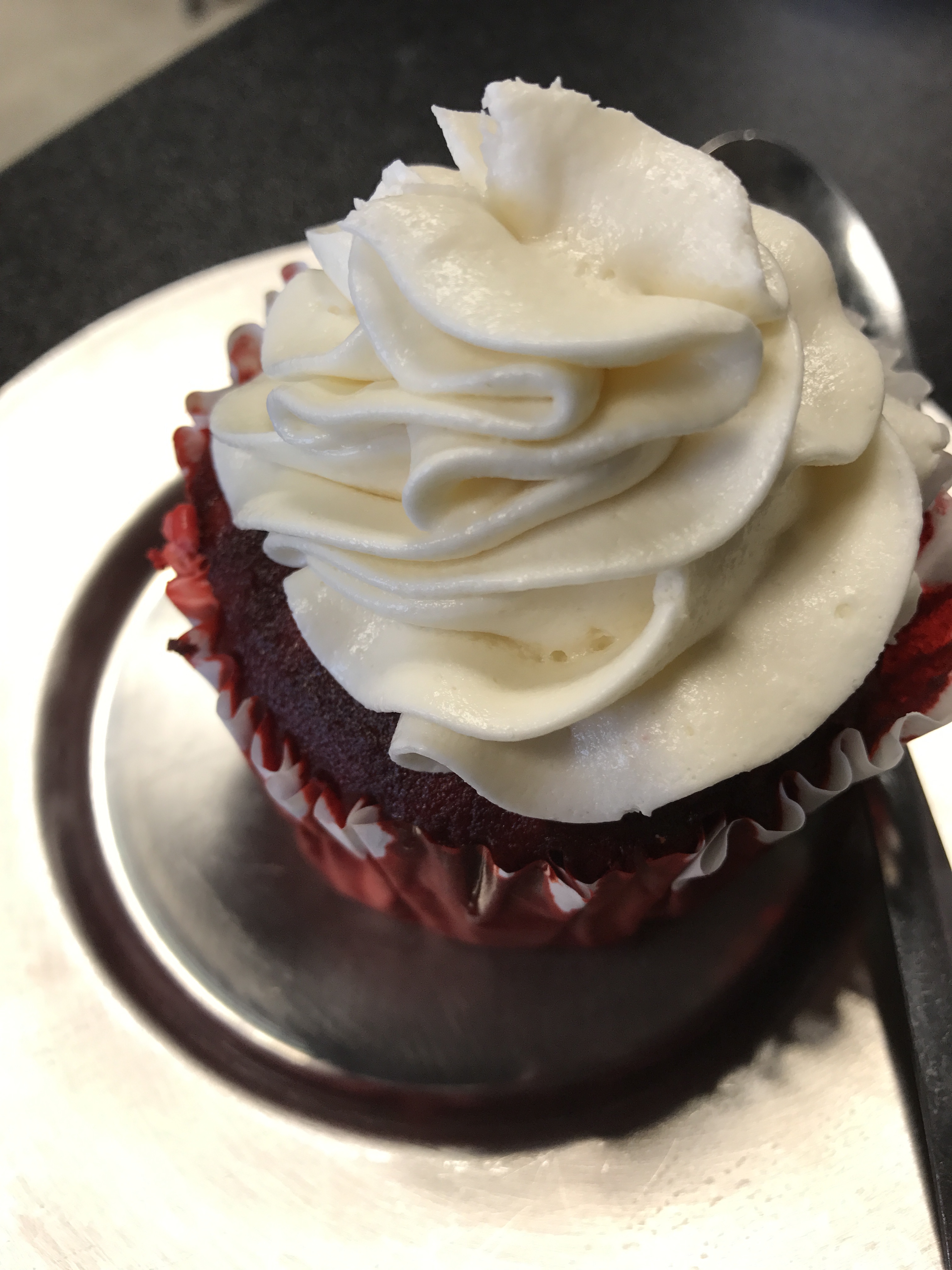 I love desserts, so I could not wait to try my cupcake. I have to be honest, I was disappointed, the cupcake didn't impress me at all. There was too much dye in the cupcake which gave the cupcake an after taste.
I didn't take a picture but I ordered a cake ball for my son, a chocolate one. He loved it! A really good choice for him.
Baby girl's brownie with cookie dough was hard. We probably should have asked that the dessert be heated a little, but we didn't. The dessert didn't hit the spot at all.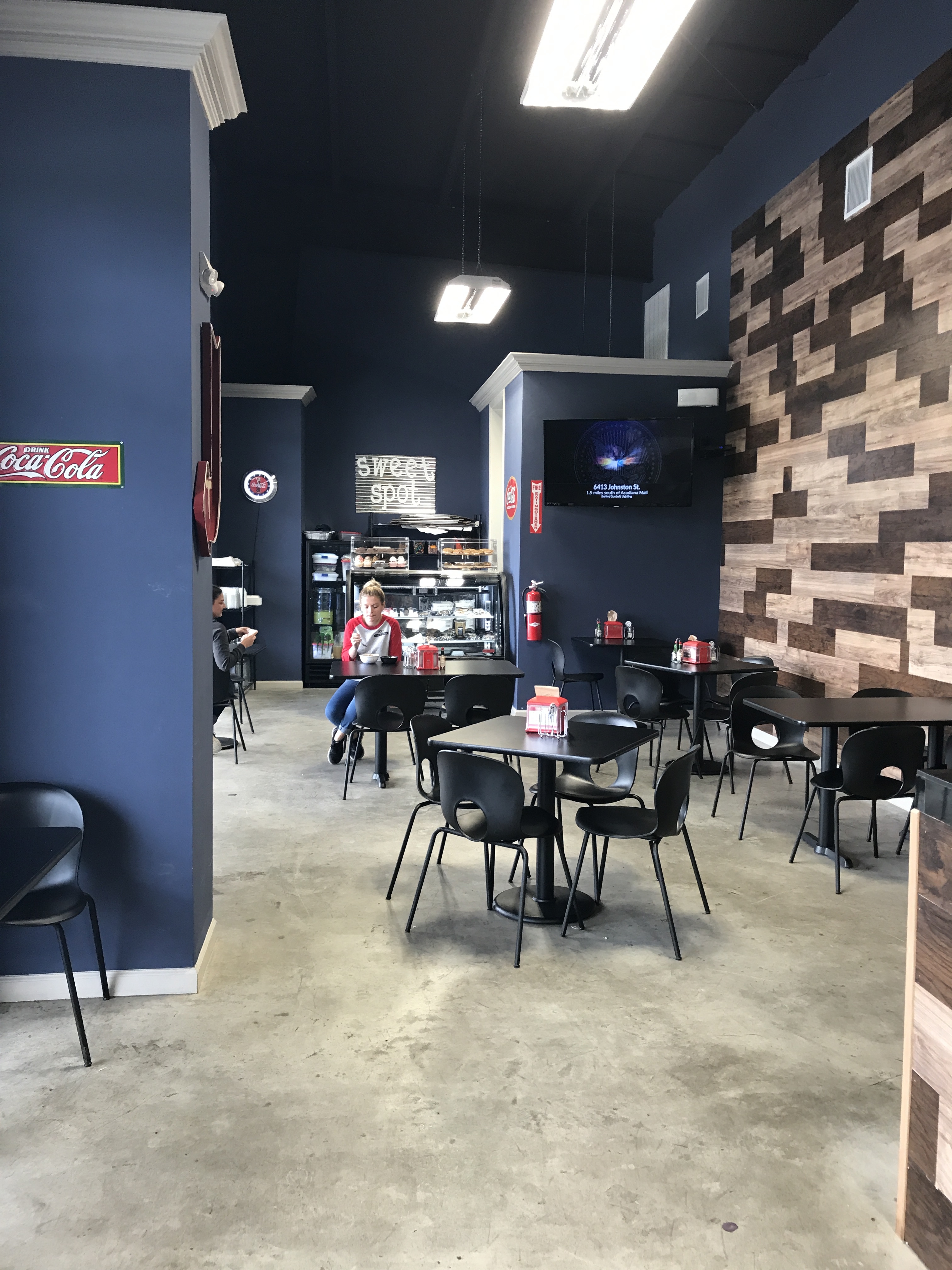 KK's Cafe and Cakery also serves breakfast. I am hoping to return to try the breakfast one day.
The menu offers everything from cupcakes, cheesecakes, cookies, home style Cajun dishes, gumbo, soup, fried chicken, burgers, fried seafood, BBQ, sandwiches and so much more.
I love that the menu has a lot to offer but I wonder if having such a large menu may hinder the success of the restaurant. Just my opinion but we will see.
Overall we loved the majority of items we chose. The food was served pipping hot, nicely presented and well seasoned.
I was sad that the desserts weren't better, but I am willing to give it a try again. I will choose something different next time.
The service was good. The young lady that waited on us, did a really good job serving us. We felt right at home and she was very knowledgeable about the menu. She gave recommendations and suggestions as well as making our time there very accommodating.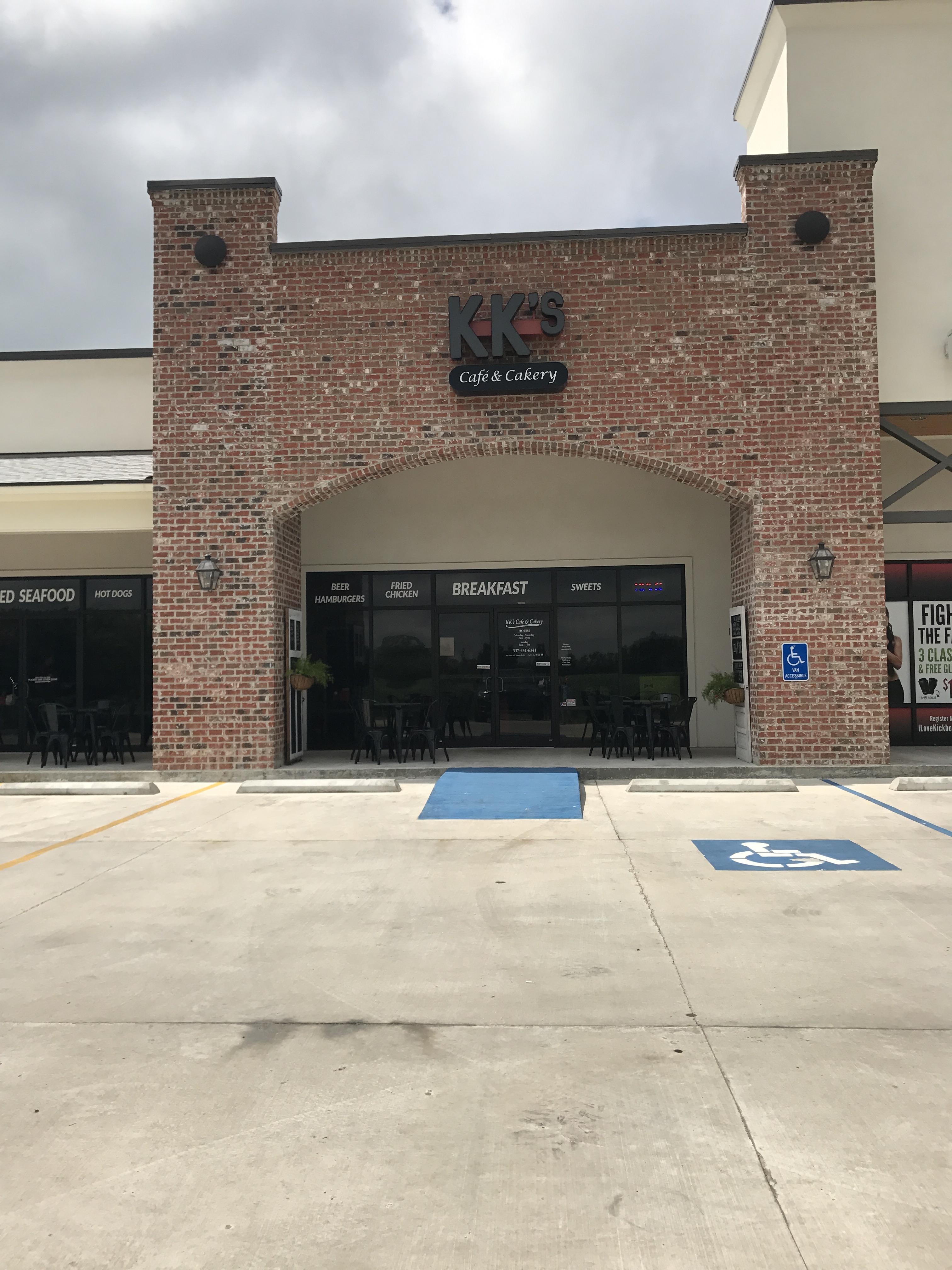 KK's Cafe and Cakery is located at 905 Savoy Rd STE 4-5, Youngsville, LA 70592. The Hours of Operation are Tuesday – Saturday 6:00 a.m. – 9:00 p.m. and Sunday 6:00 a.m. – 5:00 p.m.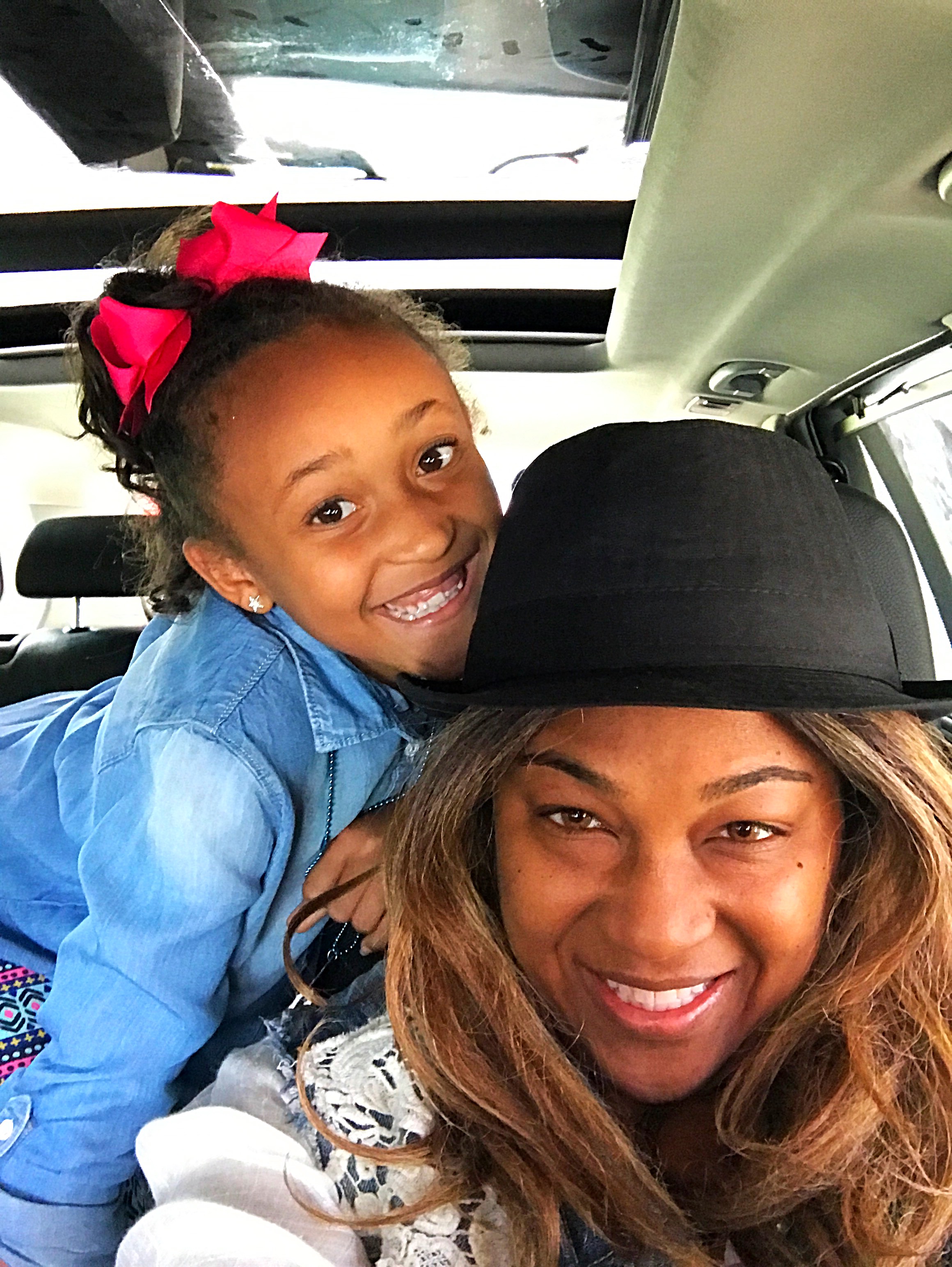 Be sure to go visit KK's Cafe & Cakery and tell them that Da'Stylish Foodie sent you!
[bloglovin_button]