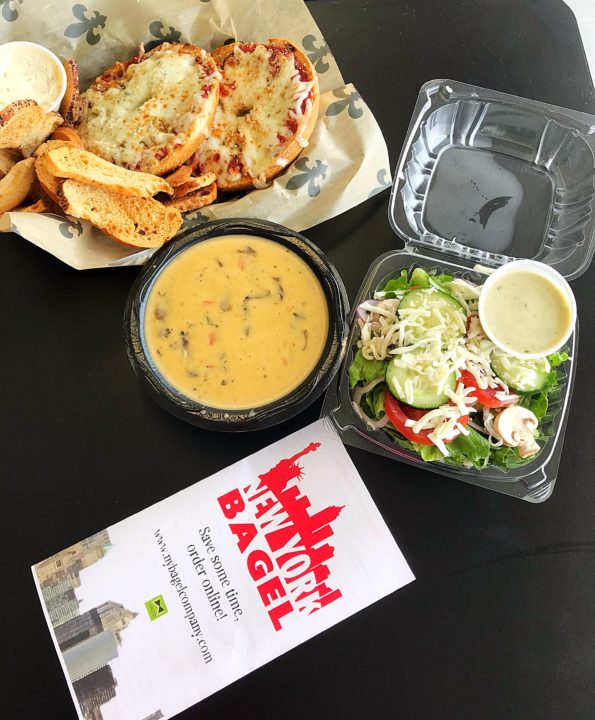 New York Bagel Company is one of the newest restaurant additions in the Lafayette area.  All things Bagels just about every type of bagel you can think of they offer.  With Gourmet Cream Cheese Schmears for your favorite bagel.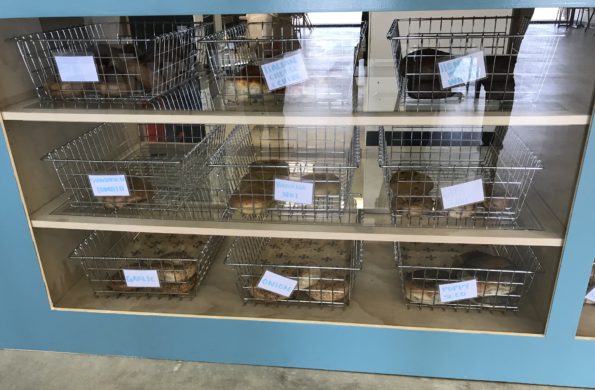 NY Bagel Co. also has a few salad options to choose from for all my health conscience followers and lots of sandwich options.  I love that the sandwiches are also available as a croissant as well.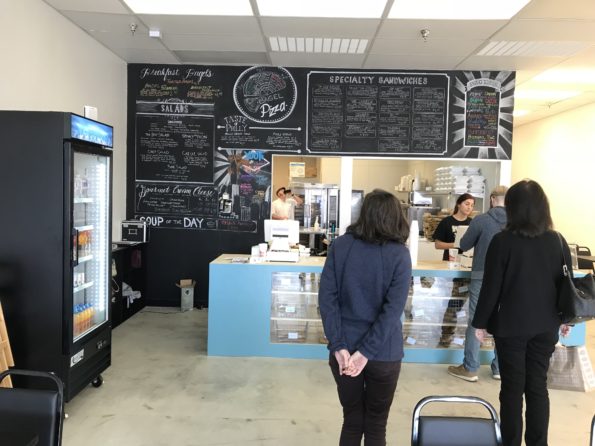 As I entered I loved the brightness of the space.  The black and white color scheme was nice.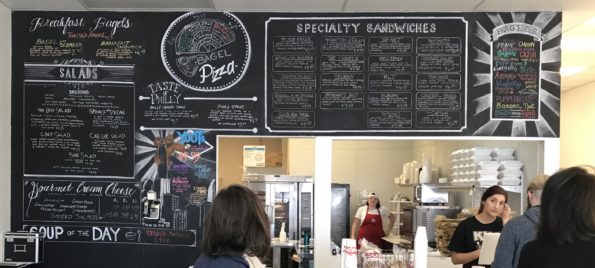 The menu was written on a chalkboard.  Easy to read.  Breakfast Bagels, Salads, Cream Cheese options, Sandwiches, Bagel Pizzas, Hoagies.  There is even a kid's menu for the kiddos.
I arrived between the breakfast and lunch rush.  So I decided to go with a few lunch options.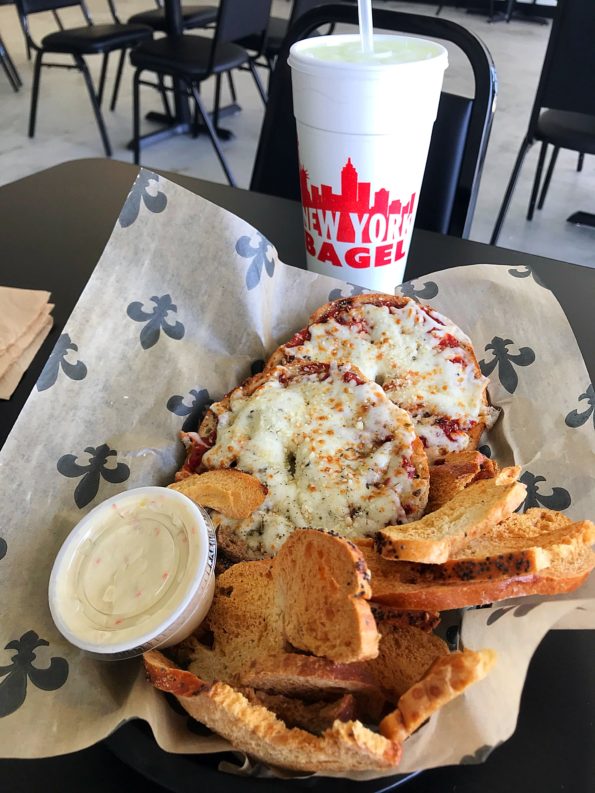 First to arrive was the Bagel Pizza.  A homemade pizza sauce on a sun-dried tomato bagel topped with mozzarella cheese, a dash of Italian seasonings.  I opted for the meatless bagel pizza.  But you can also add pepperoni or mushrooms.
The bagel arrived pipping hot.  Nicely toasted without being hard with a golden brown exterior.  The Bagel pizza was good.  A great choice for me.  The pizza was also served with bagel chips and gourmet veggie cream cheese dip.  The bagel chips were good. The veggie cream cheese dip was just ok for me but it's a nice option to eat with the chips.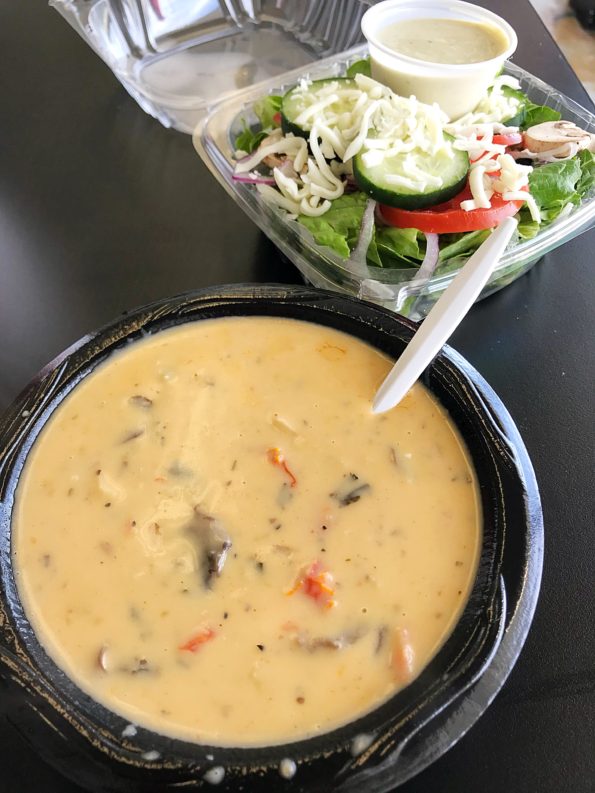 I also ordered the soup of the day, The Portabella Mushroom Brie.  The soup was creamy, tasty and loaded with mushrooms.  So good!!!  Flavorful and perfect for the cold day.
I also ordered a side salad.  The side salad is the smaller version of the Big salad.  The salad included romaine crown leaves, tomatoes, mushrooms, green bell peppers, mozzarella, cucumbers and finely sliced purple onions.  With a variety salad dressing options, I chose the Jalapeno ranch dressing.  I love Jalapeno Ranch and this dressing was delicious.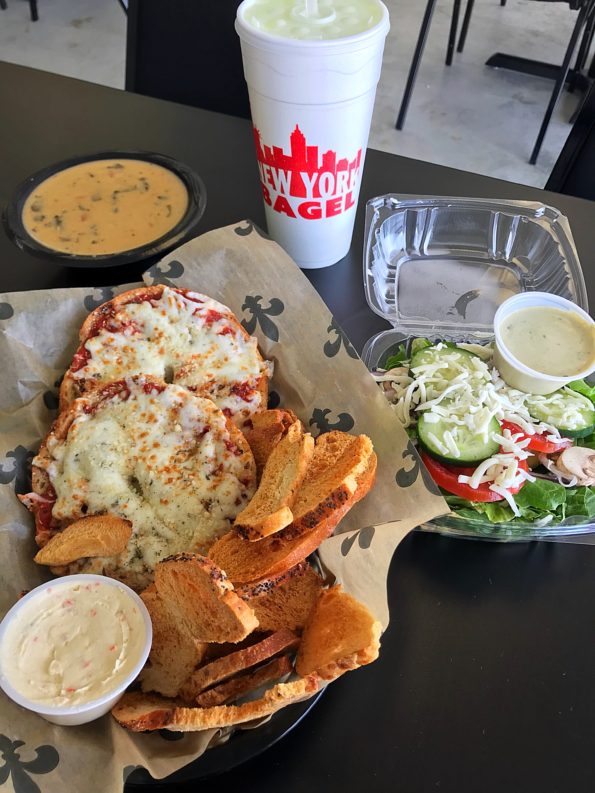 Overall I loved my lunch at New York Bagel Co.  A menu offering a variety of options.  I love that they have savory and sweet bagel options.  The soup was so good.  Bagels that are toasted perfectly with the right amount of toppings.  The side salad was a good size.
I definitely recommend what I ordered as a Lent Option or Meatless Monday.
Having a party?  Check out the Party Platters and treat your office or friends to New York Bagel Co's Catering menu.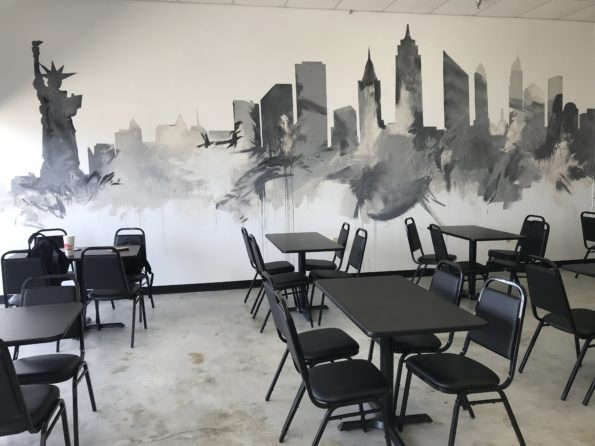 New York Bagel Co. is located at 4510 Ambassador Caffery Parkway, Suite E. Lafayette, LA 70508. NYB is opened Daily from 7:00 a.m. – 8:00 p.m.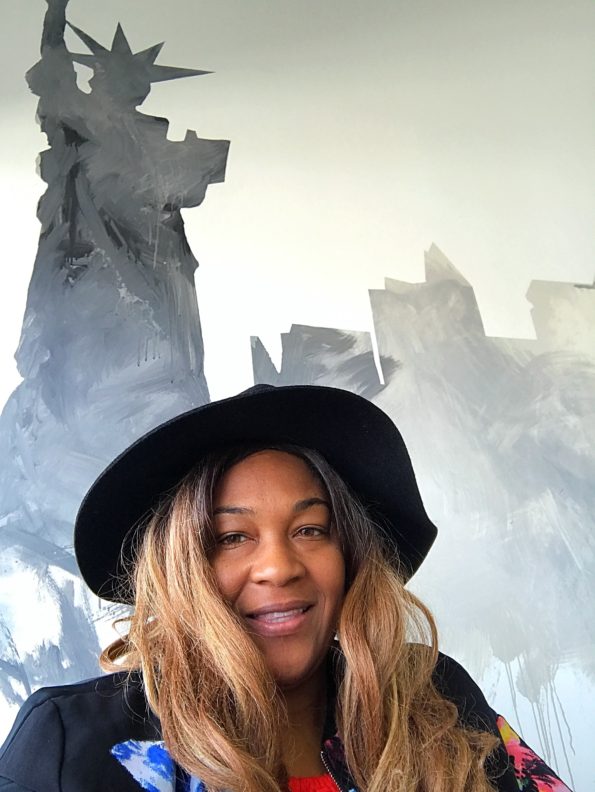 Grab your family and go check out New York Bagel Co.  Be sure to tell them that Da'Stylish Foodie sent you.