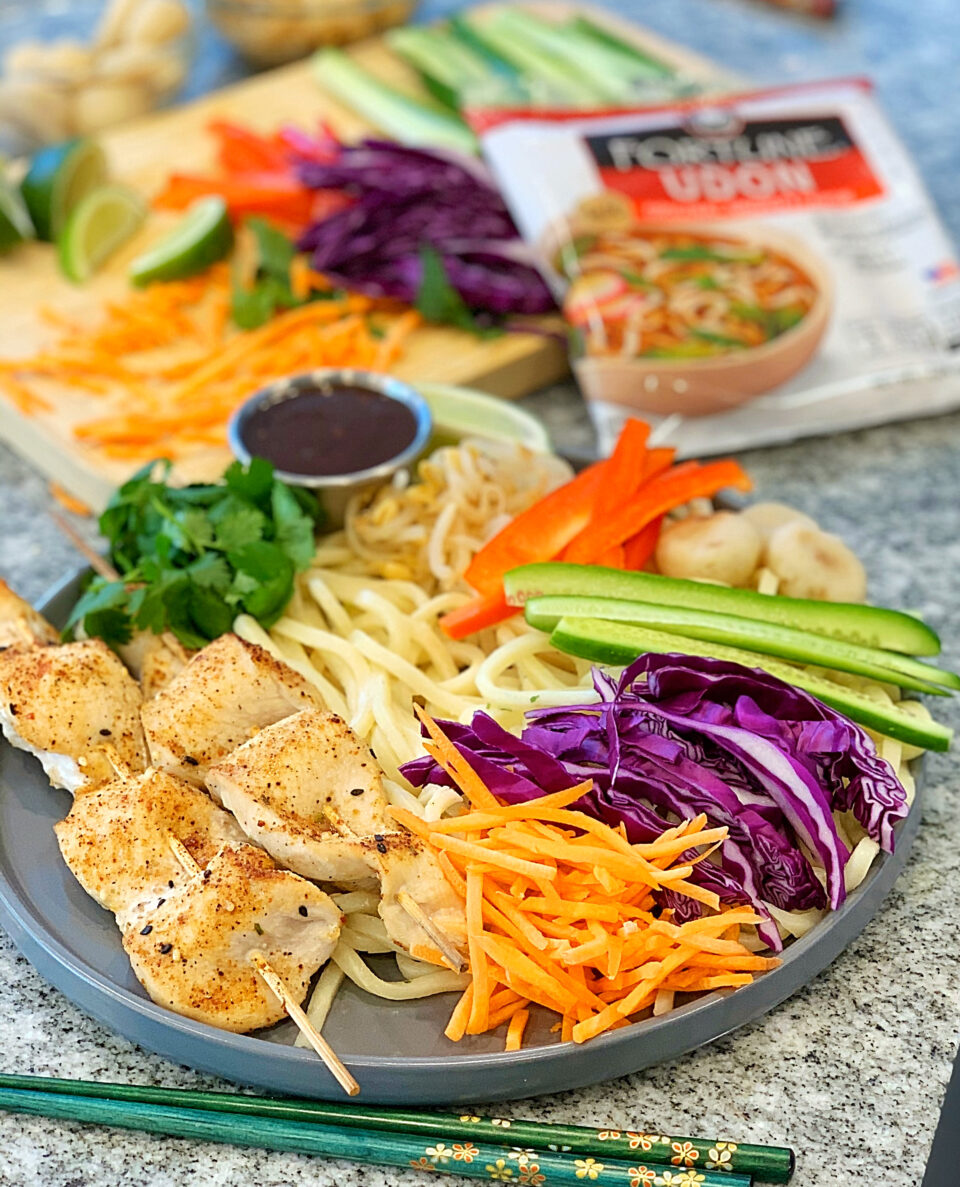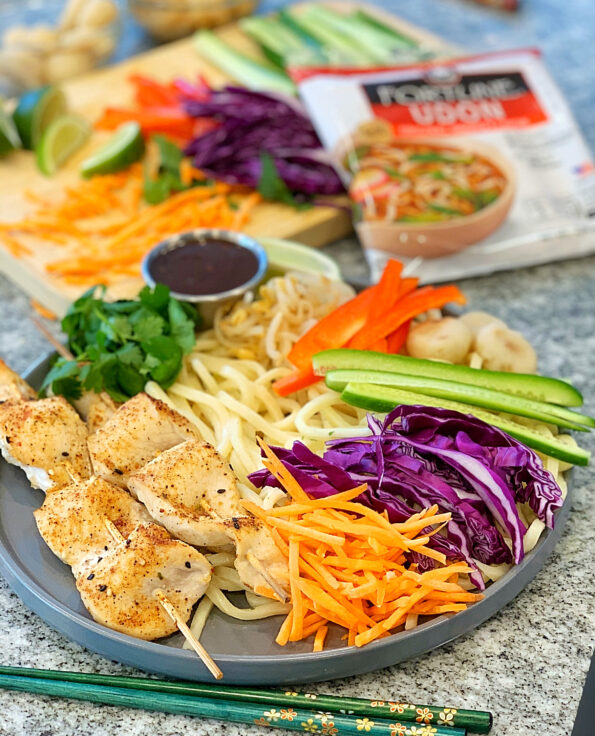 Fortune Noodles recently revealed their new packaging design. This new design was intended to separate the difference in packaging from the other Fortune Noodles. This change will make it easier to distinguish the Fortune's three Udon products on the shelf in the grocery store.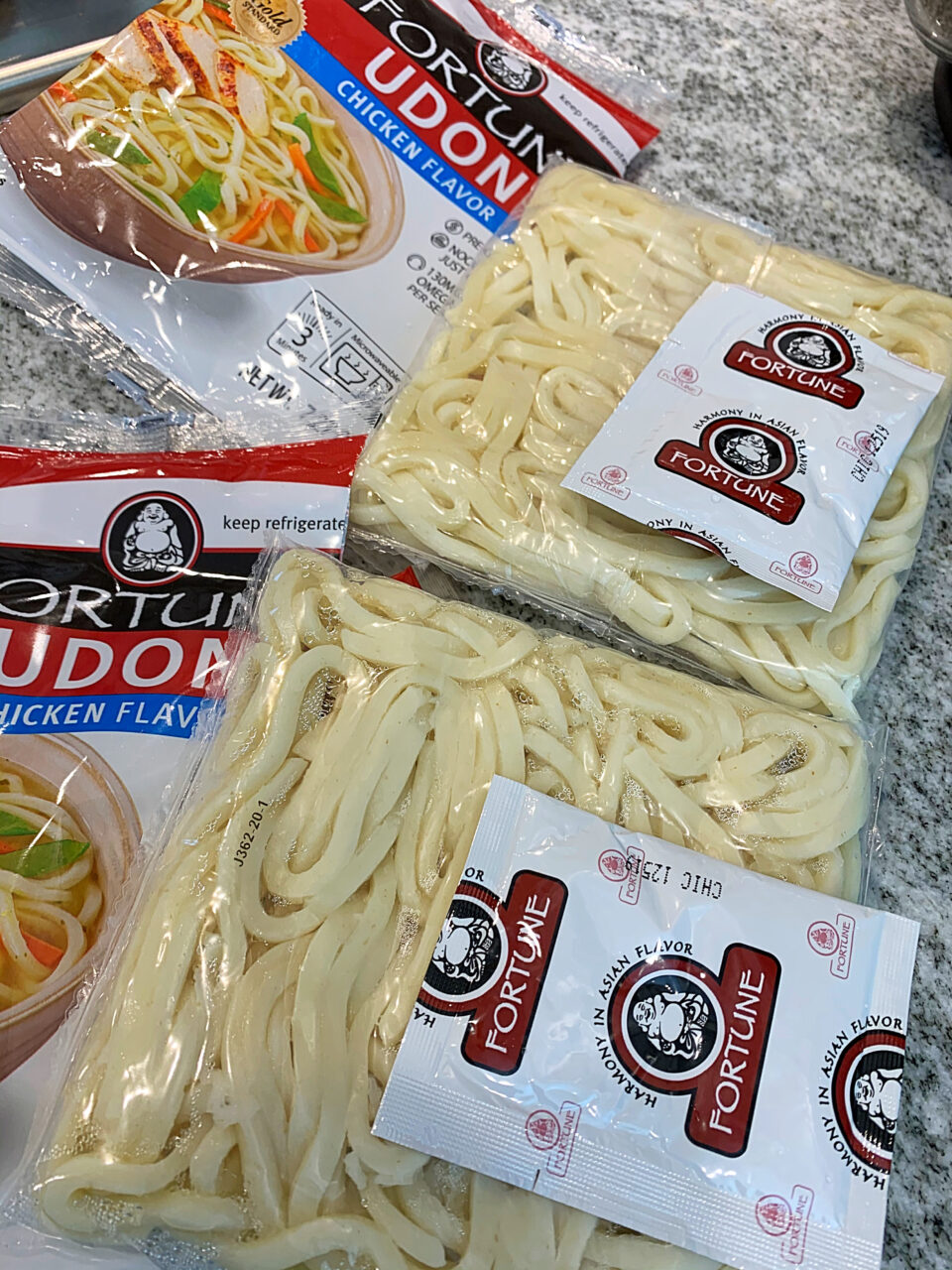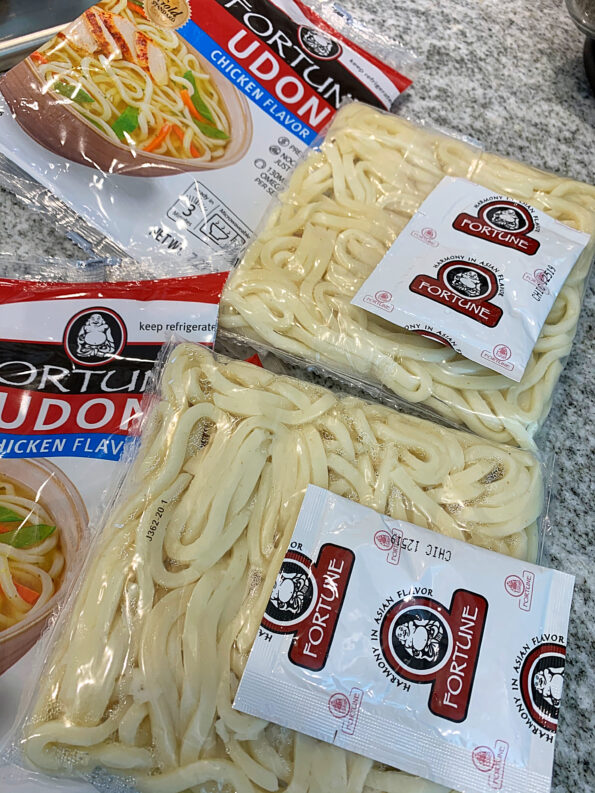 Fortune Noodles are made with only 4 simple ingredients.
I was challenged to a recipe challenge and I created a new recipe. My Chicken Udon Noodles and Veggies. I wish I had a more creative name for the recipe.
My recipe is a spin on a Vermicelli plate.
Print Recipe
Chicken & Veggies Udon Noodles
Yum
Simple ingredients and flavors combined into this yummy, colorful, Udon Noodle Plate.
Cook Time

12 - 15

minutes
Cook Time

12 - 15

minutes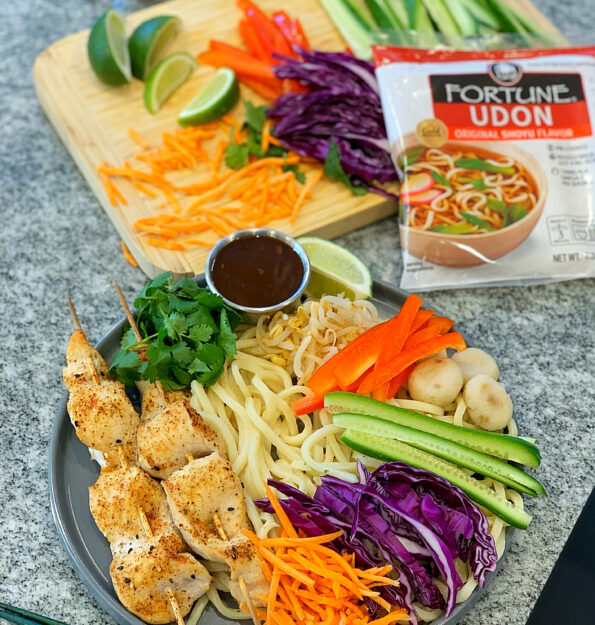 A colorful dish that is not only yummy but pretty. Only a few simple steps.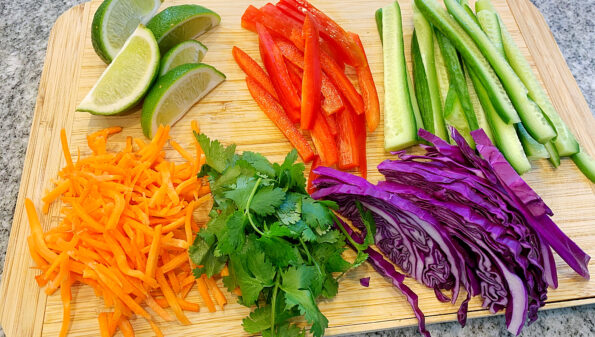 Ingredients:
Chicken Flavor Udon Noodles
Chicken Breast
Red Bell Peppers
Seedless Cucumbers
Wooden Skewers
Pam Olive Oil Spray
Lime
Purple Cabbage
Shredded Cabbage
Cilantro
Korean Inspired Bulgogi Seasoning
PF Chang's Kung Pao Sauce
Bean Sprouts
Water Chestnuts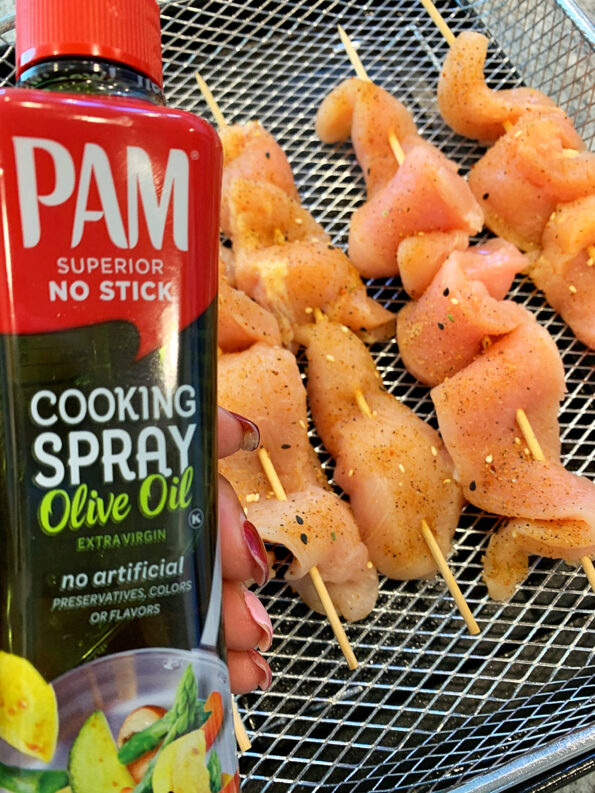 Directions:
Rinse and Dry veggies.
Julienne Red Bell Peppers, Cucumbers.
Shred Purple Cabbage with a knife.
Cut Cilantro.
Cut Lime into Spears.
Rinse and pat dry chicken breast.
Cut Chicken breast into thick strips.
Use wooden skewers and attach to the skewers.
Season chicken with Korean Bulgogi seasoning on both sides.
Drain sprouts and water chestnuts. Set aside.
Spray with Pam Olive Oil Spray.
Broil chicken at 500 degrees for 12 - 15 minutes.
While chicken is cooking. Prepare the noodles according to package. I cooked my noodles about 2 minutes instead of 3.
Drain and set liquid aside for later use or you can serve this exact dish as a soup.
I chose to do mine as a noodle plate instead.
Add noodles, place desired amount of skewered chicken, garnish the plate with shredded cabbage, purple cabbage, cucumbers, water chestnut, bell peppers, water chestnut, lime spears, Kung Pao sauce and cilantro.
Mix together well with the Kung Pao sauce and squeeze the lime spear. Delicious.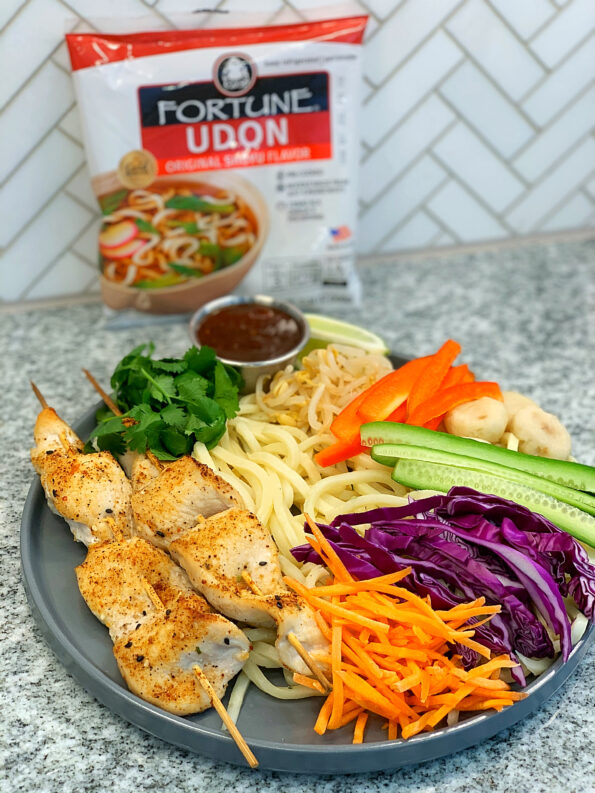 This healthy creation was a hit! I definitely wanted seconds. A nice kick of heat with the Kung Pao Sauce.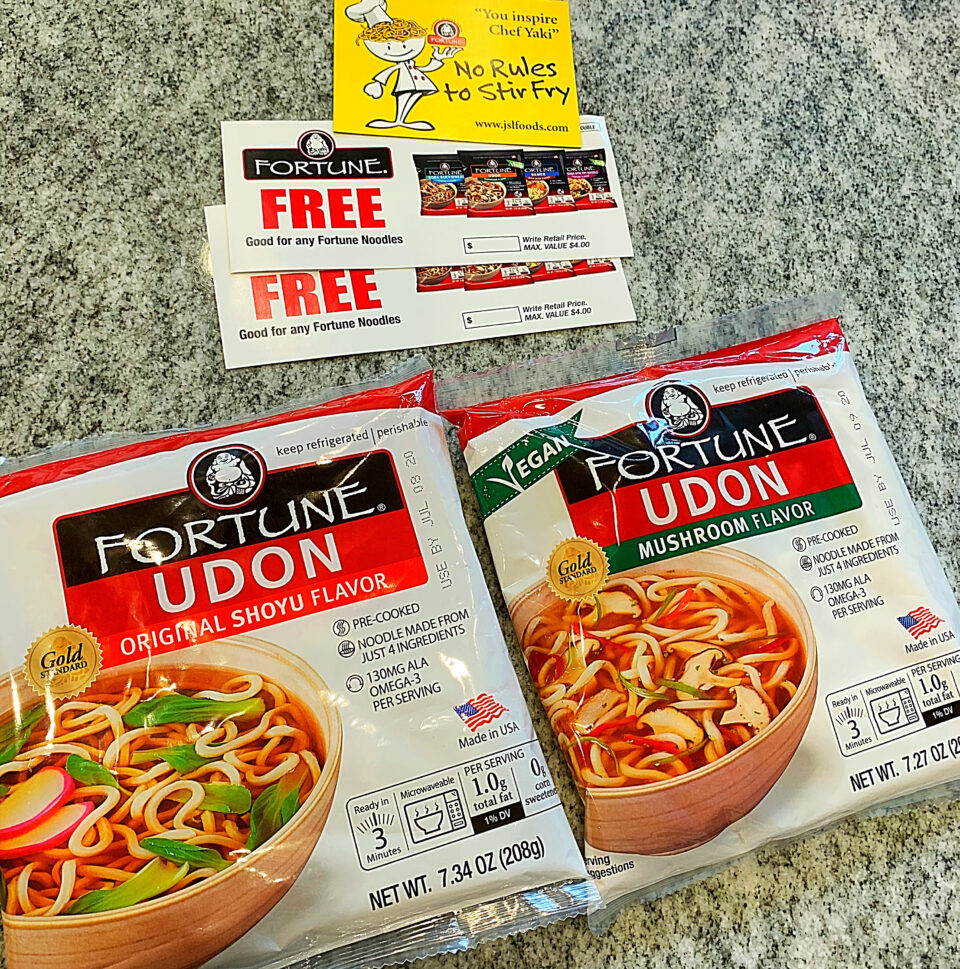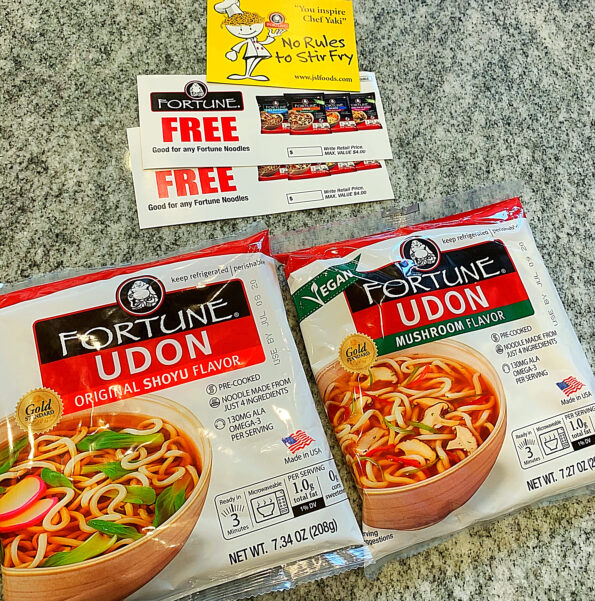 Follow this link for a free coupon.
http://www.jslfoods.com/NoodleClub/login.cfm
For more information on JSL Foods:
Website: http://www.jslfoods.com/
Facebook: https://www.facebook.com/JSLFoods/
Twitter: https://twitter.com/JSL_Foods
Instagram: https://www.instagram.com/jslfoods/