Last week was Spring Break and we had a week full of fun events. Thursday was our errands day, so we decided to have a late lunch at Pizza Artista. Pizza Artista has been open for a few weeks now. As we walked up to the restaurant, I was very impressed with the appearance of the restaurant on the outside.
The outdoor area was nice. There were a few tables under the covered entrance as well as some tables that were in the open spaces.
One thing that caught my eye was the Logo. I love the Logo Design. The Logo appears to be a Pizza with a Hand on it. Very cool. Before entering the building we were already drawn into the Pizza Artista Experience.
The Color Scheme on the inside was very eye catching. The Owners definitely cared about every detail and design for their new restaurant. Everything from the light fixtures to tables and chairs, the kids area, the finishing station. So nice!
As we approached the counter, I noticed that there were so many choices. I will be honest, initially I was a bit overwhelmed because I hate choosing anything quickly. Lots of pressure. But for the person that feels like me, don't worry. There was a list of Speciality Pizzas that you can choose from.
As you can see from the pictures above the there is over 25 topping options. Pizza Artista guarantees that their products consist of the freshest ingredients.
There was everything from Andouille sausage, Pepperoni, Salami, Tasso, Cajun Sausage, just to name a few of the meat options. For the Cheeses, Cheddar, America, Ricotta, Feta and a Vegan Cheese. So many options to choose from, there is no reason everyone can't build a pizza that fits there Dining needs.
There was over 10 Veggies to choose from. Anything from Mushrooms, Onions, Roasted Garlic, Olives Artichokes, Chives, Carrots, the list goes on and on. One thing that I love about all the options was there is something for everyone. The veggies are Farm Approved on Crop Maintenance.
We were greeted by a Young man who was very knowledgeable about everything I asked. As a food blogger, I usually ask a lot of questions. But he was patient and very polite. He was very engaging with our daughter as she chose her pizza topping options.
As we know a good pizza starts with the freshest dough. Pizza Artista dough is made fresh daily with unbleached flour for a Neapolitan style crust. Baby Girl decided on Pepperoni and Italian sausage on white dough with traditional red sauce and Cheddar and American cheese.
The Pizza is placed in the Wood Burning Oven and fully cooked in 1.5 minutes – 3 minutes. I love that we can see our pizza going to the oven. What a great visual. Baby Girl loved it.
The pizza looked great. My daughter kept raving on and on about how delicious the pizza was. The cheese was gooey as she pulled it apart. Definitely a winner with her! I took a bite of her pizza and I must say, though it was a simple pizza, it was so good.
The kids pizza's are 8″. Regular pizza's are about 10.5″. This is the only sizes that they have for now.
I decided on a Wheat Crust. He removed the dough from the sealed container and placed it in a machine that basically formed the pizza dough shape. I loved being able to see my pizza built right in front. All the ingredients was a great visual to see as you choose toppings.
My pizza was on wheat, with Alfredo sauce, Andouille sausage, smoked sausage, red onions, jalapeño peppers, cilantro, spinach, mushrooms, mozzarella cheese. The pizza looked amazing!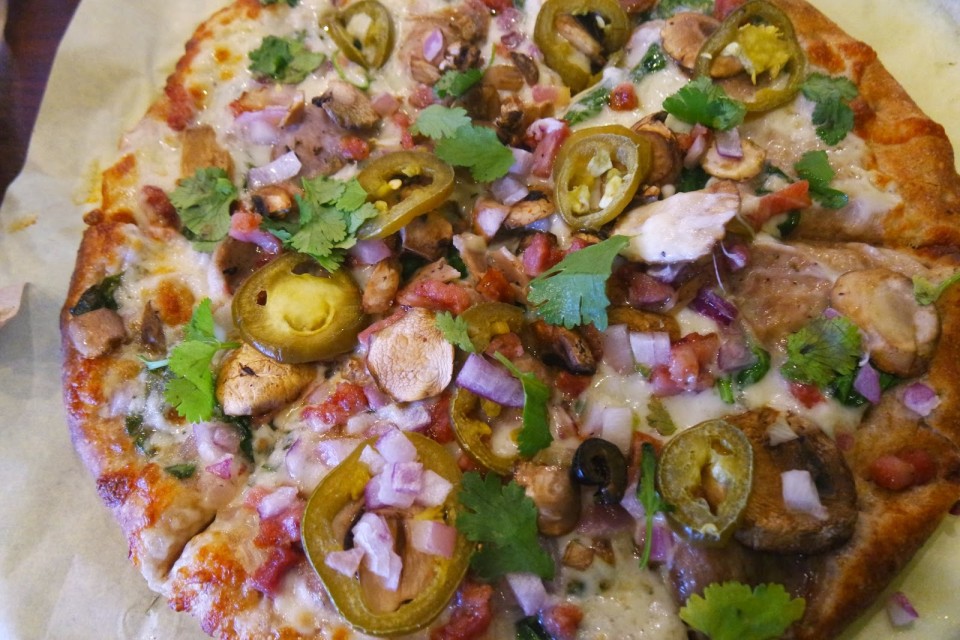 After my pizza was taken out of the Wood burning oven, I was offered the option to complete my pizza with Finishes. The finishes that were available were Sea Salt, Pepper, Olive Oil Drizzle, Basil, Parsley, Cilantro, Pesto Drizzle, Himalayan Pink Salt and BBQ Sauce Drizzle. I choose Sea Salt and Pepper, Olive Oil and Cilantro.
My pizza was absolutely delicious. I was very impressed with the pizza and the fresh ingredients. So good. Our dining experience as a whole was awesome. As we entered, until we left. The staff was friendly and answered any questions I had willingly.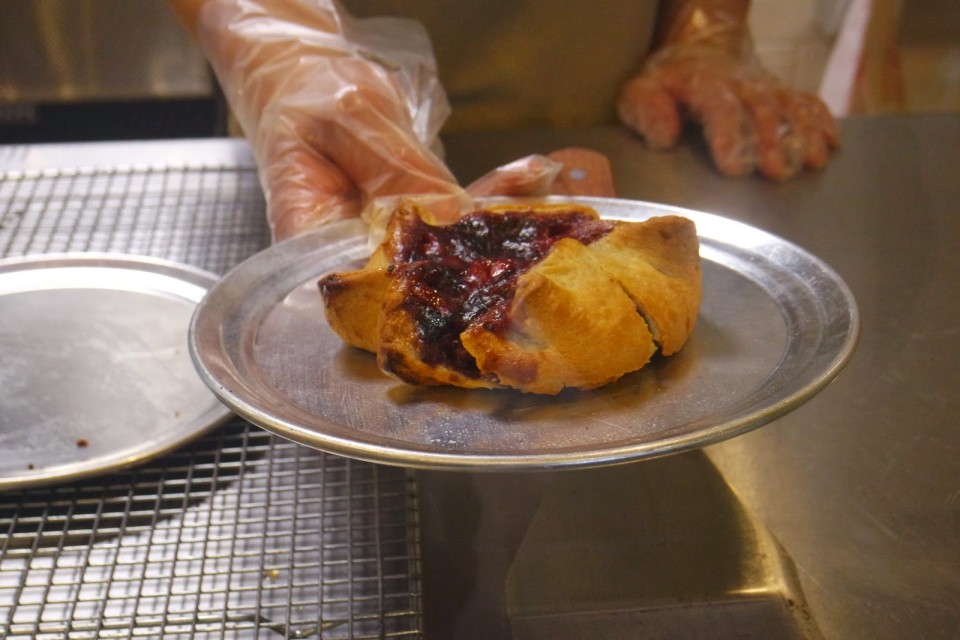 There was a limited amount of Desserts available. The dessert options were a Cherry Pie pictured to the left. I didn't try it, but a staff member was warming the pie for someone else. I asked for a picture. It looked really good.
My daughter tried the chocolate cake pop. But it wasn't good. The cake pop was crumbling and falling all over. That's the only disappointed during our visit. But I know it's a starting point for them. I asked about the Desserts. They are not made in house. But there are plans to eventually have a dessert pizza once Pizza Artista is well established. I would suggest a apple pie or cinnamon strudel or cinnamon roll. Simple desserts, but delicious.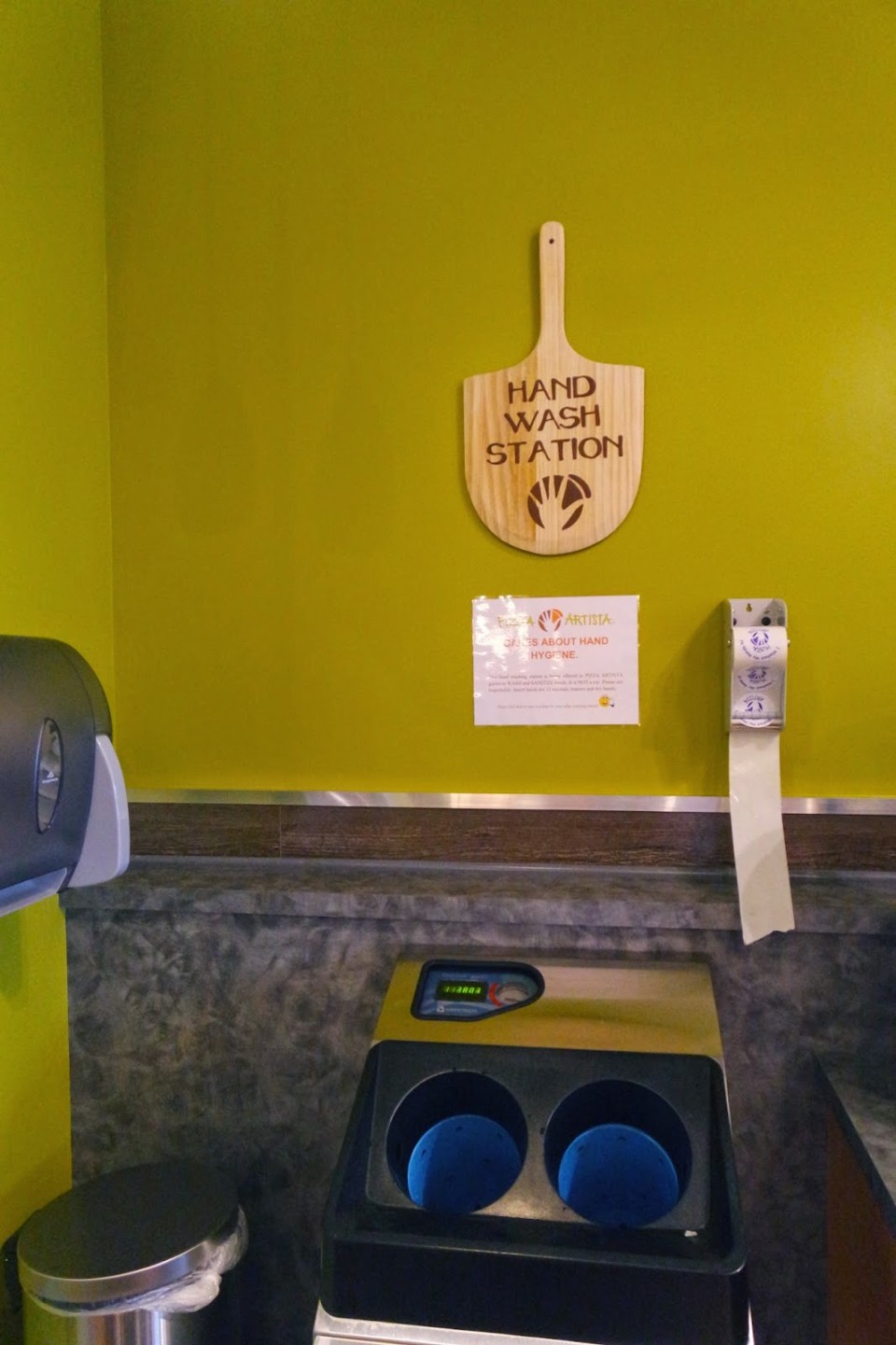 The Tips container was super cute as well.
I loved all the details.
There is a hand washing station on the floor for you to wash your hands while you wait on your pizza. The hand washing machine is pretty cool.
The kids station consisted of a brown sheet with different types of activities for the children to complete. There are also colors near the station for the kids. I love this idea.
Overall we were thoroughly impressed with Pizza Artista. I have been back since we first went and I was equally impressed the second time. The staff even recognized me. So that let's me know that they value their customers and we are not just a dollar to them.
I would recommend possibly having a bigger pizza option for the families that are larger and want to share a pizza.
The outdoor area is very nice, but the lack of cover will limit how many people dine with them during the summer. I would suggest umbrellas for the tables that are not under the small covered area.
Pizza Artista also has Gluten free options. Which is a great plus, because so many people are looking for Gluten Free Options. For Vegans there are many choices for you guys as well. There are salads as well. You can choose 8 toppings for their create your own salad menu.
Pizza Artista is definitely a Family-Friendly Restaurant that is reasonable priced. I definitely recommend that you try this place.