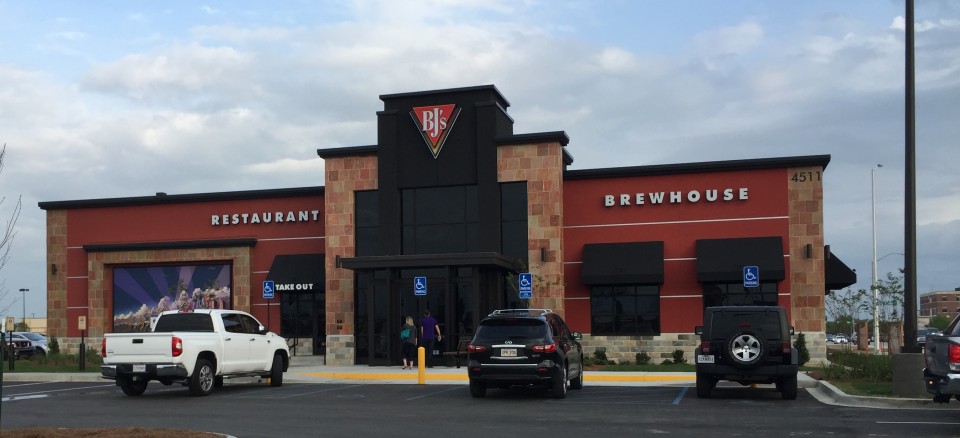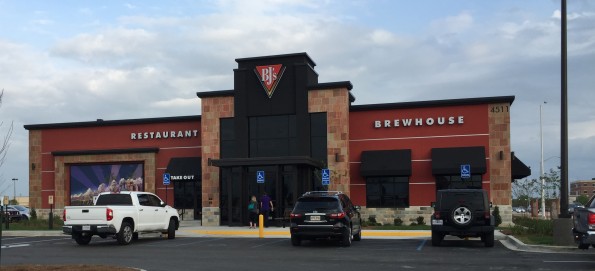 This week the kids have been out of School for Spring Break. My nephew was visiting, so I took the kids shopping. After a busy day of shopping and fun, we went to dinner at BJ's Brewhouse and Restaurant.
The exterior of the building really came out well.
When we walked in we were greeted by a really sweet hostess. The restaurant was packed. We arrived right before the mad rush.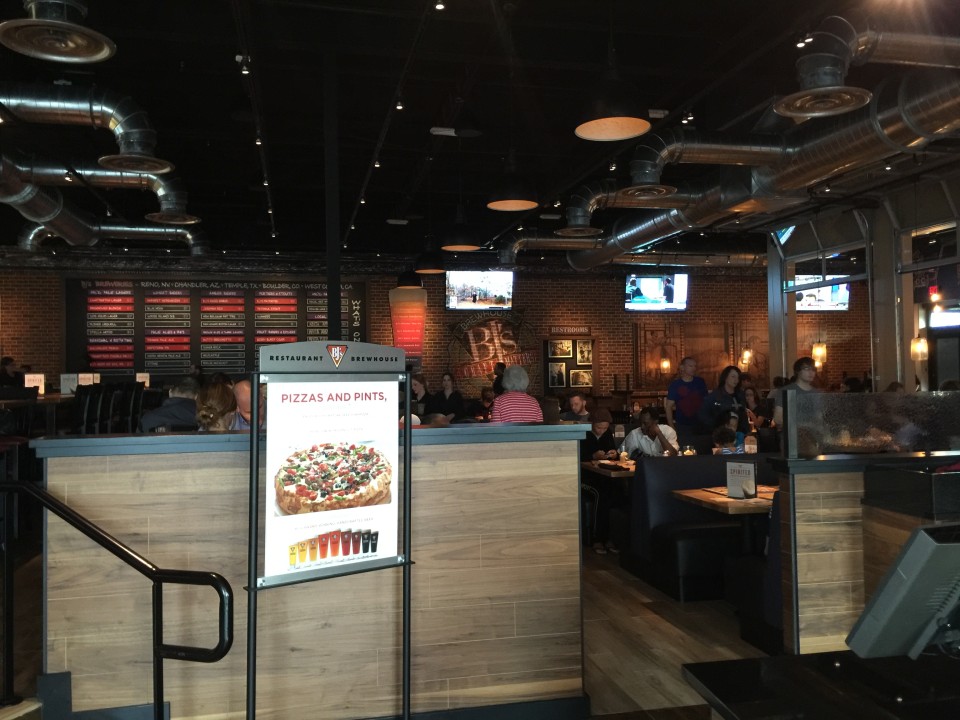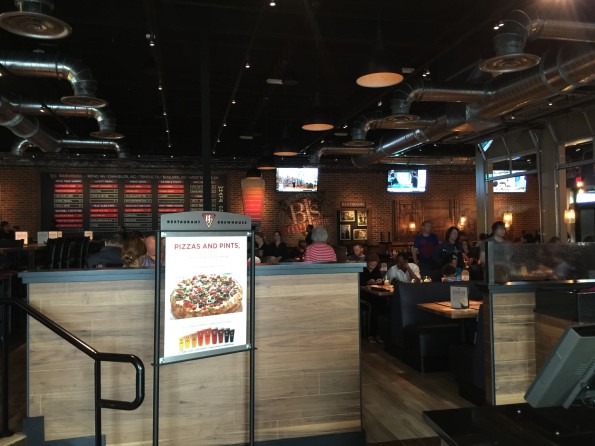 The restaurant had a Warehouse themed decor. Where we were sitting, on the ceiling was garage doors that was apart of the decor. Really cool, appeared that the doors could work as a divider between two different areas.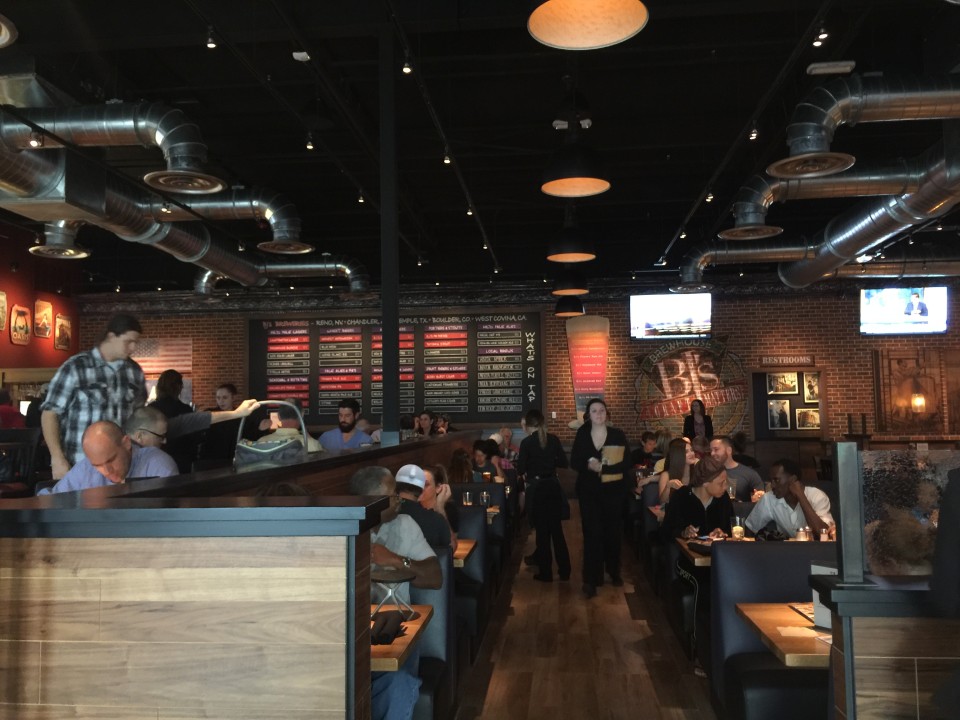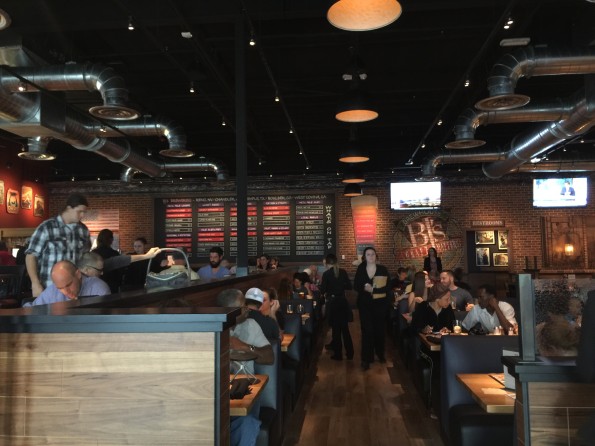 Bj's had a variety of different styles of seating, booths, tables, open booths and curved booths. The restaurant also had a bar area with TV's as well as throughout the restaurant.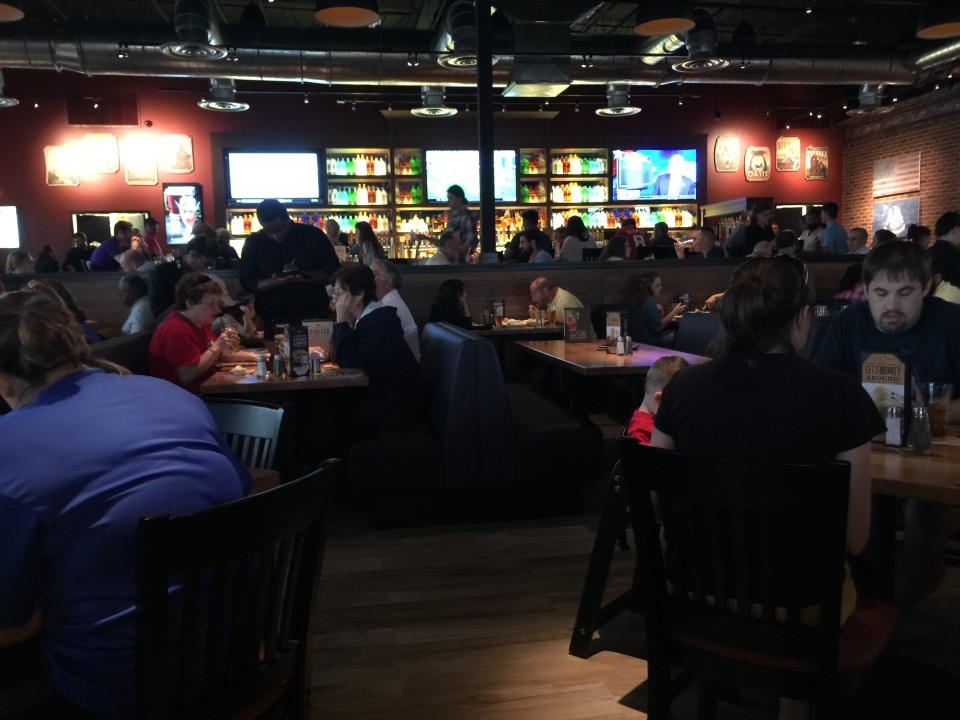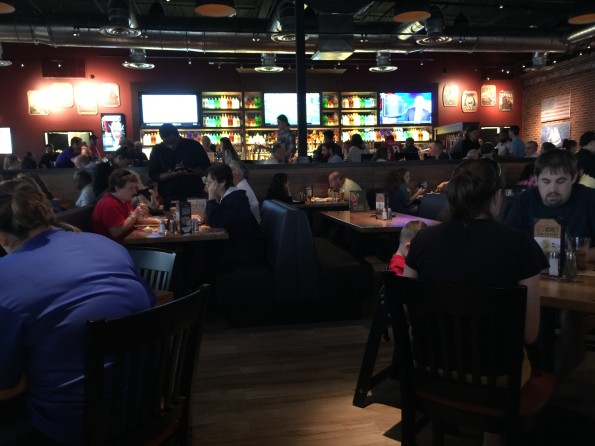 The drink menu for BJ's was massive. There were quite a few non-alcoholic drinks aka Mocktails to choose from. I loved that as usual, I was intrigued by the drinks. My husband ordered the Strawberry Lemonade, pictured below.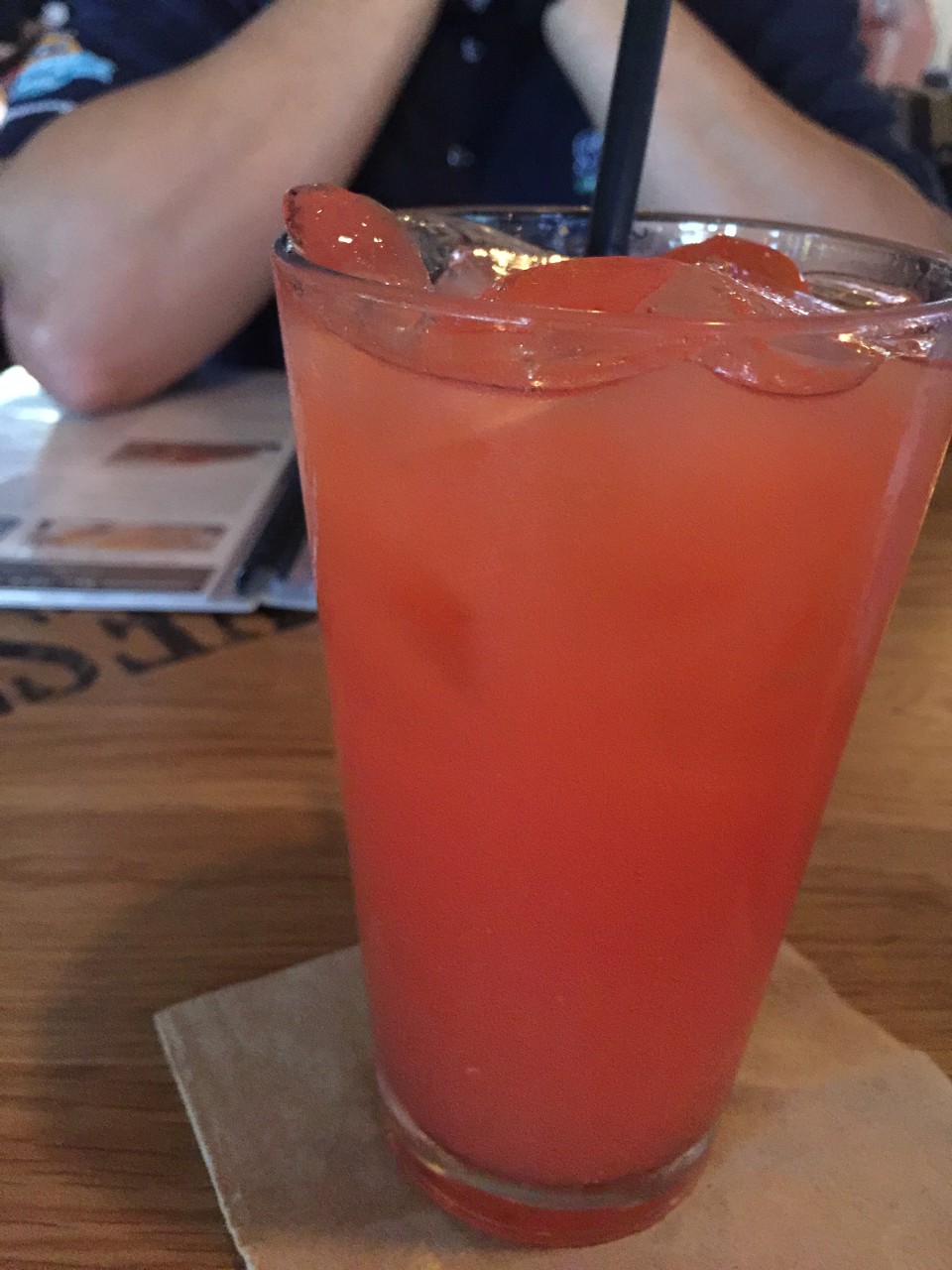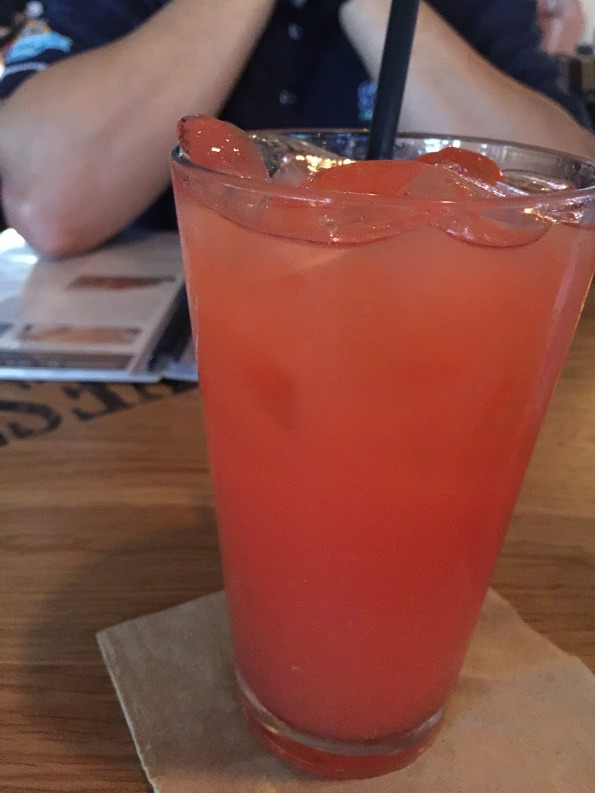 I went with Sparkling Raspberry Lemonade. I have to be honest, the look of the drink was a little disappointing. I was expecting a beautiful drink, taste wise it was sour but it wasn't terrible.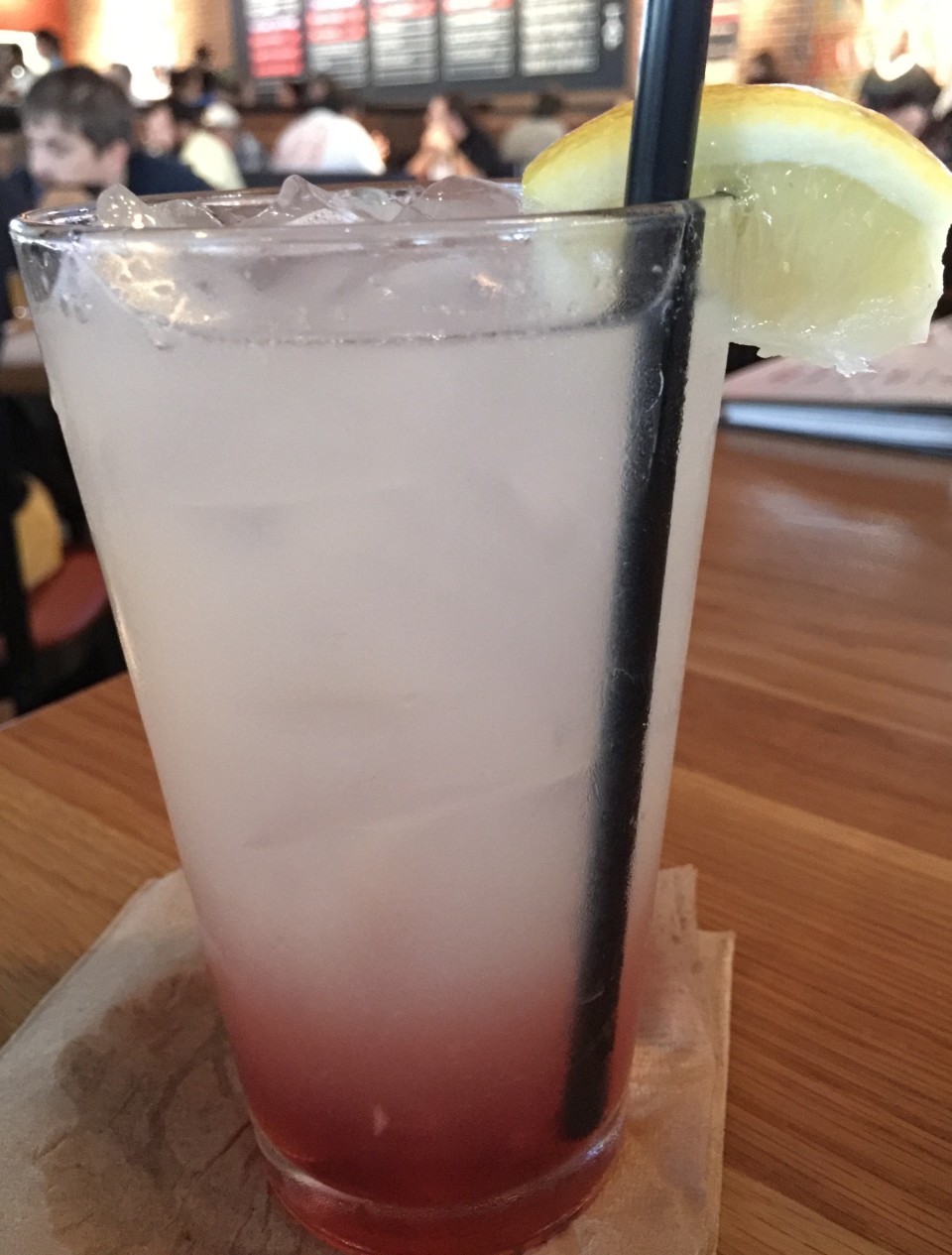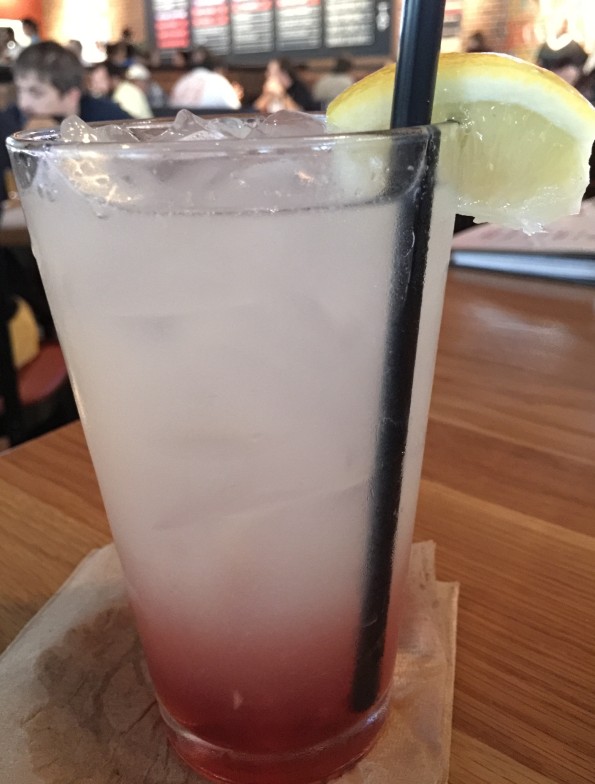 Z-man is a macaroni lover, so we ordered the Mac N Cheese for him. The Mac was your typical Kraft Mac N Cheese and served with Apple Sauce. The little guy was a little fussy so we went ahead and ordered his food so he could dive in.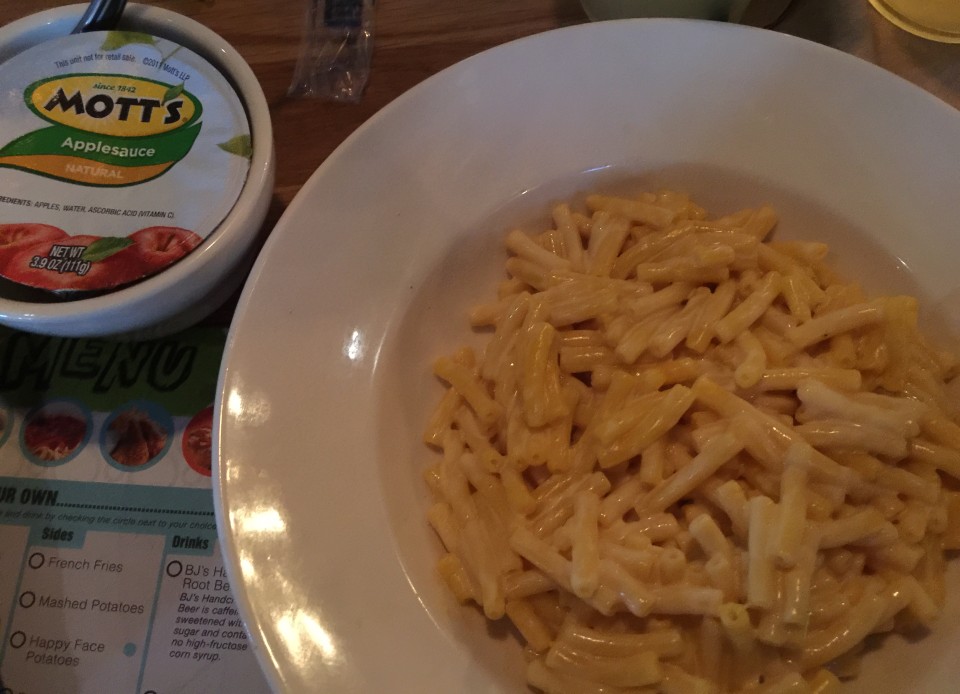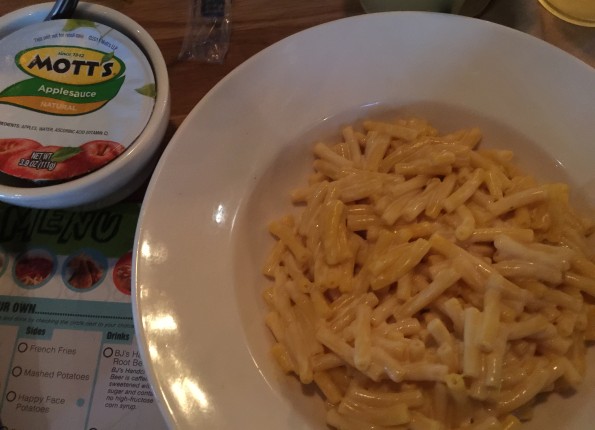 Our appetizer was the Sriracha Queso Dip. The Sriracha queso was a homemade cheese sauce that was topped with jack and cheddar cheese and your choice of Piranha Pale Ale Chili or Pork Chile Verde. We ordered our queso with Pork Chile Verde. The queso was delicious. Spicy dip served with tortilla chips. The chips were a little hard for our liking but the dip was so good.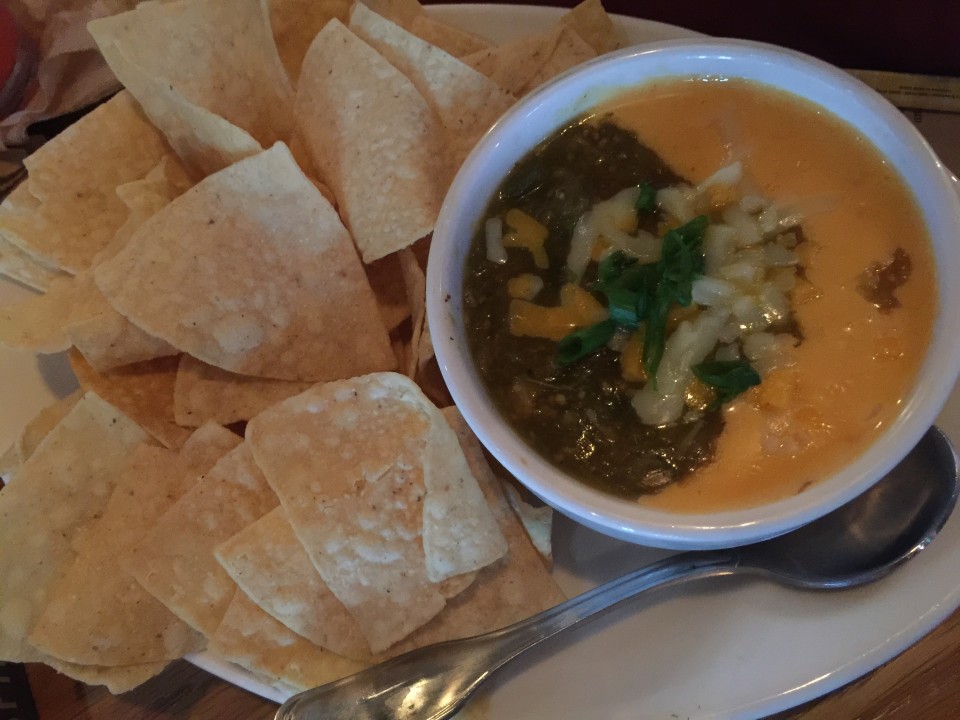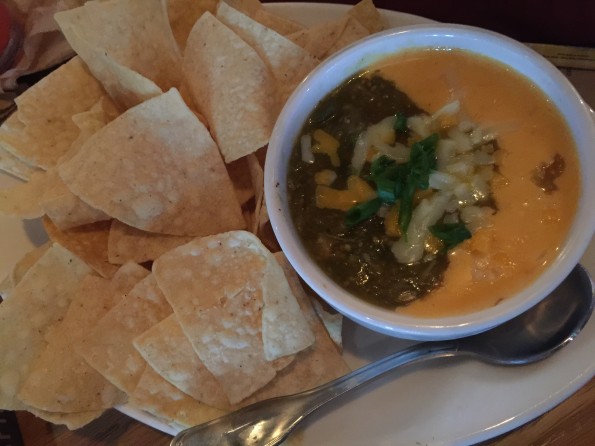 BJ's kids menu was quite extensive, which is a plus. Many places only offer chicken tenders, grilled cheese and one other option for kids. But not BJ's, there were over 7 options to choose from and several sides.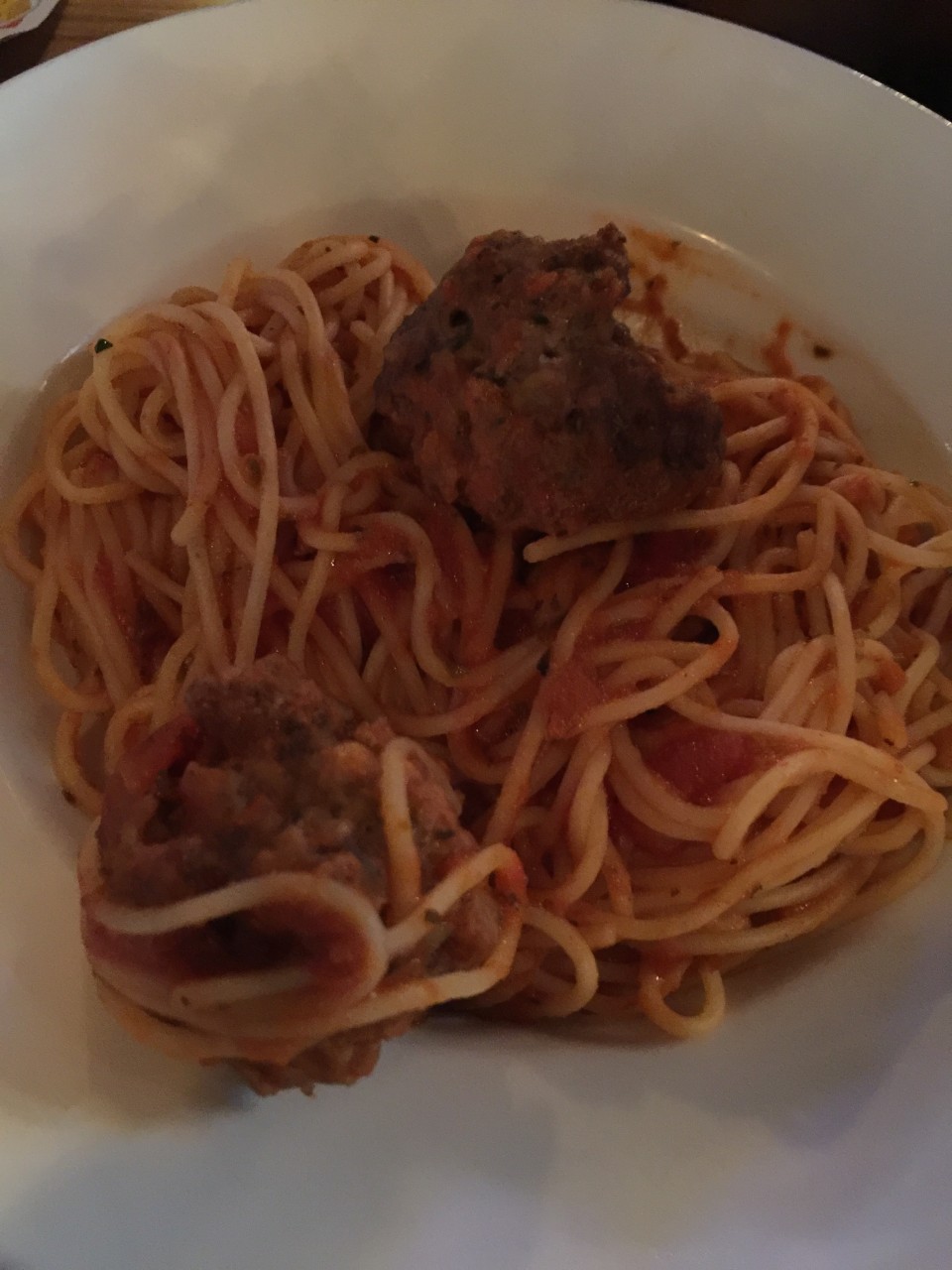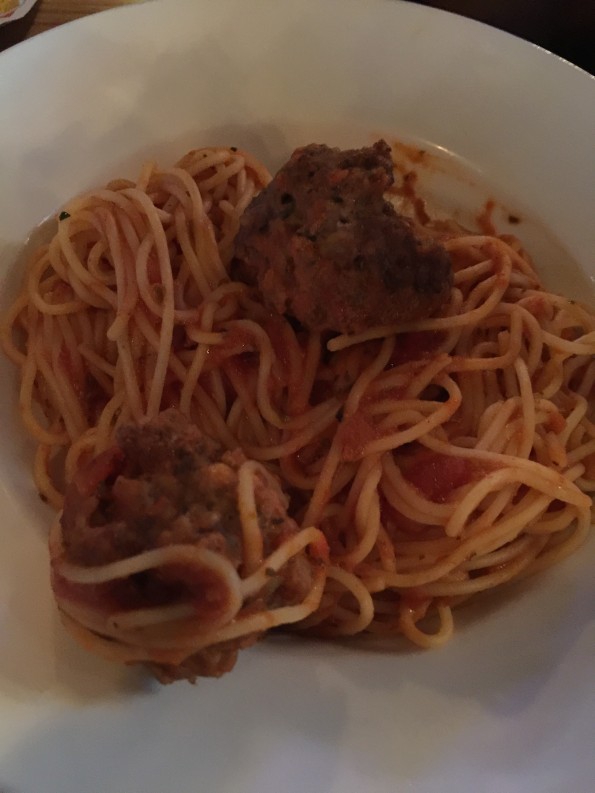 My nephew ordered the Spaghetti and Meatballs with Marinara Sauce. He was speechless when the waitress asked him if the spaghetti was good. Seems like a good sign to me.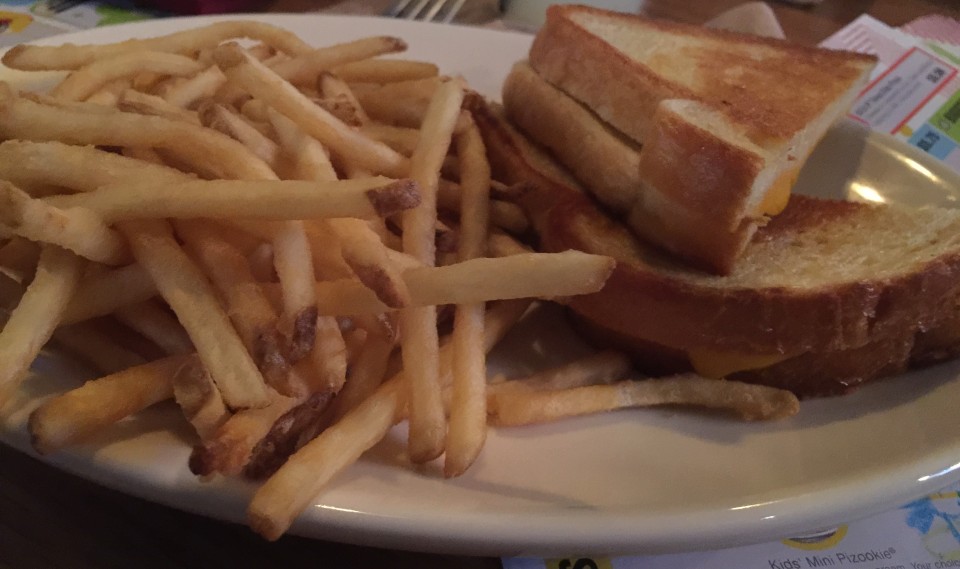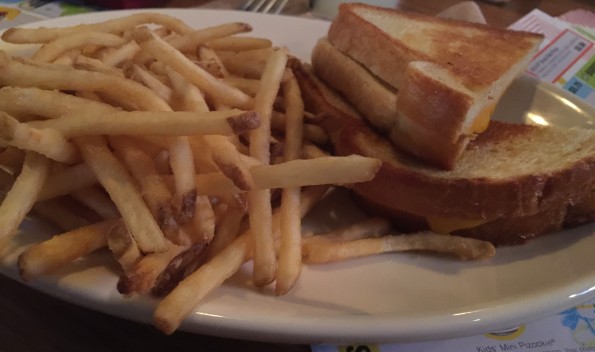 Baby girl ordered the Grilled Cheese and fries. Now she is a connoisseur of Grilled Cheese. She can identify what kind of cheese it is without being told.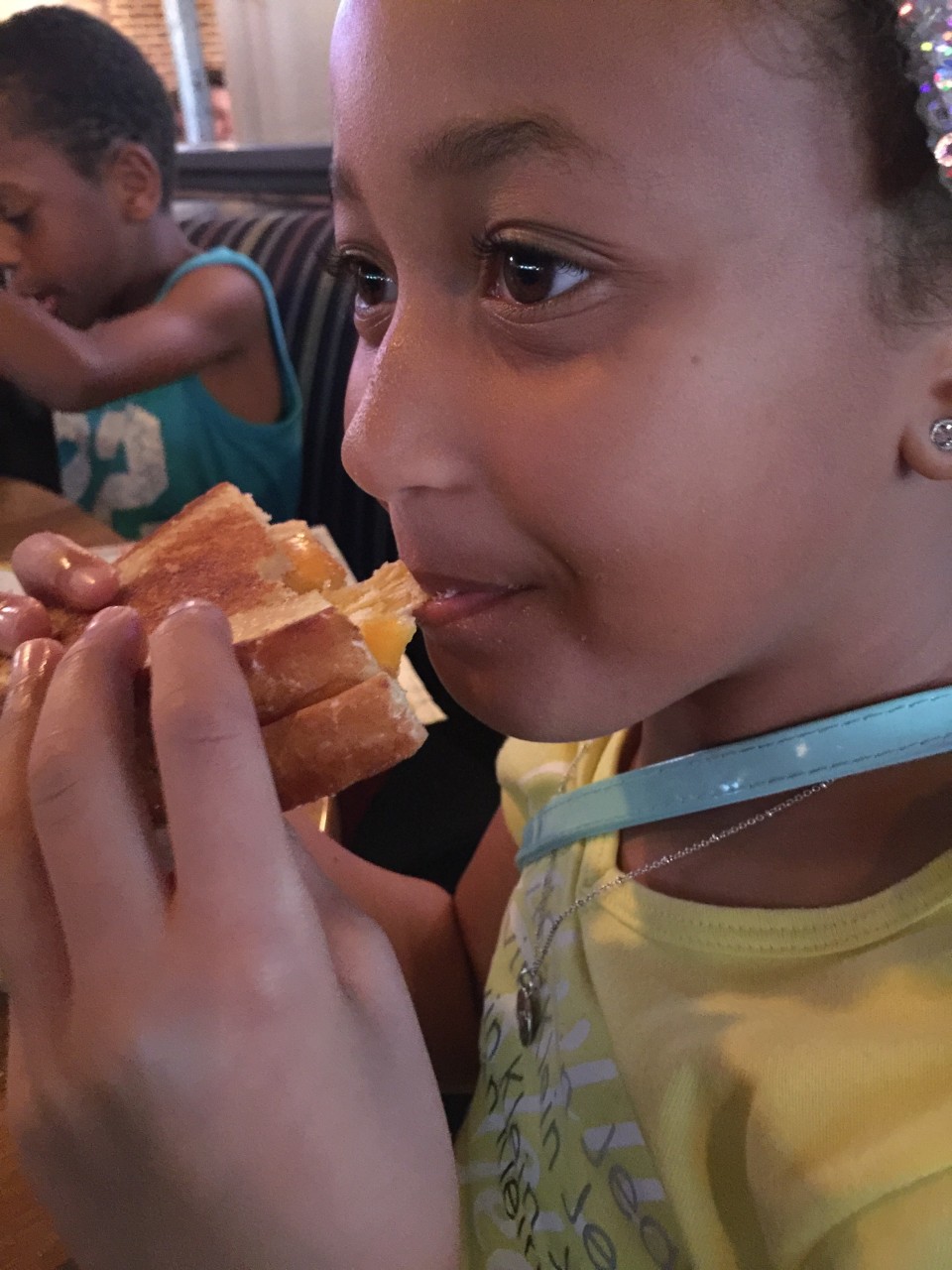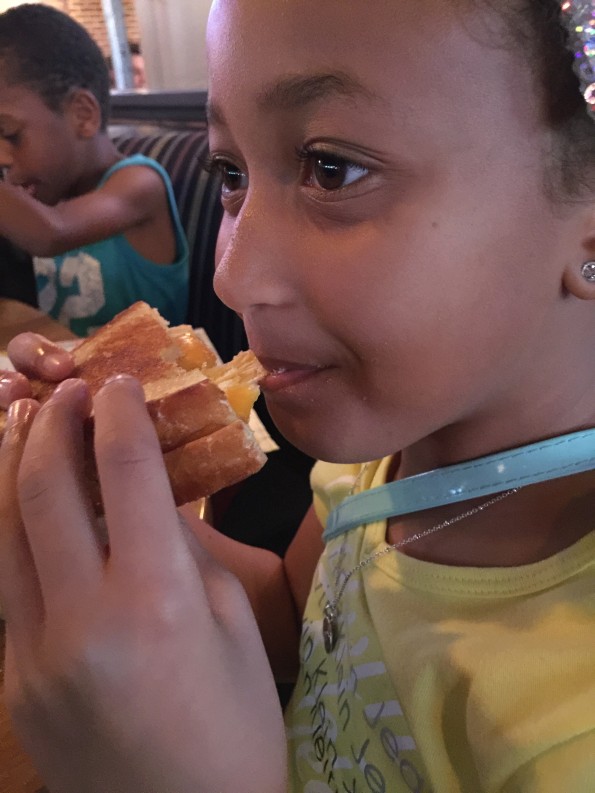 BJ's Grilled Cheese passed the Ooey, Gooey test. A hit indeed.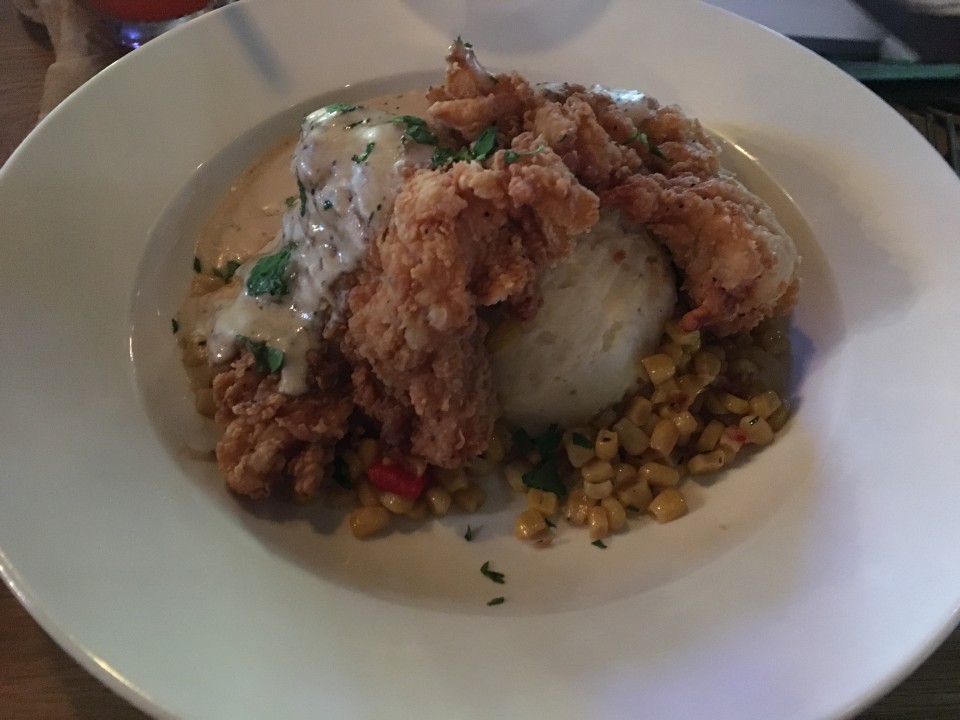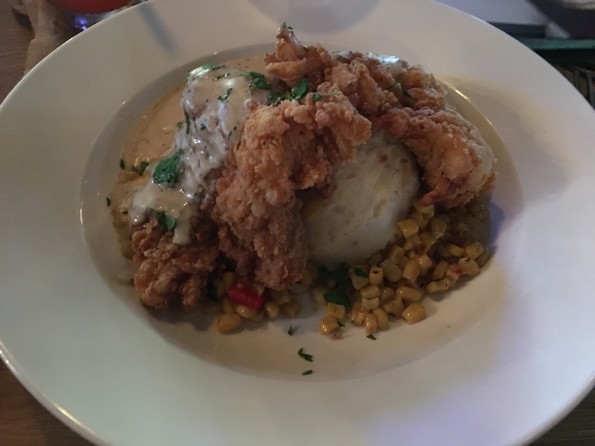 My husband ordered the Southern Fried Chicken dish. This dish was superb. My husband wiped the plate clean. The dish included two chicken breast, hand breaded, buttermilk, fried chicken breast with white cheddar mashed potatoes, corn and fire roasted succotash topped with a pepper cream gravy. Incredible looking dish, packed with flavor.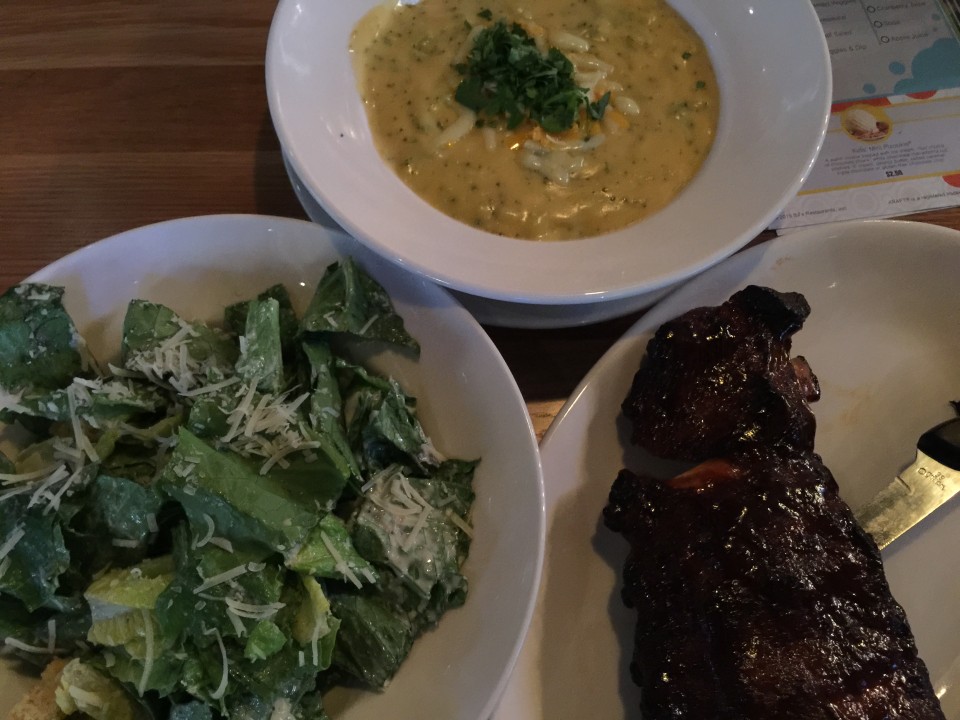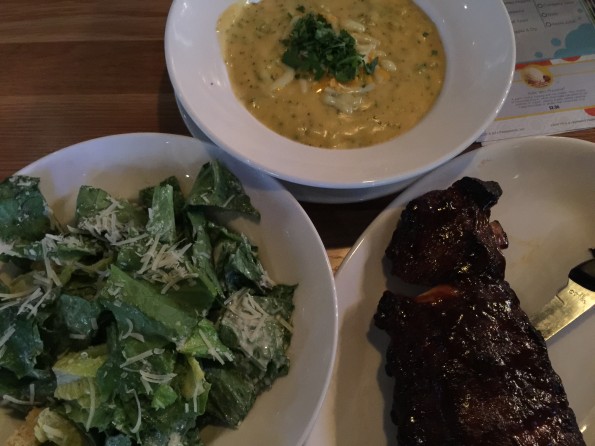 I ordered the 1/2 rack of baby back ribs. The ribs was served with a Dr. Pepper Sauce. The ribs included 2 sides. My sides was the Caesar Salad and Broccoli cheese soup.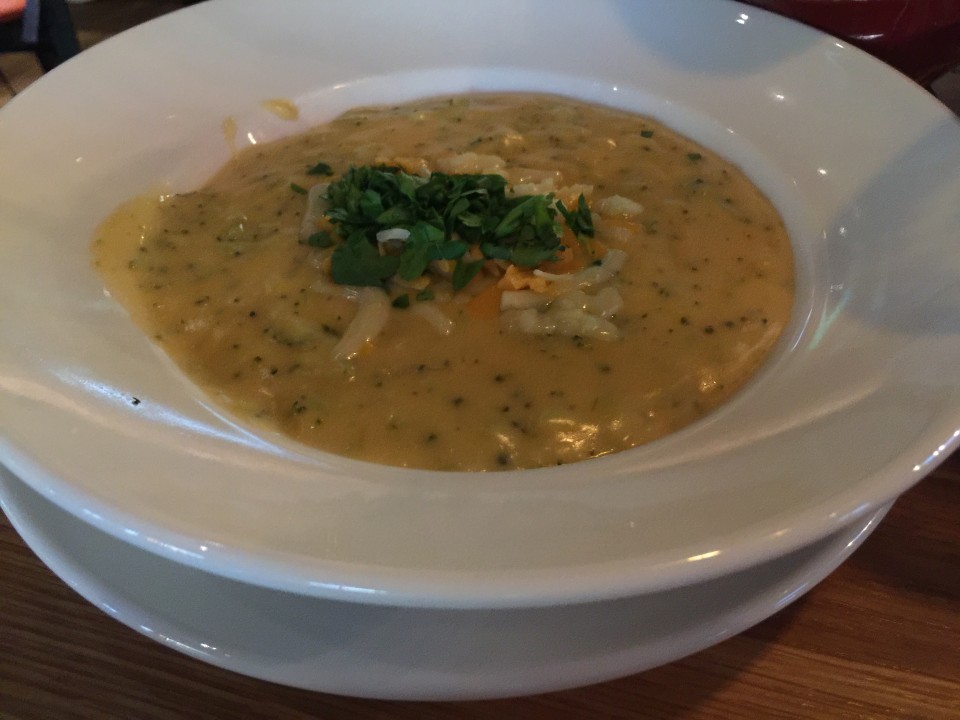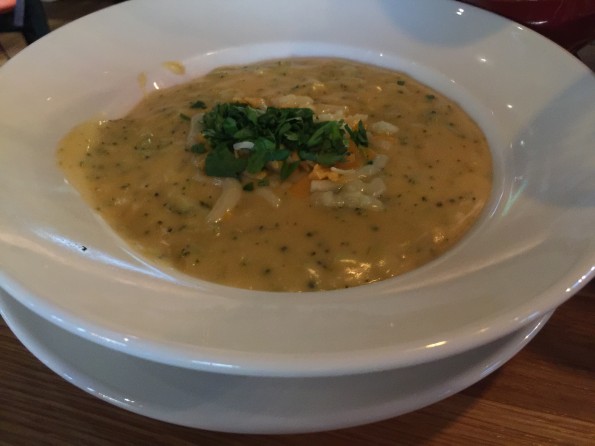 The Broccoli Cheese Soup was flavorful. The soup was a little thick maybe from cooking too long so it thickened. But the flavor was good.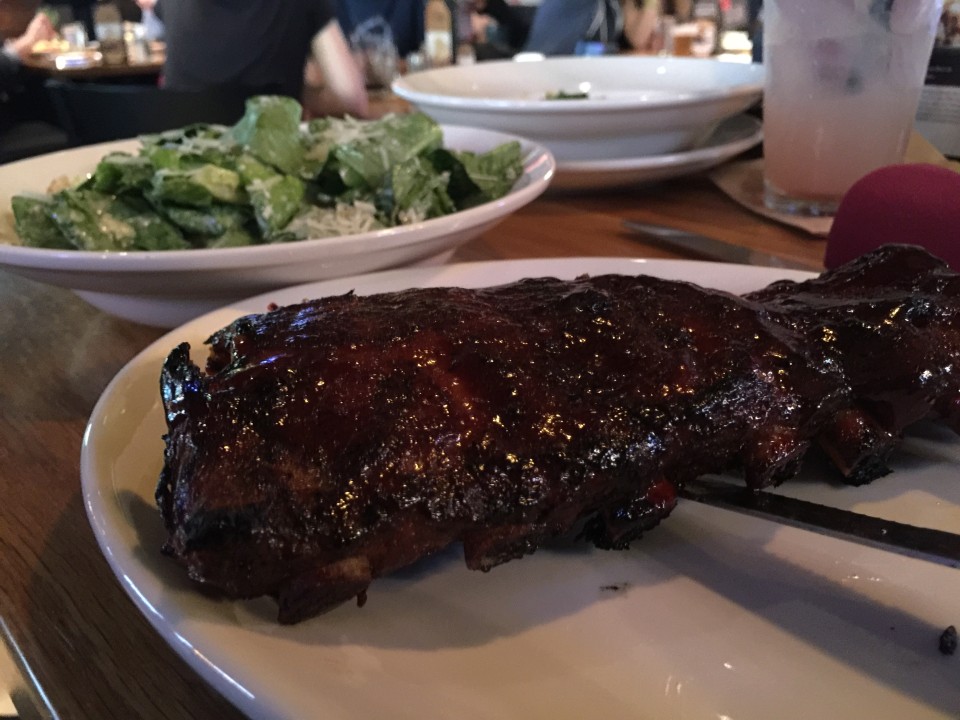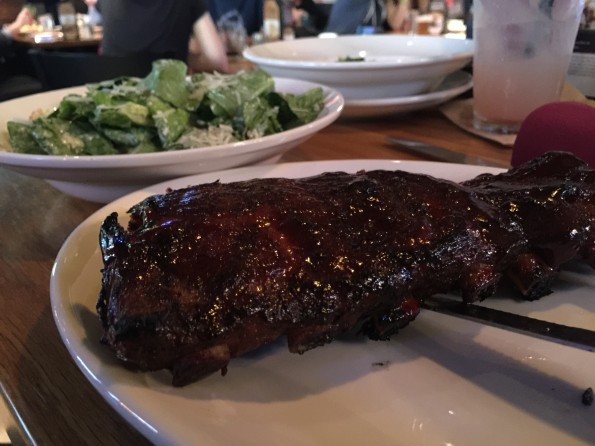 The ribs were cooked perfectly. Tender, sauced well and seasoned to perfection. The ribs were glistening, great color.
The Caesar salad was a bit dry and could use a little more Caesar dressing. The salad was just ok to me, something was missing. But overall my food was really really good.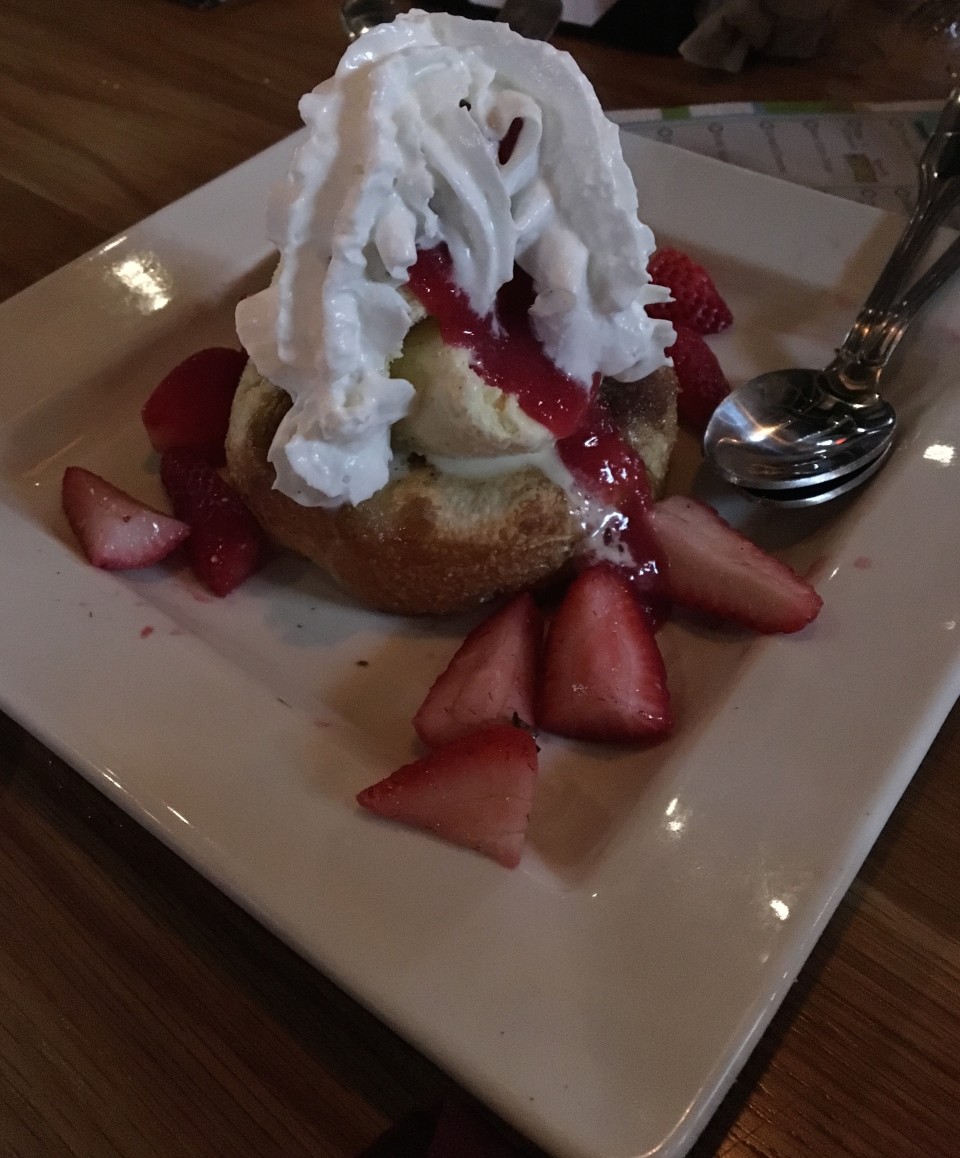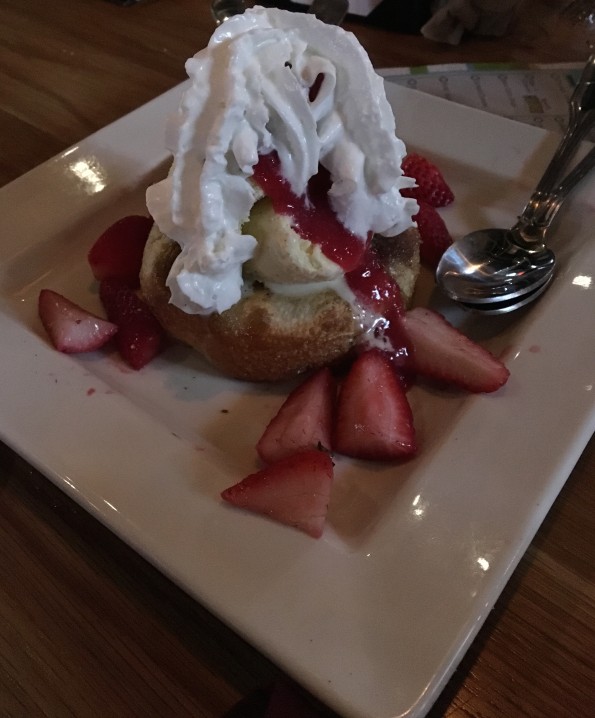 If you have a sweet tooth, BJ's is a great choice to go for dessert as well. BJ's had many different options to choose from. We ordered the BJ's Baked Beignet. The baked beignet is a bakery crust dough that is baked to a golden brown, tossed in a cinnamon and sugar mixture, topped with vanilla bean ice cream, fresh strawberries and a strawberry puree was drizzled on top with whip cream.
I love strawberries. This dessert was spot on. Amazingly delicious. Yum yum.
What a great ending to an amazing dinner.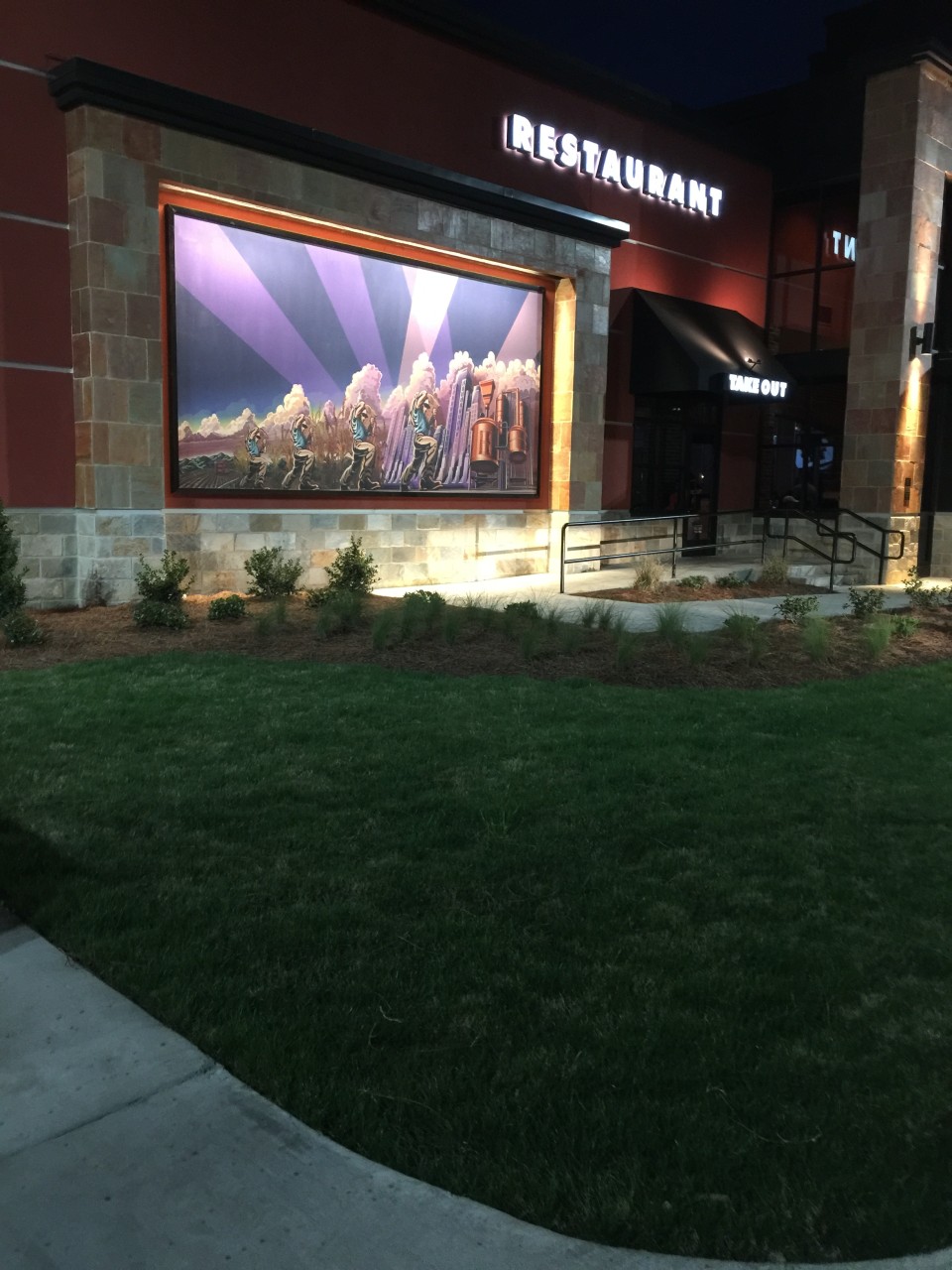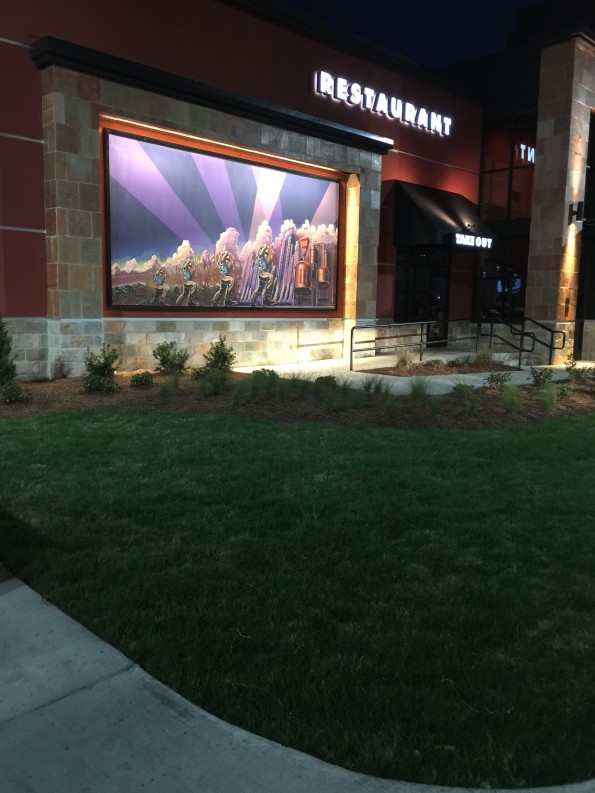 Overall we absolutely loved our time at BJ's Brewhouse and Restaurant. The food was amazing. The service was a little slow but the waiter and waitress kept us informed as to what was going on with our food. We weren't too bothered by it because we realize that its opening week and the restaurant is ironing out the kinks. So we won't hold it against them.
This was our first time at a BJ's. We were impressed that the restaurant had many options to choose from in each category.
The restaurant was kid-friendly. The kids enjoyed their time at the restaurant and the food. The color packs and coloring order sheets were a hit.
Do you have food allergies? BJ's has a Food Sensitive and Gluten Free Menu. Salads, Soups and even Gluten Free Desserts.
BJ's offers lunch specials. The restaurant is in a good spot and great for lunch. Some lunch examples are Lemon Thyme Chicken, Quinoa Bowls, Pasta and sandwiches just to name a few.
In addition, BJ's has a loyalty program, BJ's App which allows you to shorten your wait time, order ahead of time, pay from the app and so much more. In addition, if you download the app, you will receive Mini Pizookie.
BJ's is located at 4511 Ambassador Caffery Parkway, Lafayette, LA. The Hours of Operation are Sunday-Thursday from 11 am – 12 am and Friday-Saturday from              11 am – 1 am.
[bloglovin_button]