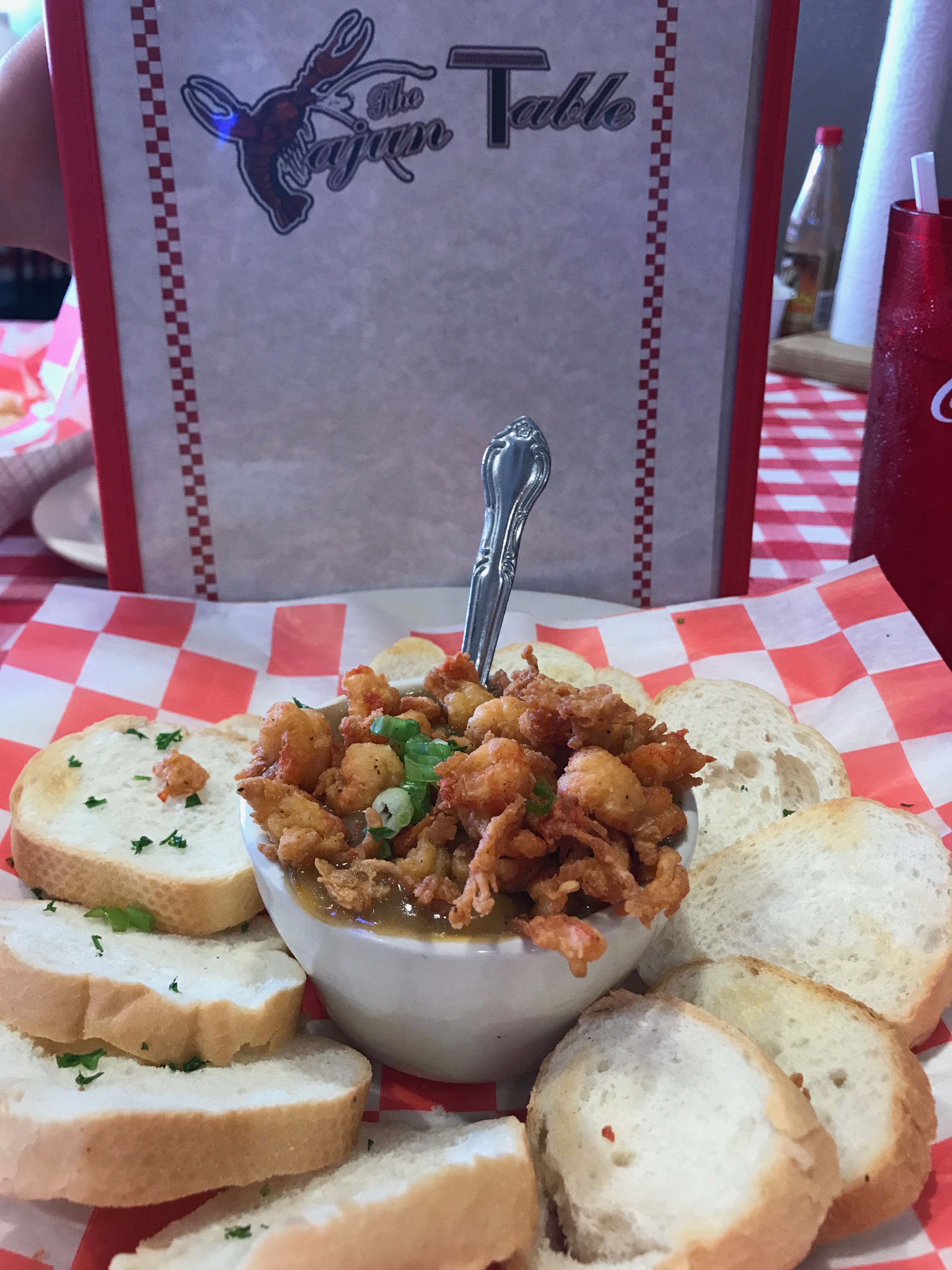 This past Friday baby girl and I had lunch at The Cajun Table.  The Cajun Table is a restaurant that opened a little under a year ago. It's a Cajun style restaurant that offers Daily Lunch Specials, Boiled Seafood, Salads and Fried Platters.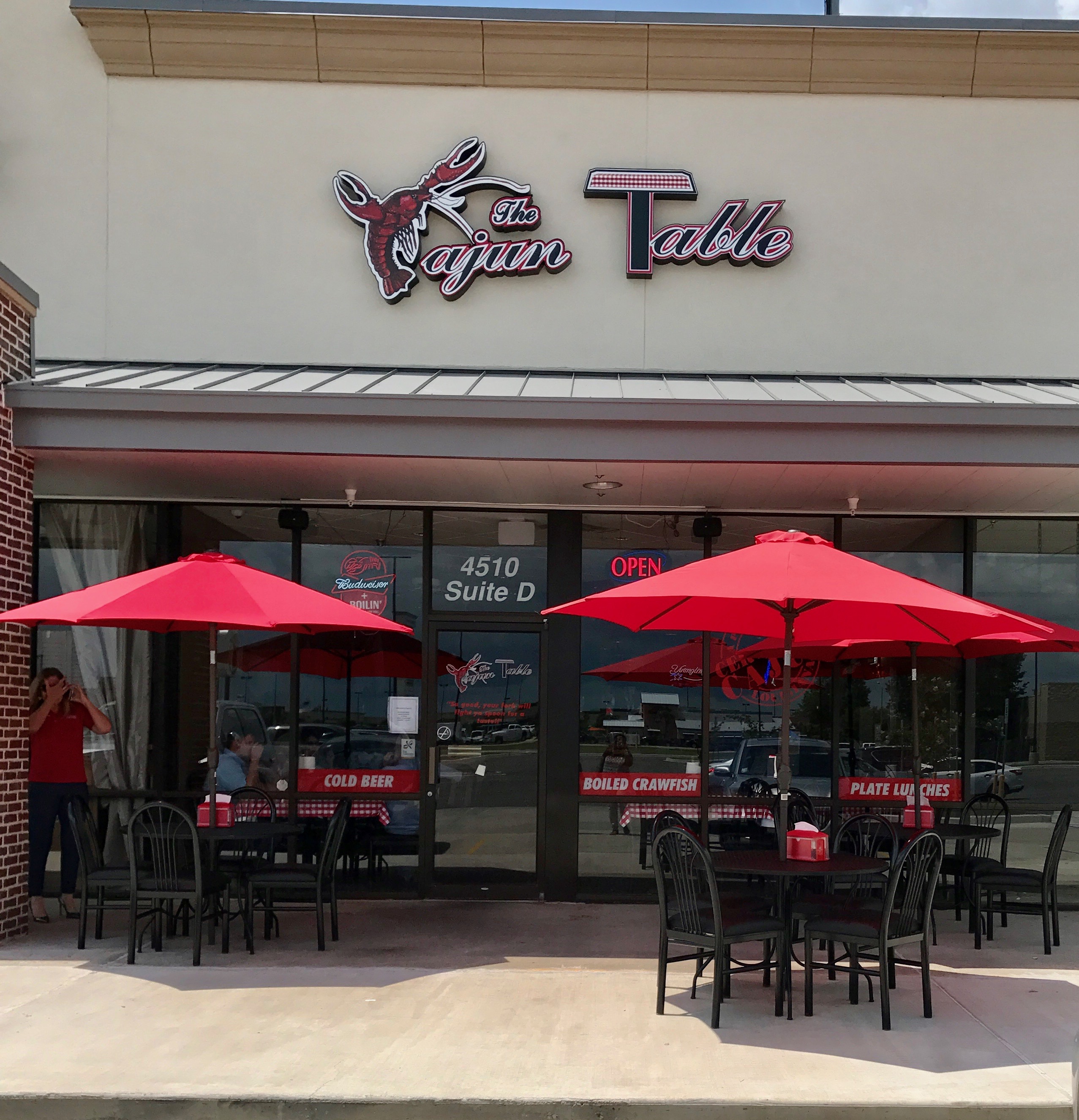 Visually the exterior of the restaurant was nice.  I loved the pops of red color in the Logo.  The crawfish in the Logo was super cool. A cool looking Logo.
The Cajun Table has outdoor dining which will be really nice during the Fall and Spring Time.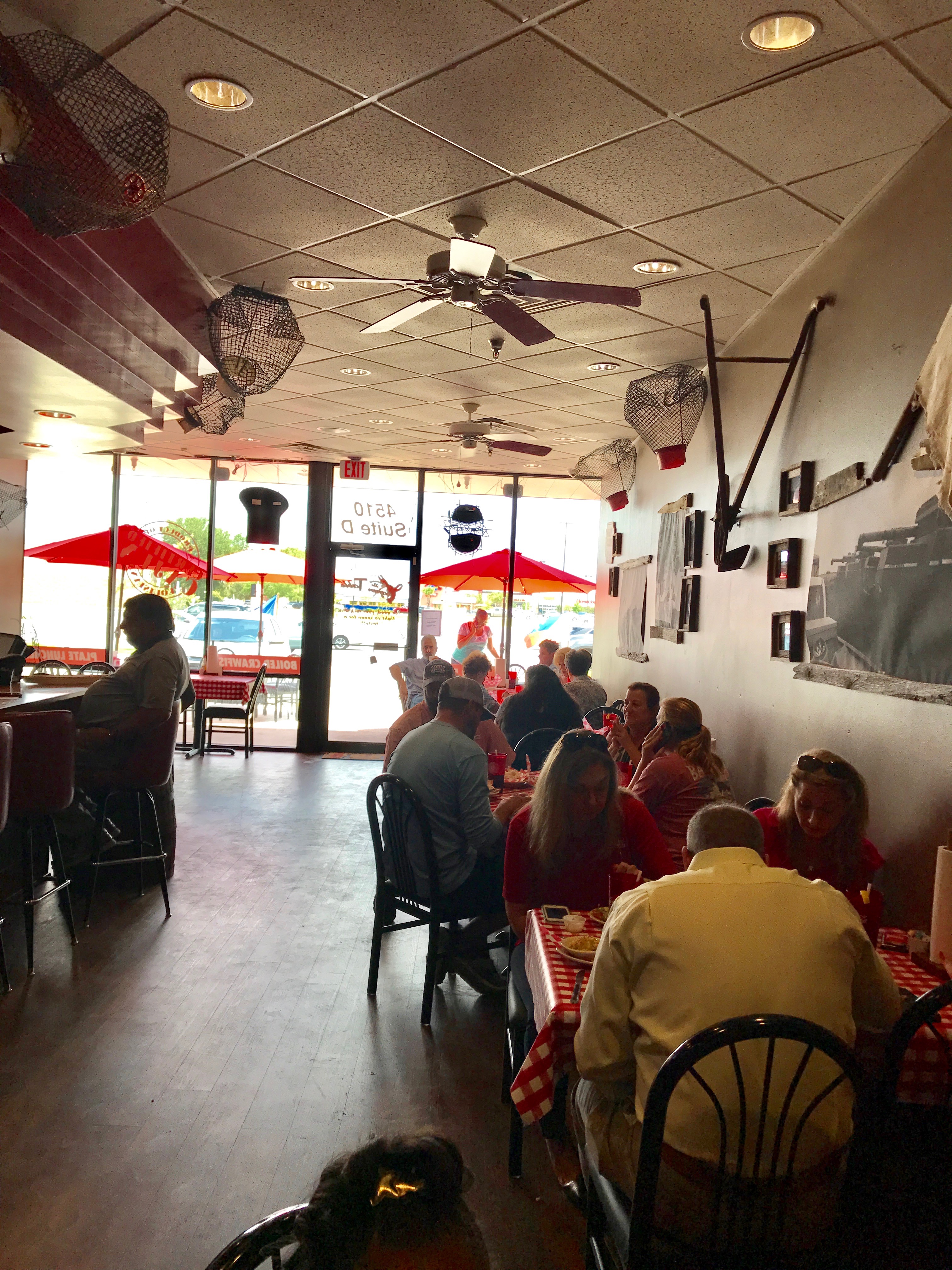 As we entered the restaurant, the decor had a very Cajun style theme. You felt you were in the South, I loved the Zydeco music playing in the background.
Before being seated we ran across some old friends and chatted with them. We found a table in the back of the restaurant.
We arrived during the lunch rush. Baby girl and I had a seat and began perusing the menu.
The waitress took a long time to come and take our order.  She eventually came, took our order and came back in a few minutes with the drinks.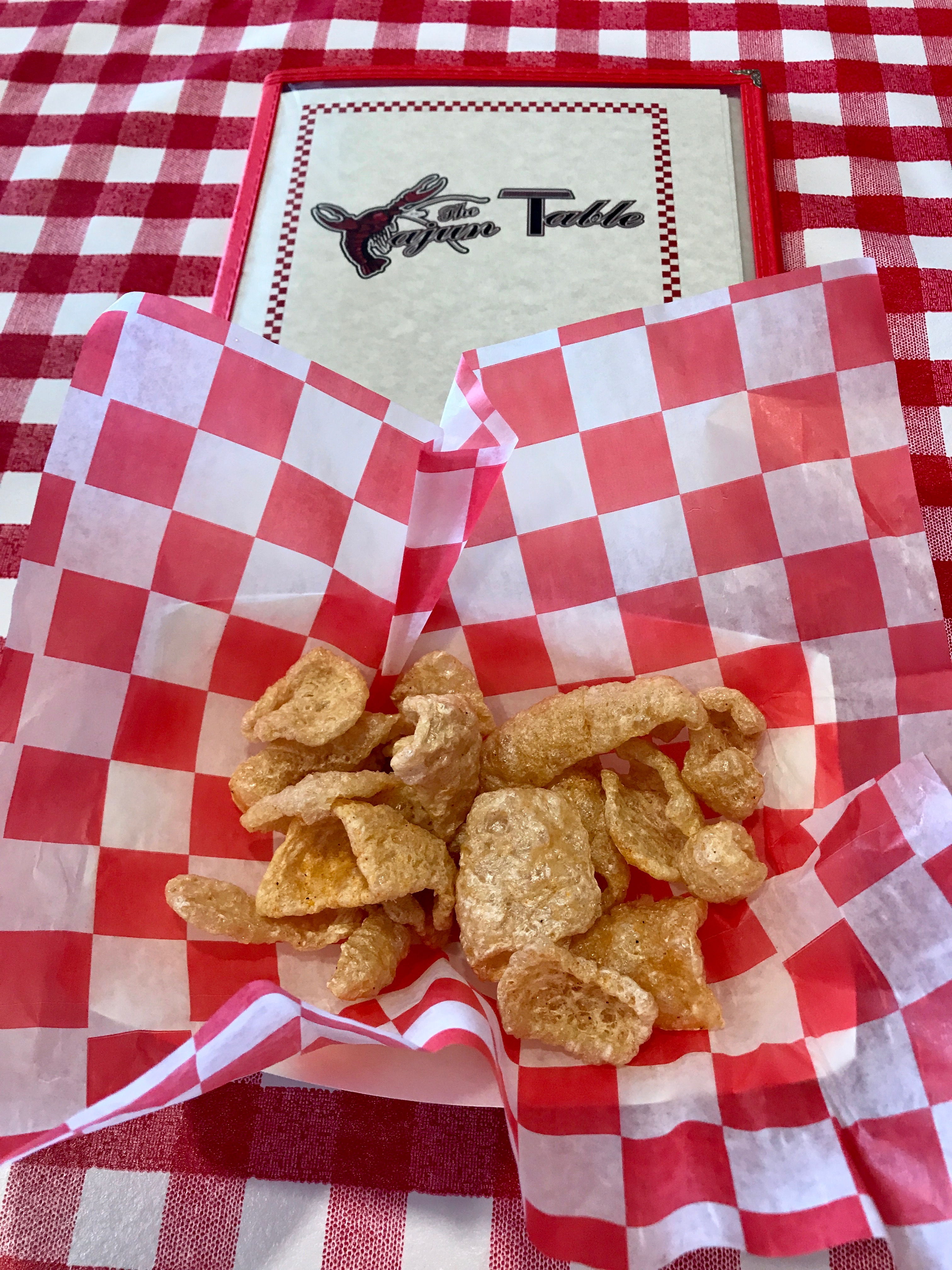 We were served complimentary pork rinds. Light and airy pork rinds that were lightly seasoned. The pork rinds set the tone for the Cajun Restaurant.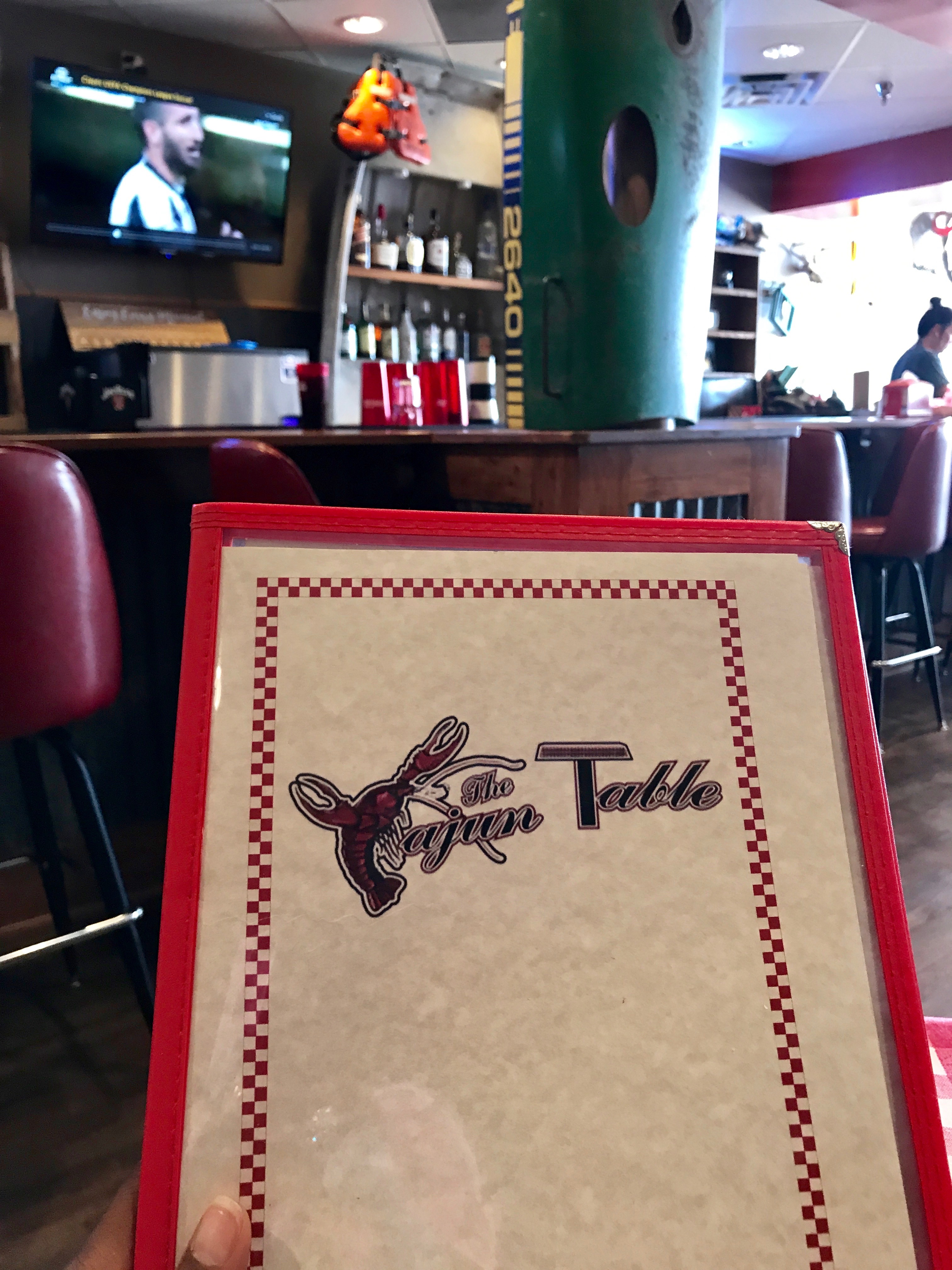 We started with an appetizer and one entree.  We were going to also try the Daily Plate Lunch Special, but they were sold out.  I found that kind of strange, because if you are selling this special all day how are you sold out?
I was a little disappointed because that was one of the main reasons I went there that day was for the Crawfish Fettuccine.
I wasn't sure if they had a kid's menu so I asked for one. The waitress didn't bring out one without me asking.  So FYI ask for one.
Baby girl decided to order her own meal since they didn't have the Fettuccine.
The appetizer and the entree both arrived at the same time. Why I don't know, that is one of my pet peeves. I do not like my appetizer arriving at the same time as my entree. Makes no sense because your food gets cold.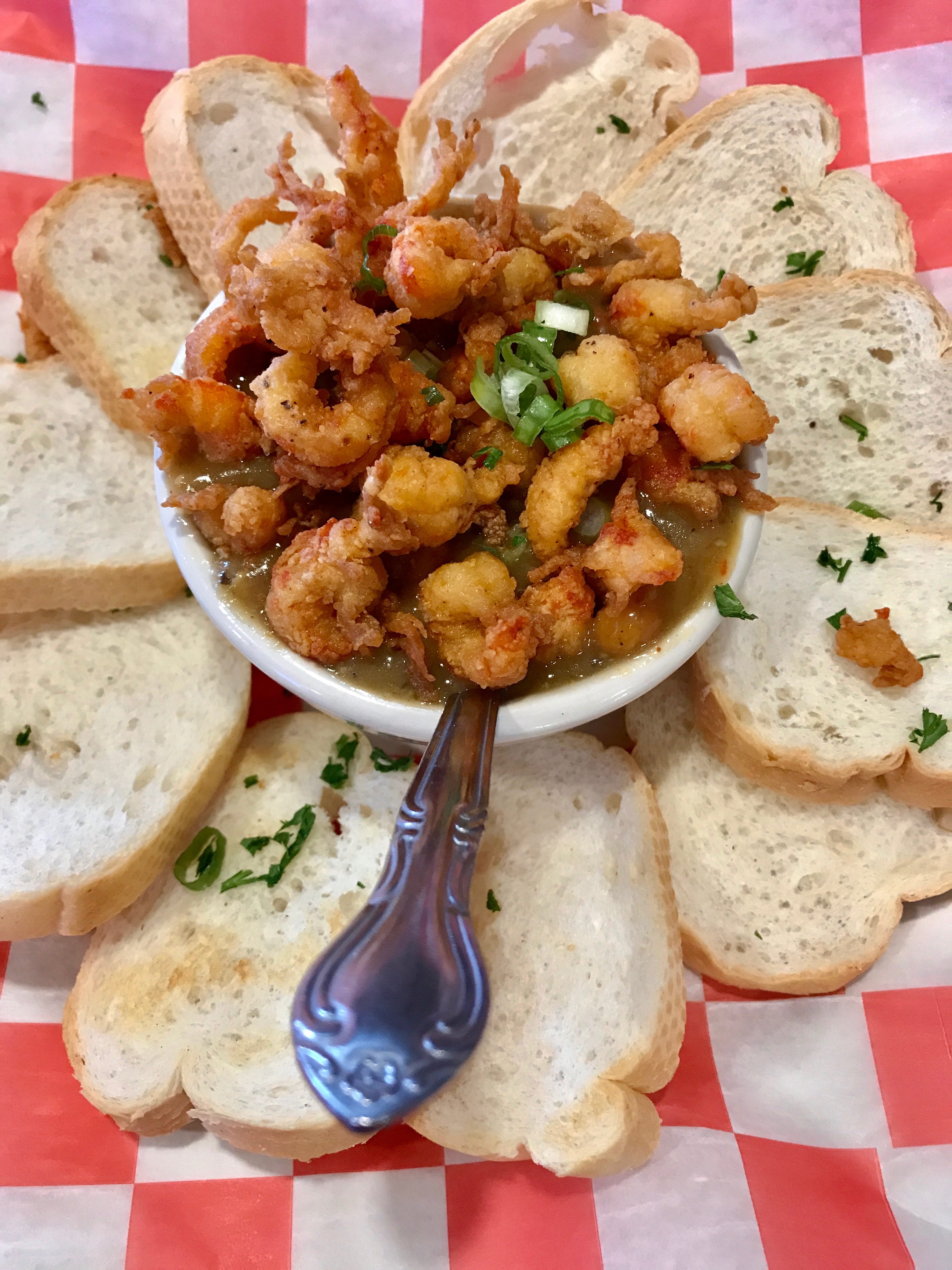 We started with Maw's Crawfish Dip. Maw's dip was topped with fried crawfish tails and served with French Bread. I must say, this dish was presented nicely. Very flavorful.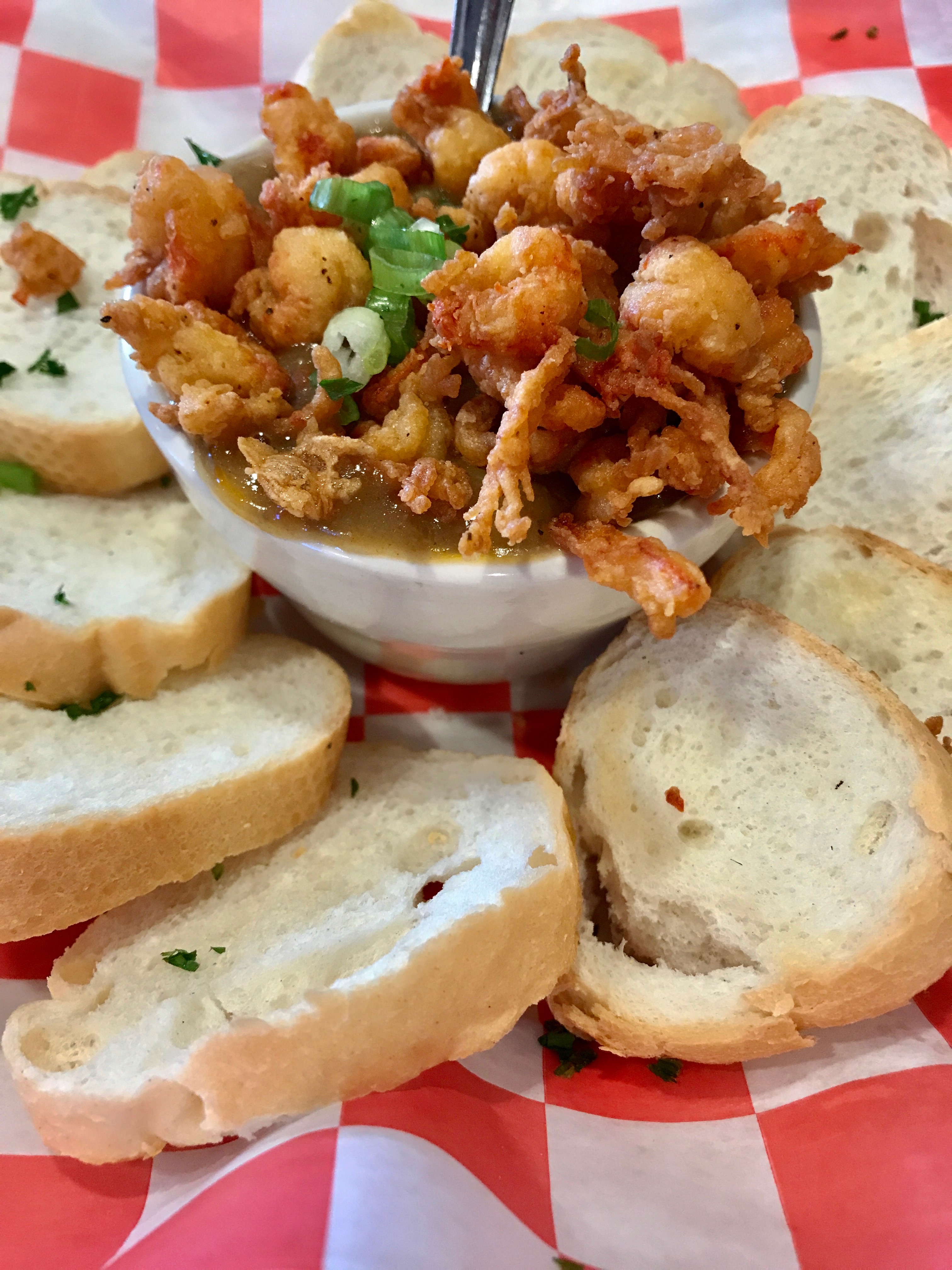 A large portion that can even be ordered as a meal. Baby girl couldn't stop eating the dip.  Really good.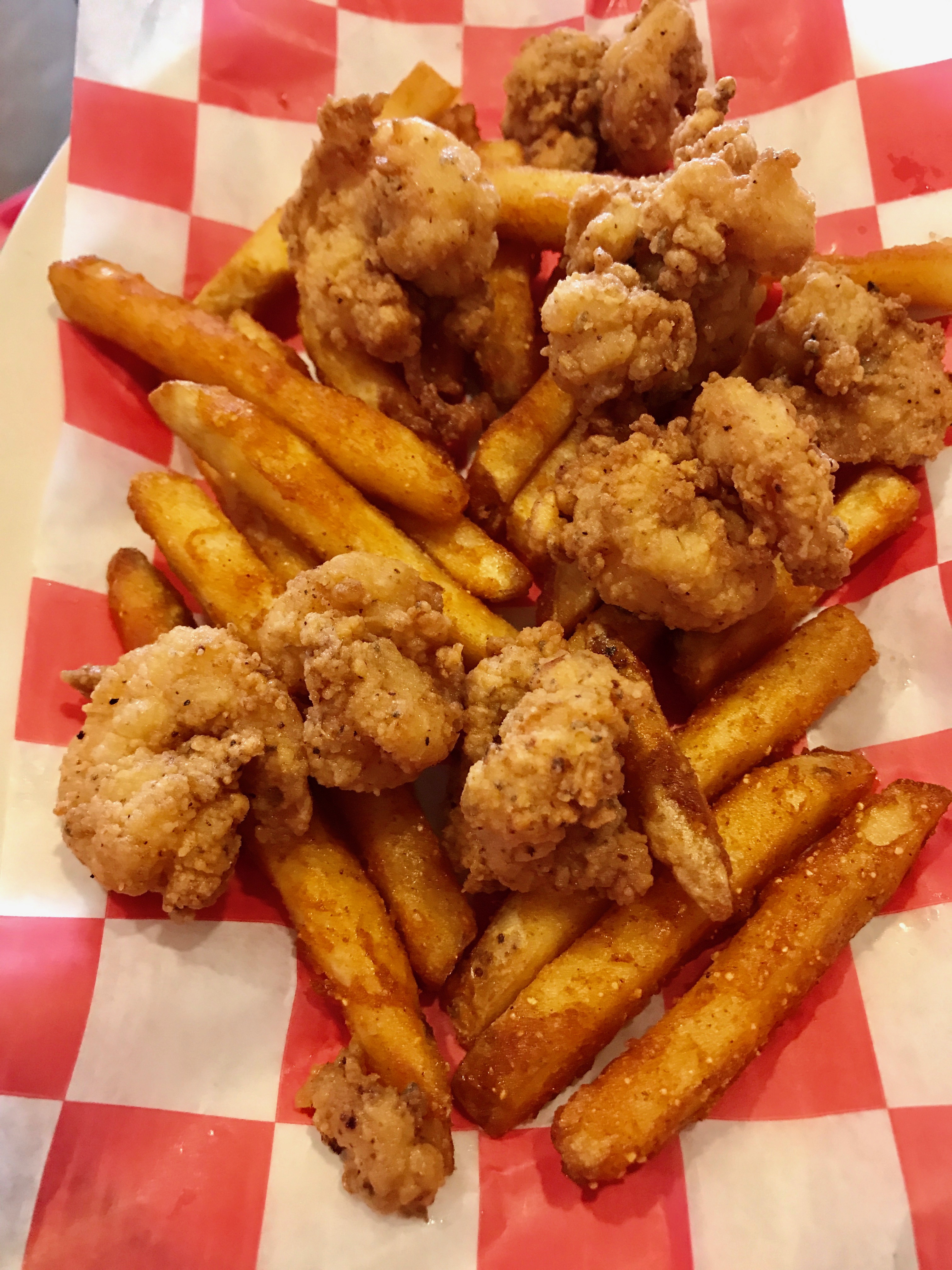 Baby girl ordered the Shrimp and fries kid's basket. The shrimp were a decent size and fried perfectly. Served with Creole fries. A good option.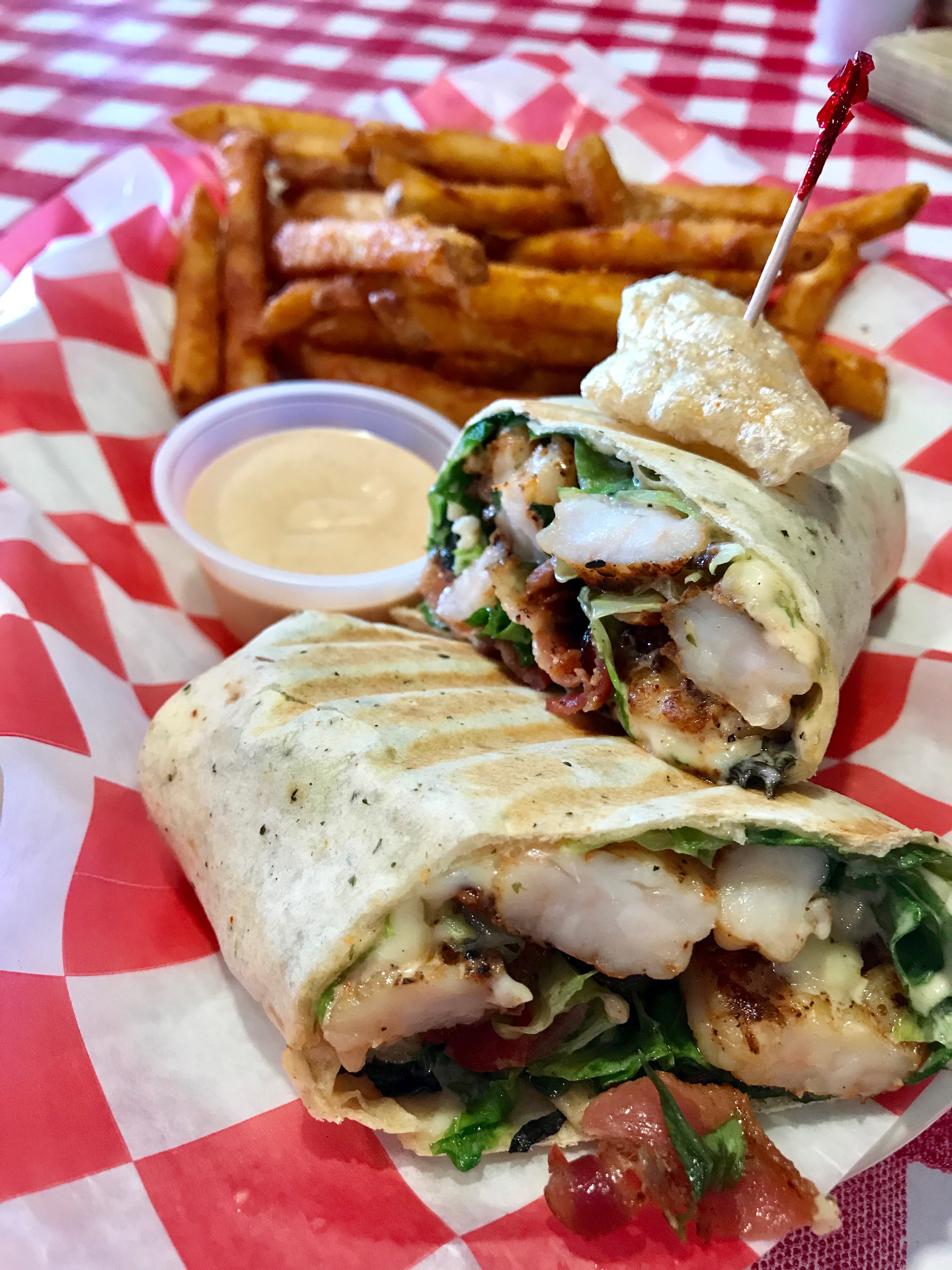 I ordered the Grilled Shrimp and Bacon Wrap. The Wrap included Grilled Shrimp, bacon, spring mix, pepper jack cheese and Cajun Table Dip rolled up tight in a Garlic Herb Tortilla.
This was a really good choice. The flavors were nice. The Cajun Table dip was so good. Similar to a Crawfish Dip. This dip needs to be bottled. Good stuff. I loved it with the fries. Really good!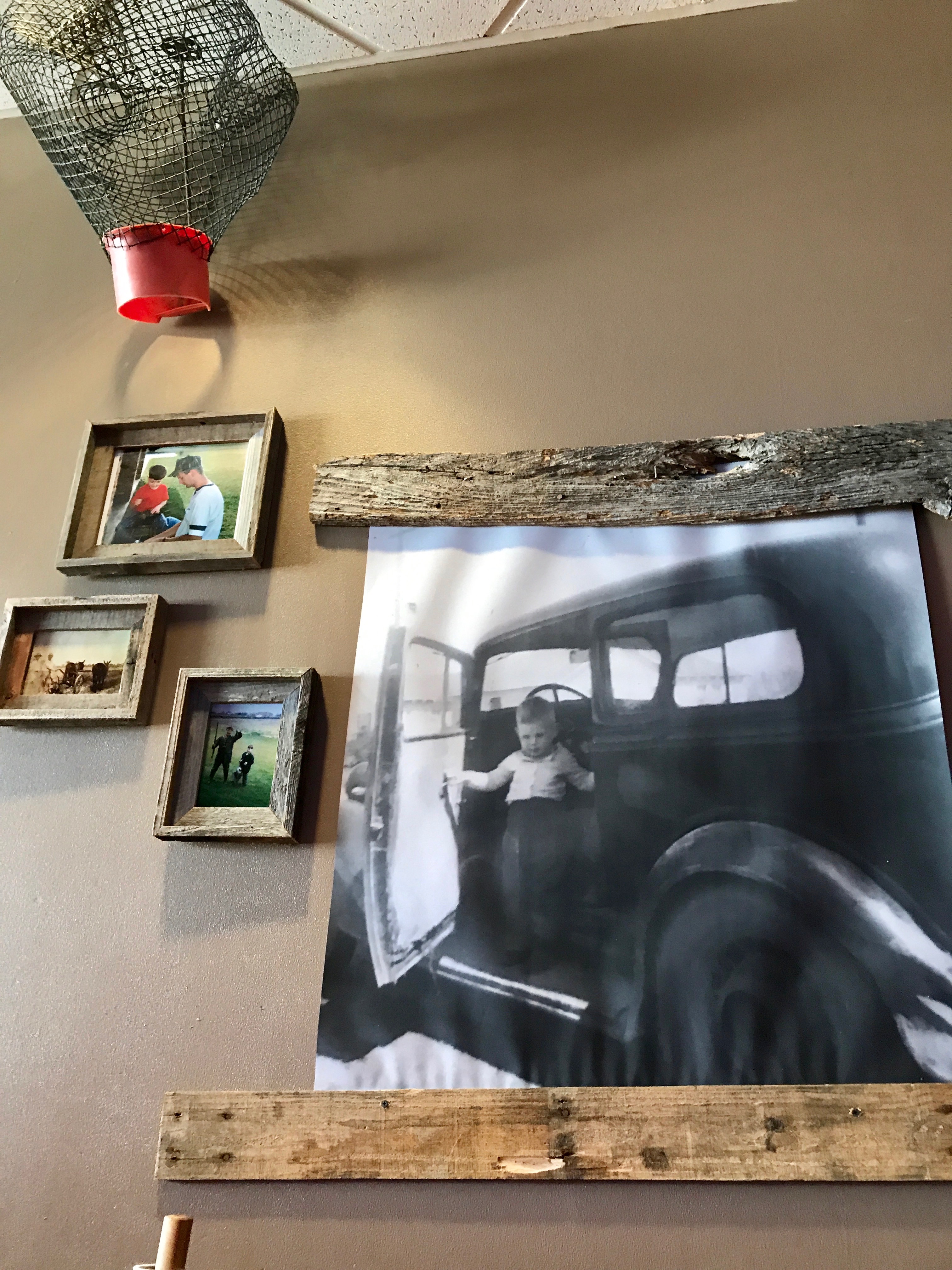 Overall I must say that the food was really good. Considering that the service was not that great. My waitress seemed a little inexperienced.
The kitchen service was a bit slow. I ran across some friends there and they were waiting on their food and said that they had been waiting for quite some time. Our wait wasn't as long but I think if you will cater to the lunch crowd in that area you have to be a little quicker. I think that the restaurant needs a little help with service and delivery of food in a timely manner.
But besides that, everything that we ordered was served hot and well seasoned.  Each dish was presented nicely.
The restaurant had a Cajun flare that I absolutely loved. The pops of red were really nice!
I love their motto, "So good that you fork will fight your spoon for a taste".
The Cajun Table also serves Boiled Seafood at Night. I want to go back and try the Boiled Seafood.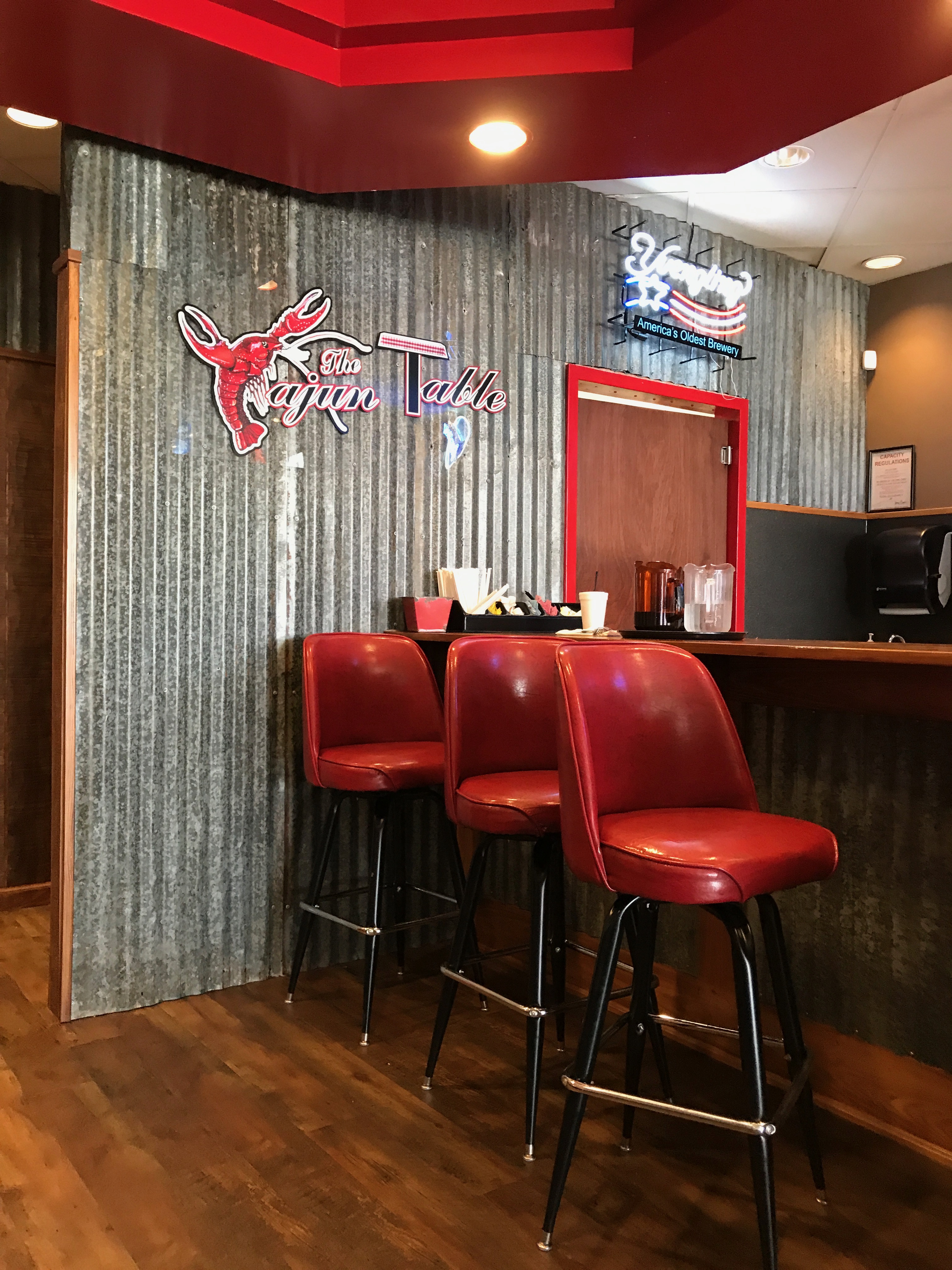 The Cajun Table is conveniently located at 4510 Ambassador Caffery Suite D, Lafayette, Louisiana. The Hours of Operation are Monday – Thursday 10:30 a.m. – 9:00 p.m., Friday 10:30 a.m. – 9:00 p.m. & Sunday 11:00 a.m. – 9:30 p.m. 
[bloglovin_button]