Azteca's is a Mexican restaurant that has been around for awhile. My little family & I had never been to Azteca's so we decided to try it one day after church. We wanted to dine at a restaurant that had a television so we could watch the game. Loved the fact that there were several flat screen televisions that were visible in most places in the restaurant.
Azteca's salsa was good but wasn't as spicy as we like our salsa. The texture of the salsa was a bit on the chunky side which is the way we like it. We also tried the white queso (pictured below) at Azteca's. We were very disappointed, because the queso was milky and had no flavor.
Jaeda ordered the Chicken tenders with fries. One plus is that there is a kid's menu. We love to find restaurants that have kid's menus so we can share it with our friends. The Chicken tenders (pictured below) was very dry & overcooked. The fries were ok, nothing to brag about to anyone.
My honey ordered the Seafood Fiesta which consisted of the seafood enchilada, topped with sour cream (he doesn't like sour cream, so his had cheese on top), seafood chimichanga with 4 spicy sauteed shrimp, with rice and beans. Brian wasn't very pleased with the dish. He said that the dish was ok, but needed help, lacking salt and seasoning. The rice and beans were not bad.
I ordered the Mexican Sampler. The Sampler consisted of your choice of beef or chicken quesadilla (I chose beef), 2 stuffed jalapenos, 2 Sante Fe egg rolls & Fiesta nachos and served with sour cream and guacamole. The Sante Fe egg rolls were not that great. The egg rolls had too much black beans in it. Chili's egg rolls are much better than Azteca's egg rolls. The stuffed shrimp was probably my favorite item that day. I could have eaten just the stuffed shrimp. The nachos were average, nothing special. I make better nachos than that at my house. Lastly, the beef quesadillas they could have kept. So overall my dish was awful, it wasn't for the stuffed shrimp this dish would have been a waste of time and money. I will say, I am glad that we had a living social deal because I would have complained to the fullest. Just a disappointment!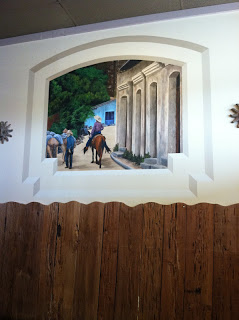 My favorite thing of this dining experience was the hand-painted pictures. They were beautiful. I was more intrigued with the pictures than the food. There are friends of ours who love Azteca's, but we hated our experience and the food.
Overall our experience was disappointing. We waited 5-8 minutes to be seated. In addition, we weren't even acknowledged until it was time to be seated, which was very unprofessional. The food was terrible. I think I would have preferred to go home and eat instead of dining there after church that Sunday. Thank God we had the coupon from Living Social. So instead of paying $40.00 for nasty food we paid $20.00. I will say that our waiter was very nice and polite. Azteca's needs to go back to the drawing board with some of their menu options or get new cooks, because the food we had should have been much better for the cost.
Azteca's is located at 3535 Ambassador Caffery Pkwy, Lafayette, LA 70503, 337-769-1088.
If you have dined at Azteca's let me know your experience. Were they having an off day?? I want to hear from you!!