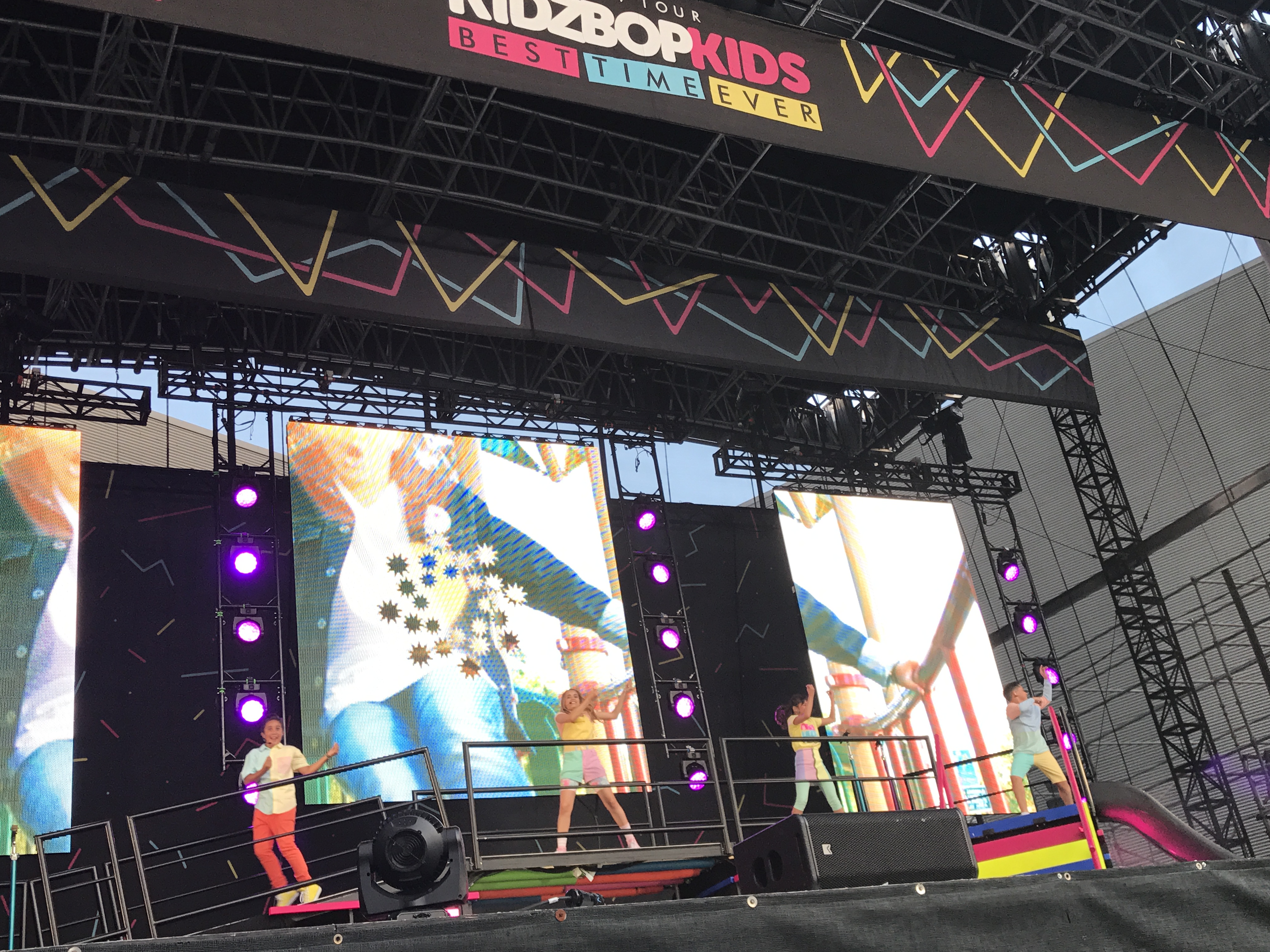 A few weeks ago the family and I traveled to New Orleans. Baby girl is a big fan of Kidz Bop Kids and we found out that their new Show, Best Time Ever Tour was coming to New Orleans.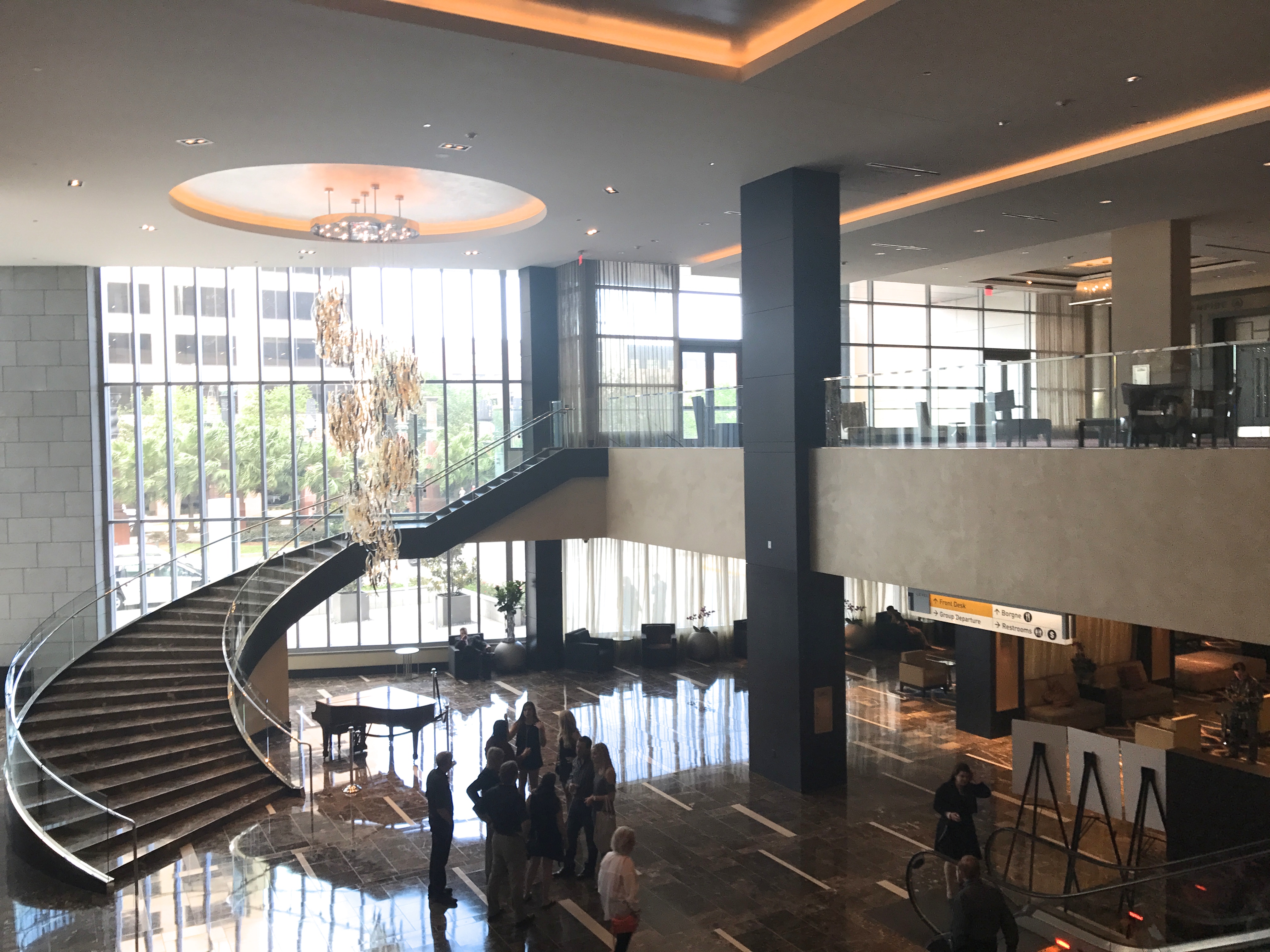 So I decided to surprise her with front row tickets to the show.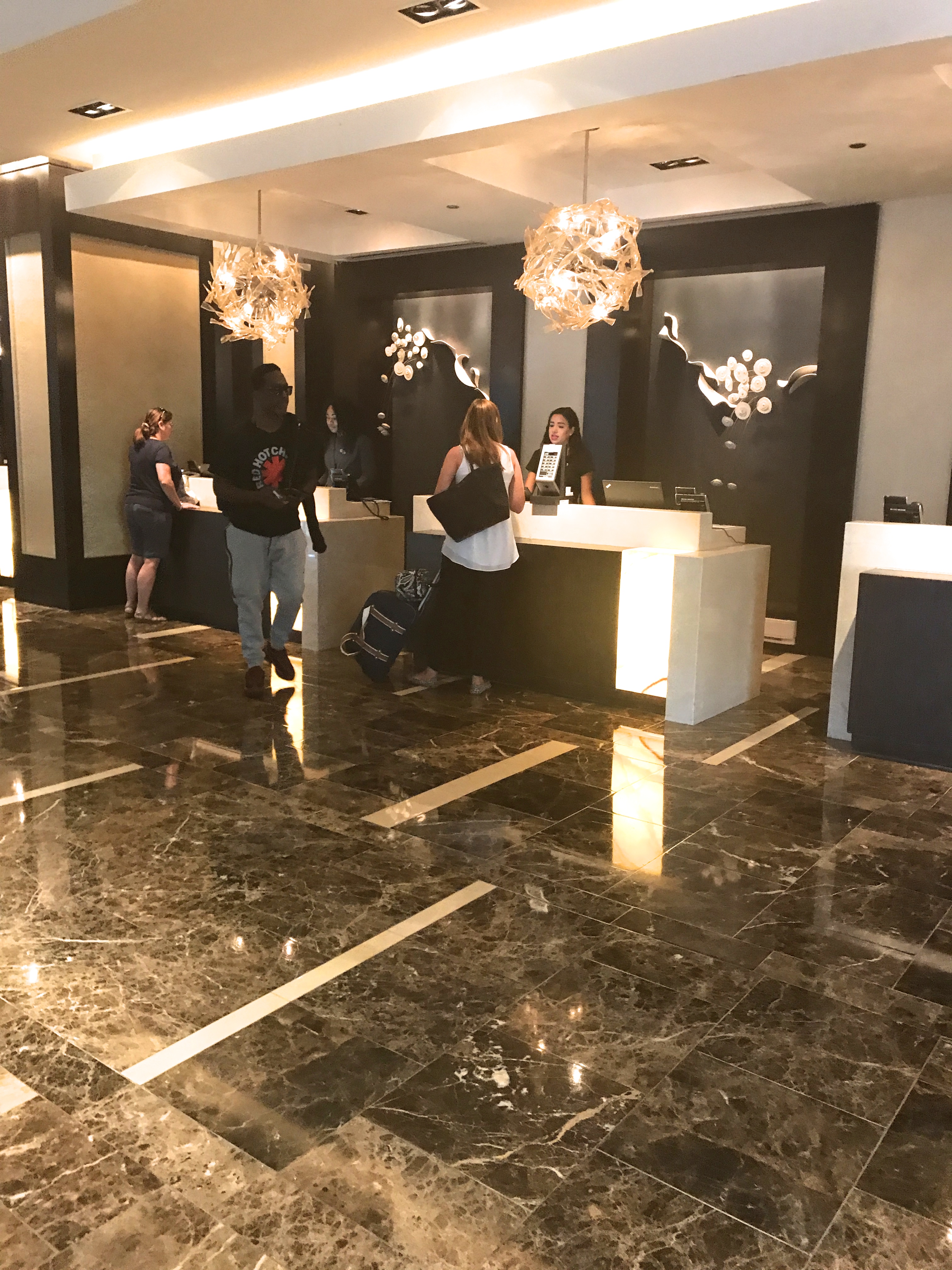 We arrived in New Orleans a few hours before the show. Which gave us a little time to check into our hotel, eat and freshen up for the show.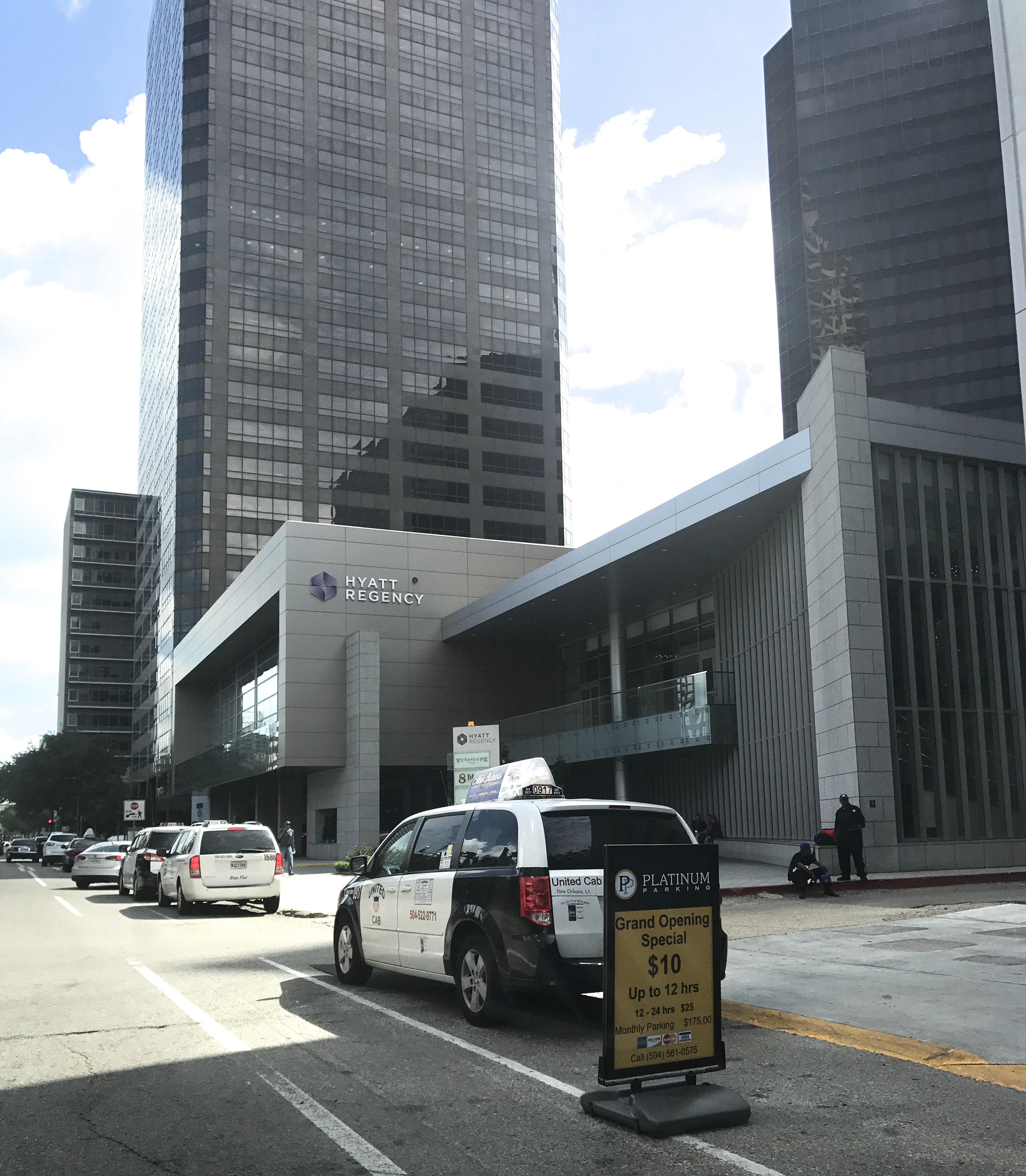 The Hyatt Regency is one of our fave places to stay when we are in New Orleans . I will share more about the hotel in my next blog.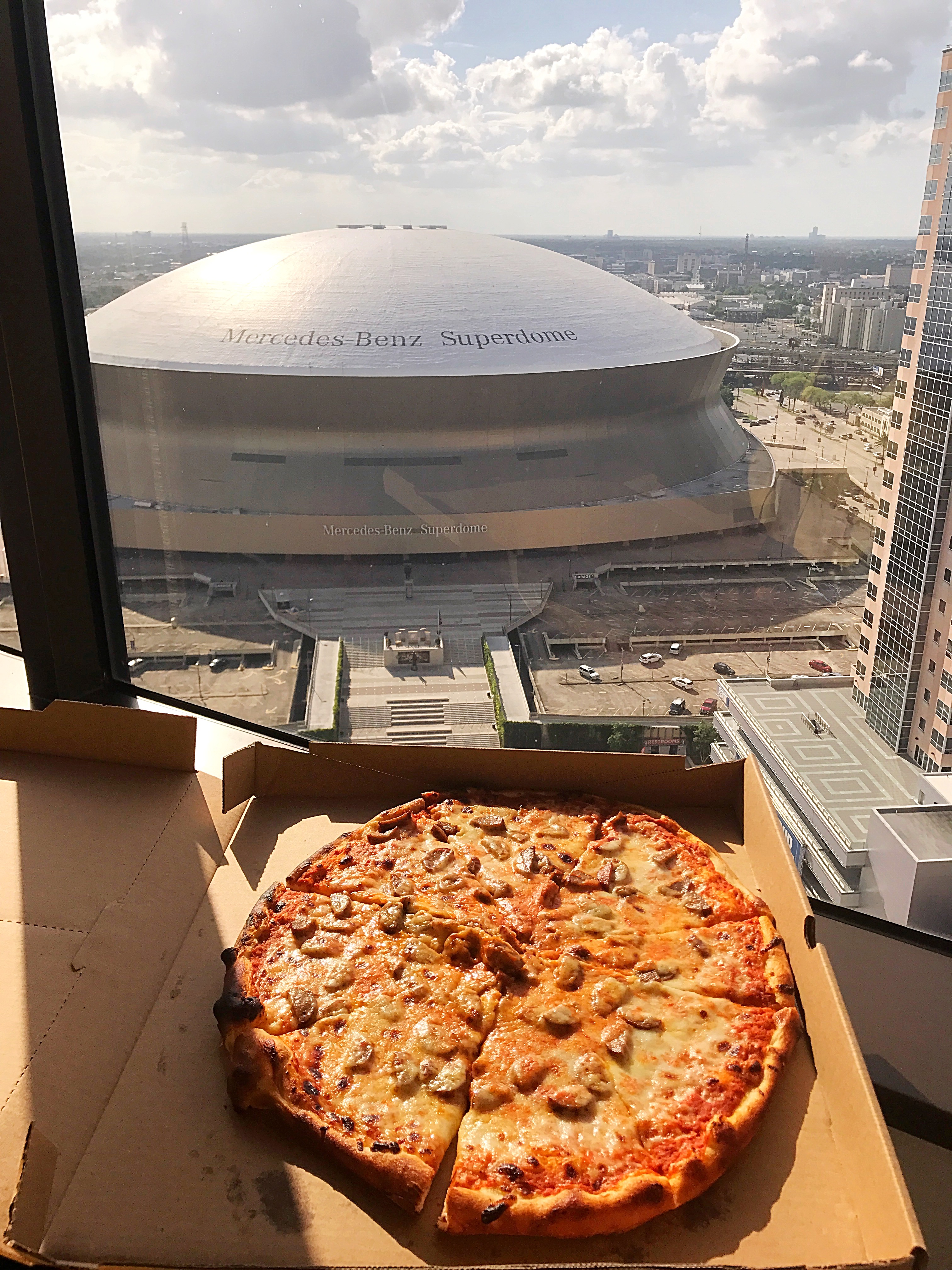 We were a little hungry so we ordered pizza from Pizza Consegna. The pizza was quite delicious. Perfect for a pre-concert meal.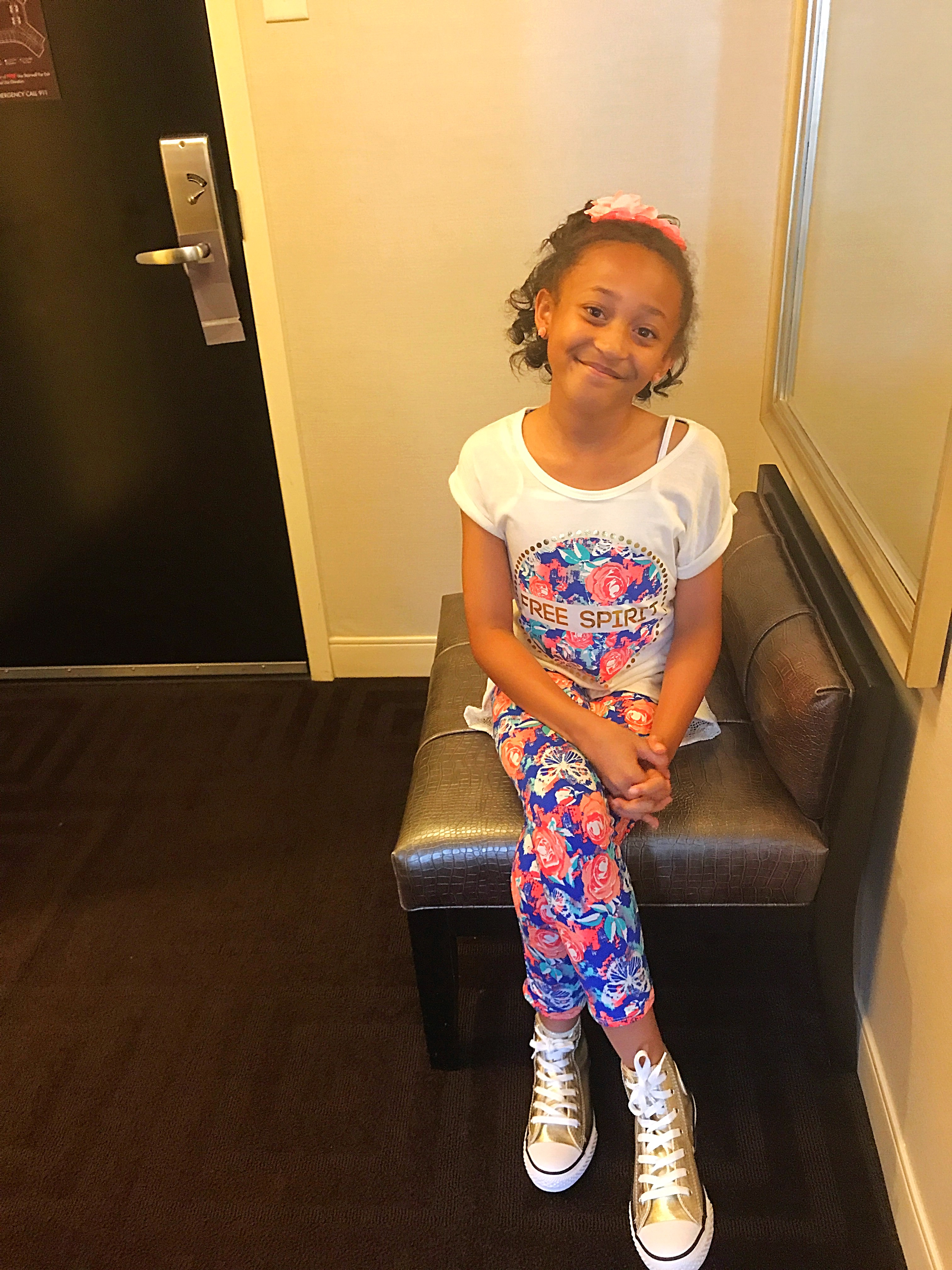 At about 6 p.m. we left the hotel to head to show. The concert was located in Champion Square which was right around the corner from the Hyatt.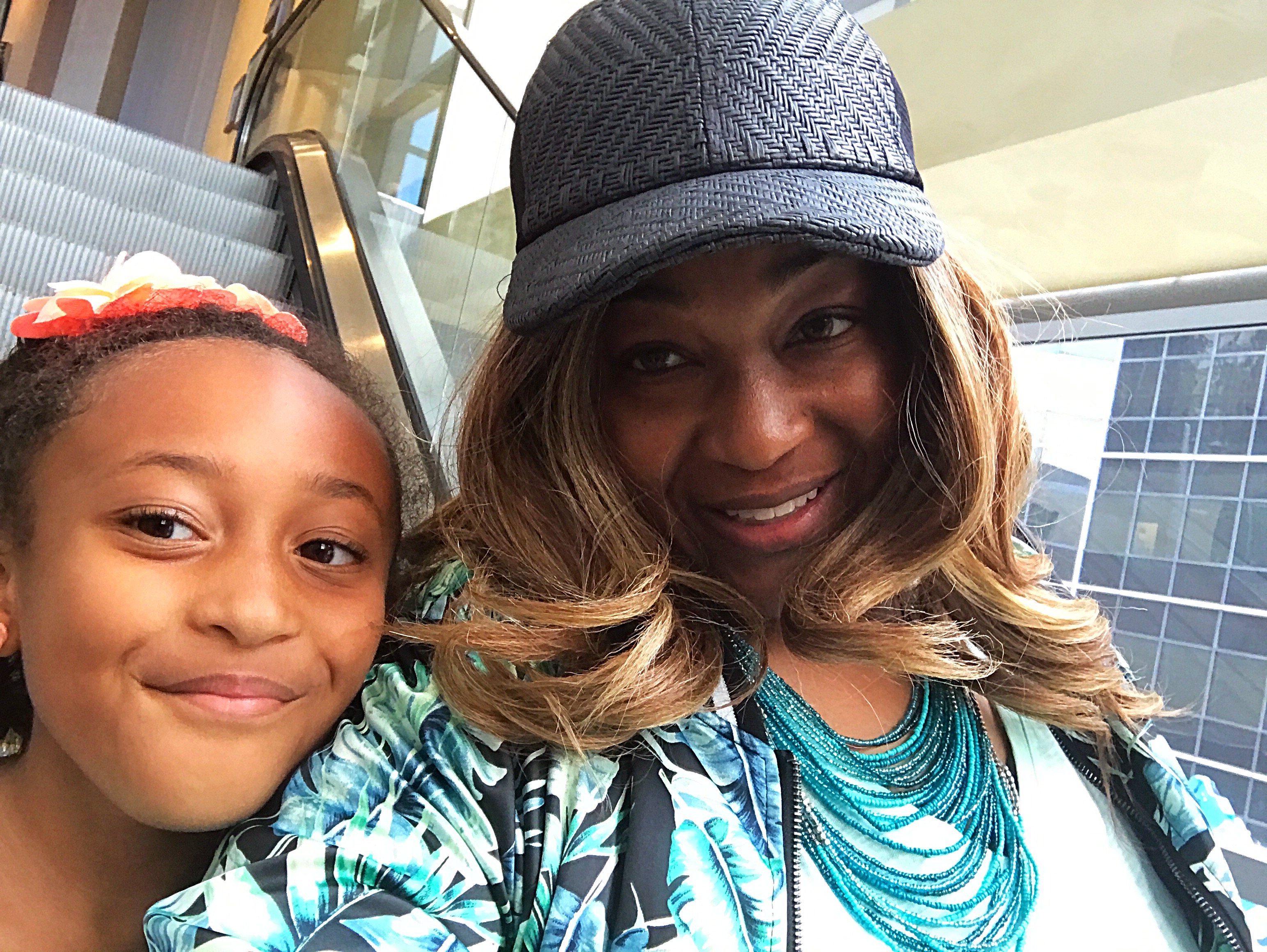 As we walked into Champion square, my daughter immediately noticed the merchandise booth. We hoped in the line to purchase a few items for her and her brother.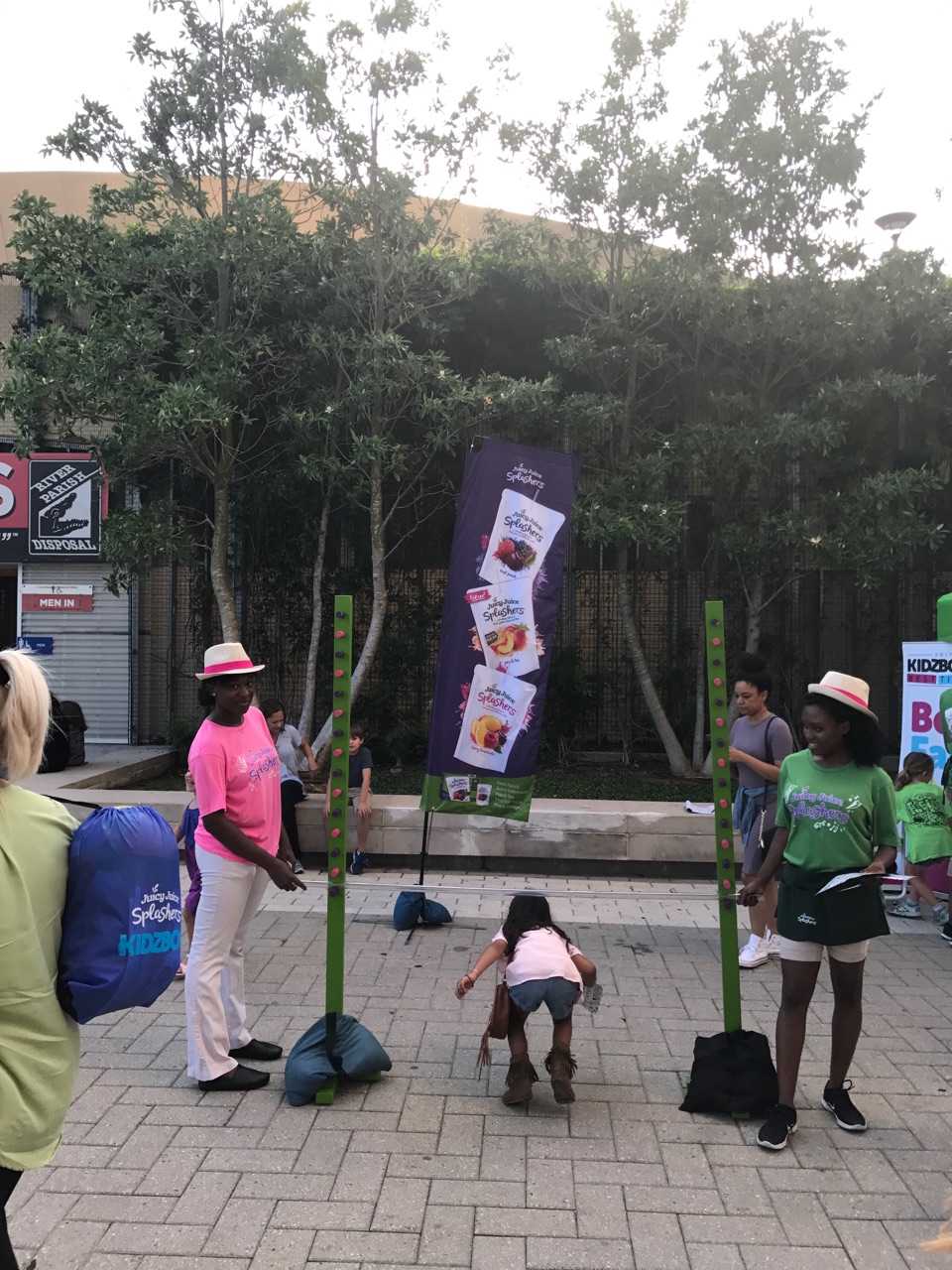 The wait was extremely long, which was surprising considering that most places would expect to have a long line of people so they would hire enough help.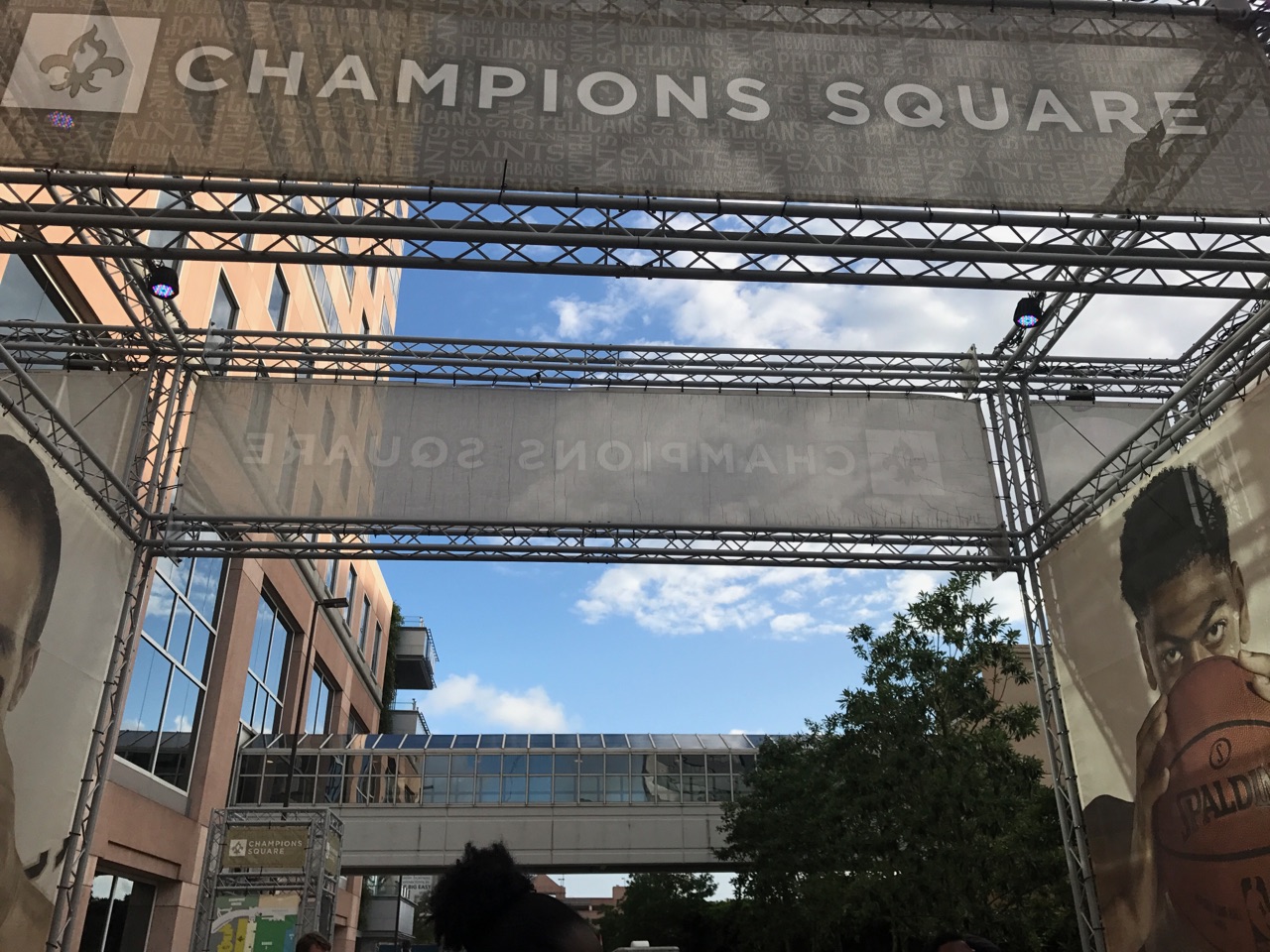 We finally made it to the front. One of my daughter's choices were the light up sunglasses. Unfortunately we went through two pairs that refused to light up. Because the lady had already rung up my purchase and charged my card I couldn't get a refund. Which was fine because she chose something else instead, but  while I was in line there was another lady who came back for the same reason.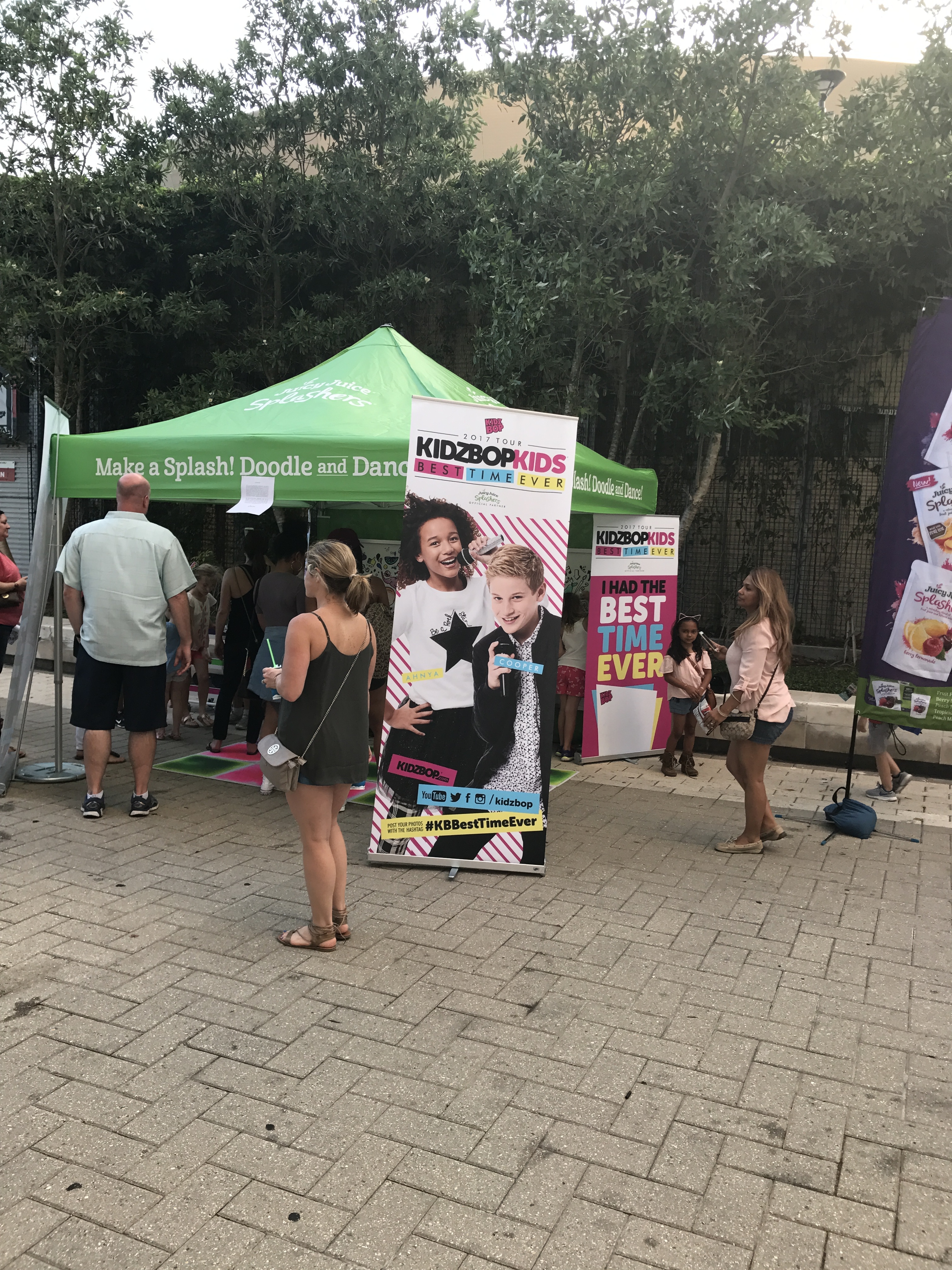 After leaving the merchandising booth, we walked around the square. There were a few areas setup for the kids to take pics and play a few games.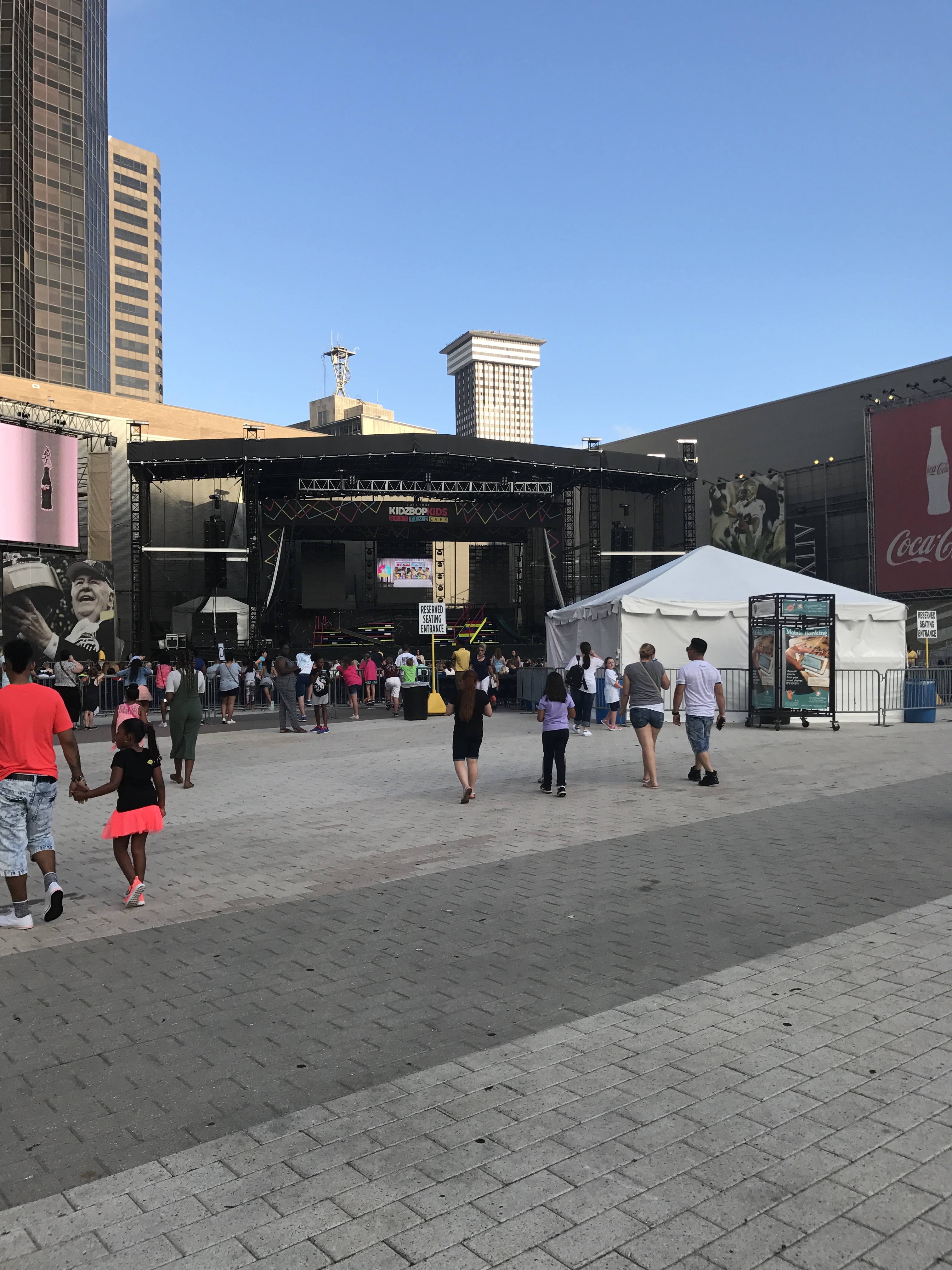 As we walked closer to the event there were a few food vendors but mostly sweets like Dipping Dots, Cookie cake, drinks and fresh lemonade. Which was cool, my only complaint was that the booths didn't have napkins. Not sure why.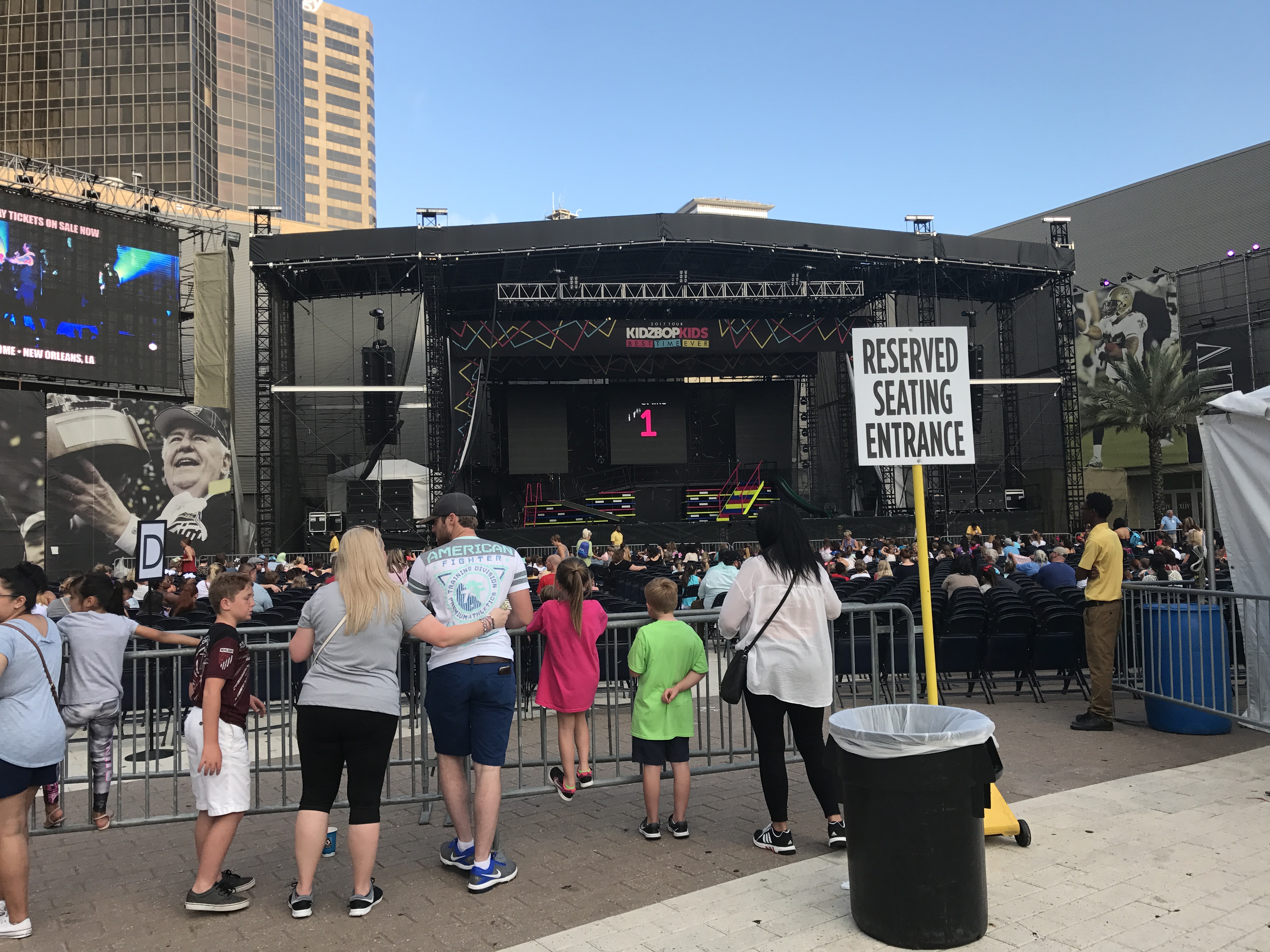 We picked up some dipping dots for baby girl and a fresh squeezed lemonade for me.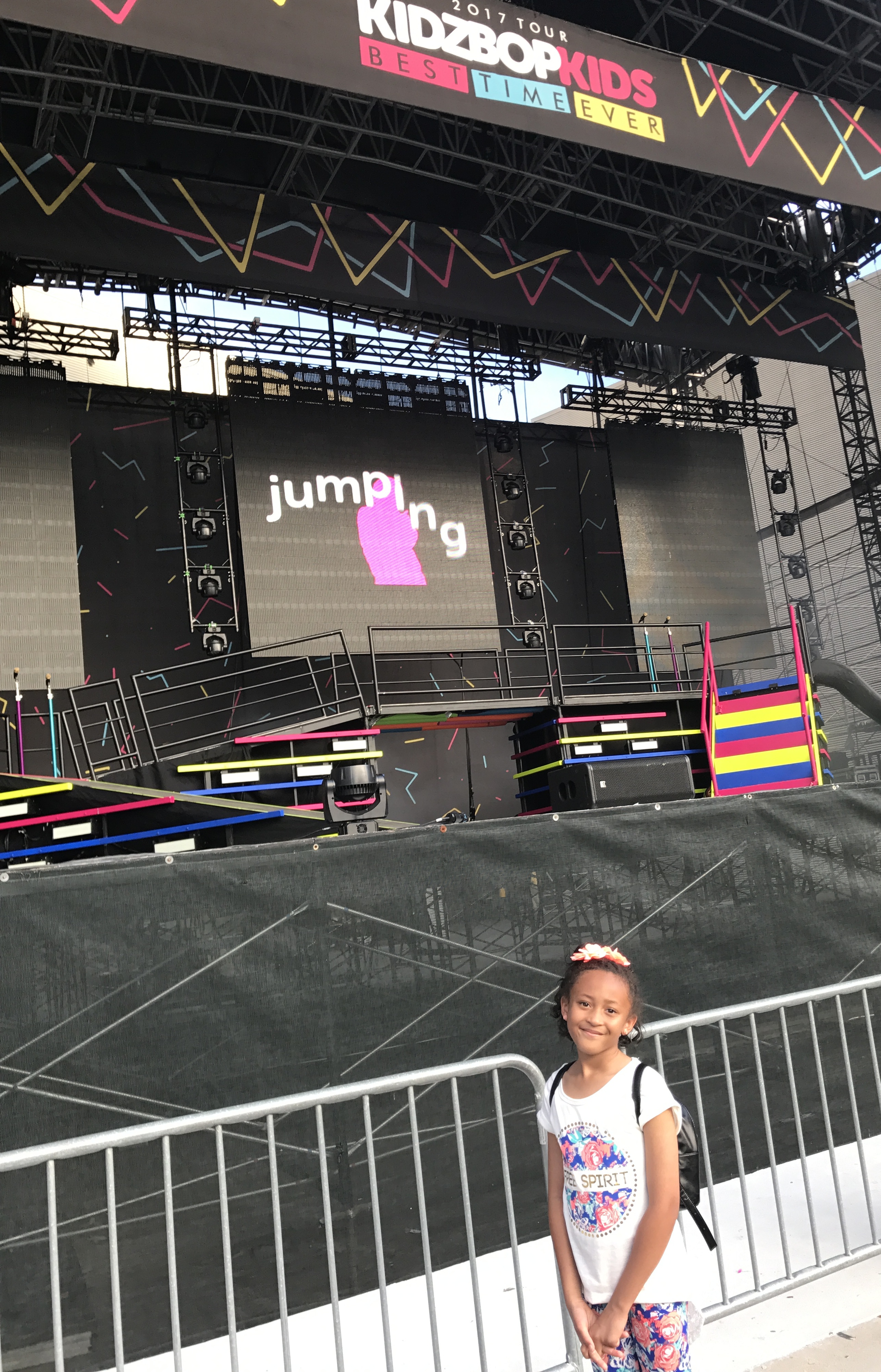 Our tickets were in the front row so we showed our tickets to get into the reserved seats section. Then headed to our seats. The seats were super easy to find. We loved the setup. There were a variety of viewing/seating options.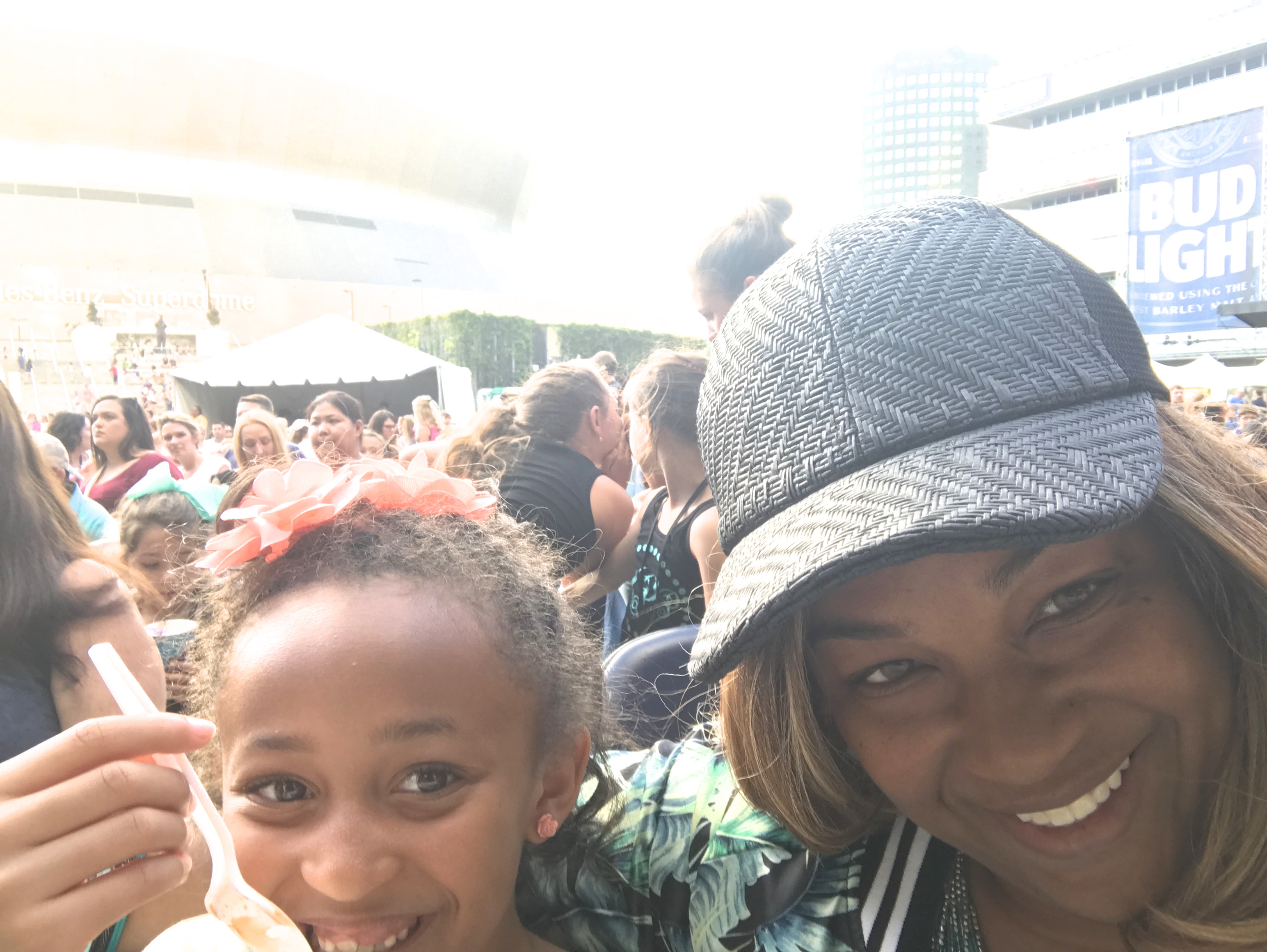 We were seated, enjoyed our treats and waited for the show to start. The excitement began to build as more and more kids were seated.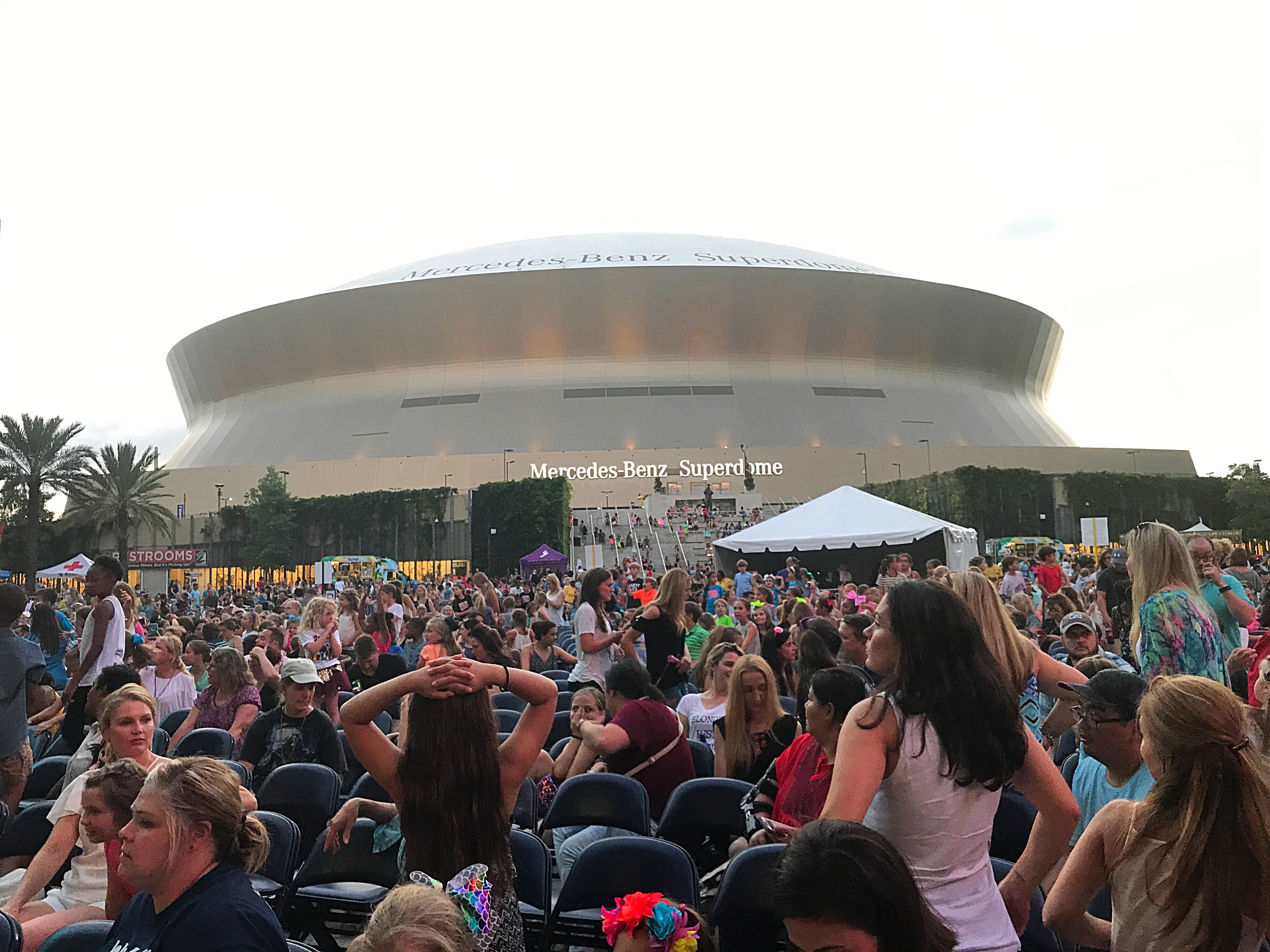 The kiddos all around were jumping and chatting it up. So cute to see.
There were kids ranging from 3-14 or so in the audience. A good variety of kids age ranges were present.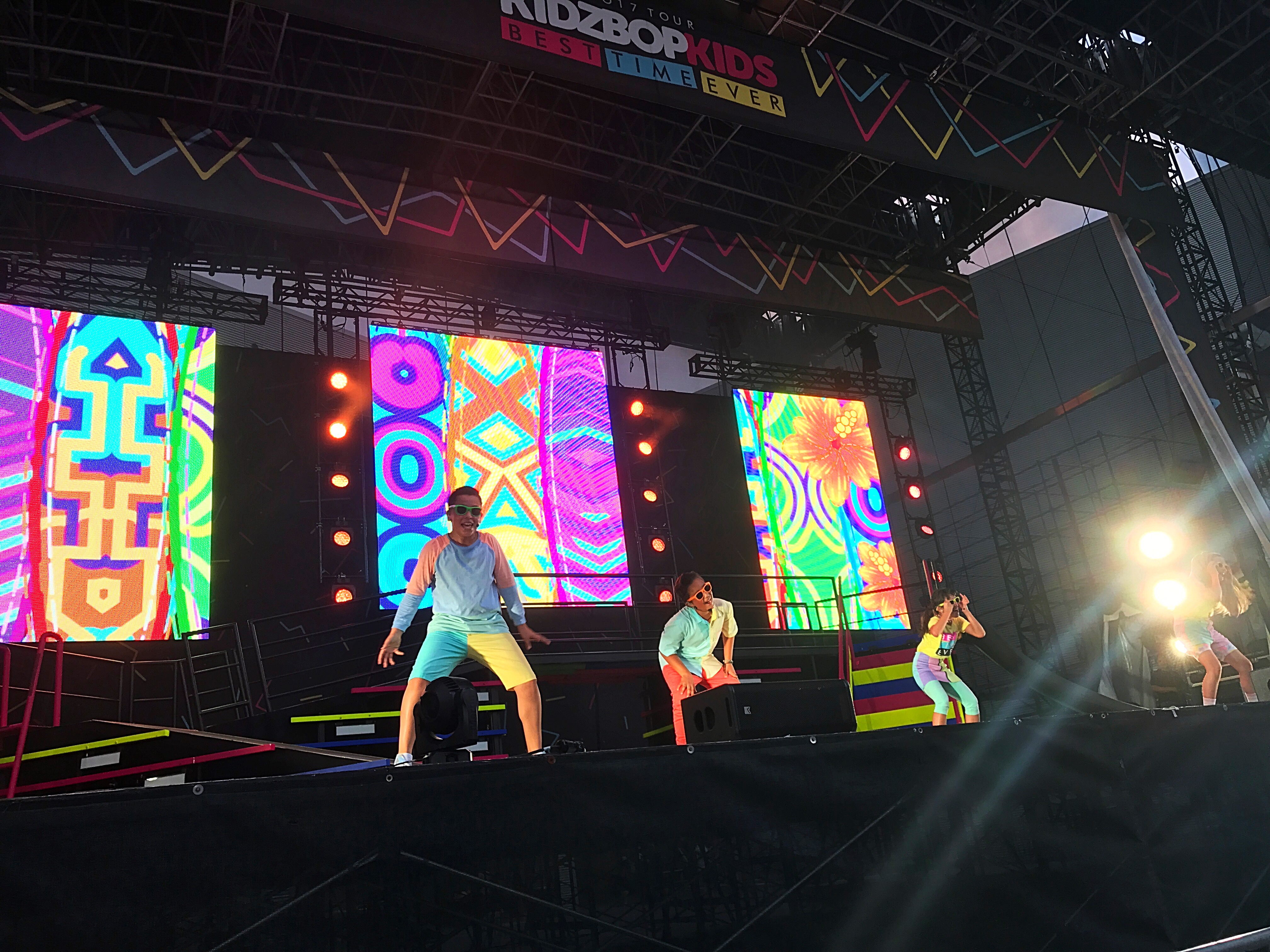 The show finally started! Yay!! Let the dance party begin!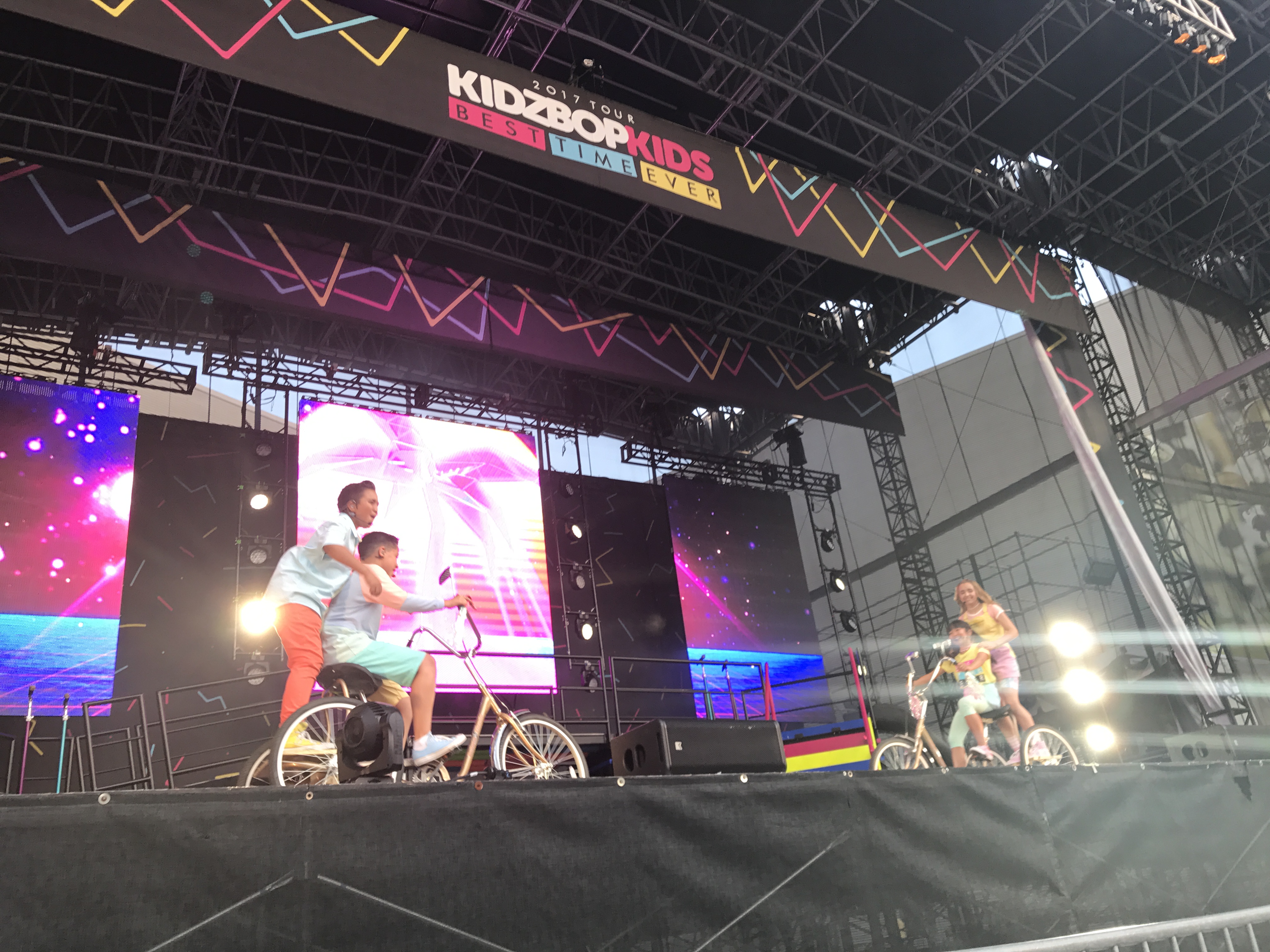 At first glance the outfits were well thought out. The props were cute and went well with the overall theme. During the first number, I love that the kid performers came out on Bicycles.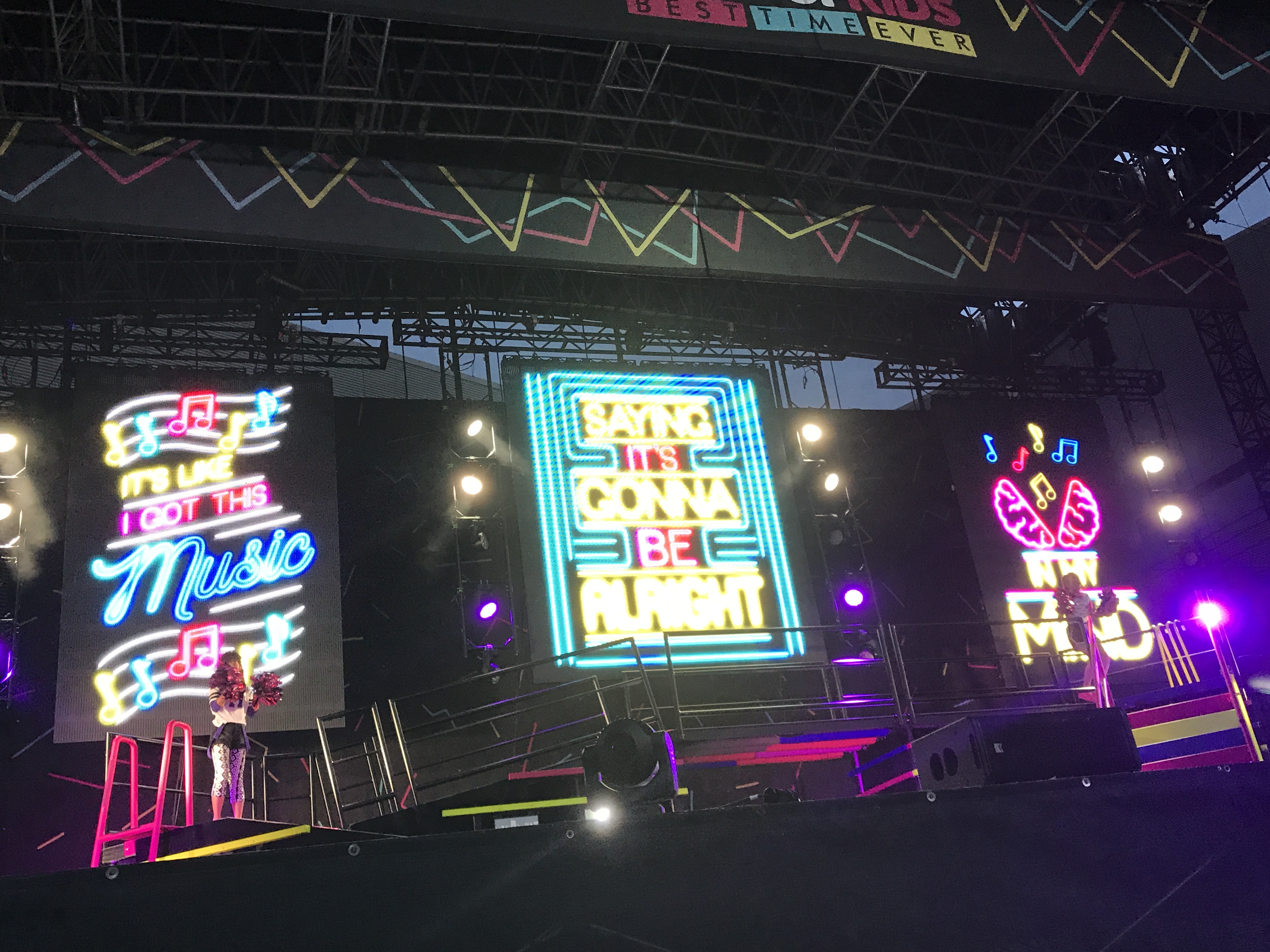 They begin to sing, the kids had beautiful voices. But the sound was a bit off, volume and voice levels weren't set. I started thinking to myself, I hope they get it together we paid too much money for a mediocre show.
About 3 minutes in we begin to notice a change. The sound was perfect. The music was set! Now we could sing and dance without any distractions. The performers engaged the crowd, the kids were up dancing and having a good time.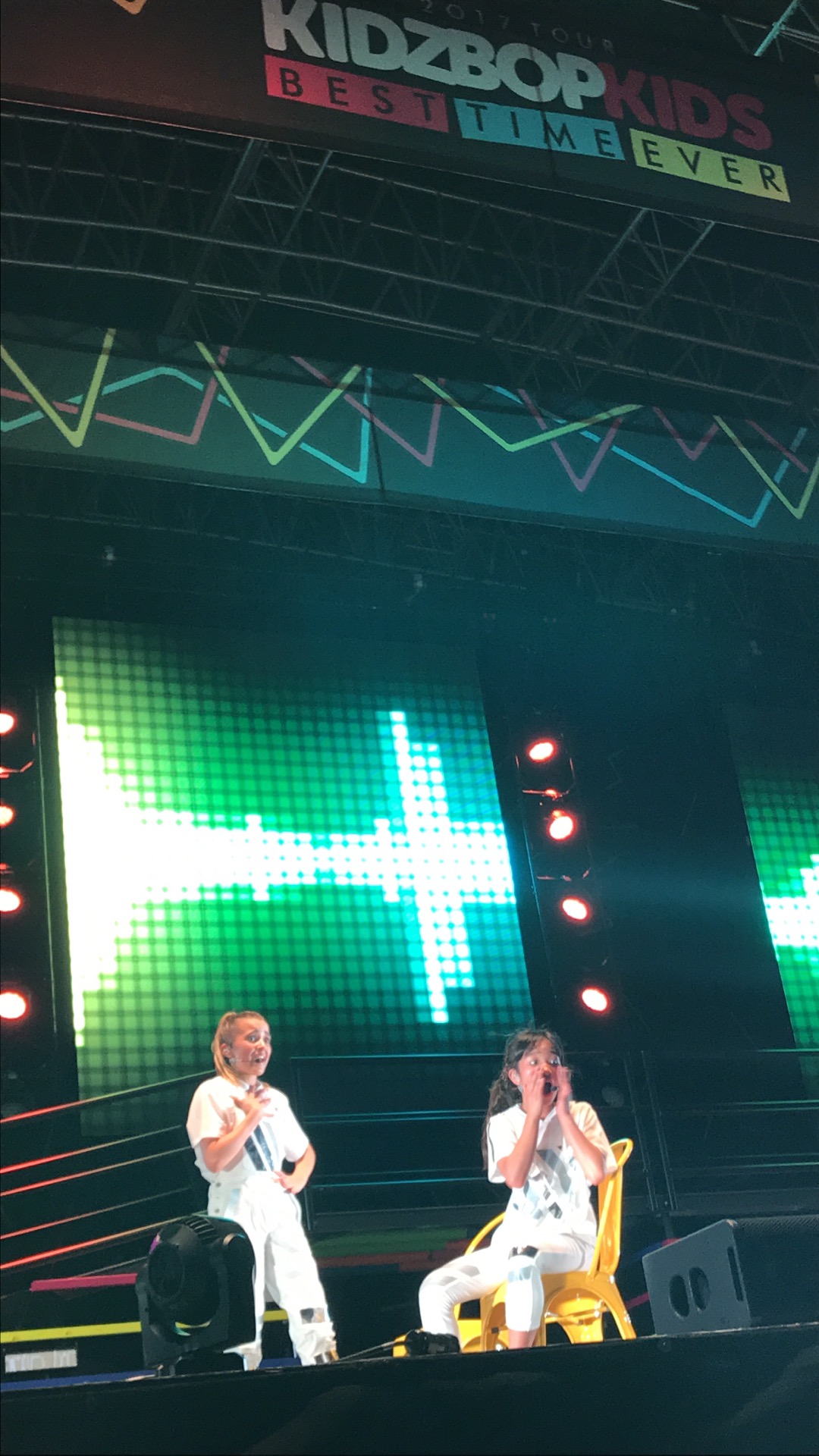 Such a fun evening. The song choices were great!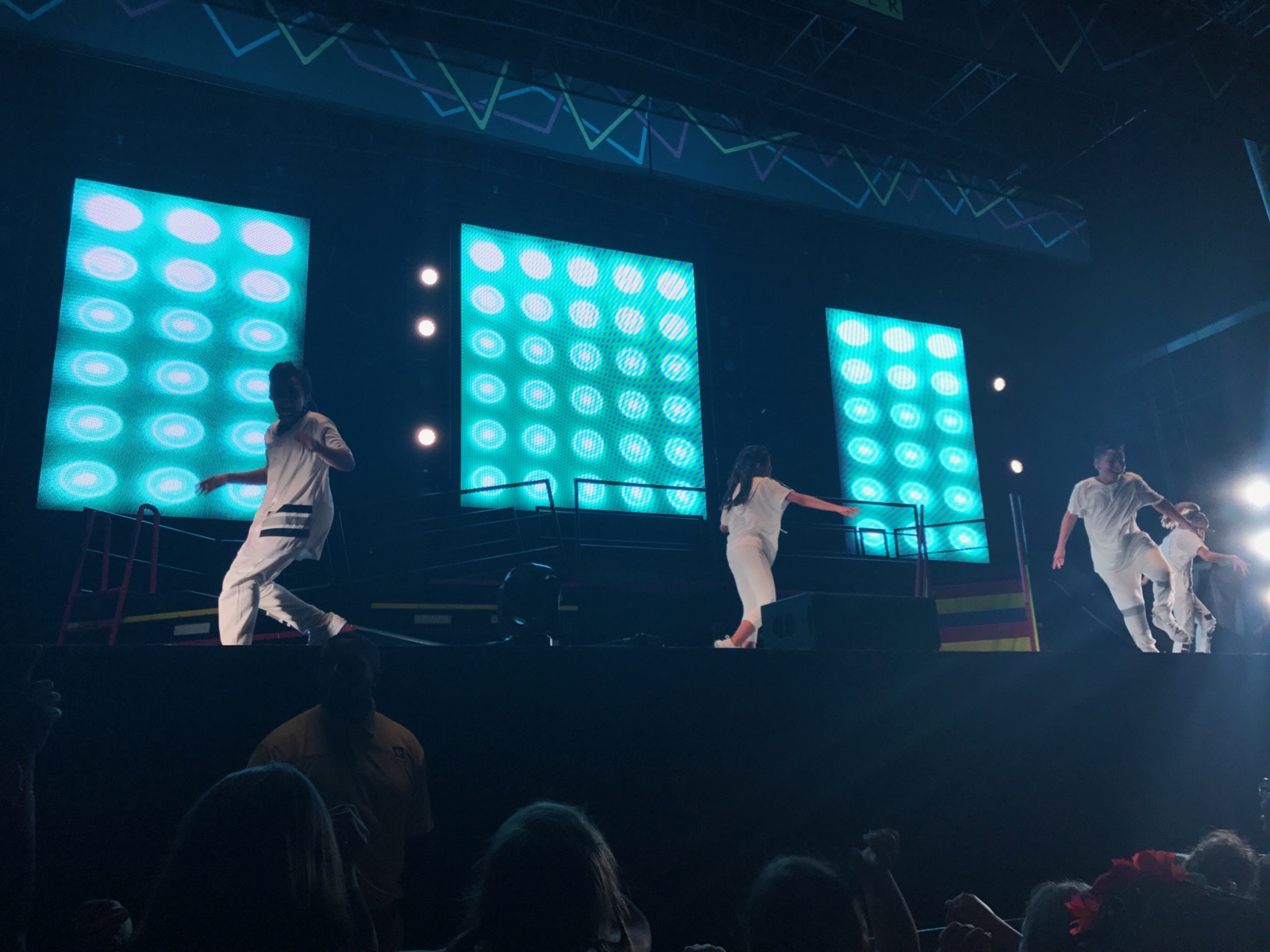 Baby girl and I had an amazing time! We danced, we sang and laughed!  Had such a fun time together. The perfect girls only night out!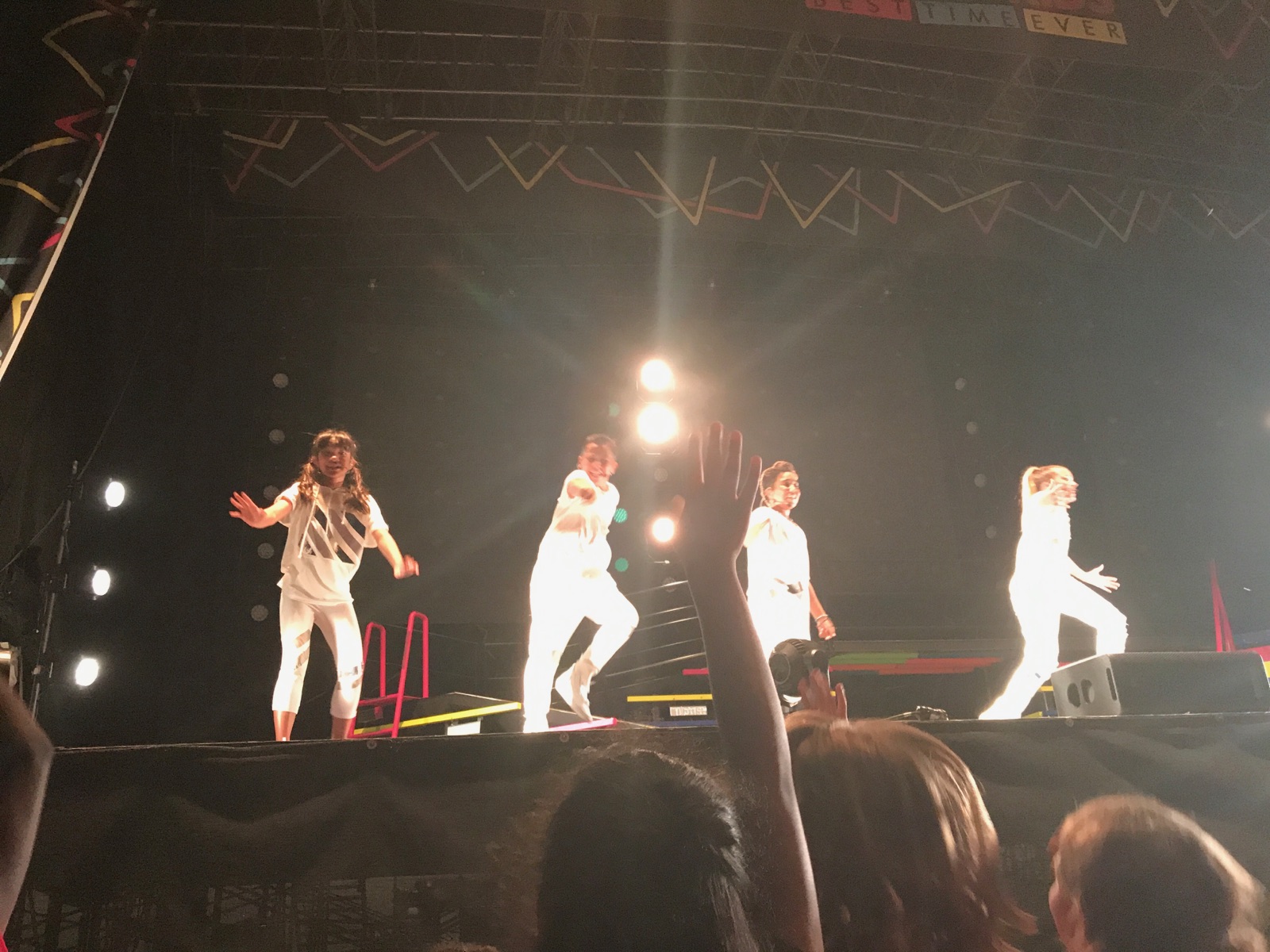 My overall thoughts of the Kidz Bop Best Time Ever Tour was that it was a very cute show. The graphics, backgrounds, outfits, props were all well thought out. A very cohesive show.
My only complaint was that the microphones and sound need to be set ahead of time. I know being outdoors it can be complicated. Other than that, I don't have any other complaints about the show. Super cute!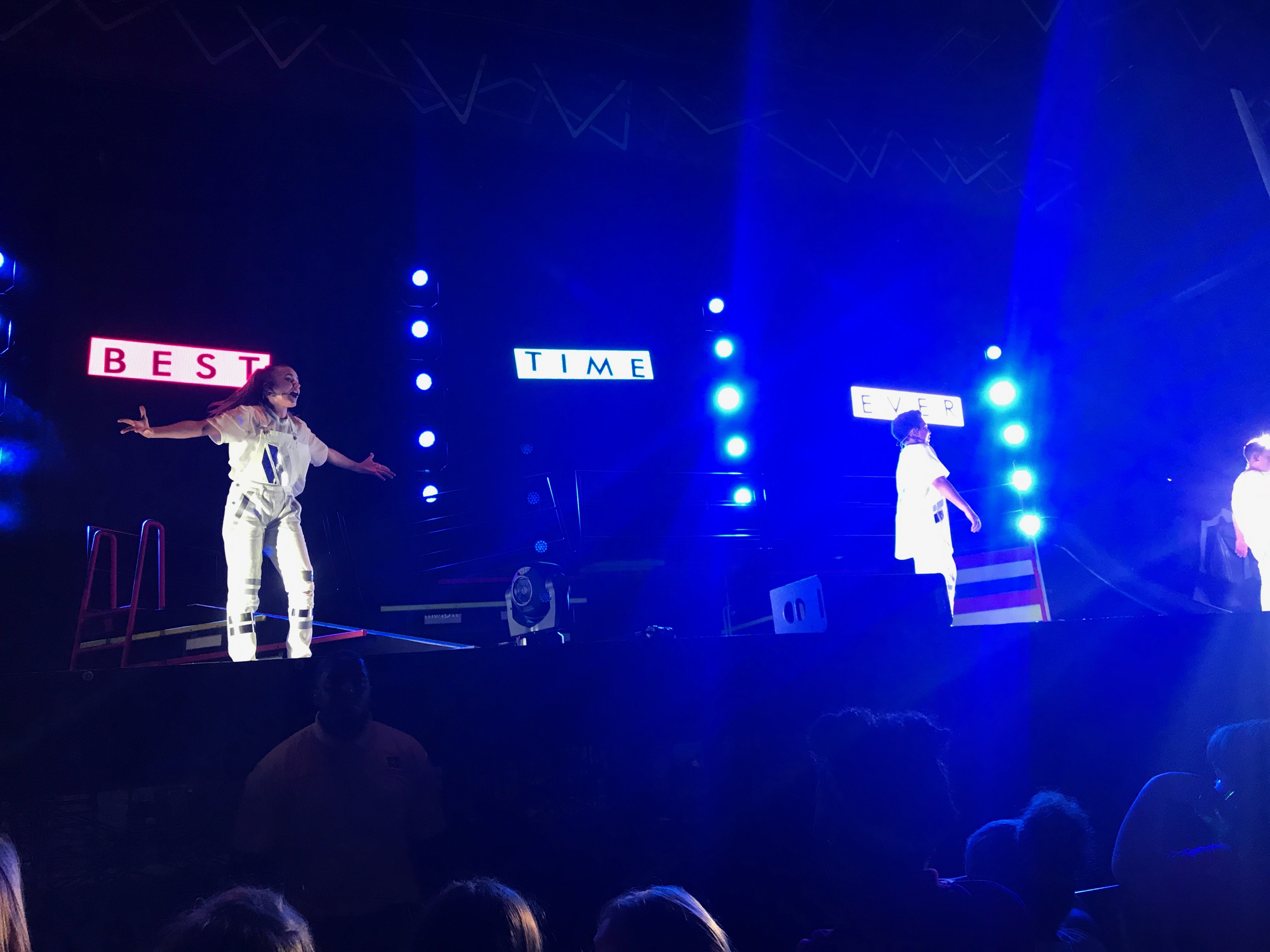 Be sure to come back and check out my blog on the Hyatt Regency!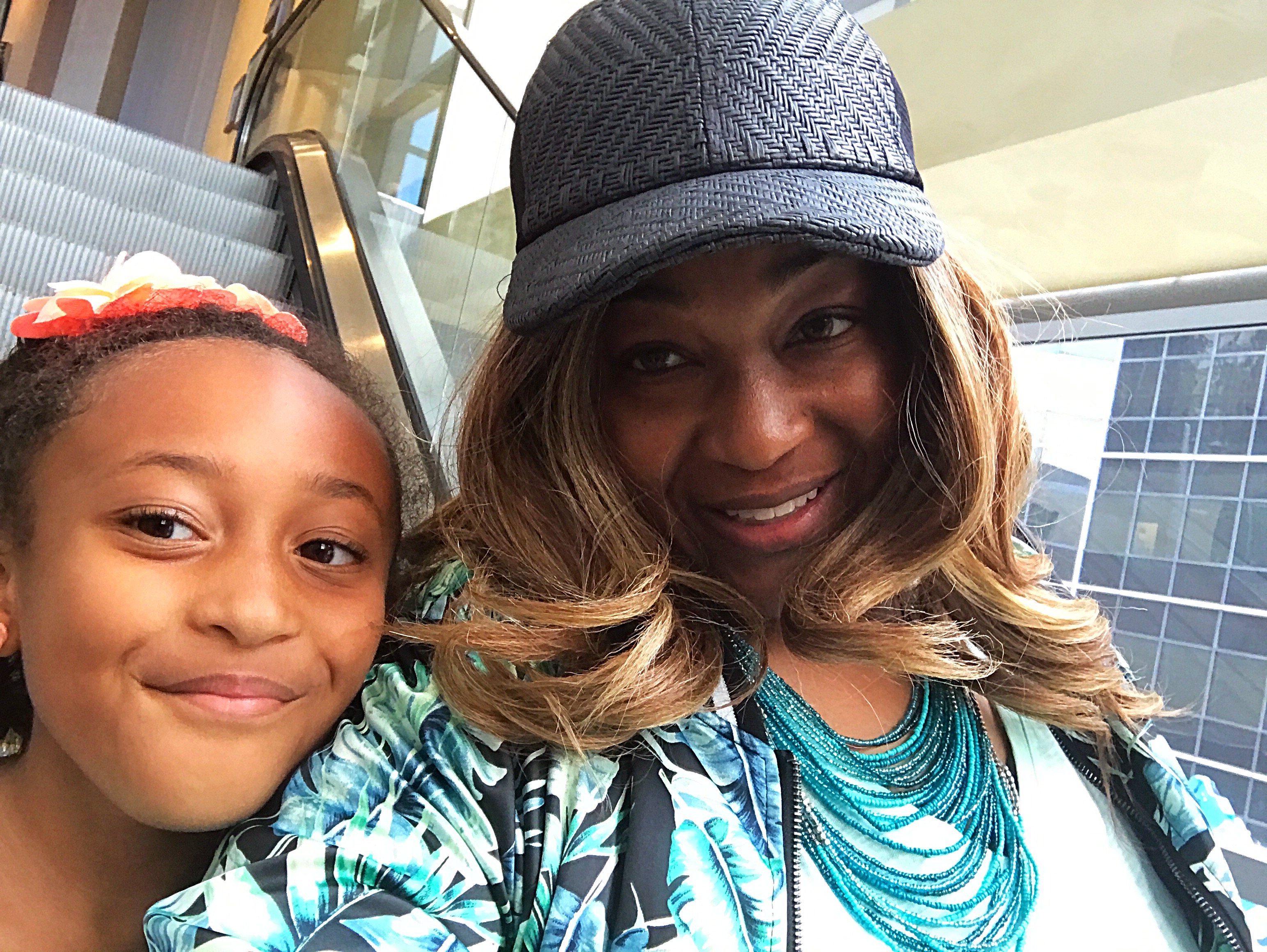 For more information on the Kidz Bop Kids tour visit their website Kidzbop.com/tour/
[bloglovin_button]