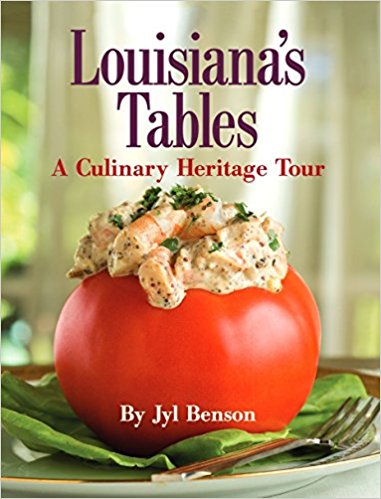 SPONSORED POST
Louisiana's Tables: A Culinary Heritage Tour
New Orleans food writer and cookbook author Jyl Benson explores the signature dishes of each region of a state famous for its great eating.
NEW ORLEANS — Longtime New Orleans food authority Jyl Benson shares the secrets of this food-centric state's regional cooking in an affordable, comprehensive and portable new cookbook. It makes a perfect stocking stuffer.
"A fascinating read," raves Beth D'Addono, author of 100 Things to do in New Orleans Before You Die. "New Orleans-born Benson channels Louisiana's diverse culinary heritage, tracing foodways, ethnic influences and the state's natural land and Gulf bounty along the way. From Cajun jambalaya to Creole red gravy with Italian sausage and sweet potato casserole, Jyl delivers snappy commentary and solid recipes that will soon become favorites."
From New Orleans' Creole seafood gumbos, bread puddings and bananas Foster to the étouffées, dirty rice and maque choux of Prairie Cajun Country; from the crawfish pies, courtbouillons and game dishes of the Florida Parishes and Mississippi Delta to the crab and shrimp stews, Spanish caldos and oyster casseroles of the Coastal Wetlands and Bayous; from the Choctaw-Apache fry breads and the street-style tamales and meat pies of the Crossroads to the hot-water cornbread, purple-hull peas and smothered collard greens of the Northwest, Benson serves them up superbly.
"This book manages to be full of great recipes while it teaches a geography and cultural lesson of the regional cuisine of Louisiana," says Liz Williams, founding president of the National Food & Beverage Foundation. "This comprehensive book about Louisiana deserves a place on everyone's bookshelf. But not to be left there to languish, but to be well-used next to the stove."
Benson has been observing, writing about and cooking for Louisiana's tables for almost three decades. Director of culinary programming for the Southern Food & Beverage Museum, she furthers the museum's mission of preserving the culinary culture of the American South. She writes for New Orleans magazine and is the author Fun, Funky and Fabulous: New Orleans' Casual Restaurant Recipes.
About the author
As director of culinary programming for the Southern Food & Beverage Museum, Jyl Benson helps further the museum's mission of preserving and perpetuating the culinary culture of the American South. She writes about food for Acadiana Profile, Louisiana Life, St. Charles Avenue and New Orleans magazines.
She began her editorial career with The Times Picayune in New Orleans and did regional reporting for The New York Times and Time magazine. After serving as editor-in-chief of Louisiana Cookin', Benson founded her own magazine, Louisiana Kitchen & Culture. She is the co-author of Galatoire's Cookbook: Recipes and Family History From the Time-Honored New Orleans Restaurant, as well as several cultural guides to New Orleans.
Her most recent cookbook is Fun, Funky, Fabulous: New Orleans Casual Restaurant Recipes.
Looking to add a cookbook to your cookbook collection, check out Louisiana's Tables: A Culinary Heritage Tour. A few of the popular recipes include Creole Tomatoes Stuffed with Shrimp and Egg Salad, Duck Poor-Boy Sandwiches, Cajun Blackberry Dumplings, Strawn's Icebox Cake and Barbecue Speckled Trout just to name a few.
I can't wait to try these recipes out for myself. I will be sure to share the recipes and how they turn out on my Instagram page.
To purchase this cookbook click on this amazon link.