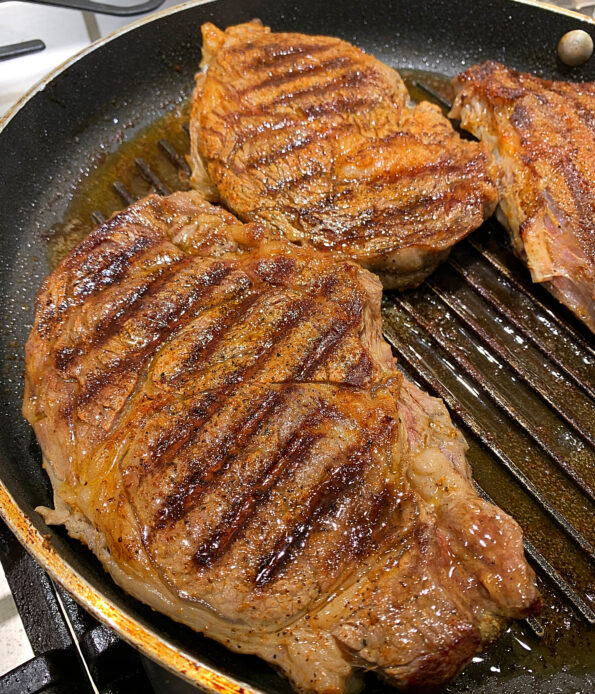 Who doesn't love Steak night? Steak night is a weekly meal in our home. Typically our Steak night consist of Steak and Potatoes of some sort. Well, we decided to switch it up recently with my Corn Relish.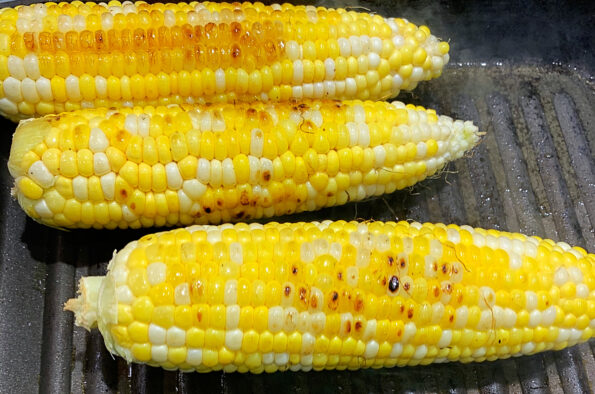 Corn relish is a Southern family recipe. My corn relish has items that you don't always find in a Southern Corn Relish, but this relish will spice up the steak nicely.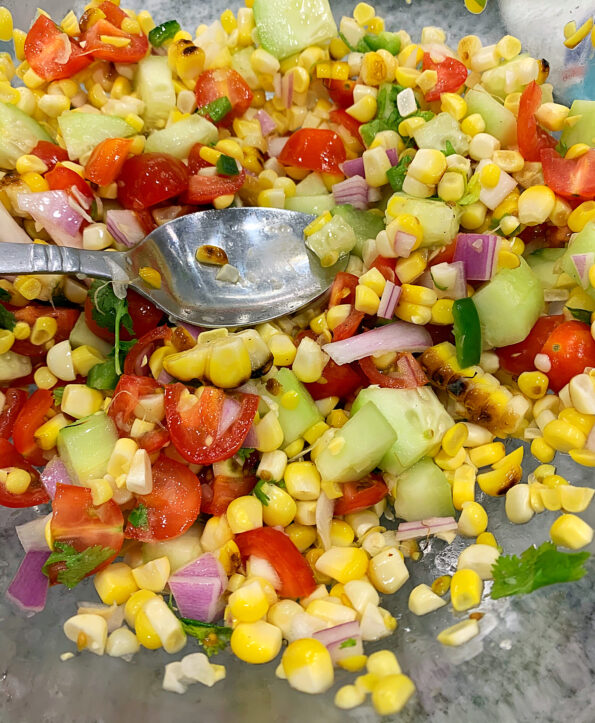 Print Recipe
Corn Relish
Yum
Corn Relish is a great addition to any Steak or Seafood dish. I created this easy Relish for our Steak Night recently and it was delicious.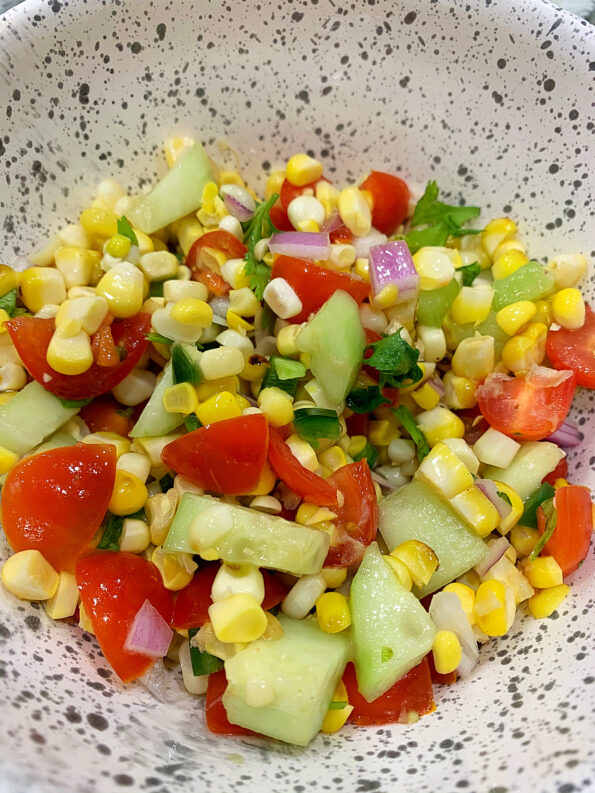 Corn Relish doesn't require much cooking except for the corn. I roasted the corn on the stove with one of my Grilling Skillet. Simple and easy. The corn can easily be done on a grill outdoors.
Corn Relish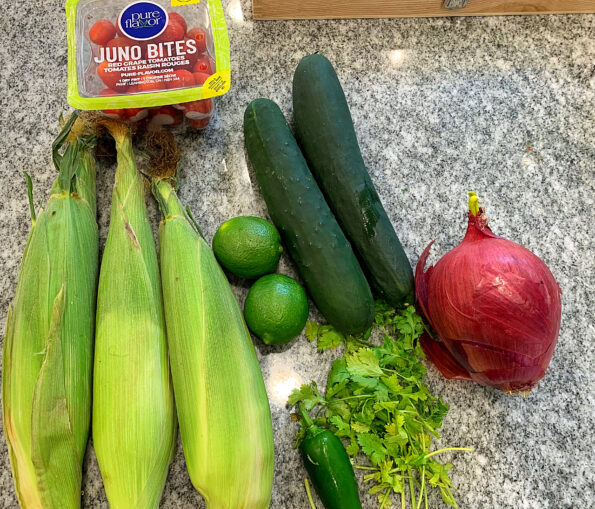 Ingredients:
Ears of Corn
Pam Butter Spray
Juno Bites Red Grape Tomatoes
Cucumber
Jalapeno
Lime
Salt
Purple onion
Cilantro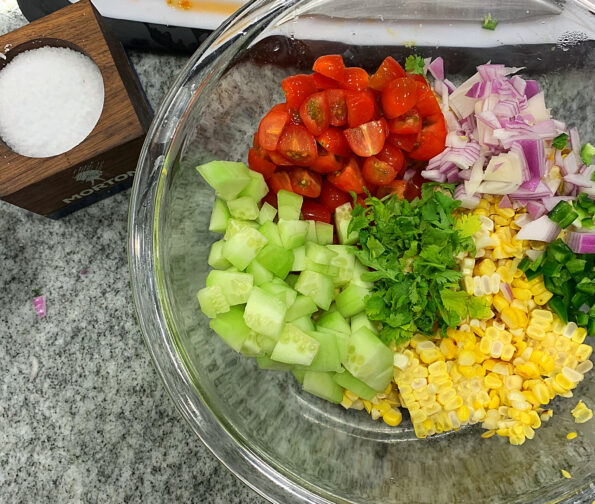 Directions:
Rinse all of the vegetables except the corn. Set aside.
Dice the tomatoes. Set Aside.
Peel the cucumber and dice the cucumber. Set aside.
Remove the shuck of the corn. Set aside.
Cut the Jalapeño in half, remove the seeds. Dice half of the jalapeño. Set aside.
Rough chop the Cilantro.
Cut the limes in half.
Add olive oil to the Grilling Skillet.
Once heated, add the corn. Grilling on both sides. Charring the corn. About 10 minutes, turning often.
Remove and place corn in a big bowl.
Use a big knife to remove the kernels.
Mix in the Tomatoes, Cilantro, Cucumbers, Cilantro, Purple onions and jalapeños. Stir.
Add a generous amount of Kosher Salt.
Add the juice of a Lime. Stir and taste. Add more salt if needed.
Serve over a Sliced Ribeye Steak or Grilled Fish. Squeeze lime over the top. Enjoy.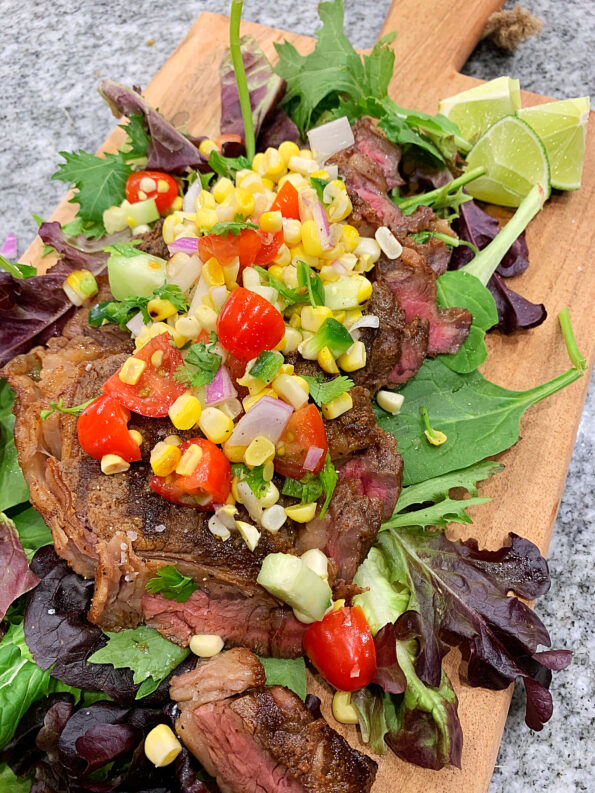 The Corn relish is the perfect item for your upcoming Summer Cookouts, Grilling with Family or Pool Parties.